This post may contain affiliate links. Full privacy policy and disclosure here.
If you want your kids to play outside more, a great scooter can help achieve this goal. Here are the best scooters for kids.
Scooters are an excellent way for your child to burn off excess energy. They can assist your youngster travel from point A to point B faster while also improving their balance and motor neuron skills. If your youngster is interested in thrilling sports, this may be the beginning of their stunt career.
The size and type of scooter you buy for your child will be determined by their age and size. Later in this post, we will go over various considerations and characteristics to keep in mind when making the best possible buy for your child. Before you start digging, have a look at our list of the best kids' scooters.
Things To Look For When Choosing A Scooter For Your Child
All of the greatest kid scooters, like kids bikes, require some practise to become used to. Starting with a 3-wheeled kid scooter will drastically reduce practise time, your child will be less likely to tumble and have road rash, and they will be comfortable using it after the second or third try. It's even preferable to start with a scooter with a little seat to enable them get used to scooting and steering before standing up on the platform.
Our children received their first kick scooters when they were three years old, and they used them until they were about six years old, when they upgraded to a two-wheeled scooter.
My youngest will be riding a scooter by the time she's 2 years old since we found such a great one for her already!
Aside from whether they have two or three wheels, kids scooters differ in a few other key aspects. Weight and height capacity, wheel size/diameter, stability, safety, braking capability, pricing, and fun are all factors to consider. All of our top-rated scooters excel in all of these categories. We recommend that kids begin with a 3-wheel kick scooter and progress to a 2-wheel kick scooter as they gain confidence, abilities, and height.
Here are a few more things to think about when looking for a fantastic kick scooter:
Weight and Height limit
First, weight and height capacity are vital, since many little children's scooters have very low weight restrictions and handlebars that a 4-5 year old will shortly outgrow. Make sure the unit has a weight capacity at least 20 pounds greater than your child's weight and height-adjustable handlebars.
Number of wheels
Second, the diameter of the wheel is critical. The larger the wheels, particularly the front wheels, the more adaptable the scooter on different terrains (even little pebbles and cracks on the road).
If you buy one of the less priced scooters with small diameter wheels, your youngster may collide with a stone or crack in the sidewalk, causing the scooter to come to a halt (possibly sending your child flying forward).
This is similar to what may happen with a skateboard. The greatest kids scooters should be safe as well as exciting, and the wider the wheel diameter, the safer the ride.
Stability
Third, various elements influence stability, but we've discovered that the width between the two front wheels (on 3-wheel kids scooters) is crucial, as is the standing platform width. The bigger the spacing between the two front wheels and the wider the standing platform, in general, the better the stability. This will make the scooter easier to learn and provide a more steady ride around turns.
Brakes
Fourth, having a brake system is beneficial, and most are simple to use. Though most children's scooters include a push-down rear wheel fender brake, some may not have one at all. The best kid scooters will always include a rear brake, which is very useful on downhill journeys when you just need to slow down a little while cruising.
We discovered that the wider and sturdier the rear step-brake, the better it performed in our experiments. The thin aluminium ones don't perform very well, especially when the wheel gets wet and the friction decreases. As always, youngsters should ride scooters with caution because the brakes are rarely efficient at stopping quickly.
Types of Kids Scooters
When I think of scooters, my mind immediately recalls the streamlined silver scooter I owned as a child. But did you know there are different patterns and styles available?
Two-Wheel Scooters
Two-wheel scooters are exactly what their name implies. They have two wheels and, in many cases, a kickstand to prop them up. This is the standard scooter design that you are most likely familiar with.
The majority of scooters, whether manual or electric, are designed with two wheels. The age range will vary because this is a typical design. These scooters, however, are ideally suited for youngsters aged 5 and up, or for children with good balance.
They're ideal for extended rides and honing coordination. The only disadvantage is that children must balance and steer at the same time. This may not be appropriate for a small child who has not yet learnt these abilities.
Three-Wheel Scooters
These scooters have two front wheels and one back wheel. These are also known as "glider" scooters. Three-wheel scooters are ideal for children learning to balance due of their more stable construction.
Three-wheel scooters are quite adaptable. While many are marketed to children aged three and up, the majority of toddler scooters have three wheels as well. These are an excellent choice for teaching your toddler to scoot.
The only drawback is that there isn't much area for clever manoeuvres. The scooter's primary function is to provide stability, which limits its range of motion – unless you've got the McLaren scooter which uses a lean to steer system which you can read about in my full review here.
Caster Scooters
Caster scooters have three wheels, just like traditional three-wheel scooters. Caster scooters, on the other hand, have two wheels at the back that are spaced far apart. With this one, kids ride it like they're skiing down a slope.
These scooters are usually designed for children aged 5 and up. The advantage of this design is that it is distinctive and provides a new and exciting viewpoint on the concept of scooting.
The disadvantage is that its design makes it unsuitable for stunts. Furthermore, with so much to learn at once, it may be difficult for young children to learn.
Off-Road Scooters
Off-road scooters are the greatest alternative if you need to work in tough terrain. The wheels are substantially larger than standard scooter wheels, and they feature tyres to help them navigate the ground below.
Most off-road scooters are designed for youngsters aged 6 to 7 years old and up. These scooters are good for outdoor enthusiasts, but they are not suitable for stunts and tricks. They might also be a little heavier.
Electric Scooters
These are battery-powered scooters that are often heavier than ordinary scooters. The wheels are larger and less compact than those on other scooters, but the extra weight makes it much more stable.
Electric scooters are normally suggested for children aged 7 and up. If you want your child to travel around in style, these are ideal. The primary disadvantage is that your youngster will not get as much exercise as they would with other scooter models.
Best Scooters For Kids
McLaren Automotive has given its stamp of approval to each of the officially approved scooters. With an incredible history of design and performance.
The robust propylene covered steel deck design and rapid fold hinges provide a sturdy and portable frame. Soft touch TPR handle bars on an adjustable T-bar with a two-position telescoping tube provide the rider with outstanding control and comfort.
The steel deck's anti-slip cover and the ABEC-5 carbon bearing system ensure a comfortable and secure ride. The McLaren Senna inspired these high-performance PU casting wheels. Extruded lightweight aluminium brakes on the back wheel provide a strong system for slowing the scooters down.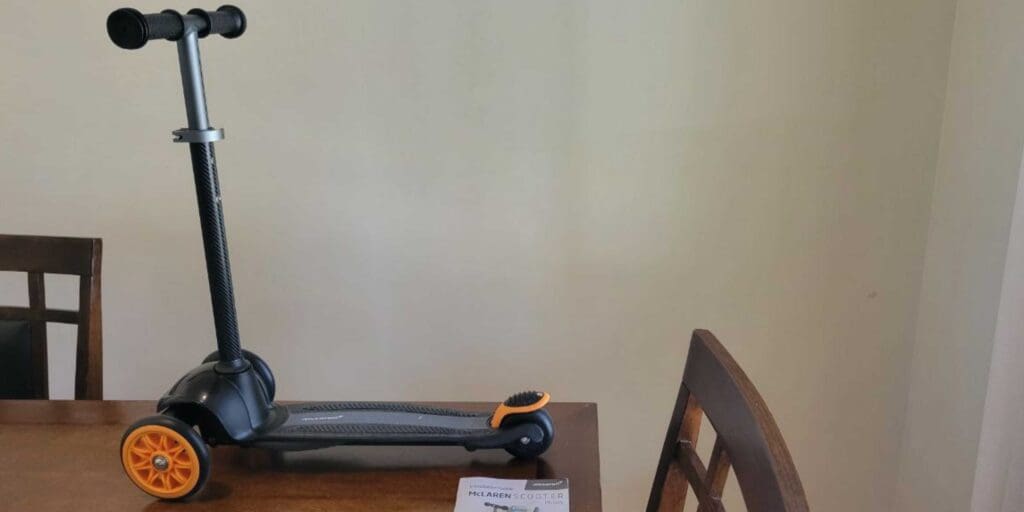 The McLaren is a high-quality children's scooter with a sleek design and smooth, precise performance. The McLaren is a "normal" children's scooter, but with an additional wheel, it is undeniably a high-end model. It's strong, durable, and, most importantly, smooth.
When my young tester took the scooter out for a long ride in the forest, he appreciated how fast he could ride it and how it didn't "feel rough over all the sidewalk lines." and "it's so comfy to and easy to ride on." The scooter is firm and smooth beneath you, with no "clackity clack" joltiness that some scooters have.
If your youngster enjoys skateboarding, this scooter adds a fun twist to the experience. You have two inclined casters, which let you to perform 360-degree spins and other fantastic stunts.
They also make turning, drifting, and acceleration easier because you don't have to press as hard with your feet. To move this scooter, simply rotate your feet from side to side.
It has a strong steel frame and high-tech polymer back wings. The front wheel is made of urethane, and the handlebars include a hand brake. The hand grips are foam, and the stability bars are also removable.
The handlebars also allow your youngster to drift sideways, and because the "PowerWing" is patented, there is no other scooter like it. This choice is appropriate for children aged 6 and above, and it can carry up to 143 pounds.
It can be difficult to locate scooters designed for older children, but this Razor dirt scooter meets the bill. Children as young as 10 years old are welcome.
This scooter can safely transport up to 220 pounds when riding normally. However, if your youngster intends to ride more vigorously, it can only support up to 120 pounds.
The scooter has a number of high-quality features. A BMX-style steel fork, y-style handlebars, an aluminium frame and wheels, and pneumatic tyres are among the features. The wheels have robust treading for frequent use, which will come in handy on uneven terrain.
It also includes coarse grip tape, a vintage rear brake, and soft rubber hand grips. From the looks of it, it's ready for some rough play.
It is supposed to be extremely quiet and has a top speed of 15 miles per hour. The scooter has a weight capacity of 220 pounds.
It can run for up to 40 minutes on a single charge thanks to its two 24-volt batteries. It takes about eight hours to fully charge the battery. The charger is provided.
The scooter has a twist-grip throttle for acceleration and a hand-operated front brake. To top it off, there's a retractable kickstand that let it to stand upright while not in use.
It should be emphasised that in order for the motor to start, your youngster must use their feet for kickoff. They will push a trigger to engage the motor once they reach roughly 3 miles per hour.
The front tyre is thick and pneumatic, whilst the rear tyre is polyurethane. Despite its larger size, this scooter can still be folded in half for simple storage.
Benefits of Scooters for Kids
Scooters may appear to be simply another ride-on toy, but have you ever considered the benefits scooters provide? Scooters can provide incredible benefits to your child, from improving motor skills to boosting independence.
Consider the following advantages before considering whether or not to purchase one:
Outdoor Play
Above all, scooters encourage your child to come outside and be active. Only 21.6 percent of youngsters aged 6 to 19 get the recommended amount of physical activity each week.
What is the ideal amount, you may wonder? The CDC recommends one hour of moderate to strenuous activity five days a week.
According to research, being outside to play might have a variety of advantages.
Develops Gross Motor Skills
Gross motor abilities involve the use of the full body to complete a task, such as walking, running, and jumping. These abilities are also required for daily activities such as getting dressed and climbing into the automobile.
Scooters are terrific gross motor toys because they demand you to use your eyes, hands, and feet to travel from one place to another.
Easy To Store
Most scooters are slender in design, and some brands make scooters that can fold in half. This is a blessing for anyone who despises clutter or just does not have a lot of room in their home.
Extra Gear and Safety For Scooter Riding
When riding a scooter, proper safety equipment, just as when riding a bicycle, should always be worn. The most common sort of injury from bikes, skateboards, and scooters is head trauma. Your child, though, should be alright with adequate protection.
Other protective gear, such as elbow and knee padding, may also help to prevent fractured bones, bumps, and bruises.
Helmet
Wearing a helmet reduces the risk of head injury by up to 85%. A helmet, no matter how crucial it is, is only effective if it fits properly. Here are a few factors to consider while selecting a helmet:
The helmet should fit comfortably. When buckled, it should not move from side to side or up and down.
The helmet should be worn low on the brow. Place two fingers directly above the brow. The top finger should be supported by the helmet.
When you look up, you should be able to see the tip of the helmet.
Only one finger should be able to fit within the chin strap. When you open your mouth, you should feel the helmet pull down on your head.
Knee and Elbow Pads
Elbow and knee pads are also recommended for extra protection. There's some dispute over whether they're necessary, but they're a decent investment if you want to avoid more knocks and bruises.
These are usually designed with velcro straps, so ensure sure your youngster wears them firmly and that they don't slip about.
Reflectors
It is not advisable to ride scooters at night due to their design. If your child does, make sure the scooter has reflectors or other lights for increased visibility.
Visibility can be improved by using scooters with light-up wheels. If your chosen scooter does not come with a reflector light, you can buy one separately.
Make sure your child is dressed in bright attire that can be seen by passing vehicles' headlights. This also applies to days with poor vision owing to cloud cover or other factors.
Choosing The Right Scooter For Your Child
When it comes to choosing the right scooter for your little one, there are a few key factors to consider.
First, you should think about your child's age, weight, and ability level. It's important to choose a scooter that is appropriate for your child's size and skill level too. Toddler scooters are typically designed for kids ages 2-5, so be sure to check the manufacturer's recommended age range before purchasing.
Next, look for scooters with sturdy construction and reliable brakes as well. A well-made scooter will be able to withstand the wear and tear of daily use, and good brakes will help ensure your child's safety while riding, which is super important.
It's also a good idea to choose a scooter with an adjustable handlebar so you can have it higher or lower. This will allow your child to use the scooter for longer as they grow, and will ensure a comfortable and safe ride.
Once you've found the perfect scooter, it's important to ensure your child's safety while using it and here are some top safety tips. Always make sure they wear a helmet and other protective gear, such as knee and elbow pads.
Teach them how to properly ride and stop the scooter, and avoid letting them ride on busy streets or in areas with poor visibility.
By following these tips, you can help your child enjoy all the benefits of their new scooter while staying safe.
FAQ
Can Children Ride Their Scooters On The Sidewalk?
This is municipality dependant. In my town, children under 12 can ride on the sidewalk and children over 12 must ride their scooters on public roads.
Do Children Need Safety Gear To Ride A Scooter?
When riding a scooter, whether it's an electric two-wheeler or a non-motorized four-wheeler, your child should wear safety equipment. It is always preferable to be safe than sorry, and you should teach your child that safety is more essential than how they appear to their peers.
Which scooter brand is the best for kids?
The best scooter brand for kids is McLaren. McLaren's mission is to provide the most exhilarating riding experiences possible. They don't just push the limits; they fully reimagine them. McLaren scooters are now available for children as young as two years old and as old as their late twenties.
Scooters For Kids Bottom Line
Scooters are ideal for relieving cabin fever or getting the youngsters some exercise. You're sure to discover something for everyone, whether you require a pro scooter or something basic for your youngest family member.
More Like This