Discover the best potty training books for your toddler which can make your potty training journey easier!
Helpful potty training books that are full of practical advice for parents who are potty training toddlers.
The potty training process can be tough for toddlers to understand, and a classic potty training book can help make for easy peasy potty training.
Pop by your local library or jump onto Amazon to get yourself a few favorite potty training books that take a positive approach to the learning process with simple illustrations that toddlers can understand.
While some parents can pull off stress-free potty training, many parents do have a tough time with this process and sometimes there are regressions to live through as well. This is where the best potty training books come in to play to help your toddler understand the potty training process a little bit better.
See also: Ultimate Guide To Start Potty Training Your Toddler
This post may contain affiliate links. Full privacy policy and disclosure here.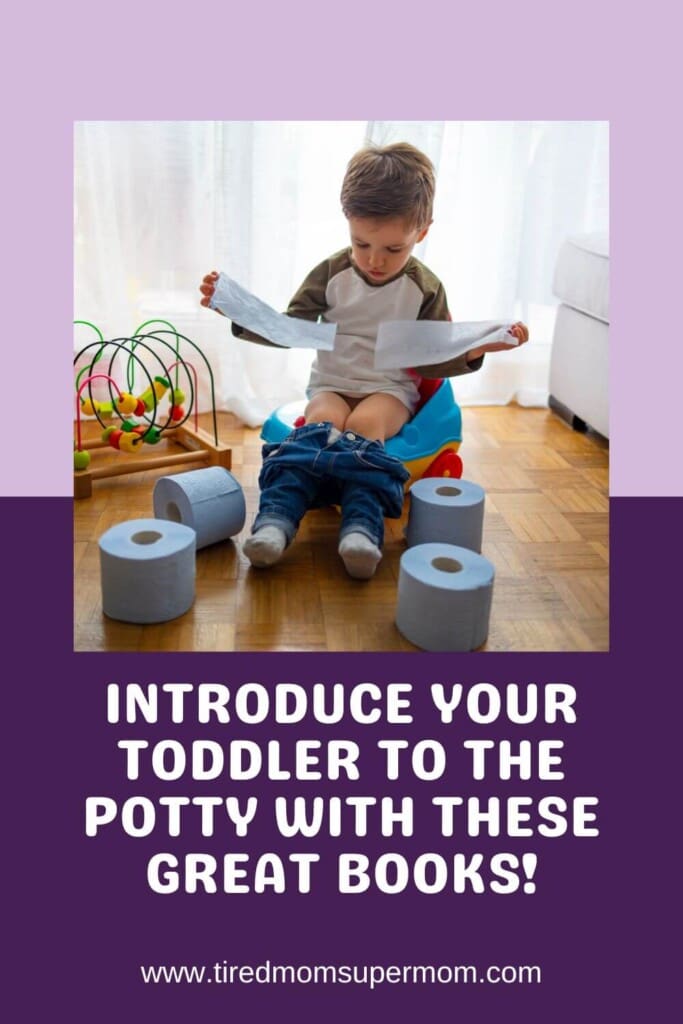 Books That Can Make The Potty Training Process Easier
Here's a selection of some great potty-training books for parents.
The potty-training books for kids are illustrated and bright, and they give step-by-step instructions to make the process simple. Keep children interested in this difficult subject with rhymes and unique books.
To assist the little one overcome his or her phobia of potty time, fill a tiny potty-training basket with colourful picture books, toilet paper rolls, incentive stickers, bright underwear, aromatic soaps, and other items.
To make pooping time less stressful for mommy and more fun for the baby, there are specific potty-training books for toddlers. Bye-bye, diapers, and welcome, pooping like a big kid.
More Potty Training Resources
This interactive children's book on toilet training can help to ease the idea of using the chamber pot for pooping. The amusing rhymes and comprehensive lift-the-flaps instructions told from a child's perspective make it simple to explain this crucial body function to the young one.
Tinkle-Tinkle Little Star – Chris Tougas
Baby toilet and pee etiquette is taught in this colourful book with delightful lyrics. This amusing book will have you and your baby humming in sync when it's time to go potty:
"Tinkle-Tinkle little tot, there you sit upon the pot.
Any second you will see, sprinkle, splash as you pee.
Tinkle-tinkle little tot, there you sit upon the pot."
A well-illustrated book with amusing subtitles to assist children and parents in overcoming potty-training difficulties.
The story of a spoilt princess who refuses to get rid of her diapers and refuses to use the luxury toilet seats. The infant will eventually accept the restroom routine.
Potty – Leslie Patricelli
"Should I go in my potty?" a child asks as he or she begins the toilet training process. With a healthy dose of comedy, you'll investigate the solution through the character's inner conversation.
One little girl embarks on the fun task of toilet training by donning big girl underpants, just like her mother! This greatest toilet training book will encourage your youngster to say goodbye to diapers with its rhyming language and bright graphics.
Looking for a boy's toilet training book? Consider this entertaining choice! Before rescuing the world, the protagonist superhero puts on his big boy underwear and prepares to start toilet training.
With good reason, this classic alternative has long been regarded as one of the greatest toilet training books. It's available in both a boys' and a girls' edition, and it's all about making the major transition from diapers to the potty.
Prepare for a digestive science lecture! This book explains that all living things, big and tiny (even children), require food and poop.
Boys can use customised books to help them transition from diapers to underwear. For a pre-schooler, being allowed to choose their own clothes is a very grown-up experience.
Potty dance moments are entertaining, especially when toddlers delay sitting on the toilet until the last possible moment. This super-fun dinosaur book helps kids overcome their phobia of going to the bathroom.
Everything a parent needs to know about educating their child to use the toilet. There are some helpful hints and tried-and-true tactics for making the transition from diapers to potty training.
Elmo and Albie are beloved by everybody. Over 25 flaps to flip and discover the mysteries of toilet training in this extremely interactive book. Keep your small one entertained by allowing them to sit on the big people's pot and learn the basic faeces and cleaning process. Sesame Street's potty training professionals teach you about toilet paper, flowing water, hand washing, and wiping your bum.
Everything a parent needs to know about educating their child to use the toilet. There are some helpful hints and tried-and-true tactics for making the transition from diapers to potty training.
Ashley learns to use the toilet with the aid of a cuddly bunny in this potty training book. Michael's plush bear takes the honours in the boys' version, My Big Boy Potty.
Sam has mixed feelings about using the potty until his puppy discovers it. This amusing toilet training picture book will be a hit with your child!
Fans of Daniel Tiger, unite! Daniel's journey to Music Man Stan's music shop, where he has to use the lavatory, is chronicled in this book. Will he have to use the bathroom in the store? A flushing sound is also made via a button on the book.
Why is this one of the finest children's toilet training books? It contains exciting interactive pop-ups and an easy-to-understand explanation of the potty training process!
How to Use Potty Books
It's time to provide the tools needed for successful toilet training once you're confident your youngster is ready. Aside from the obvious potty seat, effective training books for your child will motivate them to progress.
One should be kept in the restroom at all times. Books are a terrific way to keep your kid engaged while they're learning a new skill, and they'll help them stay on the potty.
What Is the Level of Interactivity?
The more engaging a book on potty training is, the better. Interacting with books that include lift-the-flaps and buttons that generate noises is typically more fascinating for a toddler.
Flaps are particularly useful since they may keep your toddler occupied for extended periods of time. They're also great for stimulating curiosity and exploration, which are crucial in the toddler era.
Is it simple to comprehend?
Finally, it should be simple to comprehend for your toddler. When you're out buying, ask yourself, "Are the images clear?"
It's unlikely that you'll read them a complete narrative while they're on the toilet. Choosing a book that kids can enjoy in chunks can help you in this situation.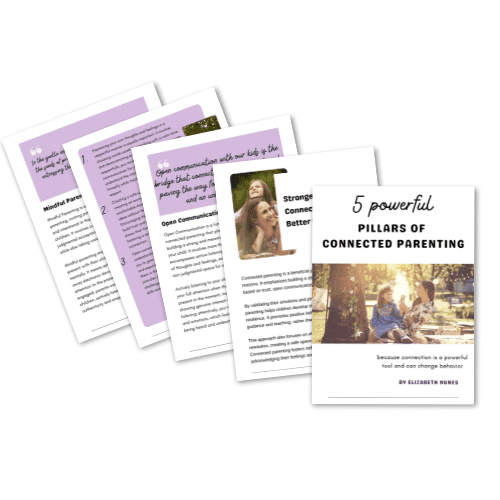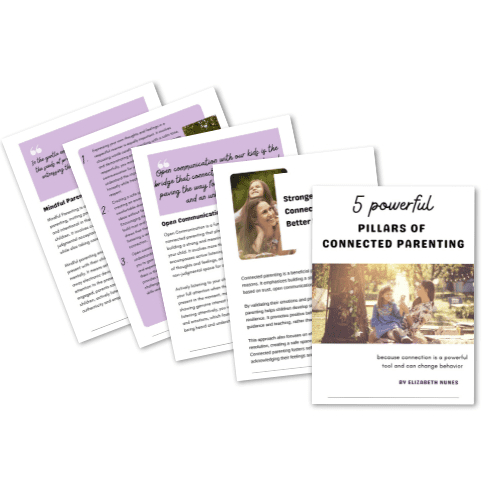 Free Download
Take your parenting journey to the next level with our comprehensive ebook on Connected Parenting.
Download this ebook now and embark on a transformative parenting experience that will strengthen your bond with your child and bring joy and fulfillment to your family life.