Easter morning is a special time for children, full of excitement and anticipation for the Easter Bunny's arrival.
Kids' Easter baskets are an integral part of this holiday celebration and provide a fun and festive way for them to start their day.
The purpose of this blog post is to share some of the best and most creative Easter basket ideas for kids of all ages.
Whether you're looking for a fun and colorful basket to surprise your toddler or a unique gift idea for your older kids, I've got you covered so you'll find atleast one great easter basket idea.
This post may contain affiliate links. Full privacy policy and disclosure here.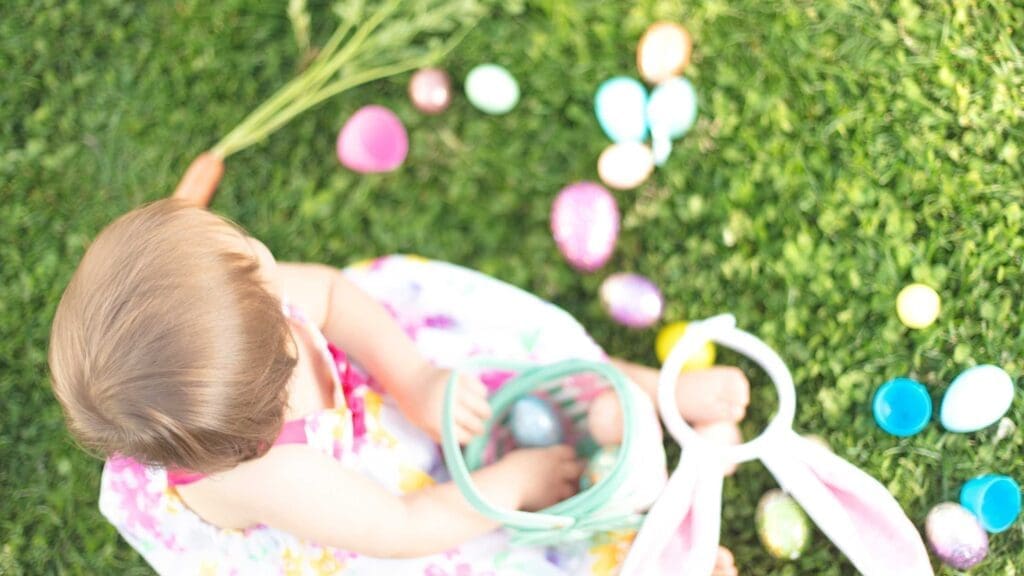 What Age Do Kids Start To Really Enjoy Easter
Easter is a fun and meaningful holiday that can be enjoyed by kids of all ages, starting as early as a baby's first Easter basket. Little girls and boys can start to appreciate the fun of Easter baskets filled with their favorite things like easter stickers, matching eggs, different animals, and bright colors.
As they grow older, kids can enjoy more elaborate baskets with things like easter candy, chocolate bunnies, Easter egg fillers in those little plastic easter eggs, and fun gift ideas. Whether it's through the perfect size of a toddler's Easter basket, or the great additions for a big kid's basket, there's something for everyone during this fun-filled time of year.
Easter is a great opportunity for families to spend time together, create new memories and enjoy the warmer weather, all while celebrating the meaning of Easter.
Best Easter Basket Ideas For 2 Year Olds
When it comes to Easter baskets for 2 year olds, the options are endless. However, I have rounded up some of the best and most exciting Easter basket ideas to get your little one's holiday started off on the right foot with their new favorite toy.
Adorable Plush Toy
Easter-Themed Board Books
Soft Bunny Ears Headband
Fruit Snacks
Colorful Eggs with Surprise Toys Inside
Sidewalk Chalk in Bright Colors
Squeaky Rubber Duckies for Bath Time
Cozy Pajamas with Easter Theme
Cute Easter Outfit
Jelly Beans in Fun Easter Colors
Stickers and Sticker Books
Coloring Books with Easter Designs
Plush Chick
Sippy Cup with Easter Design
Egg-Shaped Maracas for Musical Fun
Wooden Puzzles by Melissa & Doug
Bubble Bath or Bath Bombs
Plush Blanket with Easter Theme
Rubber Stamp Set with Easter Images
Animal Finger Puppets
Soft Bunny Pillow
Nightlight with Easter Theme
Bubble Wands in Egg Shapes
Mini Easter Basket Filled with Treats
Plate and Utensil Set with Easter Designs
Finger Paints in Spring Colors
Stuffed Animal that Sings
Playdough Set with Easter Colors
Toddler-Sized Gardening Tools
Socks with Cute Designs
Sun Hat with Bunny Ears
Puzzle Balls with Adorable Pictures
Toothbrush and Toothpaste Set with Fun Graphics
Nightgown or Pajamas with Easter Theme
Wooden Blocks with Animal Shapes
Bath Towel with Vibrant Colors
Growth Chart with Animal Friends
Storybook and CD with Spring Tales
Wooden Train Set with Animal Characters
Tote Bag with Animal Friends
Plush Backpack with Cute Imagery
Rubber Ducky Bath Toy with Animal Theme
Finger Puppet Set with Animal Characters
Scented Bubbles in Various Shapes
Cookie Cutters in Fun Shapes
Snack Cup with Animal Motifs
Toddler Fork and Spoon with Playful Designs
Dinnerware Set with Animal Illustrations
Baby Bib with Adorable Prints
Plush Ball Pit Balls in Bright Colors
Baby Onesies with Animal Prints
Bathrobe with Animal Hood
Wooden Xylophone with Colorful Bars
Beach Towel with Vibrant Prints
Potty Training Book with Animal Characters
Soft Building Blocks with Animal Faces
Baby Shoes with Cute Designs
Wooden Shape Sorter with Animal Shapes
Scented Playdough in Spring Scents
Push and Pull Toy with Animal Theme
Musical Mobile with Animal Figures
Finger Crayons in Assorted Colors
Tumbler Cup with Colorful Patterns
Snack Containers with Fun Graphics
Stacking Cups with Animal Stickers
Soft Baby Book with Interactive Features
Nighttime Projector with Soothing Images
Baby Hair Accessories with Animal Clips
Rattle Toy with Gentle Sounds
Bath Mitt with Animal Faces
Musical Instruments Set with Animal Sounds
Art Supplies for Toddler Art Projects
Potty Seat with Comfortable Padding
Flash Cards with Animal Pictures
Mini Backpack with Leash for Safety
Memory Game with Colorful Cards
Plush Bowling Set with Animal Pins
Lacing Cards with Animal Shapes
Piggy Bank with Adorable Design
Wooden Stacker Rings with Animal Figures
Ball Pit Playpen with Soft Balls
Shape Sorter Toy with Animal Pieces
Ride-On Toy with Fun Features
Mini Trampoline for Active Play
Musical Activity Table with Interactive Elements
Toddler Laptop with Learning Games
Learning Tablet with Educational Apps
Building Blocks Set with Animal Prints
Toddler Puzzles with Vibrant Artwork
Soft Bath Towel with Animal Theme
Snack Plate with Divided Sections
Play Kitchen Set with Playful Details
Toddler Gardening Kit with Safe Tools
Play-Doh Set with Various Colors
Play Kitchen Accessories with Fun Extras
Art Easel with Magnetic Surface
Art Apron for Creative Messes
Wooden Alphabet Blocks with Animal Letters
Push Toy with Easy-Grip Handle
Musical Drum with Colorful Drumsticks
With these fun and creative Easter basket ideas, your 2 year old is sure to have a blast on Easter morning.
Basket Ideas For Toddlers
These are items you can use instead of a basket to place all of your fun easter gifts into!
Mini Wagon: A small toy wagon that can hold Easter goodies.
Sand Bucket: Colorful sand buckets make great reusable baskets.
Fabric Tote Bag: A cute fabric tote bag with Easter-themed prints.
Beach Bag: A beach bag with plenty of space for treats and toys.
Bicycle Helmet: Turn a toddler's bike helmet into an Easter "basket."
Rain Boots: Fill colorful rain boots with Easter surprises.
Toy Dump Truck: A toy dump truck can carry Easter eggs and gifts.
Gardening Watering Can: A small plastic watering can filled with treats.
Backpack: Use a toddler-sized backpack as an Easter "basket."
Large Easter Egg: A giant plastic Easter egg can hold smaller treats.
Toy Basket: A toy basket from their playroom or nursery.
Reusable Grocery Bag: A sturdy reusable grocery bag decorated for Easter.
Fruit Basket: A small fruit basket filled with Easter goodies.
Toy Shopping Cart: A toy shopping cart filled with eggs and toys.
Child's Chair: Place Easter treats on a child's chair as a surprise.
Mini Suitcase: A tiny suitcase filled with Easter surprises.
Blanket or Towel: Lay out a blanket or towel and place gifts on it.
Toy Boat: A toy boat can be a fun and unique Easter "basket."
Baby Stroller: Use a doll stroller to carry Easter treats.
Lunchbox: A colorful lunchbox can double as an Easter basket.
Toy Toolbox: Fill a toy toolbox with Easter goodies.
Plastic Storage Bin: A small plastic storage bin works well as a basket.
Baby Bath Tub: A baby-sized bath tub filled with Easter surprises.
Toy Chest: Use a toy chest to hide Easter gifts.
Shoebox: Decorate a shoebox and use it as a makeshift basket.
Small Backpack with Wheels: A backpack with wheels for easy mobility.
Pail and Shovel Set: A beach pail and shovel filled with Easter treats.
Toy Guitar Case: A toy guitar case can hold Easter surprises.
Baby Walker: Place Easter gifts in a baby walker.
Picnic Basket: A small picnic basket filled with Easter goodies.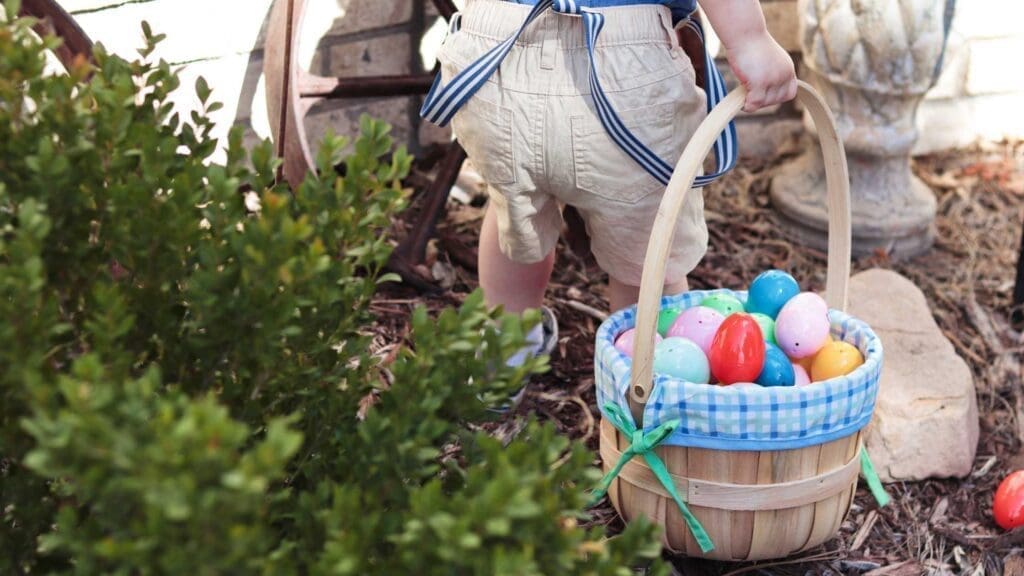 Easter Basket Fillers for Older Kids
Here are 25 Easter basket fillers for older kids:
Mini Bluetooth speaker
Funko Pop! figurines of their favorite characters
Puzzle books or brain teasers
Portable power bank for their electronic devices
Scented candles or wax melts
Art supplies such as markers, colored pencils, or sketchbooks
Deck of playing cards or a card game set
Bath bombs or bath salts
Novelty socks with fun designs or patterns
Enamel pins featuring their interests or hobbies
Movie or concert tickets
Miniature board games or travel-sized versions of popular games
Unique keychains or keyring accessories
Specialty hot sauces or spices
Pocket-sized notebook or journal
DIY craft kits
Collectible trading cards
Personalized water bottle or coffee mug
Gourmet chocolates or other sweet treats
Miniature remote-controlled car or drone
Fancy pens or markers for writing or drawing
A small indoor plant or succulent
Scratch-off world map to track their travels
Headphones or earbuds
A gift card to their favorite store or online retailer
Remember, the best Easter basket fillers for older kids depend on their individual interests and hobbies. Tailor the items to their preferences for a more personalized touch.
With these fun and unique Easter basket fillers, your older kids are sure to have a memorable Easter morning.
Great Easter Basket Ideas for the Whole Family
Easter is a special time for families to come together and celebrate, and what better way to do that than by including everyone in the fun of Easter baskets. Here are some great ideas for the whole family.
Easter Books: Share the magic of Easter with your children by reading some of your favorite Easter stories together like this easter story book. From classic tales to new favorites, there is a story for everyone.
Storage Bin: Help your kids keep their Easter baskets organized and tidy with a colorful and functional storage bin. Whether they use it to store their baskets, toys, or treasures, a storage bin is a practical and thoughtful addition to their Easter basket.
Easter Egg Hunts: Encourage your kids to get outside and play with an Easter egg hunt. From simple scavenger hunts to elaborate hunts with prizes, this is a great way to create some fun family memories.
Gift Baskets for Family Members: Give the gift of Easter to your loved ones by putting together personalized gift baskets for each of your family members. Whether it's a basket filled with their favorite treats, toys, or games, a gift basket is a great way to show your loved ones how much you care.
With these fun and unique Easter basket ideas, your whole family can join in on the Easter festivities and create memories that will last a lifetime.
Bottom Line
Easter is a special time for families to come together, celebrate, and create meaningful memories. Whether you are shopping for a 2-year-old, a teenager, or the whole family, there are so many great Easter basket ideas to choose from.
Recap of Top Picks: From an adorable stuffed bunny and sidewalk chalk to plastic eggs and Nintendo Switches, we have highlighted the best Easter basket ideas for kids of all ages.
Great Opportunity to Spend Time Together: Easter is a great opportunity to spend time together as a family, whether it's through an Easter egg hunt, reading Easter books, or playing with the gifts in their baskets.
Making Easter a Fun and Meaningful Experience for Kids of All Ages: The goal of this blog post is to make Easter a fun and meaningful experience for kids of all ages. By including items that are both fun and practical, we aim to help families create memories that will last a lifetime.
We hope that these Easter basket ideas have been helpful in making your holiday shopping a little bit easier. Whether you opt for one of our top picks or come up with your own unique ideas, we wish you a happy and memorable Easter celebration with your loved ones.
Frequently Asked Questions
What do you put in Easter baskets for babies?
When creating Easter baskets for babies, it's essential to prioritize safety and age-appropriate items. Ideal choices include soft plush toys or stuffed animals, board books with vibrant illustrations, teething toys to soothe gums, and baby-friendly bath toys. Opt for items that stimulate their senses, like rattles, crinkly toys, or musical mobiles for cribs. Consider practical items such as baby clothing or bibs with Easter-themed designs. For an extra touch, include baby skincare products or gentle lotions. Remember that babies may not fully understand the concept of Easter, so focus on items that provide comfort, sensory exploration, and care while ensuring they are free from small parts or choking hazards.
What do you put in a 2 month old Easter basket?
For a 2-month-old's Easter basket, prioritize age-appropriate and safe items. Soft and cuddly plush toys or a plush bunny can provide comfort and sensory stimulation. Consider a board book with high-contrast images to engage their developing vision. A cozy baby blanket with Easter-themed patterns can add warmth. Baby clothes, such as onesies or socks with cute designs, are practical additions. Gentle, hypoallergenic baby lotion or bath wash can be included for skincare. Keep in mind that safety is paramount, so avoid small objects, choking hazards, or anything that may pose a risk to the baby. This simple, baby-centered approach ensures a thoughtful and safe Easter basket.
What age should kids stop getting Easter baskets?
There's no specific age at which kids should stop receiving Easter baskets; it largely depends on family traditions and individual preferences. Many families continue the tradition well into a child's teenage years or even adulthood, adapting the contents to suit their age and interests. As kids grow older, the items inside may shift from toys and candies to more age-appropriate gifts like gift cards, books, or other personal preferences. Ultimately, it's up to the family to decide when the tradition feels right to phase out or continue, keeping in mind that Easter baskets can be a fun way to celebrate the holiday and bond as a family regardless of age.
What do you put in a little boy's Easter basket?
When filling a little boy's Easter basket, consider his interests and age. Start with some small toys like action figures, toy cars, or building blocks. Include age-appropriate books or coloring books with crayons to encourage learning and creativity. Little boys often appreciate outdoor items like a jump rope, a ball, or sidewalk chalk for active play. Don't forget some of his favorite snacks or candies, like chocolate eggs or fruit snacks. A themed item related to his hobbies, such as a superhero-themed item or a character from his favorite show, can add a personal touch. Overall, aim for a balance of fun, educational, and tasty treats.
What to get kids for Easter besides candy?
Instead of candy, consider non-food Easter gifts for kids. These can include age-appropriate books, coloring books, puzzles, art supplies, small toys, stuffed animals, outdoor games, gardening kits, clothing, and even gift cards for older children. These options provide fun, creativity, and lasting enjoyment without the sugar rush.
What is in a toddler's Easter basket?
A toddler's Easter basket can contain age-appropriate items like plush toys, board books, coloring books and crayons, bath toys, bubbles, stickers, small puzzles, sippy cups, and snacks like fruit pouches or crackers. Tailor the contents to their interests and ensure safety by avoiding small or choking hazard items.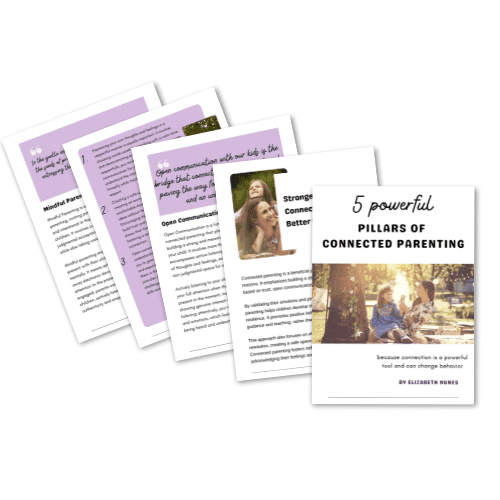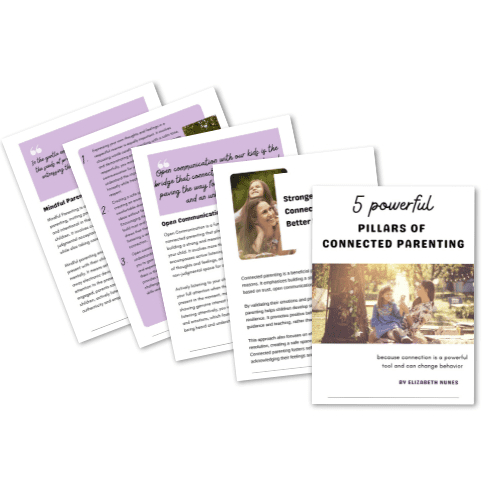 Free Download
Take your parenting journey to the next level with our comprehensive ebook on Connected Parenting.
Download this ebook now and embark on a transformative parenting experience that will strengthen your bond with your child and bring joy and fulfillment to your family life.
More Like This
7 Creative Easter Traditions That Will Keep The Kids Busy & Amused!
7 Amazing Benefits Of Hugging Your Children
77 Easter Basket Gift Ideas For Tween Boy