This post may contain affiliate links. Full privacy policy and disclosure here.
✨Ready to make BIG changes on your parenting journey? Don't miss the FREE video training: 5-Step No-Yelling Formula. Gets Your Kids To Listen The First Time, Every Time! Learn how to How to avoid blaming, shaming, or causing your kid any pain when you set consequences! Grab your spot in the FREE video training HERE…
You know, I was always that mom that didn't think her kids would watch any TV and definitely won't get any ipad time.
But…lesson learned. We are always the best parents before we have kids.
So if you are like me and allow your kids to listen to music and watch shows on devices, then you might be wanting a pair of toddler headphones.
Our first pair of toddler headphones was for a plane ride, and now all my children use headphones when we are in the car for playing the switch and watching the Ipad.
Here is the skinny on the best toddler headphones:
Why Should You Buy Special Headphones For Toddlers
As a parent we are responsible for raising our kids with proper values and keeping them safe and healthy. Taking care of ear health is very important.
According the WHO nearly 50% of people aged 12-35 have hearing loss.
You can help keep your child out of this statistic by using proper headphones for your toddler starting at an early age.
Basically, you can use whatever headphones you want for your little one, but if you want to take extra safety precautions, then a special toddler headphone would be a better choice.
The Dangers Of Using Earbuds On Toddlers
In-ear headphones for children are not recommended. Over-the-ear headphones for children are a much safer solution. They are easier to manage in terms of volume and are less prone to irritate the ear canal.
As a result, we haven't included any reviews for the best earphones for kids on this page.
The Best Toddler Wireless Headphones Reviews
It's crucial to make sure that the cord for these headphones is inserted correctly when using them. It is possible to plug the headphones in backwards, however the volume control will not function.
Check the cord to see which end goes into the headphones and which end goes into the device; it should be clearly labelled.
Suitable for ages 2-12
Bluetooth with back-up audio cable included
22 hour battery life
85dB volume limit
Noise cancelling
Share port
Foldable
Choice of colours
Semi-hard carry case included
These Puro kids headphones are among the best Bluetooth headphones for kids on the market in terms of features, fashionable design, and sound quality.
These noise-canceling headphones for kids block out 87 percent of ambient noise, making them one of the best kids headphones for flight travel since they allow kids to listen to their gadgets without having to turn up the volume to maximum. Even if they do, the level is kept to a safe 85 decibels.
The padded leather headband and cushioned ear cups make the Junior Jams lightweight and easy to wear. They're fantastic headphones for youngsters who prefer or need to share a device since they include a built-in audio splitter that facilitates sharing using 'daisy chain' technology.
They connect through Bluetooth 4.0 and have a wireless range of 30 feet, as well as a 22-hour battery life, making them suitable for long-distance travel. When Bluetooth isn't accessible or you forget to charge the headphones, a backup wire is included.
Puro Sound Labs, Pink JuniorJams Volume Limiting Headphones for Kids 3+ Protect Hearing – Foldable & Adjustable Bluetooth Wireless Headphones for Tablets, Smartphones, and PCs – 22-Hour Battery Life
If the headphones are connected to a phone, control buttons on the right ear cup allow youngsters to play/pause, adjust volume, and answer/reject calls.
They come in a variety of colours to suit everyone's tastes, are foldable, and come with a semi-hard travel bag to keep them safe.
Check Out JuniorJams Volume Limiting Headphones On Amazon
The allowable volume limit on these headphones, when set at the highest setting, surpasses the WHO standards, as outlined above. We recommend that children be supervised to ensure that these headphones are not used to their full potential, especially if they are being used as toddler Bluetooth headphones.
Suitable for ages 6-16
13 hour battery life
85dB volume limit
In-line microphone
Foldable
Suitable for ages 2-10
Bluetooth with back-up audio cable included
16 hour battery life
3 x volume limits: 75dB, 85dB, 94dB
Share port
Foldable
In-line microphone
Choice of colours plus decorative stickers
Travel bag included
These are a wonderful option if you're seeking for wireless headphones for toddlers. The plush cushioned ear pads are easy to wear, and the adjustable headband is ideal for petite heads.
They come in a variety of vibrant colours and may be further personalised with the ornamental stickers that are supplied.
Kids' headphones with microphone enable for two-way phone calls. They also have three volume levels: 75 dB (for toddlers), 85 dB (for older kids), and 94 dB (for adults) (for aeroplane travel). They're foldable and come with a bag to transport them in.
These wireless children's headphones feature a 16-hour battery life and come with a wired cord for backup use. The built-in audio splitter may also be used to share a device between headphones.
These child-safe headphones are made for little children, and they have a vividly coloured plastic appearance that makes them appear to be small children's headphones. As a result, they aren't the greatest headphones for tweens and older teens who want to seem stylish while listening to music or playing video games.
Check Out BuddyPhones Play Toddler Headphones On Amazon.
The highest permissible volume limit on these headphones, as indicated above, surpasses the WHO standards. I recommend that children be supervised to ensure that these headphones are not used to their maximum capacity.
Suitable for ages 4-12
Bluetooth with back-up audio cable included
12 hour battery life
Volume limit: 93dB
Share port
In-line microphone
Choice of 6 colours
Travel bag included
These Lil Gadgets headphones are suitable for children aged 4 and above, and come in a variety of attractive colours.
The headphones' adjustable headband allows them to grow with your kid, and the strengthened stainless steel extenders provide further durability to guarantee they do so.
The cushioned headband and earpads are made of SoftTouch breathable mesh material for a comfortable fit, and the in-built audio splitter allows youngsters to share gadgets utilising daisy chain technology. They also come with a built-in microphone.
The battery life is 12 hours, which isn't as impressive as some of the other great kids headphones we've reviewed, but it's still adequate. If and when the battery runs out, a backup audio cord is supplied.
Check Out ilGadgets Untangled Pro Children's Wireless Bluetooth Headphones On Amazon.
Best Wired Headphones For Toddlers
The highest permissible volume limit on these headphones, as indicated above, surpasses the WHO standards. I recommend that children be supervised to ensure that these headphones are not used to their maximum capacity.
Suitable for ages 6-12
Volume limit: 93dB
Share port
In-line microphone
Choice of 6 colours
Foldable
Travel bag included
This is a less expensive alternative to the above-mentioned wireless LilGadgets Untangled.
It has many of the same amazing characteristics as the wireless headphones, including a cushioned comfy design, a variety of colours, a sharing port, and a folding, compact design.
LilGadgets Connect+ PRO Kids Premium Volume Limited LilGadgets Connect+ PRO Kids Premium Volume Limited LilGadgets Children's Wired Headphones with SharePort and Inline Microphone – Pink
The primary difference is that instead of using Bluetooth, these kids headphones include a nylon braided wire that keeps them from tangling.
There is also a Connect+ variant, which is smaller than the Connect+ Pro, if you are searching for little kid headphones. This is appropriate for children ages 3 to 7.
Check Out LilGadgets Connect+ Premium Volume Limited Wired Headphones On Amazon.
The volume limit cable on the KidzGear wired headphones is removable. When your children are using headphones, you must make sure that this cable is in place. The loudness limit without it can exceed 108dB.
Suitable for ages 2-10
Volume limit: 90dB with volume limit cable attached
Choice of colours
These KidzGear headphones, which are adjustable to a tiny size and suited for children aged 2 and up, are another nice alternative for toddler headphones for airline use.
They include an adjustable plastic headband with soft cushioned ear cushions and available in a variety of colours. The volume limit is set at 90 decibels.
Another fantastic advantage of these long-lasting children's headphones is that they come with a limited lifetime warranty.
Check Out Kidz Gear Wired Headphones For Kids On Amazon.
See also: How To Teach Kids To Share Without Force
FAQ
Why buy kids volume limiting headphones?
Our hearing is harmed when we listen to loud music for lengthy periods of time. The WHO recommends that "the maximal acceptable exposure level is estimated to be 85dB for up to a maximum of 8 hours" to avoid noise-induced hearing damage.
It is critical, especially for youngsters, that we wear volume-restricting headphones to guarantee that they are exposed to as little noise as possible. Kids aren't always conscious when the level is too high, and they aren't aware of the long-term consequences.
As a result, most children's headphones have volume limited to the acceptable 85 decibels. Some gadgets will allow the volume to be increased to 92dB so that they may be heard in loud places like aircraft.
The general view, however, is that the greater the sound quality from the headphones, the less need to pump up the volume. As a result, don't always choose for low-cost children's headphones. The ideal buy for kids headphones will be those with superior sound quality.
Why buy noise cancelling headphones for kids?
By reducing background noise, noise reduction headphones for youngsters can lessen the need for them to crank up the volume.
So, if you're searching for the finest headphones for aircraft travel, it could be worth investing in a set of children's noise cancelling headphones.
What Should We Look For When Selecting The Best Kids Headphones
Size of headband
Comfort of headband and ear cushions
Are they foldable?
Do they come with a protective carry case?
Do they have a share port to allow two kids to listen at once?
Range of colours, designs and stickers for kids to personalize them
What Is The Difference Between Wireless and Wired Headphones For Toddlers?
Why should parents use Bluetooth headphones for their children? There are a few benefits: no cable means less tangling, which makes it simpler to wear. The volume control on Bluetooth is also more dependable.
Also, considering that the newer iPhones don't have headphone jacks, there's a significant probability that other technologies will follow suit, requiring wired headphones to need an adaptor. As a result, children's Bluetooth headphones appear to be a more long-lasting solution.
However, the downside of children's wireless Bluetooth headphones is their short battery life. If you're going on a lengthy trip, this indicates you'll need to consider about something else before you go.
Are headphones ok for toddlers?
Toddlers can wear headphones for brief periods of time if you use excellent quality headphones that are the proper size and have enough volume control. The maximum level for children's headphones, according to the WHO, is 85dB for a maximum of 8 hours.
Are headphones bad for children's ears?
According to the World Health Organization, 1.1 billion teens and young adults are at risk of hearing loss as a result of improper use of personal audio devices. As a result, youngsters should only use volume-limiting headphones for short periods of time.
Are Bluetooth headphones safe for toddlers?
Bluetooth headphones, on the other hand, are usually seen to be safer than corded headphones. The cause for this is that headphones' cables are frequently put the incorrect way around, causing the headphones' volume control to malfunction. Volume control through Bluetooth is said to be more dependable.
Are headphones safer than earbuds
For children, headphones are typically regarded to be safer than earbuds. Headphones are simpler to manage the level than earbuds since there is more space between the headset and the eardrum, and headphones are less prone to irritate the ear canal.
Are noise-cancelling headphones bad for ears?
Noise-canceling headphones are actually thought to be safer than non-canceling headphones. Because noise reduction headphones lower background noise, they can lessen the need for youngsters to turn up the volume to dangerous levels.
Are expensive headphones worth it?
The greater the sound quality from the headphones, the less you'll need to crank up the volume. As a result, more costly headphones are frequently the safest choice. Noise-cancelling headphones, which are more expensive, will also give better protection since they eliminate the need to increase the level.
Best Headphones for Toddlers Bottom Line
It is so important to protect your childs hearing and a good pair of headphones for your toddler can help you out. While it may cost more money to splurge on headphones for your toddler, it can be very helpful in the long run for their ear health and safety.
Giving children a set of grown-up headphones might be tempting, but it's not the greatest option: not only are the bigger size and weight less comfortable for smaller children, but the uncontrolled volume levels of most adult headphones can cause lasting hearing damage. Instead, we recommend investing in a nice set of volume-limiting children's headphones, of which we offer various options.
Print This Positive Parenting Guidebook – The 5 Pillars Of Positive Parenting
Listen… parenting with connection and positivity has been seen as permissive and lazy parenting BUT this is totally not the case.
I am a mom of 3 beautiful children and I've spent HOURS, DAYS, MONTHS, and YEARS researching this topic and seriously, it is my favorite way to parent.
Way better than what I grew up with – which was A LOT of yelling, spanking and frankly, neglect.
This little guidebook is a golden nugget that you can have for free – and print it out! Put it on the fridge, refer to it often. It's really a great tool for kids of all ages.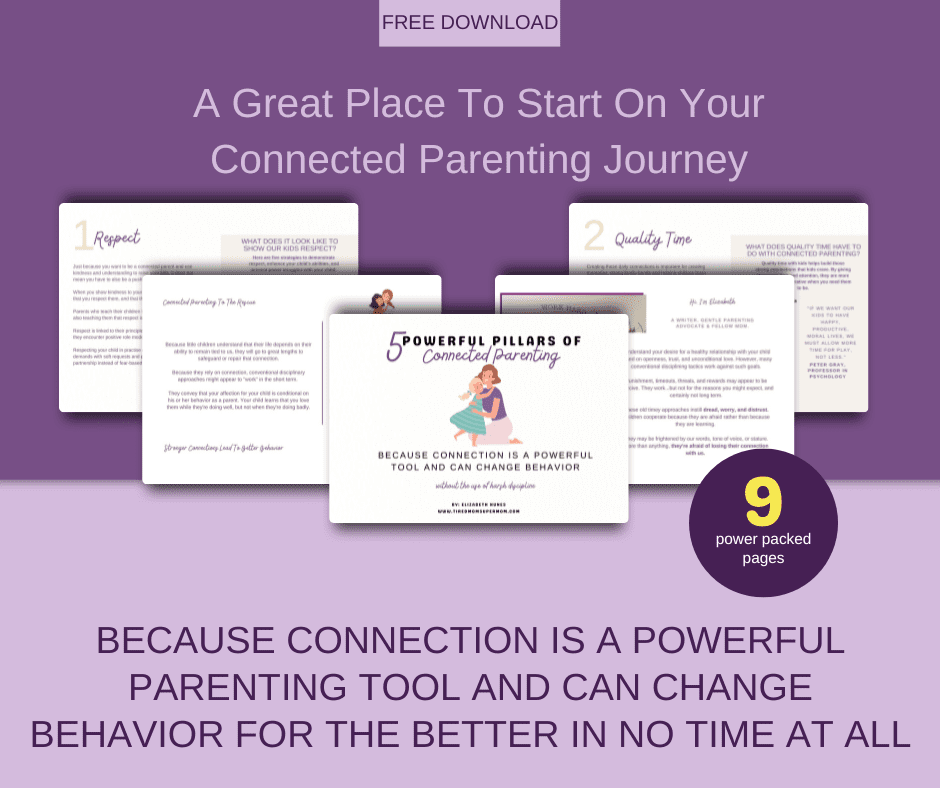 Download Your Free Printout
Download the guidebook. You'll get the printable, plus join hundreds parents who receive my weekly parenting tips and ideas! (Sometimes I'll promote a parenting program, but only the best ones that are in the positive parenting community, I promise.)
Print. Print out the guidebook!
Place it where you can see it. There is a lot of great information in this guidebook, even though it's small. It's power packed full of great stuff so put it where you can refer to it often.
More Articles you Might Enjoy