This post may contain affiliate links. Full privacy policy and disclosure here.
Welcoming a new bundle of joy into your life is a magical experience, but it often comes with the need for some extra help when it comes to multitasking.
For petite moms, finding the perfect baby carrier can be a game-changer, offering a comfortable and convenient way to keep your little one close while tackling your daily tasks.
Whether you're running errands, going for a walk, or simply need your hands free around the house, the right baby carrier can make all the difference.
Say goodbye to discomfort and hello to bonding time like never before!
This is ME wearing my babies in wrap carriers, structured carriers and ring slings! I've literally tried them all.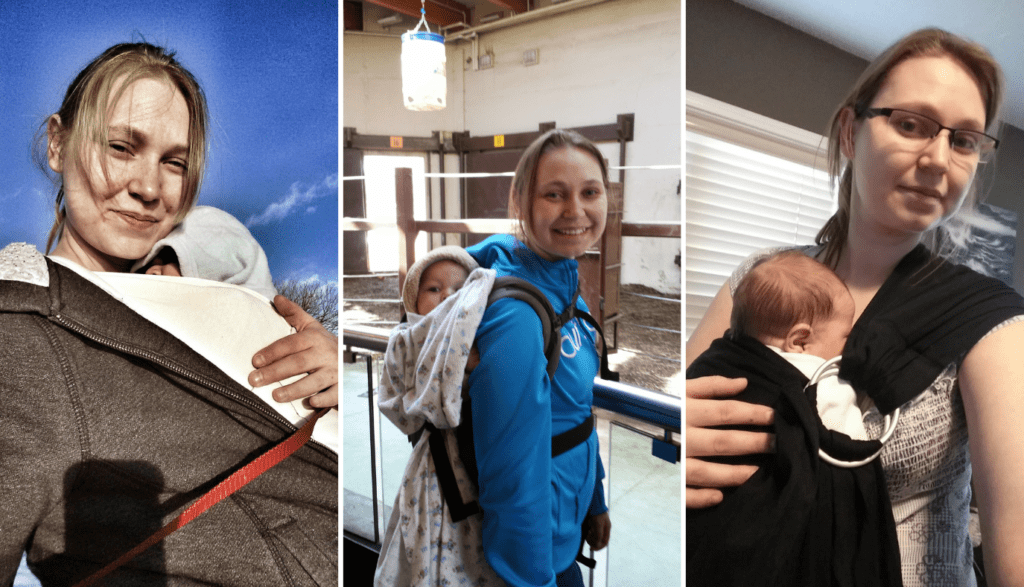 Best Baby Carriers For Smaller Moms
The Boba Wrap Carrier, the best baby carrier for petite moms, offers comfort and versatility. Unlike buckle carriers with rigid shoulder straps, this baby wrap adjusts perfectly to your frame.
Available in different sizes, it ensures a snug fit for shorter moms, eliminating bulkiness. Its soft, stretchy fabric provides even weight distribution, reducing strain.
Plus, it's a hassle-free choice for discreet breastfeeding. With clear instructions, it's user-friendly, catering to petite moms' needs effortlessly.
The Boba Wrap offers various positions, making it the best option for short moms seeking a comfortable, customizable, and nurturing way to carry their little one.
I had a Boba wrap for my 3rd baby in purple!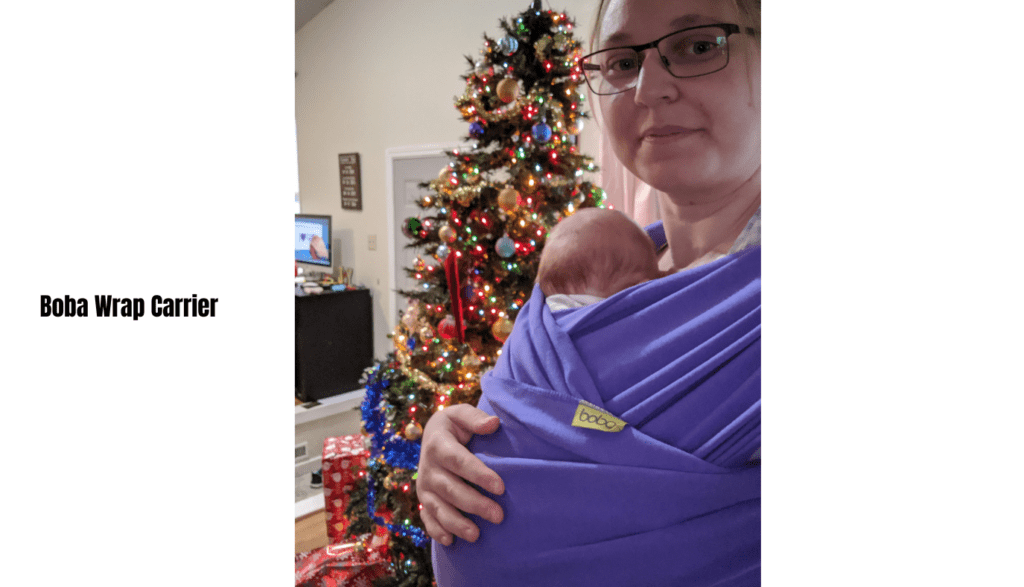 This is the carrier I am wearing in the middle photo up top! I used this carrier with literally all 3 of my babies, AND a friend borrowed it for a whole year for her baby too.
Needless to say, this carrier lasts forever.
The Boba Structured Carrier is a versatile and ergonomic baby carrier designed to provide comfort and support for both parents and infants. Crafted with high-quality materials, it ensures a secure and snug fit for babies weighing between 7-45 pounds.
Its adjustable straps and waistband distribute weight evenly, reducing strain on the wearer's back and shoulders. The carrier offers multiple carrying positions, including front and back, catering to various developmental stages. Its thoughtful design includes a sleeping hood for added head support and privacy.
The 9-in-1 CuddleBug Baby Wrap is a game-changer for parents seeking the best, most comfortable baby carrier. Whether you're petite or have a different body type, this wrap caters to all. Similar to ring slings, its adjustable straps provide a tailored fit.
It offers the flexibility of a Baby K'tan and the versatility of a Beco Gemini baby carrier, accommodating babies of various weights.
Petite parents, especially small moms, will appreciate how it's suitable for different carrying positions, including the hip carry.
The CuddleBug Baby Wrap ensures head support for your little one, and it's a breeze to switch between different ways of carrying. With the 9-in-1 CuddleBug Baby Wrap, you've got the best carrier, offering comfort and convenience for both you and your baby.
The Baby K'tan Wrap Carrier is a versatile solution for parents of all body types. Designed to comfortably carry babies of varying weights, it's especially favored by small moms. Unlike the Infantino Flip or traditional soft structured carriers, the Baby K'tan offers a unique wrap-style design that supports different positions, including a secure back carry.
Its ergonomic design is a win for parents conscious of hip dysplasia concerns. Similar to the Ergobaby Omni, this carrier ensures proper support while providing numerous color options to suit your style. From newborns to older babies, the Baby K'tan is an excellent choice for those seeking an ergonomic baby carrier that adapts to their body and their little one's needs.
The Baby Gemini Ergonomic Carrier is an excellent choice for parents seeking the right baby carrier that combines comfort and ease of use. This versatile carrier offers multiple carry positions, making it suitable for various situations and needs.
Ideal for smaller builds, the Baby Gemini ensures a good fit without a steep learning curve. Its ergonomic design is endorsed by the International Hip Dysplasia Institute, ensuring proper positioning for your baby's hip development.
Parents will appreciate that this carrier is machine washable, adding to its convenience and ease of maintenance. With the Baby Gemini Ergonomic Carrier, you get a comfortable and user-friendly solution that ticks all the boxes for both you and your baby.
The Tula Ergonomic Carrier is the perfect choice for parents seeking the ideal baby carrier. Its simple design and ergonomic features make it a standout in baby gear.
This carrier offers a perfect fit for both small and large builds, thanks to its waist belt support, allowing comfortable wear for extended periods. Its adaptability for older babies eliminates the need for an infant insert, growing with your child.
Moreover, it ensures healthy hip development for your baby. The Tula Ergonomic Carrier combines simplicity, comfort, and adaptability, and it's even machine washable for added convenience. It's the perfect baby carrier for both you and your little one.
The You+Me 4-in-1 Ergonomic Baby Carrier is a great option for parents seeking the best choice in baby carriers. It offers versatility with its four unique ways of carrying your little one. This ergonomic carrier is akin to a soft structured baby carrier, offering extra padding for both you and your baby's comfort.
Unlike the Baby K'tan Wrap, there's no need to wrestle with extra fabric; it's a breeze to use. Comparable to the Baby Tula and Lillebaby Complete, this carrier offers excellent support while ensuring your baby's proper positioning. With the You+Me 4-in-1 Ergonomic Baby Carrier, you'll find a versatile, comfortable, and user-friendly option for all your baby-wearing needs.
The Nalakai Luxury Ring Sling is a great choice for parents seeking a versatile and comfortable baby carrier.
Crafted from soft cotton, it offers a breathable fabric that ensures your baby's comfort during use. This convertible carrier is suitable for various body types and comes in different sizes to provide a comfortable fit for all.
With the Nalakai Ring Sling, front carry and back support are easily achievable, offering extra support to evenly distribute the weight of your baby.
A wide seat ensures your baby's proper positioning and allows for a bit of practice in getting the perfect fit. The breathable mesh and lumbar support make this ring sling a structured carrier option, while its narrow seat provides comfort and support for both you and your little one.
Choose Nalakai for a luxurious and breathable material that's ideal for bonding with your baby while keeping them comfortable and secure.
You can see me wearing this ring sling in the image above – it's the black one!
Why Not all Carriers Work For All Body Types
Baby carriers are a parenting essential, providing a convenient way to keep your little one close while having your hands free. However, one important aspect that often gets overlooked is that not all carriers are created equal, and they may not work for all body types. Here, we delve into the reasons behind this important consideration.
Strap Length and Adjustability:

Different carriers have varying strap lengths, and not all can accommodate individuals with broader shoulders, longer torsos, or shorter frames. Adjustable straps are crucial to achieving a comfortable and secure fit.

Waist Belt Size:

Waist belts play a vital role in weight distribution. Carriers with fixed or small waist belts may not provide adequate support for individuals with larger waists or hips.

Weight Capacity:

Carriers have weight limits, and those designed for smaller babies may not be suitable for larger infants or toddlers. It's essential to choose a carrier that aligns with your child's size.

Ergonomics:

Body type can affect the ergonomic fit of a carrier. Carriers with narrow seats may not adequately support a baby's hips or a caregiver's comfort, particularly for those with broader body types.

Comfort and Support:

Body type can influence how a carrier distributes weight. A carrier that's comfortable for one person may not be for another due to variations in body shape and size.

Cultural Considerations:

Cultural factors can impact carrier preferences. What's comfortable and traditional in one culture may not align with the preferences and body types of individuals from another.

Available Sizes:

Not all carriers come in various sizes. Some may offer a one-size-fits-all approach, which might not be suitable for everyone.
Frequently Asked Questions About Baby Carriers
What is the best baby carrier for a short torso?

The best baby carrier for a short torso depends on your specific preferences and comfort needs, but there are several carriers that tend to work well for individuals with shorter torsos:
Tula Free-to-Grow Baby Carrier: Tula carriers come with adjustable straps and a wide padded waistband. The Free-to-Grow model can be easily adjusted to accommodate shorter torsos.
Boba Wrap: While not a structured carrier, the Boba Wrap is a stretchy wrap that can be customized to fit any body type, including shorter torsos. It provides a snug, secure fit for both parent and baby.
Ring Slings: Ring slings are highly adjustable and can be a great option for shorter torsos. They allow for a customized fit and are relatively easy to adjust.
Is it safe to use baby slings and wraps?
Baby slings and wraps can be safe for carrying your baby when used correctly and following the manufacturer's guidelines. Ensuring your baby is positioned correctly is crucial—your baby should be snug against your body with their face visible and their airway clear.
Adequate head and neck support, particularly for newborns and infants, is vital. Be sure to secure all knots and ties tightly, and always maintain visibility of your baby's face, avoiding any fabric that could obstruct their breathing.
Continuous monitoring while your baby is in the sling or wrap is essential. Follow the age and weight recommendations provided by the manufacturer and practice using the carrier before placing your baby in it. Additionally, regularly check for recalls or safety updates related to your specific sling or wrap.
While these carriers offer convenience and closeness, it's important not to use them for extended periods, allowing your baby time outside the carrier for movement and development. Always prioritize your baby's comfort and safety.
If you have any doubts or concerns, seek guidance from a babywearing expert or healthcare professional.
What size baby is the baby carrier made for?
The size of a baby carrier can vary depending on its brand and model, and it typically comes with weight and age recommendations from the manufacturer. These guidelines are crucial to ensure the safety and comfort of both the caregiver and the baby.
Many baby carriers are designed to accommodate newborns, typically starting from around 7-8 pounds, and can be used up to toddlers, which is usually around 35-45 pounds.
Some carriers may require the use of an infant insert for newborns to provide proper support. In contrast, others are specifically designed for infants with lower weight limits, usually ranging from 7-15 pounds.
Additionally, there are carriers designed for older babies, toddlers, and even preschoolers, with higher weight limits, often comfortably supporting children up to 40-60 pounds or more.
Some carriers are convertible, allowing adjustments to fit both infants and toddlers, with clear instructions on adapting the carrier as your baby grows.
Always refer to the manufacturer's user manual and guidelines to ensure proper use based on your baby's size and age, as using a carrier outside of the recommended weight range can affect safety and comfort.
What is a good extra petite baby carrier?
When it comes to choosing a baby carrier for extra petite parents, there are several options to consider. The Boba Wrap Carrier is a popular choice due to its adjustability and comfortable fit for smaller frames.
The 9-in-1 CuddleBug Baby Wrap is another versatile option, offering multiple carrying positions and accommodating different body types. The Baby K'tan Wrap Carrier is known for its simplicity and adaptability, making it a good fit for petite parents.
The Baby Gemini Ergonomic Carrier provides excellent support and adjustability, catering to a wide range of body sizes. The Tula Ergonomic Carrier is praised for its ergonomic design and suitability for various body types.
For those seeking versatility, the You+Me 4-in-1 Ergonomic Baby Carrier offers multiple carrying options. Lastly, the Nalakai Luxury Ring Sling provides a comfortable and breathable choice for petite parents, with its adjustability and support features.
Do I need another person to put the baby carrier on?
Whether or not you need another person to help you put on a baby carrier depends on the type and design of the carrier, as well as your own comfort and experience with using it. Many baby carriers, such as soft-structured carriers and wraps, can be put on by a single person.
However, having another person to assist you can make the process more convenient, especially when you're learning to use the carrier or when you want to ensure that your baby is positioned correctly and securely.
For certain carriers, like ring slings or meh dais, having a second pair of hands can be particularly helpful in adjusting the carrier and getting a snug fit.
Additionally, if you are recovering from childbirth or have physical limitations, having someone to assist you in putting on the carrier may be beneficial for your comfort and safety.
Ultimately, while it is possible to put on most baby carriers by yourself, having a willing helper, especially initially, can make the experience smoother and more enjoyable for both you and your baby.
Will I (or baby) get hot wearing a baby wrap?
Wearing a baby wrap can potentially lead to both you and your baby feeling hot, especially in warm weather or during physical activities. Baby wraps are typically made from fabric, which can trap heat close to your bodies. However, it's worth noting that some wraps are specifically designed with breathable and lightweight materials to help mitigate overheating.
To ensure a comfortable experience while babywearing, it's advisable to choose a wrap made from breathable fabrics like cotton or linen. These materials allow for better air circulation and moisture-wicking. Dressing both you and your baby in lightweight clothing underneath the wrap can help regulate temperature, allowing for easier adjustments as needed.
Always be attentive to your baby's cues and body temperature, looking for signs of overheating such as flushed skin, sweating, or signs of discomfort. When babywearing in hot conditions, try to avoid direct sunlight and seek shaded areas. Taking regular breaks from wearing the wrap can also provide opportunities for ventilation and cooling. Some parents find it helpful to use a thin receiving blanket as a barrier between themselves and the baby to reduce direct body heat transfer.
Ultimately, the key is to prioritize your baby's comfort and safety, especially in hot weather. If you're concerned about overheating, consider using a different type of carrier that offers improved airflow, such as a ring sling or a carrier with a breathable mesh panel. Additionally, always adapt your clothing and your baby's attire to the prevailing weather conditions to ensure a comfortable and safe babywearing experience.
Is it safe to wear baby in just a diaper?
Certainly, it is generally considered safe to wear your baby in just a diaper when using a baby carrier or wrap. This practice offers the advantage of promoting skin-to-skin contact, which is beneficial for bonding and helps regulate your baby's body temperature.
However, a few important factors must be considered. Firstly, ensure that the diaper is securely fastened to prevent any accidental exposure. Additionally, consider the prevailing weather conditions. Wearing your baby in just a diaper can be suitable in warm or hot weather to prevent overheating. In colder weather, it's crucial to dress your baby appropriately, layering them and providing additional warmth with a baby blanket or jacket as needed.
Don't forget to protect your baby's skin from the sun if you're heading outdoors, using a wide-brimmed hat and baby-safe sunscreen as necessary. Lastly, always prioritize your baby's comfort and well-being while monitoring their condition during babywearing sessions to ensure they remain content and safe.
Does the baby carrier have good back support?
The level of back support offered by a baby carrier can significantly vary depending on the specific brand and model. Some baby carriers are designed with features that prioritize excellent back support for the wearer, while others may not provide as much support.
Essential considerations for assessing back support include the carrier's ergonomic design, the presence of a wide and padded waistband that can distribute weight to the hips, adjustable shoulder and chest straps for a customized fit, and any built-in lumbar support or lumbar pads for extra lower back support.
It's important to read user reviews and seek recommendations from experienced babywearers to gain insights into the back support capabilities of a particular carrier.
Ultimately, the right baby carrier should offer the necessary back support to ensure a comfortable and enjoyable babywearing experience for both the caregiver and the baby.
Can I Breastfeed While Using a Carrier?
Certainly, breastfeeding while using a baby carrier is indeed possible, but it may require some practice and the selection of the right carrier.
To make breastfeeding in a carrier feasible, it's essential to choose a carrier that is breastfeeding-friendly, often featuring adjustable straps and buckles to allow for easy access to your breast. Mastering the latch while your baby is in the carrier may take some practice, as you'll need to ensure a proper latch and comfortable positioning. Some parents also opt to use a nursing cover or a lightweight cloth for privacy while breastfeeding.
The front carry position, like the "cradle hold," is typically the most straightforward for breastfeeding, as it positions your baby's head at breast level. Safety is paramount, so always ensure your baby's airway remains clear, and monitor their position and latch to avoid any discomfort or issues.
Prioritize comfort and accessibility by wearing clothing that allows easy access to your breast, and practice breastfeeding in the carrier at home before attempting it in public settings.
Remember that the key is finding the approach and carrier that work best for both you and your baby while ensuring their comfort and safety during feeding.
Can I Use it from Birth?
Determining whether you can use a specific baby carrier from birth largely depends on the carrier's design and features. Certain carriers are explicitly crafted with newborns in mind, incorporating elements like a narrower seat, adjustable panels, and extra head and neck support to ensure safe and comfortable positioning for a newborn.
In contrast, some carriers may require the use of an infant insert, which provides added support and cushioning for a baby's body and head during their early months. It's essential to examine the manufacturer's guidelines for any weight or age restrictions, as some carriers are indeed suitable for use from birth, while others may have minimum weight requirements or other specifications.
Always consult the user manual or manufacturer's guidelines for detailed instructions on using the carrier with a newborn, and prioritize your baby's safety and comfort throughout their babywearing experience.
If you have any uncertainties, consider reaching out to the manufacturer or a certified babywearing consultant for expert guidance. Vigilance in monitoring your baby's position and well-being, especially during the early stages, is paramount.
Is it Travel-Friendly?
The suitability of a baby carrier for travel largely depends on several factors that collectively determine its travel-friendliness.
Key considerations include the carrier's design, portability, and ease of use. Travel-friendly carriers are typically compact and lightweight, making them easy to fold or stow away in luggage. They should also be simple to put on and take off, a crucial convenience in busy or confined spaces like airports.
Adjustable carriers that cater to various caregivers and adapt to your baby's changing needs during travel are advantageous. Easy cleaning and maintenance while on the go are practical aspects, especially for spills and accidents that can occur during travel.
Comfort for both caregiver and baby during extended periods of use is paramount, particularly when navigating airports or exploring destinations. Secure fastening and support, as well as breathable materials for warmer climates, are further considerations.
Storage pockets for essentials and versatility in carrying positions add to the carrier's travel utility. Before embarking on your journey, it's wise to familiarize yourself with the carrier's features and test it at home to ensure a seamless and comfortable travel experience for both you and your baby.
More Like this
Best Baby Carriers For Plus Size Moms
Your Guide To A Non Toxic Baby Swing
5 Tips for Planning a Road Trip When You Have a Baby