This post may contain affiliate links. Full privacy policy and disclosure here.
Best positive parenting books all parents should read that will help them be a better parent by learning to understand how children develop, and reasons behind certain behaviors are revealed!
Let's face it, as parents, we are often faced with challenges, and when we don't know how to meet them, we turn to our favorite resources (top parenting books) to help us figure it out.
I'm a researcher.
A quick google search will often bring up some useful information, but some of the best advice I've read comes from reading well-written popular parenting books.
The books on parenting that I have listed discuss positive parenting, including topics of communication, dealing with conflict, and discipline methods you can use in your home using the power of connecting before correcting, otherwise known as positive discipline.
If you love parenting resources, I highly suggest this free 1hr parenting webinar. I also would love to suggest my favorite parenting course, positive parenting solutions. I have a full review on the course here.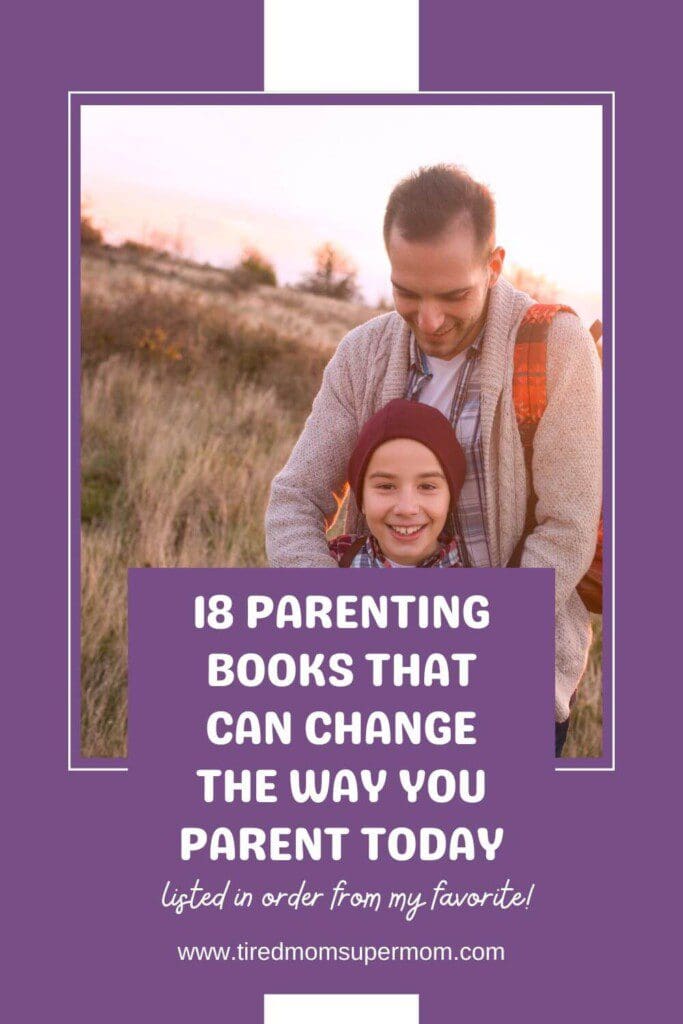 The Best Parenting Books All Parents Should Read
I love the feeling of finishing off a good book. Whether it's a scary one or a happy one, it gives me great pleasure to complete a story, and it's not just for parenting for first-time parents, all parents can enjoy a great parenting book.
However, positive parenting books are around to solve a problem, and not all books are going to help you as you had hoped, but I have tried my best to round up the best positive parenting books for you.
See also: 34 Good Christian Parenting Books You Need To Read
Sometimes it can take pages and pages of reading through someone's story before your question gets answered.
Enough with the fluff already! If you're picking up a parenting book, you want a straightforward no BS answer.
So, to help you weed out the nonsense, I've compiled a list of my favorite parenting books on gentle and positive parenting and no drama discipline for young children.
See also: Best Parents To Follow On TikTok If You Need A Laugh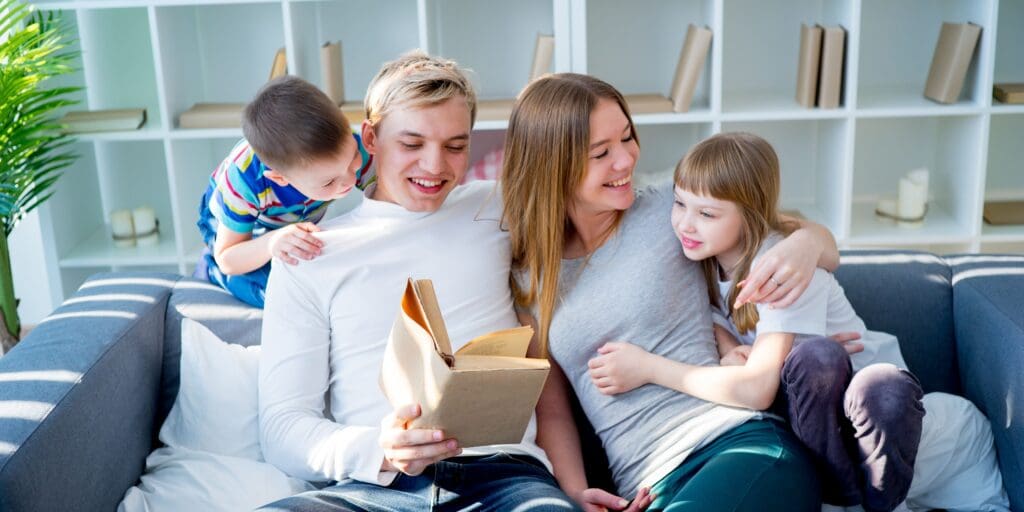 This great book is written by dr. laura markham and is based on scientific research and development.
Dr. Markham uses positive parenting techniques to explain the most effective ways to deal with certain child behaviors using practical strategies.
Her message really resonates with me and my parenting beliefs, which is why I love this book so much.
A lot of parents of toddlers have said that they have stopped yelling and using negative punishment since reading this book (yay!)
Dr. Marham also focuses on family connection and parent-child relationships as part of creating better-behaving children which are such common topics that come up with parents.
Most of the practices in this brilliant book are geared toward creating a calm home environment where there is a lot of connection, communication, and understanding between family members.
This is an excellent option for those parents who need a little calm in their lives.
This book is kind of like a parenting bible and has many age-appropriate strategies to deal with children's behavior using emotional connection and promoting healthy brain development. Written by By Adele Faber and Elaine Mazlish.
I know parenting didn't come with instructions, but this book is pretty darn close to being a manual.
A lot of the values in this book focus on letting children feel their feelings.
The methods laid out in this book DO work. There are plenty of examples to follow along with and many actionable tips that you can put into real-life practice.
No longer will you have a screaming child at a Christmas party because a candy cane broke, learn how to handle a situation without further upsetting the child, and get over the tantrum quickly and peacefully.
This book is kind of like a parenting bible. You'll learn how to communicate to your kids in a way that diffuses their anger and allows you to reconnect with their lovely, loving side, thanks to detailed scripts and real-life examples.
Do you have the impression that your youngster is out of control? Is it common for your youngster to weep, shout, swear, punch, or otherwise react to problems? Please get your hands on this book if you've tried everything and nothing seems to work.
This caring, insightful, and practical book will provide you with the tools you need to defuse damaging behaviours in the present and avoid them in the future.
Dr. Greene will explain why typical punishment and reward approaches don't work with explosive children, and what you should do instead.
This is a charming, positive parenting book about three different American teenagers, and how they got to be so smart growing up the way they did.
You learn the ins and outs of their way of life and learn to appreciate the effort it takes to become a smart grownup.
Ripley does an excellent job examining the cultural, economic, and sociological factors that impact students' academic success across the globe.
Her in-depth analysis makes the book well worth reading.
Jane Nelsen is the creator of Positive Discipline, which includes books, training, and a methodology based on Alfred Adler's work.
Jane's experience as a psychologist, educator, and mother of seven children qualifies her as an expert in the field of parenting, especially a three-year-old toddler. Jane gives practical ideas in this book (and all of her other publications) to help parents and teachers be both compassionate and tough, caring and consistent.
She claims that mutual respect, not punishment, is the cornerstone to Positive Discipline. Jane will tell you how to persuade your children to comply while maintaining their dignity.
If you're looking for a laugh, this is a must-read book on toddlers and the "terrible" two's reading list because even the best parents go through funny times with kids.
You'll laugh so hard you may pee your pants with the real-life examples that this dad writes about. There is no brain science or parenting guidance in this book, this is purely entertaining but so important for our mental health.
MUST-READ book that was written by " No Idea What I'm Doing: A Daddy Blog."
Have a blast guffawing at the real-life toddler stories that most of us won't dare to admit actually happen in our homes. (You know they do!)
This is definitely a must-read for a good laugh but maybe not so much a positive parenting book.
This is a beautiful book is an essential guide to raising confident kids that are self-motivated and are ready to take on the real world.
This book is a parenting game-changer for the newly conscious parent.
Not every parenting method will work with every child or temperament, but a lot of the methods in this book encourage peaceful home relationships and promotes a healthy child development.
Creating connections and rich relationships that go hand in hand with mutual respect with little kids can help your children make better choices when they are teenagers.
Some of the reviews are saying this book focuses on harsh discipline; however, having read this book myself, I can tell you now that the severe punishment methods are not encouraged for good reason, but are simply examples of other parenting decisions.
Also, a must-read! I love this practical book and the values it represents.
"Wait a second!" you might think after a quick search of the title. That isn't a parenting manual!" Let's get one thing straight before you stop reading, my friend: parenting, like most things in life, is all about mentality.
This book has EVERYTHING to do with parenting if you want to be a successful parent and raise successful children.
In this great work, Dr. Dweck demonstrates how our perceptions of our talents and abilities may have a significant impact on our success in practically every human effort (even parenting).
People who have a fixed mindset, or feel that talents are fixed, are less likely to succeed than those who have a growth mindset, or believe that abilities may be enhanced.
More The Best Parenting Books for the Parent Focused on Positive Parenting
The whole-brain child: 12 Revolutionary Strategies to Nurture Your Child's Developing Mind by By Daniel J. Siegel, M.D. and Tina Payne Bryson, M.D. is another great addition to the list of the best parenting books. Dr. Siegel and Dr. Bryson provide you ways to work with your child's brain rather than against it by knowing what's going on in his or her brain. Implementing these 12 tactics will aid in the development of a healthy brain, resulting in calmer, happier children.
The Whole-Brain Child shows you how to cultivate healthy emotional and intellectual development so your children can lead balanced, meaningful, and connected lives, complete with age-appropriate strategies for dealing with day-to-day struggles and illustrations to help you explain these concepts to your child.
When you combine The Whole-Brain Child with Daniel Siegel's other book, No-Drama Discipline, you'll have a better road map for dealing with tantrums, outbursts, backtalk, and other tough behaviour as your children transition from toddler to school age.
The 5 Love Languages of Children: The Secret to Loving Children Effectively by Gary Chapman and Ross Campbell :We all want our children to feel appreciated as parents. However, the manner we show people love may not be the method they require. This book discusses the five love languages and how we might apply them to our interactions with our children.
This book taught me how to build a firm foundation of unconditional love for my children. The book's suggestions will not only help you create a deep bond with your children, but they will also make parenting and discipline easier.
Middle School Makeover By Michelle Icard is a small book is a must-have for parents and educators who wish to assist their tweens negotiate middle school's socially charged corridors, gyms, and cafeterias. Michelle works with parents, teachers, and other adults in middle school settings to assist them understand the social challenges and other issues that children face today.
She addresses a wide range of issues, starting with helping us grasp what's going on in adolescents' brains and how this neurological development influences decision-making and identity concerns. She also talks about dating, social media, and peer isolation.
Icard provides readers clear and practical suggestions for helping children through this turbulent developmental time while using both contemporary research and her personal, considerable experience dealing with middle-school-aged children and their parents.
1, 2, 3 Magic is a book based on counting to three and is best suited for new parents of kids ages 2-12. This book focuses heavily on not negotiating with children and using time out as a third and final hit. Designed to help parents take control of their homes, this guide includes advice on how to spot six different forms of testing and manipulating conduct, as well as how to deal with misbehavior at home and in public.
Grace-Based Parenting for keeping a healthy relationship with your kids while maintaining discipline in your home. In today's environment, parents are devoted to but concerned about their child-rearing obligations. They've tried a variety of parenting books, but many of them are strident, fear-based literature that loving parents immediately reject while yet looking for guidance. Dr. Tim Kimmel, the founder of Family Matters Ministries, now gives a new perspective on parenting. Dr. Kimmel advises a parenting approach that represents God's love, reflects His forgiveness, and replaces fear as a motivator for behavior, rather than hard rules and checklists that don't work.
Bringing Up Boys for shaping the future men of the world and is a good Christian parenting book as well as a conscience parenting book. With so much confusion regarding men's roles in our culture, it's no surprise that so many parents and teachers are concerned about how to raise boys. Why are there so many troubled young men? What characteristics should we strive to foster in young men? As a result of our culture's condemnation of masculinity, a whole generation of boys is growing up without a clear understanding of what it means to be a man. Dr. Dobson draws on his experience as a child psychologist and family counsellor, as well as considerable research, to offer advice and encouragement based on a firm foundation of biblical principles in the runaway blockbuster Bringing Up Boys.
Bringing Up Girls for raising the woman of the future. The influence of others. Eating disorders are a type of eating disorder. Love, romance, and sex-related decisions. Academic obligations. Goals in life and how to accomplish them These are just a few of the problems that today's girls face, and the age at which they face them is increasing younger. How are you guiding your daughter on her path to womanhood as a parent? Are you giving her the tools she needs to make good decisions? Is she truly confident in her identity as your respected and loved daughter, whether she's still playing with dolls or in the midst of the often-tumultuous adolescent years? Dr. James Dobson, author of the New York Times bestseller Bringing Up Girls, will help you face the challenges of raising your daughters to be strong, healthy, and independent women.
Parenting Isn't for Cowards for some positive parenting good reads, the truth about parenting! for the truth about good parenting! When you consider all that could go wrong in the years ahead as a parent, does your heart skip a beat? Anxiety is natural, but it doesn't have to become a reality. Dr. James Dobson, speaking as a therapist and a father, and building on a landmark survey of 35,000 parents, helps you…
Protect your sanity during a child's adolescence by preventing child-rearing problems before they occur. Banish your guilt about difficult-to-raise children. When you're tired of being tired, it's time to recharge your batteries. improve your child's bond with you This confidence-building classic, which has sold over one million copies, will let you feel the full joy of parenthood and help you improve your parenting skills.
The Montessori Toddler: A Parent's Guide to Raising a Curious and Responsible Human Being This is all about changing the way we see toddlers! It's time to modify how we think about toddlers. Simone Davies illustrates how to change life with a "terrible two" into a mutually rich and happy time of curiosity, learning, respect, and discovery, based on the concepts outlined by educator Dr. Maria Montessori. From "Trust in the child" to "Fostering a sense of wonder," there are hundreds of practical ideas for every area of living with a toddler in this book. Here are five principles for feeding your child's natural curiosity, from "Trust in the child" to "Fostering a sense of wonder." Brushing teeth, toilet training, coping with siblings, and putting away the pacifier are just a few examples of how to create daily routines with ease.
How to be a Happier Parent for learning how to enjoy family life and not get caught up in the hustle and bustle of a busy day. KJ asks, "How can we transform our family life such that it is full of the joy we've always longed for?" in this upbeat, solution-packed book. KJ discovers that by doing less, we can achieve more and make our family life a shelter and pleasure rather than another stress point in a stressful day, based on the latest research and interviews with families. She focuses on nine typical problem areas that give parents the most sorrow, investigates why they are difficult, and provides tiny, practical, and sometimes surprising steps you may take to improve them.
See also: The Best Parenting Blogs You Must Read In 2022
Frequently Asked Questions On Positive Parenting Books
Does Positive Parenting Solutions Really Work?
Positive parenting solutions is not a book, but rather a course all about using positive parenting to respond and connect with your child to teach them to listen and behave in simple ways. I have an entire review on positive parenting solutions here.
What is the positive parenting approach?
The gentle parenting approach is a way to parent your children using gentle and kind ways such as connecting before correcting and not using your adult powers to bully and yell at your little one.
Why are parenting books bad?
Parenting books are not bad, however, if parents read many conflicting parenting books they can become confused as to what kind of parenting styles they want to use. It's a good idea to be educated in the many ways you can raise your children, however, you should have some boundaries in which advice you decide to take from each resource that you choose to look into.
The Only Parenting Books You Will Ever Need To Read
These practical advice conscience parenting book recommendations will give you what you need in a parenting book, with lots of tips on getting through power struggles and how to be better parents overall.
From toddler discipline to parenting a rebellious teenager this list of books is full of great resources that feature a revolutionary approach to effective discipline when raising children and other parenting tips.
Raise resilient children have a happy home by regulating your own emotions and creating a strong connection with your kids.
From I've outlined what the value is of each book on parenting advice and now you should go buy the book, or find it at your local library and do what it says.
Reading the book is great. Understanding the book is awesome. Applying what you learned is life-changing.
These parenting books are all an awesome read and all have so much value!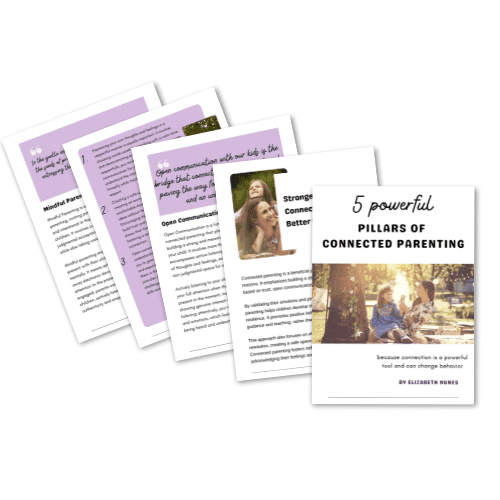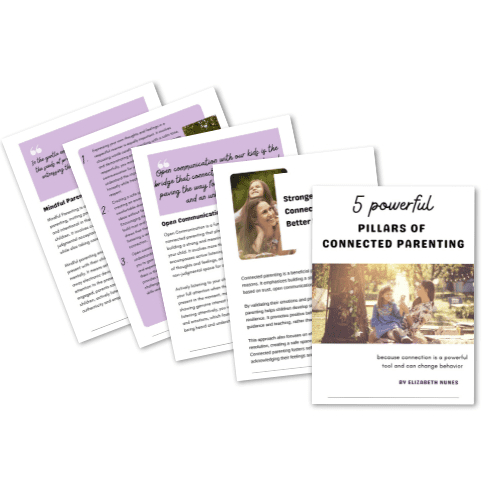 Free Download
Take your parenting journey to the next level with our comprehensive ebook on Connected Parenting.
Download this ebook now and embark on a transformative parenting experience that will strengthen your bond with your child and bring joy and fulfillment to your family life.
More Like This