The best educational YouTube channels for your toddler to enjoy and learn from when you need a break and want to provide a more educational experience to your little ones.
These days, most children watch YouTuve and Netflix instead of good old cable television like I used to watch growing up. Youtube is amazing.
It has so many great resources for anyone to learn anything. The only problem with youtube is that you have to really filter the content to find the proper stuff that's actually educational and worthwhile for kids to watch on the best channels.
Technology isn't a monster and it's up to you how much screen time you allow in your home, it's a great tool that we can use to help our children learn and grow. Remember to activate the parental controls on your device and let the kids watch guilt-free shows.
I also have a list of educational and entertaining shows for kids to watch on Netflix if you are interested, however for this particular article I will simply provide list of youtube channels for toddlers.
This post may contain affiliate links. Full privacy policy and disclosure here.
List of youtube channels you'll see:
Screen Time For Toddlers
Except for video conferencing, the American Academy of Pediatrics discourages children under the age of 18 months from using media.
Screen time is a controversial topic in today's parenting world. The short answer is that there are no hard and fast rules about screen time. Parents should monitor their children's usage to ensure that it doesn't interfere with their sleep schedule or environmental stimulation.
One important thing to note is that screen time can have a negative impact on your child's development. Studies have shown that watching too much TV can cause increased anxiety, decreased attention span, and poor development in the visual, auditory, and motor areas of the brain.
It can also make it harder for your child to transition from one activity to another, which can lead to frustration and meltdowns. However, not all screen time is bad. Some forms of screen time are actually good for kids!
For example, playing games on an iPad or computer can help improve your child's motor skills by giving them a chance to play with real objects in different ways.
And watching educational shows or videos can be an excellent way for your child to learn new things (without you having to ask them every 10 minutes if they want more food).
When To Utilize Screen Time For Toddlers
Personally I wouldn't recommend watching Tv all day long for little ones. But you need to do whatever works for you, and don't let the mom guilt take over.
I like to use screen time as a tool of distraction when I need to get something done. My toddler is particularly clingy, and if the older kids are playing a game together, she is often left out and then automatically wants to be carried.
So how do I use youtube with my toddler? When I'm doing tasks like:
Folding Laundry
Cooking Dinner
Writing an important email
Doing our bi weekly budget
I also really like to strap her into a high chair with a snack while I put her in front of the show because otherwise she's clinging to me while watching the show and that doesn't help momma out.
Now her attention span is about 15 minutes, so we don't usually go over that amount of screen time for her. So whatever task I need to do, I have to do it quick! I also don't do it everyday, only when I really need to. Sometimes I use youtube as a calm down tool as well, especially the cosmic yoga channel. My toddler really likes to imitate the yoga poses, and that can snap her out of her fight or flight mode.
While there are no hard and fast rules about how much screen time your toddler should have, keeping tabs on their screen time is a good idea. Screen time can be tempting as it offers a kid a chance to engage in different activities than usual.
However, it can also cause kids to become more isolated and less likely to engage in typical play and physical activities.
If you want to limit your child's screen time, one way to do so is by setting limits with them. For example, you can say that they can only use the iPad or smartphone for an hour before bedtime. You can also ask them what they would like to do during their free time, and then make plans accordingly.
By doing this, you are not just limiting the amount of time they are using the device, but you are also making sure they are engaged in other activities throughout the day.
The Best Youtube Channels For Toddlers
My toddlers personal favorite educational YouTube channel is songs for littles with miss Rachel!
Rachel has been making music for children for over 30 years, and it is her passion to help them learn about music in a fun and engaging way. She loves working with kids on instruments and also singing them songs that they can sing along to. Most of all, she wants children to have a positive experience while learning music.
If you are looking for a great way to encourage your child's musical abilities or are looking for some songs that are easy to sing along with, then check out Miss Rachel's Music For Littles With Miss Rachel website.
There you will find lots of fun interactive activities that your child can do while learning new skills, such as playing an instrument or singing! You can also find songs that are suitable for little ones across many different ages and skill levels.
Miss Rachel also regularly posts updates on her Instagram account so be sure to follow her there!
Blippi is a YouTube channel and blog for kids with lots of engaging videos, songs and activities.
Blippi's mission is to help kids learn to read and write, build confidence and have fun while they're doing it. The videos are entertaining and easy to follow, with a wide range of topics from sports and animals to math, science and music.
Each video has an associated activity for kids to do at home, such as reading the story or writing the lyrics to the song. Blippi also offers free downloadable books, games and resources for parents.
Blippi is a great place for kids who are interested in learning to read and write because it combines fun video content with practical skills, such as phonics.
Blippi also inspires kids to keep growing their love of reading & writing by providing them with lots of encouragement!
We recently stumbled upon Caitie's Classroom, and my 2-year-old has quickly fallen in love with it.
Super Simple Play with Caitie is an educational YouTube channel that presents a delightful fusion of learning and fun, tailor-made for young children.
Within its treasure trove of educational videos, Super Simple Play with Caitie! offers an engaging and enjoyable avenue for children to explore a wide array of subjects, including science, natural science, social studies, and music, among others.
From captivating circle time sessions that foster interactive learning to invigorating brain breaks that keep little minds active, the channel boasts an impressive collection of educational songs and catchy tunes. It serves as an invaluable resource for parents seeking inventive ways to both entertain and educate their children.
The channel's friendly and accessible approach makes it particularly well-suited for younger children, ensuring an enjoyable and enriching experience. Super Simple Play with Caitie boasts its own dedicated YouTube channel, providing a hub for original and share-worthy content.
With offerings ranging from exciting virtual field trips to the Chicago Field Museum to engaging lessons on geographical features, Super Simple Play with Caitie caters to a diverse audience, making it an educational haven for children of all interests and ages.
"Songs For Littles With Miss Rachel" is a fantastic YouTube channel dedicated to educating and entertaining young children. Through a delightful collection of videos, Miss Rachel employs classical music and engaging songs to introduce kids to subjects like natural science, famous art, and social studies.
Regularly updated with fresh content, the channel also incorporates brain breaks and entertaining activities to keep children both engaged and learning simultaneously. Miss Rachel's channel provides a safe and friendly environment for kids, with parental controls available to ensure their safety during viewing.
In essence, "Songs For Littles With Miss Rachel" fosters enjoyable learning experiences, making it an ideal destination for children of all ages to explore and cherish.
Meekah is an educational YouTube channel designed to cater to the diverse interests of children of all ages. Offering a wide array of engaging videos, Meekah covers everything from Crash Course Kids to fascinating science experiments and much more.
Whether your child's passion lies in the world of Star Wars, the realm of chemical reactions, or the exploration of nature through the lens of National Geographic Kids, Meekah's channel offers something captivating for every young learner.
With its content ideally suited for middle school and older children, parents can rest assured about their child's online safety by utilizing the YouTube Kids app.
Meekah's channel takes a creative and enjoyable approach to learning, making it an invaluable resource for both remote education and as a supplement to traditional classroom instruction.
From enchanting fairy tales to valuable life lessons, Meekah's channel serves as a wholesome, kid-friendly space for both learning and personal growth.
Jammin' With Jules
An extension of Miss Rachels channel is Jammin' with Jules! Jules sings toddlers favorite songs and does the actions to show your toddler how to dance to the song!
We even like to play Jammin' with Jules on the google home hub and have little dance parties in the kitchen. If you like Miss Rachel, you'll love Jammin' With Jules too.
You might be thinking that yoga isn't very exciting for a toddler but I'm here to tell you that it's really not! My newest toddler absolutely loves Cosmic Yoga, and it can even snap her out of a tantrum.
Cosmic yoga for kids is a fun way to connect children of all ages to the natural world. It can be done in a variety of settings, from parks, gardens, and playgrounds to museums and nature centers. Kids can play games that involve working with nature and sometimes even experiment with yoga poses.
Yoga for kids can help foster curiosity about the world outside of everyday life and inspire them to get outdoors more often.
More than 1 million children participate in yoga classes each year. Kids who practice yoga are more likely to eat a healthy diet, exercise regularly, and have better self-confidence.
Cosmic yoga can also help kids develop their inner strength, compassion, and patience. In addition, it can help them learn how to deal with bullying and other social issues at school.
Children should be encouraged to keep practicing yoga as they grow older. As they mature, they may find themselves looking up at the sky or standing on their own two feet as they engage in different poses.
Yoga helps them learn how to cope with these challenges by strengthening their balance and flexibility while calming their nervous system.
Welcome to Gabby & Friends, a dynamic YouTube channel that caters to children of all ages with a rich blend of entertainment and education.
Gabby & Friends is on a mission to transform learning into an enjoyable adventure, offering a wealth of free educational resources that ignite young minds and foster curiosity.
The channel boasts an extensive range of content, suitable for older kids, including high school level material, children's literature, captivating science demonstrations, rejuvenating brain breaks, and much more. No matter where your child's interests lie, be it in the natural world, the realm of art, or the mysteries of science, Gabby & Friends promises engaging content for everyone.
In the world of YouTube, Gabby & Friends stands out as a wholesome and enriching choice for kids. Its unique blend of fun and educational content makes it a must-visit destination for children seeking both entertainment and knowledge. Give it a try; you won't be disappointed!
Dive into our comprehensive guide on crafting a balanced digital life for your kids, where screen time meets green time. Click to learn the secrets of integrating tech with touch – it's time to redefine family time!
Sesame Street, a timeless educational treasure, has been enchanting audiences for more than half a century.
This beloved show boasts a cast of iconic characters, including the likes of Big Bird, Elmo, and the ever-hungry Cookie Monster, rendering Sesame Street a household name and a trusted ally for parents and educators alike.
The show's repertoire spans a vast spectrum of educational videos, encompassing everything from fundamental lessons in letters and numbers to the nurturing of social-emotional skills and fostering cultural awareness.
Sesame Street has been an illustrious pioneer in promoting inclusive and diverse representation, ensuring that it remains a heartwarming and enjoyable destination for children of every age and background.
With its imaginative and interactive content, Sesame Street maintains its place as one of the foremost YouTube channels for children, continually inspiring and educating young minds.
Introducing Super Kids TV, the ultimate destination on YouTube for an educational and entertaining journey suitable for children of all ages.
Super Kids TV boasts a diverse library of videos, ranging from beloved nursery rhymes to captivating science experiments, ensuring an engaging and enjoyable platform for kids to embark on their learning adventures.
The channel is a vibrant showcase of catchy tunes and vibrant animations, expertly crafted to captivate the imagination of younger children, providing a delightful learning experience.
But Super Kids TV doesn't stop at entertainment; it's also a hub of education, delving into subjects as diverse as natural science, social studies, and renowned works of art.
For parents seeking dynamic and engaging ways to teach their children new concepts, Super Kids TV is a valuable resource that caters to kids of all ages, promising both fun and learning in equal measure.
PBS KIDS stands as a beloved and highly-regarded educational channel for young children, making learning a delightful adventure.
Diverse and engaging educational content fills the PBS KIDS channel, ensuring that children absorb knowledge while reveling in fun-filled experiences.
Whether young minds seek enlightenment through captivating science experiments or delve into the realms of social studies, PBS KIDS caters to every inquisitive spirit. The channel boasts popular shows like "Wild Kratts," "Daniel Tiger's Neighborhood," and "Arthur," alongside educational videos that span subjects such as math, reading, and the wonders of natural science.
With a steadfast dedication to early learning, PBS KIDS serves as an invaluable resource cherished by both parents and educators.
To further enhance accessibility, the channel is readily available on the PBS KIDS website and the PBS KIDS Video app, ensuring that kids can embark on their educational journey anytime and anywhere. PBS KIDS, where learning and fun unite!
Enter the captivating world of Brain Candy TV, an exceptional educational YouTube channel that ignites young minds with the wonders of science.
This channel is a treasure trove of science videos, encompassing everything from mesmerizing chemistry experiments to unraveling the mysteries of physics. Brain Candy TV is your go-to source for a dynamic and interactive exploration of the world around us.
Perfectly suited for a diverse range of young learners, from preschoolers to older children, this channel takes education to new heights. Its educational videos are expertly crafted to deliver science concepts in a captivating and playful manner, ensuring that they not only grab kids' attention but also inspire them to dive into science with hands-on enthusiasm.
Brain Candy TV is an invaluable resource for parents and educators seeking innovative ways to spark their children's passion for science. Let Brain Candy TV be your partner in cultivating a lifelong love for scientific discovery!
Welcome to the world of PAW Patrol Official & Friends, a renowned YouTube channel that blends education and entertainment, catering to children of all ages.
This channel, adorned with the endearing PAW Patrol characters, is a haven for young minds seeking both enrichment and amusement in a secure online environment.
Each video presented here is a captivating journey, encompassing a plethora of themes, from science and animals to exciting adventures and new discoveries. These videos are thoughtfully designed to captivate children's attention while imparting essential knowledge in an engaging and interactive manner.
Equipped with parental controls and a vast array of topics, PAW Patrol Official & Friends stands as a perfect channel for children who relish the thrill of learning while having a blast. It's where education meets excitement, ensuring a delightful and enriching experience for kids.

Step into the captivating world of Alphablocks, an engaging and educational haven tailored for young learners, committed to making the journey of mastering the English alphabet, reading, and writing a joyful adventure.
At the heart of this channel are animated letter characters that unite, forming words and embarking on explorations of various concepts through the enchantment of music, captivating stories, and interactive play.
Alphablocks generously offers a wealth of free educational content catering to the inquisitiveness of children of all ages, with a special emphasis on preschool and early elementary school students.
With its vibrant and enjoyable approach, Alphablocks becomes a playful yet effective pathway for children to nurture and refine their language skills. It stands as an invaluable resource, warmly embraced by both parents and educators, facilitating the educational journey with enthusiasm and delight.
Funny Lion
"Funny Lion" is an exceptional show for toddlers for several compelling reasons.
Firstly, it combines the magic of storytelling with the charm of imaginative play, creating a dynamic and captivating viewing experience for young minds.
The use of toys and people's voices to enact stories encourages toddlers to explore their own creativity and engage in imaginative play, fostering their cognitive and social development.
Mother Goose Club
"Mother Goose Club" is a wonderful show for toddlers, celebrated for its educational and entertaining content. The show brings classic nursery rhymes to life in a vibrant and engaging manner, introducing young children to the joy of language, rhythm, and storytelling.
These timeless rhymes, set to catchy tunes, create a dynamic and immersive learning experience, enhancing language development and phonemic awareness in toddlers.
What makes "Mother Goose Club" particularly appealing is its seamless blend of animated characters and "real-life" segments featuring children in costumes.
This combination offers a rich visual variety that keeps toddlers intrigued and entertained while imparting essential social and emotional skills.
Toddler Fun Learning
Toddler Fun Learning offers a mix of engaging content for young children. With a focus on educational lessons and slow-paced graphics, it caters to toddlers' needs by introducing them to a variety of subjects in an accessible way. Whether it's animated characters or real-life footage, this channel provides a diverse learning experience for the little ones.
CBC Kids
CBC Kids on YouTube is an extension of the well-known Canadian broadcasting network. It features a collection of mainstream TV characters, offering a wide range of content that includes educational and entertaining shows. From timeless classics to new favorites, CBC Kids keeps children engaged and informed.
Patty Shukla Kids TV – Children's songs
Patty Shukla's YouTube channel is a vibrant world of children's songs and engaging educational content. With enthusiastic singing and interactive videos, Patty Shukla encourages early learners to join in the fun. Her channel provides a musical and lively space for kids to explore and enjoy.
Machines for Kids
Machines for Kids offers a straightforward and simple approach to content. It primarily features videos of various machinery like boats, diggers, trucks, and tractors set to background music. While basic, it's perfect for children fascinated by construction and machinery.
Danny Go!
Danny Go! is an educational channel that combines fun and learning. From exploring science concepts to taking young viewers on captivating journeys, Danny Go! offers a diverse range of educational experiences. With a friendly host and engaging content, it encourages children's curiosity and critical thinking.
The Learning Station
The Learning Station is dedicated to providing children with fun and educational songs. These catchy tunes cover various themes, from basic counting to important life skills. It's a great channel for enhancing children's learning while keeping them entertained through the power of music.
Storyline Online
Storyline Online is a treasure trove of captivating storytime experiences. Well-known actors narrate children's books, bringing the tales to life with engaging animations and illustrations. This channel fosters a love for reading, making storytime a delightful and educational adventure for young listeners.
Keep Calm And Screen Time On
Youtube can be a great place for curious kids to take brain brakes. If you're doing distance learning or need some quiet time during the school holidays these short videos are educational and show your kids creative ways to play and take brain breaks.
I hope your children enjoy these Youtube channels! If you like these suggestions, be sure to check out 23 Interactive And Educational Websites For Kids, and 16 Educational Shows On Netflix For Kids. I also love these Tablet Apps That Don't Require Wifi For Kids Under 5 for when we are not home.
With moderation and responsible internet usage, your children can learn new things every day and become smart little people. So keep calm, and screen time on with these best educational YouTube videos for kids!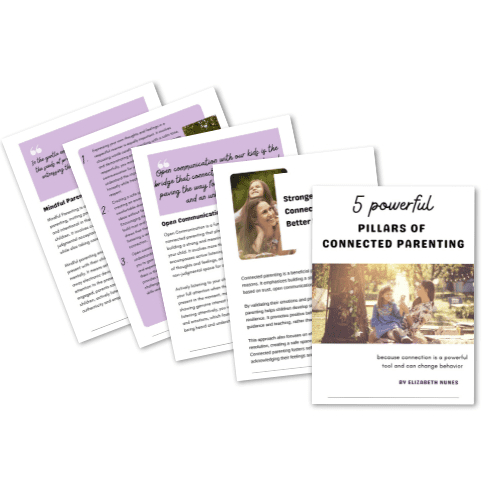 Free Download
Take your parenting journey to the next level with our comprehensive ebook on Connected Parenting.
Download this ebook now and embark on a transformative parenting experience that will strengthen your bond with your child and bring joy and fulfillment to your family life.
Want More Ways To Entertain Your Toddler?
Best Toddler Microphone Your Kids Will Love
How to Make Playing with Your Toddler More Fun and Engaging
7 Easy Imagination Games For Toddlers
15 Best Sticker Books For Toddlers