44 Family Fun Night Ideas Your Kids Will Love
This post may contain affiliate links. Full privacy policy and disclosure here.
How you can spend quality time with your family with some family fun night ideas.
Life is busy. Parenting is exhausting. Creating connections can seem like an impossible task with a busy bustling family life.
Not to mention the added screens in every hand, and each room of the house. It can feel like you simply cannot connect with your children.
I found that a great way to create some deep connections and spend quality time with the whole family is by hosting a family fun night.
Family fun night can help foster those deep connections. Put down the screens and focus on all the family members around you.
You can do a family fun night every week, or once a month. It really is up to you, however I recommend weekly (that's how my family does it.)
We like to play board games together on Saturday nights after dinner, and we also love to connect with relatives that are far away via Zoom calls on Sunday nights. These are family events and are usually a lot of fun.
You can have a family fun night too, and it can be on any day of the week. Here are some fun night ideas you can do in your own living room with your family members.
See also: How To Spend Quality Time With Kids
If you are looking for ways to play with your kids and spent more quality time together, try this family quality time planner!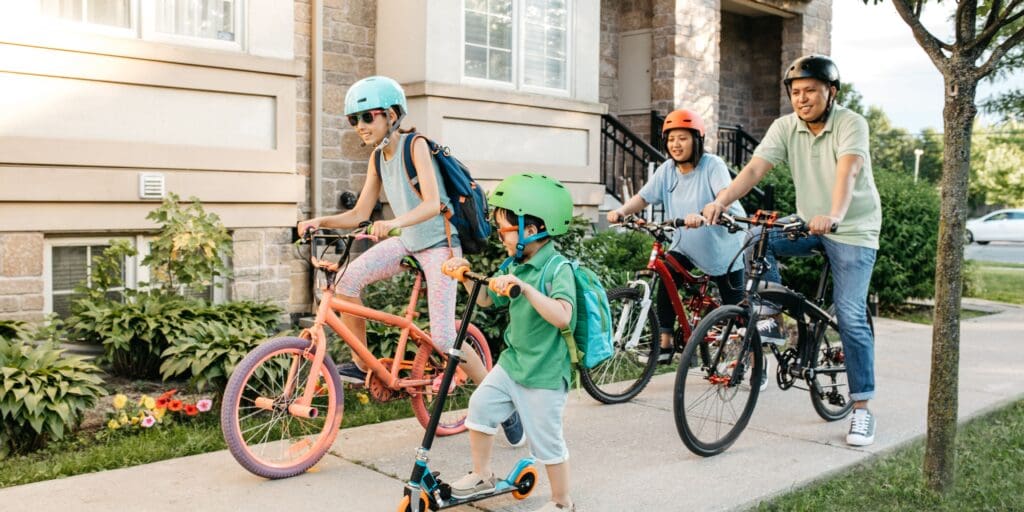 Family Fun Night Ideas
Remember that you can host a family fun night on any day of the week and it doesn't have to be at night, it can be during the day as well. Put down those phones, go create some memories and deep connections with your kids with these fun family activities.
Walk In The Park
A walk in the park is always a nice way to get connected with nature and watch your kids enjoy the outside world with awe and wonder. Make it more interesting by discussing the things you see, smell and feel while you walk with the family.
You can also skip, hop, or walk backwards as a family to make things even more interesting. You can have a great time by trying to find new bugs and other creepy crawling creatures while you walk in the park like a little scavenger hunt. Getting outside is always a good way to get away from video games.
Dance
If your family is looking for something indoors and exciting, put on some tunes for a dance party. Tell your children all about the music you listened to when you were their age. You can find great music on youtube, or Spotify.
Some search suggestions could be "kids Bops" or "Music for children." You can also try this sing-along for kids or these silly songs. You can play a fun game such as "the floor is lava" with your google speaker as a fun way to have a fun time.
See also: 8 Easy Backyard Games For Kids
Paint Rocks
Have you ever heard of kindness rocks? Paint some kindness rocks with your children and then go on a walk and plant them around your neighbourhood.
I've definitely found a few in my neighbourhood and my kids really appreciate them when they see that someone was thoughtful and wanted to share kinds words with strangers.
It's so much fun knowing that there are people out there that spent the time decorating these rocks and you can do it too.
Movies
Kids love movies, and a movie night can be the best thing! You can host the movie night in the main living space with extra popcorn and candy, or have the movie in the children's room to make it extra special. Some movies that my kids have really enjoyed are Sonic, The Greatest Showman and Spy Kids.
See also: The Most Epic Summer Bucket List For Kids: 56 Awesome Ideas
Build A Fort
Don't leave it for the kids to get all creative, build a fort with the whole family. You can even hold a family movie night in your fort. That's a great opportunity to cuddle up and soak in those young kids.
Cook Dinner
In my family, my husband or I are the only ones who make dinner every single day. Why not get the kids involved? Get creative and create a menu together for your family dinner, set a time for when dinner will be ready and get cooking. Smaller kids can help wash the dishes while the older kids can learn how to safely use knives with supervision.
Bowling
Have you been to a bowling alley recently? It's really fun activity and a great addition to the list of fun family night ideas! With neon colors, junk food and competition, a bowling family fun night can get wild and crazy.
Have Dinner Out
If you're pretty busy, you might not enjoy eating outside of the house as a family very often, I know we don't really do that anymore. Enjoy a nice family meal that you don't have to cook or clean up after. Let the kids pick the place, even if it's chuck e cheese! It can be stressful to eat out with lots of younger children but if it's not something you do on a regular basis it could be a family night fun time.
Volunteer
Have you taught your kids about the value of volunteering? Teach your children lessons of kindness and empathy with a little volunteer work. Some volunteering places you could try are homeless shelters, animal shelters or your local community center.
Berry Picking
Berry picking is one of my favorite family activities with younger kids and older ones too. Bring your own buckets, or purchase one at your local farms and play some games such as "how fast can you fill the bucket."
Sometimes the berry picking is best left to a summer night as the day time gets pretty hot!
See also: Wellness Activities For Kids This Year
Laser Tag
Laser tag is plain fun. Take the family out to the nearest laser tag place and go crazy and wild! Make sure you're an active player because there will be some great opportunities to make hilarious memories.
Stargaze
The world is a beautiful place and at night you can see real magic in the sky. Plant seeds of science in your children's mind with some fun stargazing. If you have a telescope, be sure to find the constellations and talk about their meanings too. These kinds of outdoor activities are a great opportunity to get your kids off screens and into the fresh air.
Ride Bikes
Take the bikes to a challenging trail or ride around the neighbourhood, as long as you do it together it will be a fun adventure. Take new routes and talk about things you see while you ride.
Try showing your child how to ride without hands (if it's safe) or show them any other bike tricks that you may know. Set some ground rules and have a race and even lose the race. It's a small price to pay for an exciting family night tradition.
Need help with bikes? Here are two guides! Types Of Bikes For Kids – A Parents Guide and Best Balance Bikes For Kids.
Kite Flying
Bored on a windy day? Go fly a kite! Find a hill and let a kite loose into the air. There is something magical about kites.
Watch Family Movies
Have a stash of family movies on the computer? Let the kids watch them. Kids love to watch themselves on screens. This could literally be hours of fun for everyone.
See also: 40 Fun Apple Facts For Kids
Sock Puppets
Get creative and put on a sock puppet show with the kids. You can write a story, craft the puppets and then practice and put on the show. This could really be an all-day thing.
Feed Ducks
Put down your cell phones and go to the park and feed the ducks. Anything outdoors on a nice day is always a good adventure. Make sure to stop by the outdoor ice cream parlor before you come home.
Sledding
Have snow outside? Grab the sleds and head for the hills.
Water Balloon Fight
Hot summer day? Enjoy a water balloon fight in the backyard. Have you seen the reusable balloons that are good for the environment?
Slime
Have fun making slime together. Be sure to keep it out of the living room to minimize clean-up later, but this is a great way to connect with quality time. Here is a super fun unicorn slime kit you can use.
Have a craft night
A craft night could be anything from making bracelets, tie dying t-shirts, making soap.
Play Flashlight Hide And Seek
Turn off all the lights and play some hide and seek with flashlights! You can also use glow-in-the-dark bracelets for extra fun in the dark.
Start A Family Band
Is your family very musical? Why not start a family band? e sure to create a fun name for the band and assign instruments to everyone in the family. Go ahead and write some songs.
Play Pictionary
Pictionary is always a fun family time, you really can't go wrong.
Play Googly Eyes
Much like Pictionary, googly eyes is a board game with drawing and it's hoot and a half.
Make A Baking Soda Rocket
Make a baking soda rocket together and blast it off into space as a fun STEM activity!
Card Games
Play some family card games such as UNO or go fish.
Invent A Board Game
Get creative and create your very own board game as a family. All ideas are welcome!
Re-Build
Do you have old DVD players laying around? Take one apart and rebuild it. Learn how things work inside machines and inspire a love for learning.
Ping Pong
Do you have a ping pong table? Use it! Have a ping pong night. Make it interesting and make some bets.
Tennis
Have a court nearby? Grab your tennis rackets and throw on some shoes. Get crazy playing some non-competitive tennis as a family.
Camp In Backyard
Pitch your tent in the backyard and start a campfire. Pretend like you're really camping are away from civilization.
Have A YES day
YES days are all the anger right now, here is how you host one.
Learn something new
Learn something new as a family! Want to know more about space? Try to learn new things together.
Drive
Go for a drive around the rich neighbourhoods and oggle houses that you one day will own. Already have a mansion? Go for a drive and look at bodies of water like oceans, rivers or ponds!
See also: Best Travel Activities For Kids
Make Your Own Pizza
Have a fun family night by making your own pizzas. Everyone can choose their own toppings and make their pizzas however they like.
Make A Bird Feeder
Get creative and make a bird feeder for the backyard altogether as a family unit.
Nerf War
Have boys? Then I'm sure you have some nerf guns laying around. If you do, have a super fun nerf war!
Night Swims
Go night swimming at the local pool, or even in the lake as long as it's safe.
Escape Room
Visit an escape room and see if your kids can figure out some of the clues without your help!
Create Tik Toks
I know that many of you probably don't love Tik Tok, but the dances are actually a lot of fun. See if you can figure out a few of the dances together as a family. You don't have to post them either.
Living Room Camping
Camp out in the living room and pretend you're out in the woods.
Create Obstacle Course
Create an obstacle course in the house. Use the hallway to make signs for skipping and hopping and tiptoe through the kitchen. Get super creative and have lots of fun.
Visit A Museum
Have any museums nearby the are open at night time? Visit one of them!
Throw A Talent Show
This is a really good one and a little bit less involved on the adult side if you want it to be. Let the kids practice their talents and you can be in the audience watching them perform for you.
Why Have A Family Fun Night?
We have a lot going on in our lives and things get busy and we can get disconnected from our families without even realizing it. Children who feel connected and have more attention paid to them often have better behavior and self-regulation skills.
Making family time a priority will help your children feel happy and safe in the house. Essentially by spending time with the kids now, you are encouraging them to visit the nest after they have flown away.
Create the memories, laugh a lot and create traditions with your children because honestly, the time while they are small is short. I hope this list of unique ideas was useful to you.
Make the most of family time and enjoy these family fun night ideas.