Have you ever tried making a daily routine for your family?
It can be a game-changer!
Not only does it help you keep everything organized, but it also reduces stress and helps manage everyone's time better.
But let's be real, creating and sticking to a routine isn't always easy, especially when you're dealing with different schedules and responsibilities.
So, in this blog post, I'm gonna give you some down-to-earth tips on how to make a daily routine that actually works for your family.
I'll help you figure out what you really need, set realistic goals, create a visual schedule, involve everyone, and adjust the routine as needed.
By the end of this post, you'll be on your way to creating a happier, healthier, and more harmonious household.
This post may contain affiliate links. Full privacy policy and disclosure here.
How To Create A Family Routine
In order to create a family routine that works for you, you need to do a few things:
Brainstorm your daily activities and needs
Order the important items first
Display the routine
Explain the routine
Practice
Revise the routine when needed
See also: After School Routine For Kids To Simplify Your Busy Life
Brainstorm
The items on this list should be done on a daily basis. Just jot down what the family needs to accomplish in a week.
Take notes as you mentally walk through your family's week. Take into account your current daily routines.
It is entirely up to you whether you create a single overarching pattern for the entire family or whether each family member follows their own timetable.
I want to urge you to include daily read-aloud time with your children as well as one-on-one time with them. These two items will help to build your relationship. According to surveys, they are the two things that children remember about their parents after they leave the house.
Try to keep your to-do list to 12 to 15 items or less. Otherwise, it's excessive. Also, leave out any weekend activities. Make a distinct weekend routine or use a different calendar.
I get up before my children and go through my own morning routine. That isn't on my Daily Routine For The Family, but it might be for you. In addition, I maintain a daily To-Do list that is continually updated.
This is kept separate from what I share with the rest of the family. That's the benefit of being able to make your own timetable.
See also: The One Thing You Need For A Chaos Free School Morning Routine For Kids
Order
Take some time to consider this step because that is what routine is all about.
Experts recommend that you prioritize the most vital items first. The items that need the most energy should be done first thing in the morning.
If you work from home, you'll want to schedule lots of free time and activities to ensure that you get your work done. Every effective work-at-home parent I know gets up two hours before their children to do the Must-Dos…including myself!
You can typically offer your kids an hour of screen time while you work during the day, but anything more than that will cost you later.
Create a plan that works for your family. Some mothers I know write the names of their children and grandchildren next to the activity. If the children are too young to read, you can use pictures instead.
Take photos of the kids performing the processes, print them out, and place them on a chart in the sequence you want them to be completed.
You'll be astonished at how enthusiastically young children respond to these charts. Some mothers I know keep track of their children's routines on a chart. What do you and your family require?
Some bullets have their own set of routines. Teach your children these specific mini-routines. If that's the case, devote one week to one component of the routine. You could, for example, write your morning routine on a chart.
Make your bed, get dressed, brush your teeth, brush your hair, and clean down the sink are some examples.
Allow your children to participate. The more people participate in its creation, the more they will believe in it!
They can, for example, choose the order of their morning routine. Who cares what sequence things happen in as long as they are done. There are several ways to skin a cat. This is an area where I wish to take the path of least resistance.
See also: Easy 1 Year Old Daily Schedule From A Mom Of 3
Display
Post your Daily Family Routine somewhere in the house where everyone can see it and refer to it. The primary routine can be posted in a prominent location, while the mini-routines (morning routines, bedtime routine, breastfeeding schedules, homeschool routines, etc.) can be posted in the rooms where they occur.
I strongly advise you to search for Family Command Centers on Pinterest. There's a lot of useful information here, and you'll get some great ideas for displaying your family's calendars, schedules, and routines.
Creating a consistent routine is easier with visual cues, especially if it's a new routine.
Explain
Another important thing to do when creating a routine for the whole family is to discuss the events that will occur at the same time. Other events may not occur at specific times, but they will occur in the same order.
Talk about how these habits will become a part of your family schedule and how this new habit will help your family.
Practice
Give yourself extra grace if you have a new daily routine. Routines do not have to be structured in a formal or militaristic manner.
A family routine simply informs everyone of the order in which events will occur on as many days as possible during the year. Effective routines also reduce a power struggle between parents and kids!
The items stated on the routines are not the only events that take place during the day for the family. Other things can happen in between bullets, or certain bullets may need to be replaced on specific days.
We might get a call from a friend saying we're going to the park. You have the ability to be adaptable, amusing, and spontaneous with your new family routines.
See also: The Best Sleep Clocks For Toddlers [And Why You Might Want To Get One]
Revise
Last year, I recognized my children and I needed a little more help, so I made two additional lists to go along with our normal list.
On days when I didn't have a plan, I needed to be able to come up with chores and extracurricular activities for the boys.
If you're looking for task ideas, look out Age-Appropriate Chore Charts on Pinterest. You'll be inundated with ideas and suggestions about where to begin. All of this must be taught to your children, one again.
They don't automatically wake up and start following routines and chore time because they're healthy habits that mom came up with.
It's okay to be flexible
One thing that's important when trying to build a daily routine that works for your family is to be flexible. You don't want to create an inflexible daily schedule that you feel obligated to follow strictly. It's important to understand that everyone's lives are different, and there will be days when things don't go according to plan.
Maybe your child is sick and needs you to stay home with them, or you are sick and can't make it to work. Because life is unpredictable, it's important to make room for these types of changes to your schedule.
If you've created a daily routine that works for your family, but it's inflexible, then when a change inevitably comes, you might feel guilty or resentful that you have to deviate from your schedule.
Don't feel guilty about taking care of yourself
Another important aspect of building a daily routine that works for your family is to make sure you take care of yourself. This means making time for self-care activities like exercise, therapy, or time alone. It also means making time for household chores that you might normally put off until "later".
You've got a lot on your plate as a parent, so it's important not to guilt yourself out of taking care of yourself. It's easy to get caught up in doing everything for your kids and for your household that you don't take care of yourself.
When you take time for yourself, it's not only good for your mental health, it's good for your relationship with your kids. They need to see you taking care of yourself, so they know that it's okay to take care of yourself, too.
Talk to your kids about their routines
Another way to build a daily routine that works for your family is to talk to your kids about their routines. You can ask them how they would like their day to go, or what they are interested in doing.
When you talk to your kids about their routines, you're giving them a say in how their days go. You're giving them a way to express themselves and say what they want to do. This can be especially helpful with younger children who can't talk yet.
Plan a weekly family activity
Every week, try to plan a family activity, even if it is only for an hour. This is a great way to help your family build a daily routine that works for your family that includes time together as a family.
Planning a weekly family activity doesn't have to be expensive. You can do things like going to the park, going on a nature walk, or baking together. These things can help you build a daily routine that works for your family and help you create memories with your kids.
Make Bedtime Rituals a Thing
One way to try to build a daily routine that works for your family is to create special bedtime rituals for your family. You might not be able to do this with your really young children, but bedtime rituals are a great way to help your family bond and create a sense of family identity.
Bedtime rituals can include reading a book together, saying a prayer, or even just reading a story from the news. Having a bedtime ritual for your family can help your kids feel safe and secure at the end of their day.
Turn Off the Screen
One way to try to build a daily routine that works for your family is to be mindful of how much time you and your kids spend on screens. There's a lot of research that shows that spending too much time in front of a screen is not good for your health or your family.
You might not be able to avoid screens altogether, but being mindful of how much time you and your kids spend on them will help you build a daily routine that works for your family.
Another thing you can do is limit screen time. Try to cap it at one hour a day, or whatever feels right for your family. This is a great way to help you build a daily routine that works for your family and manage your kids' screen time.
Ask for Help When You Need It
Finally, try to build a daily routine that works for your family without feeling guilty about asking for help when you need it. You don't have to do everything on your own, and you shouldn't make the mistake of thinking that you do.
One thing you can do is try to build a daily routine that works for your family by talking to other parents about their routines. This is a great way to get ideas and suggestions from other parents who are going through what you are going through right now.
You can also try to build a daily routine that works for your family by asking for help. You can ask your partner, friends, or family members to help with household chores or with taking care of your kids. You can also hire a babysitter once in a while if you feel like you need a break.
Sticking To A Family Routine Isn't Easy Right Away
Be gentle with yourself and your family. It's not enough to post daily routines and timetables and expect them to be followed. It takes a lot of practise. Your household will occasionally fall behind schedule.
The less stress surrounding the timetable, the more likely the kids are to accept this new sense of security. "Oops," you say. We were running late. So, where do we go from here? Oh, the next item on our family's to-do list is to take the dogs for a walk…"
Expect some pushback from both yourself and your children. If there is a lot of persistent resistance, look at that different part of the routine and see if it satisfies the needs of everyone in the family. When and where necessary, tweak the regular routine.
Expect to say nothing and suddenly something happens. This family calendar long-term procedure that is well worth the effort. You are preparing your children to become adults in the future.
Routines are about having a plan in place to ensure that the family's goals and culture are met. Taking the back roads or scenic way every now and again is enjoyable. However, if you find yourself straying from the pattern too frequently, it's likely that you're letting life to happen to your family.
You want to make decisions about how your family will live.
Dive into "Parenting with Heart," your go-to guide for nurturing deep connections with your children, packed with practical tips for every stage of their growth. It's a lighthearted and insightful read that promises to enrich the parenting experience with joy and understanding.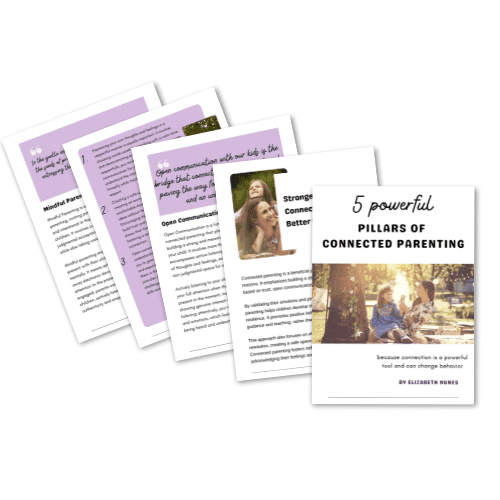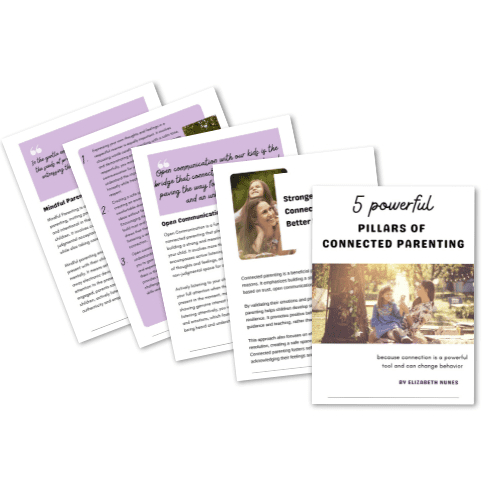 Free Download
Take your parenting journey to the next level with our comprehensive ebook on Connected Parenting.
Download this ebook now and embark on a transformative parenting experience that will strengthen your bond with your child and bring joy and fulfillment to your family life.
More Like This
Tips for Cultivating Healthy Habits as a Family: From Exercise to Nutrition, Find Your Strategy