Having a loving family is an important source of support, comfort, and happiness for everyone. When family members feel loved and connected, they are more likely to feel happy, confident, and resilient.
But building a loving family isn't always easy, and it takes time, effort, and commitment from everyone involved.
In this article, we'll be exploring 7 ways you can build a loving family. Whether you're a parent, a child, or a family member, there are things you can do to help create a close, supportive, and loving family dynamic.
This post may contain affiliate links. Full privacy policy and disclosure here.
What Makes A Loving Family
Families are the foundation of our youth, shaping our thoughts and shaping our perceptions. Using attachment theories, positive parenting and avoiding negative punishment are all small steps we can take to create healthy and happy families. The backdrop in which we work will be distorted if a family unit is not operating properly.
Many parents ask themselves this issue, but there is no clear answer because the term "normal" may have such broad connotations.
Nonetheless, there are certain qualities that are commonly associated with a well-functioning family. Some examples support; love and care for other family members; security and a sense of belonging; open communication; and making each member of the family feel significant, valued, respected, and revered.
When a person can nurture and safeguard a family unit, they are investing in their children's and their own emotional and physical well-being as well as growing self-esteem and creating resilient and resilient children.
7 Ways To Build A Loving Family
1. Eat Meals Together
I've always admired my mother for creating in our family the habit of having dinner together in the evenings. We were able to share our day's events and simply be together over these dinners. Families may genuinely get to know one another and build a sense of camaraderie by spending time together.
See also: Crazy Simple Conversation Games For Kids To Encourage Communication
2. Manage The Screen Time
According to recent research, certain mental health problems are directly connected to unrestrained and unmonitored screen usage.
Allowing this exposes their children to violence, cyberbullying, and a plethora of age-inappropriate content. I just collaborated with an excellent business called BARK to assist parents in monitoring their children's internet behavior without compromising their privacy.
On the same line, parents should have no screen time zones in order to spend meaningful and purposeful time with their children. People are growing more conscious of the contents of their cellphones rather than the needs of their children.
Limit screen time for the entire family if you want to reduce the risk of mental health disorders and feelings of neglect in your children. You'll be grateful to me later.
More on screen time:
2. Communicate Well
Everyone benefits when your house is a secure environment for you to be yourself and express your emotions. When families learn good communication skills, how to handle conflicts, and so on, it instils in their children the skills needed to have a loving family life with their children.
If you don't already have this, you should consider seeing a counsellor who can assist you all manage your emotions. It is critical for children, especially, to be able to communicate their emotions with their parents, since you will be the one to support and lead them through dealing with bad emotions.
3. Enjoy Outdoors Together
They are more interested in constructing their own universes in video games than in investigating the one in which they live. I'm not in favour of shielding children from everything, including video games, but you can use their desire to play them as educational moments about how to have self-control and not allow it to become their entire world.
I struggle with the "getting in nature" habit at times, especially in the dead of winter (here are some winter activities you can try). If you live in a temperate area, the colder days are occasionally an excuse for me to give my kids far more screen time than is typical. Being outside does great things for your brain, it reduces anxiety, and it does so much more.
4. Set Up Routines And Schedules
I've just discovered that, no matter how inconvenient it may appear, having a routine in place benefits our family.
Our sons, especially over the summer, need to know that we will make time for them and when that will occur. It is difficult for children to grasp when both parents work from home. They believe you've returned home. Chores are another great way to teach your child responsibility and follow through.
5. Get Physically Active As A Team
Creating emotional ties is important, but there is another feature of a strong, happy family: their physical health. Instilling a feeling of respect for our bodies in our children could begin as early as childhood. You may establish healthy habits by limiting your sugar intake, going for daily walks, or riding your bike.
Cooking with your children is another method to help them recognize the value of a healthy physical lifestyle. Cooking with your children not only offers a pleasant activity for them to do together, but it also teaches them about where food originates from and how to treat their bodies with what they consume.
6. Don't Expect Perfection
The strain on today's parents to do and be everything for their children is a genuine issue for many households. From online mommy battles and critical stares from in-laws to the subtle one-upmanship amongst friends and social media shaming, it's no surprise that moms and fathers feel the need to be the perfect parents.
But here's the thing: being a perfectionist not only stresses you up to the extreme, but it may also be detrimental to your children's health. If you are a perfectionist parent, there are certain measures you may take to modify your expectations of yourself and your child.
Teaching Our Kids These Strategies
You undoubtedly saw activities you can take and places you may improve as you read the following seven techniques to develop a loving family. But how are we going to teach these to our children? What can we do to instil such ideals in them?
Be A Role Model: This is the most effective technique to teach our children anything, and it's especially important for developing heart values. We must lead by example if we want our children to exhibit the qualities and behaviours listed above.
Teach In Different Ways: Children learn best when they are given education in a variety of formats. By talking to them, reading about it, demonstrating it, offering examples, and so on, show them how to communicate with love, support one other, settle disagreement, and so on.
Be Patient: We're not going to see fruit right away, so we'll have to be patient as it matures. If we're sowing the seeds, we may look forward to watching them grow from a little sprout to a blossoming flower.
How To Build A Loving Family Bottom Line
All of these familial strengths are linked, overlap to some extent, and interact with one another. These familial qualities grow intertwined over time, much like a large ball of thread. The more the qualities are practised by families, the more resilient they will be.
Take the time as a family to go through these seven qualities and identify your family's strengths and shortcomings. Make a strategy to focus on the areas you want to improve and start reaping the advantages.
Dive into "Parenting with Heart," your go-to guide for nurturing deep connections with your children, packed with practical tips for every stage of their growth. It's a lighthearted and insightful read that promises to enrich the parenting experience with joy and understanding.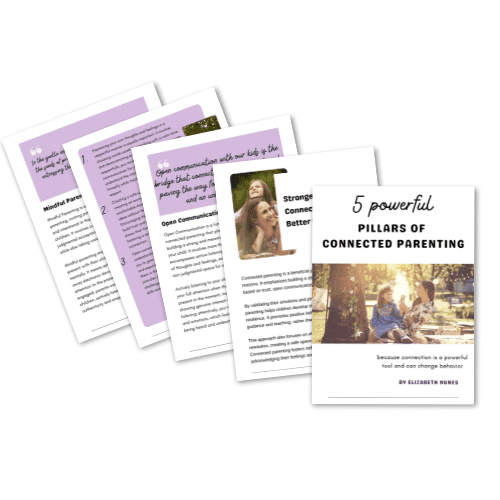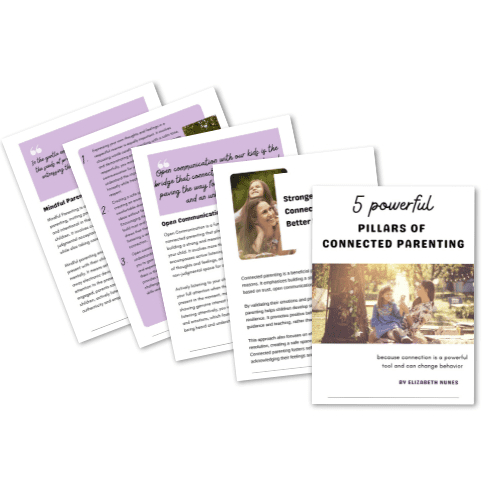 Free Download
Take your parenting journey to the next level with our comprehensive ebook on Connected Parenting.
Download this ebook now and embark on a transformative parenting experience that will strengthen your bond with your child and bring joy and fulfillment to your family life.
Want More On Parenting?