This post may contain affiliate links. Full privacy policy and disclosure here.
In our fast-paced world, parents are constantly looking for ways to simplify everyday tasks and interactions with their kids. That's why many parents have turned to unscripted toddler play as a way of cutting down on the prep work and getting back to focusing on quality time together.
Unscripted play is simply a type of play where no adult has pre-planned activities, games or crafts in mind. Instead, adults provide materials and allow the kids to freely explore, experiment and discover new things from the items in front of them.
The simple beauty of unscripted toddler play is that there's no right or wrong way to do it. It's about getting those little minds active and letting natural curiosity take over — no tricks, no catch, just fun!
What is Toddler Unscripted Play?
Unscripted play is really the idea of just letting kids explore their surroundings and discover new and interesting things that naturally interest them.
It can be anything from exploring a cardboard box to looking at different textures, and it can vary from child to child. Unscripted play is a great way to help your child's development. Playing with your toddler is one of the best ways to help them learn how to solve problems and become creative thinkers.
This can also help to foster a sense of independent play and the development of creative and critical thinking skills that are crucial for success in later life. Unscripted play is available to all toddlers, regardless of their abilities.
Whether your toddler is in a wheel chair, has limited mobility, or is otherwise challenged by a physical or developmental condition, unscripted play can be just as rewarding as it is for any other child.
How To Play With Toddlers
1. Make it Funny
If you make the playtime funny, you're more likely to enjoy your playtime with your little one. Try stacking objects and knocking them down and laughing about it. Try making jokes and repeating funny phrases. Throw on a funny hat while doing something more mundane.
I mean, you could always set up loads of fun activities for your little one like sensory bins, but if you don't have a lot of time or energy to devote to that, it's easy just to get silly.
Getting silly really fosters great connections with our children. You can play and get silyl when waiting for a doctor's appointment or even in a restaurant.
Remember that toddlers love to sort stuff out, smash things up, stack things up, and stash one thing into another. Any activity that fosters sorting, smashing, stacking, and stashing is going to be fun for them, and for you as well.
See also: Funniest Lion Jokes For Kids
2. Get Curious
If you are feeling like you need to play and connect with your little one and they are having fun (ego state) doing something, just get curious.
Ask your toddler what they are trying to do. Talk about it, such as " I see you are jumping in that puddle! That's fun, do you like jumping in puddles?"
You can also try to jump in the puddle yourself, or if you would like to not have soaking wet pants, you can try to make a game of it. See if your little one can jump over the puddle, or see how many steps it takes to go through the puddle.
Play can be simple and it should encourage your little one to explore the world around them.
If you have an older child, who is above toddler age but not yet in pre-school, you can always get curious with their magnet tiles or lego sets.
For example, get curious and ask what they are making. Ask them why they made it and what they plan to do with it after. Lots of fun questions can help you play with your toddler/preschooler and help you get to know them a little more as well.
Playing can be hard for us adults, and it comes so naturally to little ones. It seems silly that I forget how to play, but it's the reality.
Life is so busy and play isn't really on the agenda on a day-to-day basis…but it should be. It NEEDS to be.
Play helps me connect with my babies, and connecting is important because they won't be little for long.
So get curious, follow their lead, and get to playing.
Activities You Can Do With Your Toddler
If you are needing some ideas on free play activities or what to do during the day with your little one, here are some ideas for you.
Blocks/ Legos / Magnet Tiles: Get messy and have some fun stacking blocks, building with lego and making cool things with magnet tiles. Try to make some items from the instruction booklets that come with your toys!
Get outside: Going outside in the stroller or out walking independently is a great way to keep your little one busy. You and your little one need fresh air, so as long as the weather holds, then go for a walk. It's also really fun to go outside in the rain, have you tried it? Gear up, and go splash!
Do Chores Together: Do you ever make your little one play with toys while you go off and do the chores? Here is a secret, do chores together! It is possible. If you have to vacuum, let your little one help you clear all the items off the floor as you vacuum. Let her run around the house and bring you the dishes while you clean the kitchen. Allow her to load the dishwasher if you have one. Get creative, and get her involved in doing chores.
Tickle and Chase: If your little one is acting a little bored and you're out of ideas, try tickling and chasing them around the house! That's a ton of fun, and neither of you will be bored doing that.
Use quiet time: Need to get something done? Try implementing quiet time. You can do quiet time near you, so they aren't alone and you're still around.
Take Them On Errand Runs: Need to go to the shop for some milk? Go on a drive! Make it extra fun by stopping in for a cookie and a coffee on the way home.
Sing Songs: Sing songs together once a day! It's fun for everyone.
Read: Reading is very important, read aloud to your kiddo.
See also: How To Establish A Daily Routine That Is Beneficial To Your Family
As you can see, there are so many things you can do with your little one that's fun for everyone involved.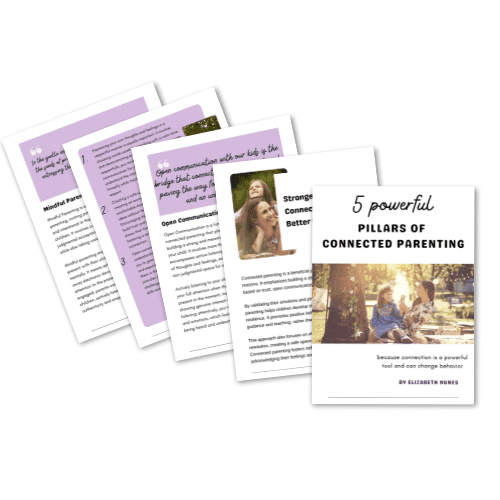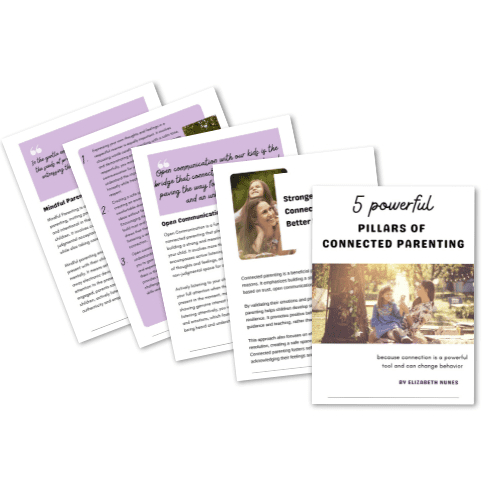 Free Download
Take your parenting journey to the next level with our comprehensive ebook on Connected Parenting.
Download this ebook now and embark on a transformative parenting experience that will strengthen your bond with your child and bring joy and fulfillment to your family life.
More On Raising Toddlers