Discipline
Why You Need To Introduce Chores To Kids (And How To Do It So They Don't whine About It)
Giving your child chores, no matter how little they are, can be one of the most important things you can do as a parent, but it can be challenging to come up with a gentle way to introduce chores to kids.
The big question is, should kids have chores to do when household work should be the responsibility of the parent especially when kids are young, we should just let them be kids!
I'm all for kids being kids and playing to their heart's content in the backyard all summer long, but there is a part of me, as a mother, that needs to make sure they get their play time and learn responsibility.
Imagine you were living in a third world country without indoor entertainment, not even board games and plastic toys. What would your children do all day?
They would help you with the housework, without being asked, and without complaining.
There was a study completed about children in Maya that have nothing, yet are the happiest children and are super proud to help their mothers with laundry and housework.
Related
*This post may contain affiliate links. Full disclosure here.
Importance Of Chores For Kids
Even though it can be difficult to get children to participate in chores, they really benefit from the task.
Children need to learn at a young age that life comes with a lot of responsibilities if basic skills are taught at a young age, it will be easier to adjust to the shock of young adulthood.
Higher Self Esteem
Children who participate in household chores tend to have higher self-esteem.
They feel accomplished after completing a chore leading to feelings of pride and importance in their family role. This kind of feelings can help children feel more connected to the family.
Responsibility and Self Discipline
Children who share the responsibilities of chores are often more responsible in other areas of life as well. The sense of accomplishment for completing a chore on time can give enough encouragement so that the child feels good about the contribution they just made to the family and will likely be less reluctant to do it again next time.
Improvement In Gross And Fine Motor Skills
With so many opportunities for even the smallest children to participate in chores, from measuring flour for their favourite cookies to raking the garden, they really get the chance to exercise their motor skills.
Simple things like counting potatoes for dinner and adding 3 cups of flour into a bowl help with learning important math skills as well.
Working Well With Others
Children who participate in chores often learn to work well with others. Even if you have one child, you can do the chores together and trade off certain tasks in the chore such as holding the dustpan while the child sweeps the dirt in.
If you have more than one child, the kids can work together to complete chores.
Knowledge Of Delayed Gratification
It's important for children to learn the importance of delayed gratification. In life, we do not often get rewarded immediately (if at all) for the good things we do.
Giving children a reward at the end of the week in the form of money or other treats teaches children that rewards are often not immediate. Remember that rewards do not have to be in the form of money or treats, they can be in the form of time as well.
Time with Daddy at the movies, or an extra special family game night.
How To Introduce Chores To Kids
Chores are not something that should be given to simply lesson parents responsibilities around the house. They should be introduced to children at a young age and in a fun enough manner that it doesn't sound like a bummer of a task.
Introduce the idea of chores one step at a time. Tasks such as cleaning up their own mess are good starting points to learning how to do chores.
Once your kids are pretty good at one task, such as cleaning up their mess, you can introduce another task such as making the bed.
It's best to avoid overwhelming the kids with a whole list of chores do at once. If your child becomes overwhelmed, you'll most likely get a lot of attitude and resentment towards the chores discussions for the rest of the time. There is no rush to teach children the responsibility for chores. After all, you have about 18 years to teach them how to adult.
List Of Kids Chores
Children in different stages of life can complete different chores around the house. Please refer to this chart for a complete list of chores your kids can start helping out with.
Remember to introduce the chores slowly, one at a time is fine. Let them master one task so they can be proud of it, then introduce another. Once you have a handful of tasks they can complete on their own, you can create a chart and a more advanced reward system if you like.
Toddlers (Ages 18 months to 3 years old)
Put All Toys Back In Place When Finished Playing
Put Dirty Clothing Into Hamper
Put Dishes Into The Kitchen (If cannot reach sink) When Finished Meal
Fold Their Own Underwear and Socks
Help Fold Towels
Put Clothes Into Drawers
Wipe Floors With Cloth
Wipe Walls With Cloth
Spray Windows So You Can Wipe Them
Put Away Groceries Into Fridge
Preschool, Kindergarten, Grade 1 (3-6 years old)
Feed Pets
Make Bed
Choose Clothing Night Before
Unpack Groceries
Dry Dishes
Pick Up Random Garbage Around The House
Sweep / Mop
Vacuum
School Ages (7-11 years old)
Fold Own Laundry
Take Out Garbage
Organize Bookshelves
Sweep / Mop
Clean Up After Themselves
Simple Laundry
Tidy Up Entryways and Closets
Vacuum
All The Dishes (Wash and Dry)
Grab The Mail
Sweep Porch
Clean The Car (Inside and Out)
Young Adults (12-18 years old)
Meal Prep
Sweep / Mop / Vacuum
Tidy Up All Rooms
Laundry
Clean The Car
Clean Up Computer Files (Update Antivirus, sort photos)
Sort Closets
Wash Walls, Doors and Light Switches
Make Bed
Wash Bedding
Pick Up After Siblings
Drive Siblings Around
Pick Up Groceries
Clean Bathroom
Clean Entire Kitchen (Not JUST Dishes)
Sort Tupperware
The Best Chore Charts For Kids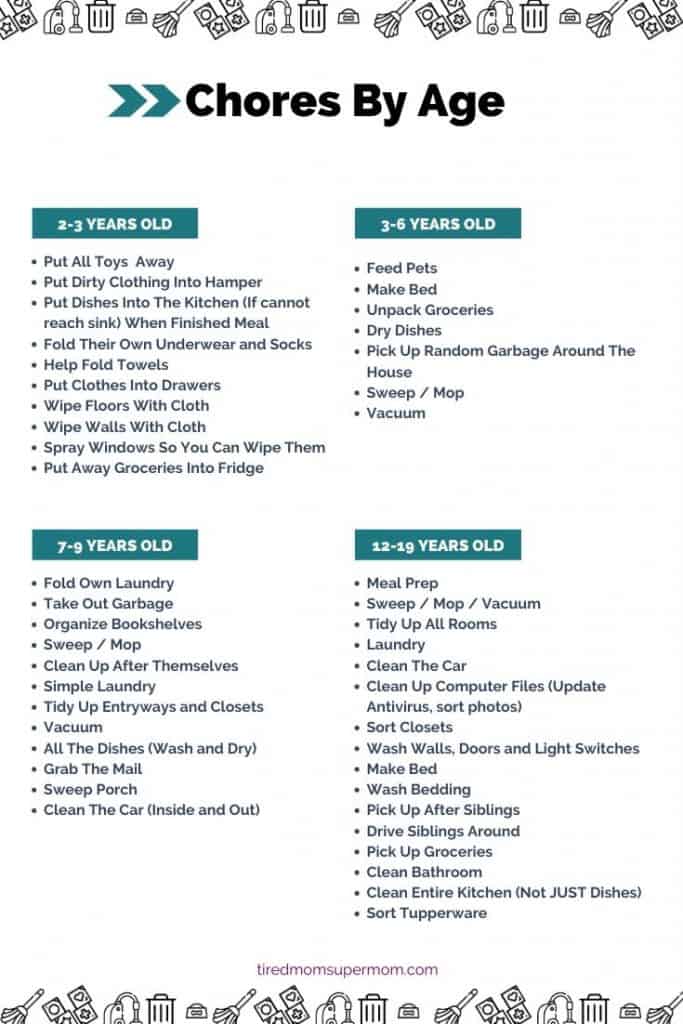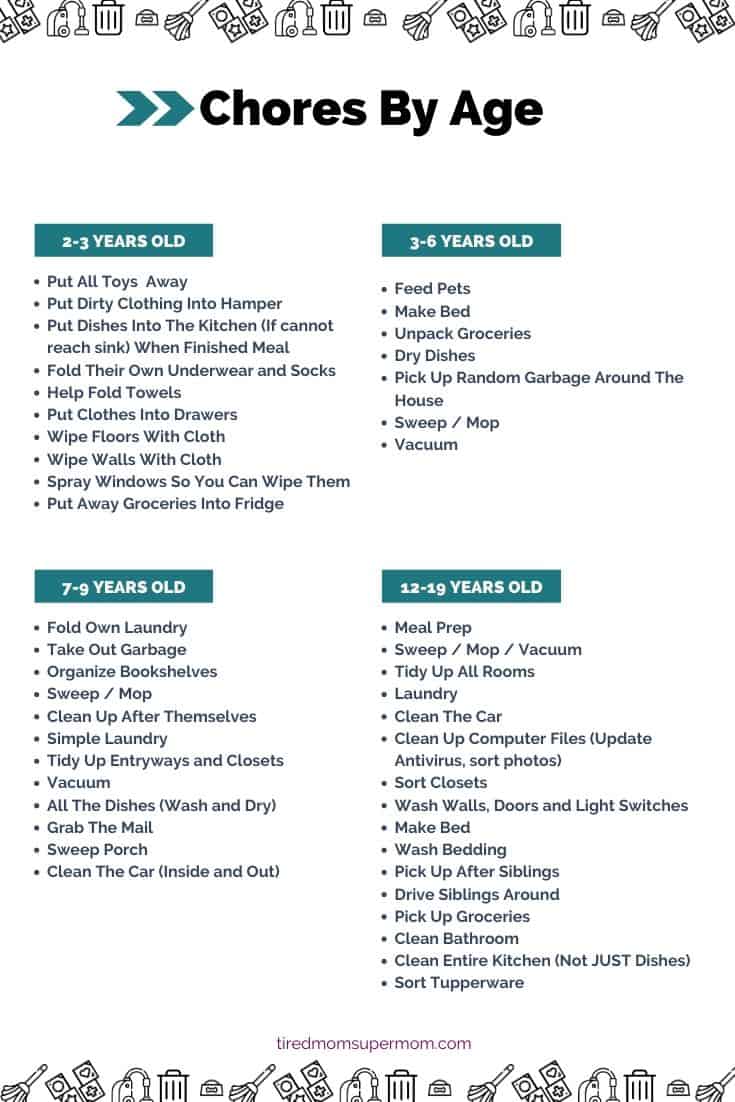 Enjoy these ideas of how your kids can help you around the home. Personally, I wouldn't go crazy and add all of these to their roster, but a few here and there and for have a couple on the back burner for when they need extra credit chores. There is always a new skateboard or a pair of fancy chores that kids NEED so it's always good to have a backup list of chores they can do to get those extra credits.
Did I miss any chores? What kind of chores do your children do at home?