This post may contain affiliate links. Full privacy policy and disclosure here.
✨Ready to make BIG changes on your parenting journey? Don't miss the FREE video training: 5-Step No-Yelling Formula. Gets Your Kids To Listen The First Time, Every Time! Learn how to How to avoid blaming, shaming, or causing your kid any pain when you set consequences! Grab your spot in the FREE video training HERE…
It's no secret that kids love spending time in front of screens.
Whether it's playing video games, scrolling through social media, or binge-watching their favorite shows, screens have become a ubiquitous part of childhood.
However, research shows that spending too much time indoors and in front of screens can have negative impacts on children's physical and mental health.
That's why it's crucial for parents to encourage their kids to spend more time outdoors and engage in physical activities.
But how do you get kids off the couch and into the great outdoors?
In this post, we'll explore the benefits of outdoor play and share some practical tips for getting your kids excited about spending time outside.
I have some backyard ideas for toddlers and backyard games for older kids if you need some inspiration.
Here are some ways to get your kids up and active without all the moaning and groaning!
Outdoor Entertainment for Kids at Home
Sometimes, you have to have a little fun, and your backyard is the perfect place to do it. Before making the trek to a park or zoo, find out what kind of fun you can have right out your door.
Love The Outdoors recommends one of the best ways to start an adventure outside is with a scavenger hunt in the backyard.
Make a list of different things in nature, and set your kids to finding them. If it's too dark to start your scavenger hunt, maybe instead you can grab a jar and have your kids catch some fireflies. Every child is fascinated with those little light-up bugs.
Your kids can have more fun doing educational science experiments with at-home components. What kid doesn't want to build a volcano, make a lava lamp, or write a secret message with invisible ink? Each experiment is a chance to both learn and have fun.
Or, if you want to wear your kids out, send them out to jump on a trampoline. Just be sure they know the importance of trampoline safety. Then they can bounce until they're tired, ensuring a restful night's sleep.
While you've got your kids outside having fun you can take the opportunity to think about what you can do to increase your home's value.
It can be difficult to find time to look into those sorts of things when you're having to play super parent. The quiet moment in summer when the kids are away is a great time to work on giving your home some extra value.
Exploring Their World
There is plenty else for your kids to explore beyond the boundaries of your yard. It's time for the little ones to spread their wings and fly by experiencing nature. One of the best places to experience nature with kids is at the creek, says Run Wild My Child.
The creek is a great place to see natural oddities like crayfish while staying cool in the water on a hot summer day. Just be sure you've got plenty of sunscreen.
One thing to keep an eye out for during your creek excursion is animal tracks. It can be a fun mystery for you kids to try and figure out what animal the prints left behind belong to, but you should also make yourself aware of what prints go with certain animals.
Knowing whether there's a mountain lion or wolf around could be critical to your safety.
See also: The Most Epic Summer Bucket List For Kids: 56 Awesome Ideas
Group Play For Kids
No matter the season, your kids should know a few activities they can do with all the kids in the neighborhood. Some of the best fun your kids can have is in a group with their neighborhood friends.
Performance Health has a great list of games your kids can play with their friends to keep them moving, including:
An obstacle course made from household objects
Scooter and bicycle races
Four square, the classic schoolyard game with many variations
And many more!
If you want to be the envy of the neighborhood kids during the peak heat of summer, then you may want to create a DIY Slip 'n Slide. All you'll need to get started is some plastic sheeting, some baby shampoo, and a hose and spigot.
Spread the plastic out over a smooth, flat part of the yard, wet it down, and lube it up with the shampoo. It's a great way for everyone to have some wet and wild fun and cool off during the dog days of summer.
The last thing your kids can enjoy with their friends is an old classic—hide and seek. The reliable stand-by has been entertaining kids for generations, and yours are sure to love it as well.
If left to their own devices, many children would be content to play video games. But that doesn't do anything to improve their health.
As a parent, you surely want to give your kids every opportunity to grow into healthy and happy adults. So make sure they get off the couch and out into nature this summer. The ideas above do and are some of the best ways to get the kids interested in the outdoors from an early age.
Print This Positive Parenting Guidebook – The 5 Pillars Of Positive Parenting
Listen… parenting with connection and positivity has been seen as permissive and lazy parenting BUT this is totally not the case.
I am a mom of 3 beautiful children and I've spent HOURS, DAYS, MONTHS, and YEARS researching this topic and seriously, it is my favorite way to parent.
Way better than what I grew up with – which was A LOT of yelling, spanking and frankly, neglect.
This little guidebook is a golden nugget that you can have for free – and print it out! Put it on the fridge, refer to it often. It's really a great tool for kids of all ages.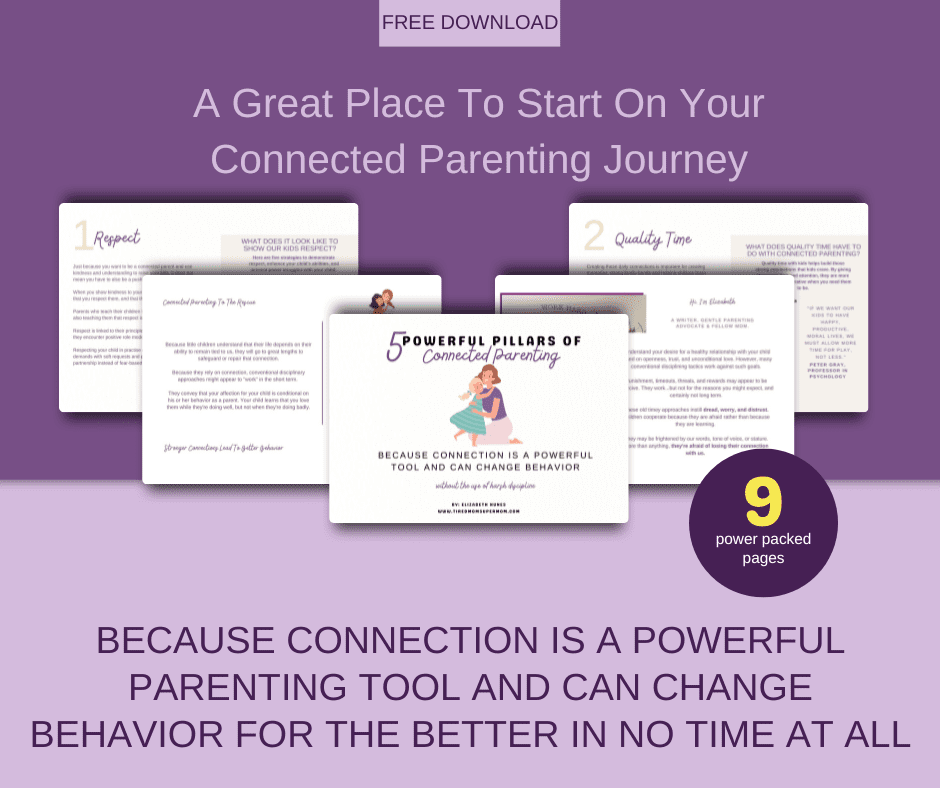 Download Your Free Printout
Download the guidebook. You'll get the printable, plus join hundreds parents who receive my weekly parenting tips and ideas! (Sometimes I'll promote a parenting program, but only the best ones that are in the positive parenting community, I promise.)
Print. Print out the guidebook!
Place it where you can see it. There is a lot of great information in this guidebook, even though it's small. It's power packed full of great stuff so put it where you can refer to it often.