This post may contain affiliate links. Full privacy policy and disclosure here.
I was recently very blessed to receive a McLaren scooter for my 18 month old. While she is still a bit too small to use it, my 6 year old gave it a good test run, and let's just say there was a lot of happiness around here.
We have other scooters at home, and none of them compare to the McLaren 3 wheel scooter model. It has a sleek design, and is so comfortable for little kids.
Honestly my 6 year old may need one for himself because he prefers it to his other scooter! Will he ever give it back to his sister when she's old enough to ride it? I'm not sure!
Here is my experience with the McLaren Scooter and what McLaren is all about.
My Experience with The McS01 Scooter
My McLaren scooter arrived at my door on a Sunday afternoon and I couldn't wait to try it out on my toddler.
While my little girl is still 20 months old, she is able to enjoy this scooter with a little bit of help. My 6 and 8 year old boys were extremely eager to give this scooter a go.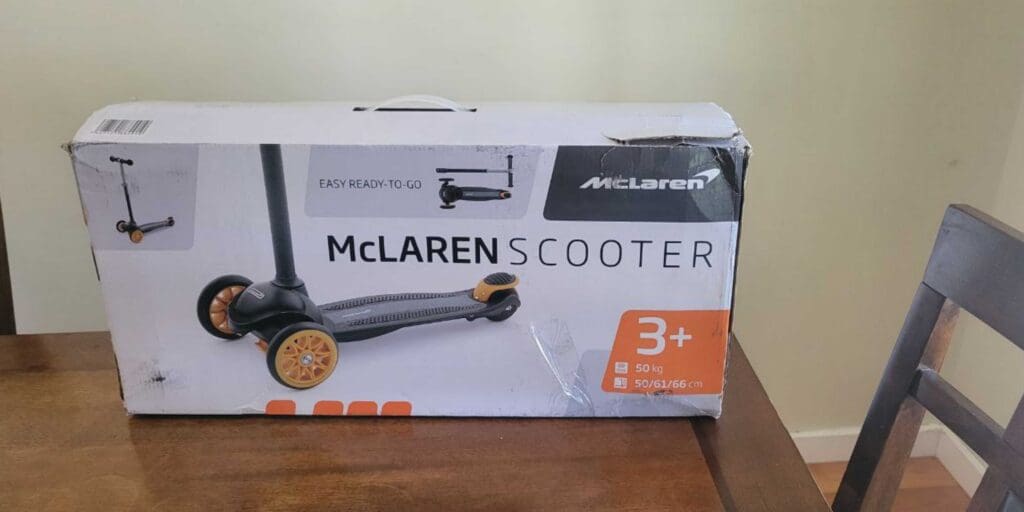 We opened up the box and found extremely few pieces to assemble. I was so surprised! Our last 2 scooters needed my husbands expertise to assemble. But not this one, I had it assembled and ready to roll in under 5 minutes.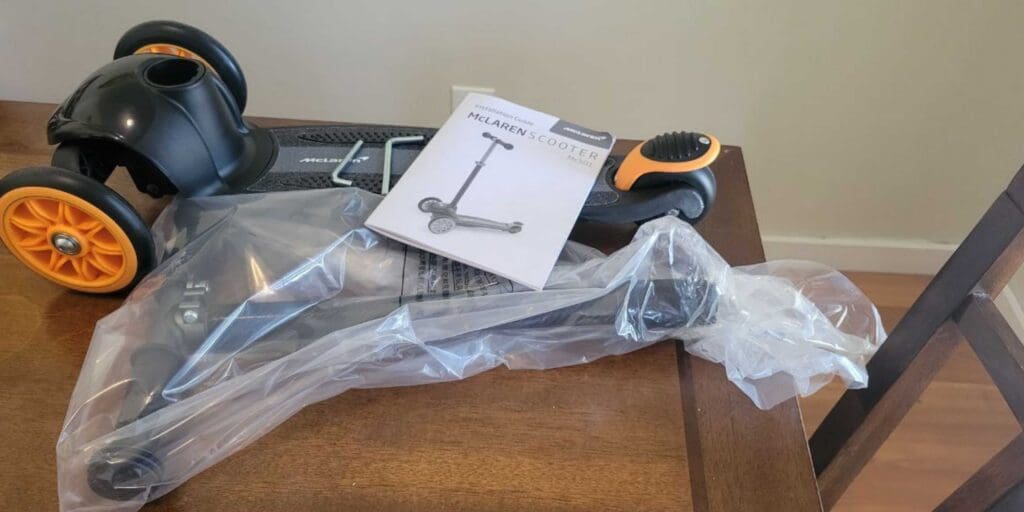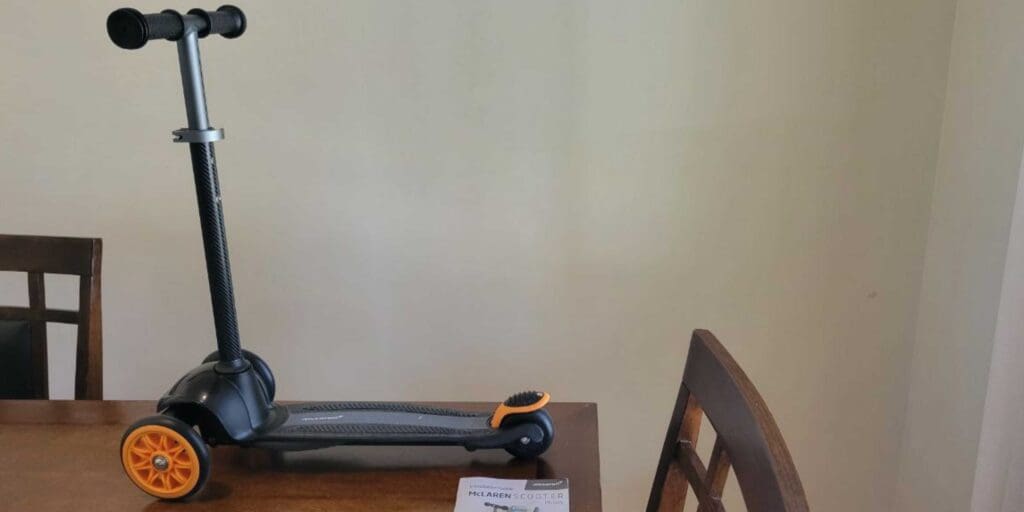 My daughter was so interested in the scooter. She got on it right away. She needs a helmet and some shoes, but we weren't rolling away anywhere and she was just exploring her new ride.
The picture is a bit blurry because …. well toddlers are super difficult to take photos of because they are never still but I did my best.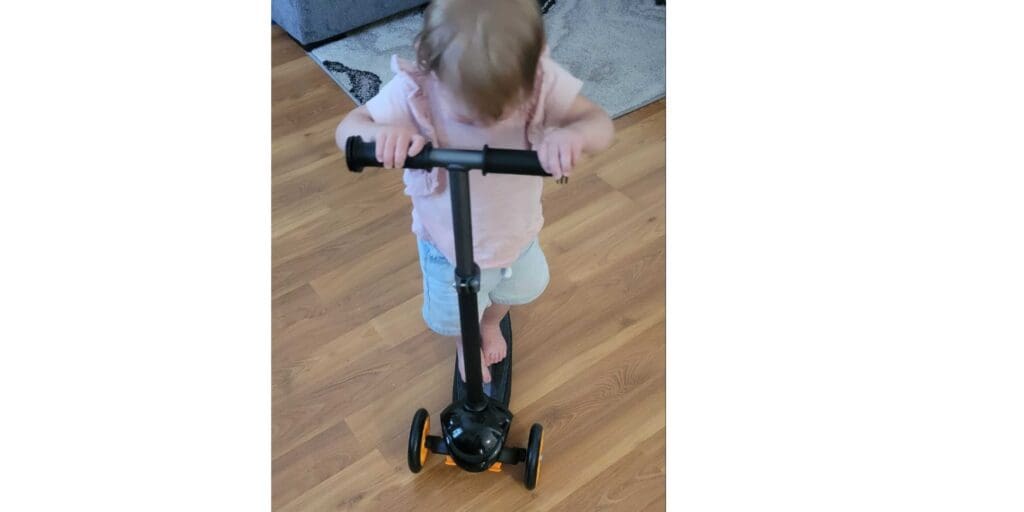 Then my 6 and 8 year old boys wanted a ride so we took to the outdoors and they gave it a go.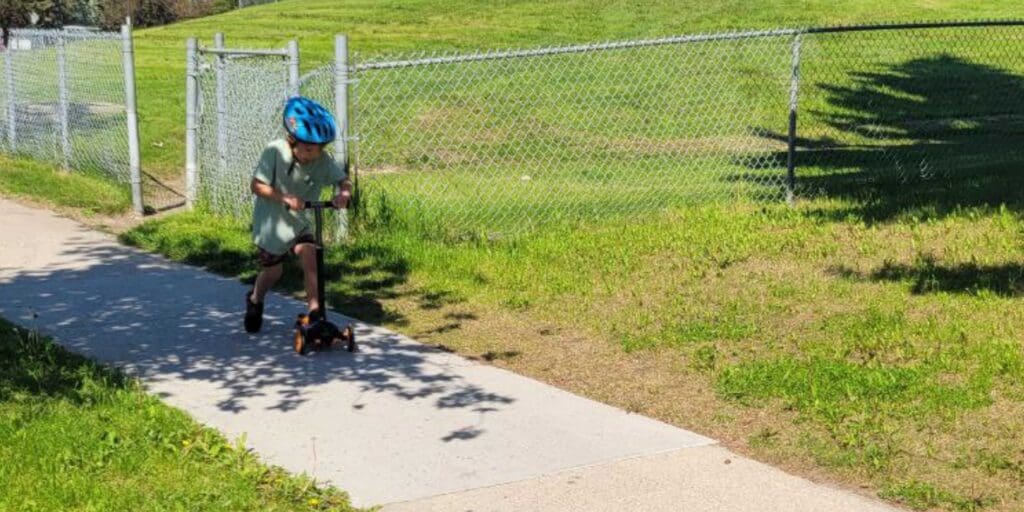 Overall, we are so excited to take this scooter on new adventures this summer.
If you're looking for a scooter for your 2-5 year old the McLaren has your back
The McLaren McS01 scooter is the 3 wheel model that we recently got blessed with. I love the design of it, and my kids favorite part is that it turns with your body – like a skateboard would. Instead of turning the handlebars to go left or right, you move your weight and the base of the scooter does it's thing and moves you to the direction you want to go. There are 2 height settings for the handlebar and it's so easy to adjust. I also love the rear wheel break pad that is easy for the kids to come to a full stop without struggle, even if they are moving pretty fast.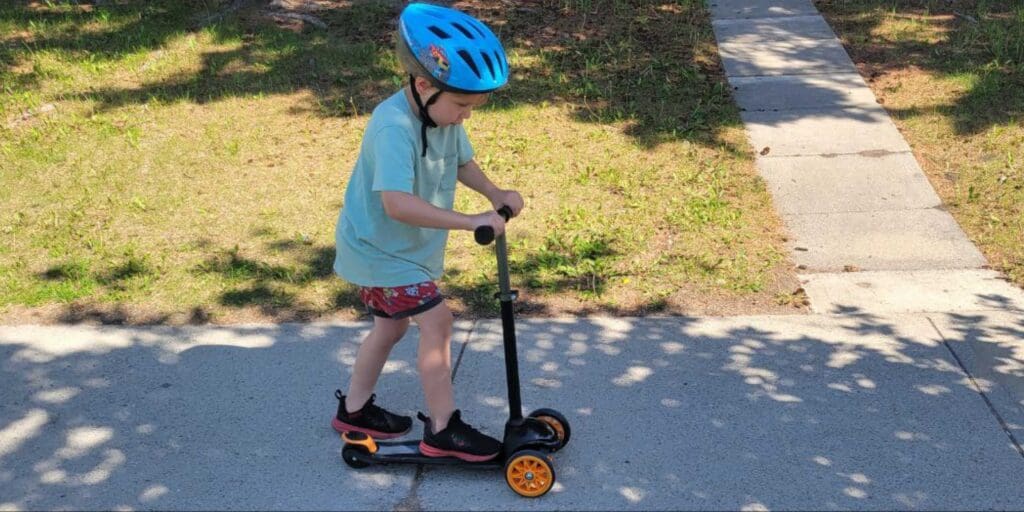 The McLaren McS02 Scooter is the next step up from the McS01. If your kids are still working on their balance and coordination then the McS02 is great for stability. It has adjustable handle bars letting it grow with them and last longer. If they don't want to say goodbye to their McS01 but they've grown out of it, then the McS02 is the way to go, with vibrant new colours and raised decking.
McLaren scooters are now available for children as young as two years old and as old as their late teens. This means you can trust the McLaren brand for all of your outdoor scooting needs for decades to come.
About McLaren
McLaren has designed classic and thrilling road cars. They are a pioneer who is constantly pushing the boundaries of speed, performance, and dynamic engineering, resulting in fantastic driving experiences on the road and on the track.
McLaren's tradition has been heavily rooted on the track since its inception. The same persistent passion and quest of perfection drives McLaren's creations today, from the daring drivers behind the wheel to the clever engineers, designers, and technicians behind the scenes. McLaren's tradition has been heavily rooted on the track since its inception.
The same persistent passion and quest of perfection drives McLaren's creations today, from the daring drivers behind the wheel to the clever engineers, designers, and technicians behind the scenes.
The Next Generation Of Scooters
The McLaren is a high-quality children's scooter with a stylish design and engineered for smooth, accurate operation. The McLaren is a "typical" kids scooter but with an extra wheel, it is unquestionably a high-end model. It's sturdy, long-lasting, and, most importantly, smooth.
My little tester enjoyed how fast he could ride and how it didn't "feel rough over all the sidewalk lines." and "it's so comfortable to and easy to ride on" when he took the scooter out for a long ride in the forest. The scooter feels solid and smooth beneath you, with no "clackity clack" joltiness that is characteristic in other scooters.
This scooter is available in different sizes: 2-5 years, 6-9 years, and 9+, which is excellent because we will need to be getting a few more in the larger sizes as my children grow.
McLaren Scooters are not permitted on public roads or pathways. It is the legal guardian's responsibility to guarantee that the McLaren Scooter is utilised in conformity with all local and national legislation.
The customer accepts and bears all risks and liabilities associated with the usage of McLaren Scooters. The customer accepts full responsibility and waives their right to hold McLaren Scooters or its owners liable for any damage caused by their use, either directly or indirectly.
Unique Features Of the McLaren McS01 Scooter
These excellent three wheeled scooters were built for 3-6 year olds (max weight 110 Lbs) to help kids learn how to ride scooters and include special McLaren insignia and aesthetics.
Lean To Steer System
Use the best to teach your kids about scooters. This McLaren scooter has a lean to steer system and a three-wheel design, making it easy to balance.
Adjustable Handlebar
The adjustable aluminium T-bar with a three-position telescoping tube and soft touch TPR grip bars provide the maximum in control and comfort.
Anti Slip Grip
The steel deck's anti-slip cover and the ABEC-5 carbon bearing system ensure a comfortable and secure ride.
Casting Wheels
McLaren Senna-inspired high-performance durable PU Casting wheels.
Unique Wide Brake
The broad brakes on the back wheel provide a strong mechanism for slowing and stopping the scooters.
Easy To Remove Handlebar For Easy Storage
I found that the handlebar removes so easily that I can store this scooter flat which is a huge bonus when you've got lots of kids and lots of stuff!
Why Kids Love Scooters
For many children, riding a scooter comes far sooner than riding a bike. But the pleasure doesn't stop once they've mastered the bicycle, because scooters allow them to execute stunts and are, simply, a lot of fun to ride on.
Whether your child is new to scooters or is ready to progress to a more advanced model, they will enjoy the freedom that comes with cruising around on their own.
The Best Scooter For Toddlers
If you want to give your toddler the gift of a high quality scooter, then the McLaren is the way to go. It has all the safety features you're looking for in a scooter and when your little one outgrows the toddler model, you can keep upgrading and use McLaren scooters all the way into teenagehood and early adulthood.
To learn more about McLaren Scooters visit mclarenscooters.com.