Learn about a four-step morning routine designed for moms that begins before the kids wake up, allowing you to kickstart your day with intention and productivity.
Mom life is exhausting and starting and ending your day with the kids really takes a toll on a Mom.
While kids are amazing and are a total blessing, sometimes Mom needs a little space, and that's ok!
Find out why waking up before your kids is such a game-changer for your mom morning routine.
Honestly, I have never been much of a morning person. In fact, sleeping in and napping were my 2 favourite things before I had kids. I have a serious problem though, I stay up really late at night (usually working on my little blog or planning crafts/activities for the next day), which makes it really difficult to wake up in the morning.
This post may contain affiliate links. Full privacy policy and disclosure here.
Why I Like To Wake Up Before The Kids Do
There are many benefits to waking up before the kids, and I can't even begin to tell you how much of a difference this little change has made in MY life, and I'm sharing this with you so that maybe it can make a difference in your life too.
Less Rushed Morning
When you wake up before the kids, you'll feel ready to take on the day and anything the kids spring upon you. You NEVER know what mood a child will wake up in, and if you are awake and ready for them.
You can literally handle anything they have to throw at you. (Sometimes there is literal throwing involved). For example, If my 5-year-old just can't do life and needs help getting dressed for school, I can help him without yelling, without rushing and without an attitude.
I do have an attitude if I'm tired and my kids get the worst of me when I'm still waking up. #GetMomACoffee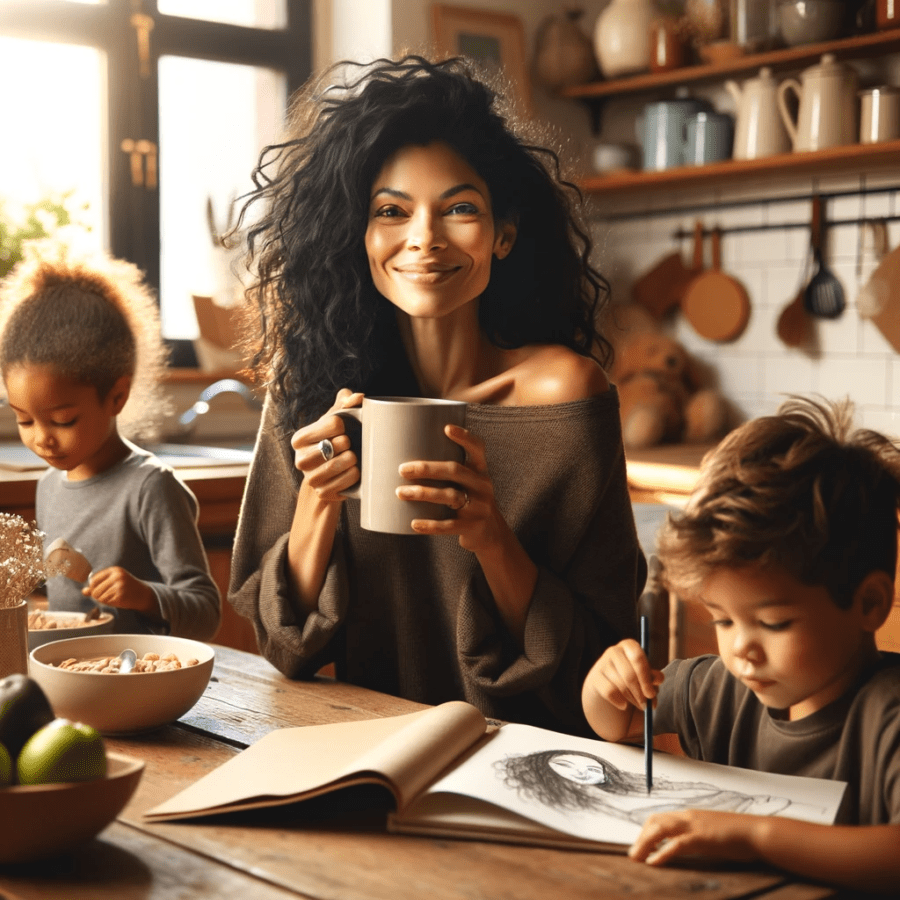 A Little Bit Of Mommy Time
Another benefit of waking up first is the peace and quiet of the house so you can have a little bit of alone time before the chaos starts.
As a mother, there is a demand for something from you all day long.
From snacks to wiping bottoms and diaper changes, it's exhausting.
A little bit of alone time can really help with feeling peaceful and in turn, help you keep your cool when the kids decide morning time is tantrum time.
More patience from you helps the kids keep their wits about them too. It's a win-win.
Get Stuff Done
Have you ever had a to-do list that never seems to end? Waking up early can help you with that to-do list.
Trying to tackle a to-do list at night time when you are already tired and just want to relax and watch Netflix is difficult.
When you wake up and are ready to take on the day, you can finish your to-do list before the kids even wake up. Research shows that people are more productive in the morning than at night.
Amazing things can happen if you spend a little bit of time on your own before you hear the pitter-patter of little feet coming to greet you in the morning.
My Simple Mom Morning Routine Before The Kids Wake Up
Get Up, Get Dressed, Wash Face
I like to set an alarm to wake up around 6:30am. If I'm in bed at a reasonable time, this is not early at all. I am a pretty light sleeper, so I can wake up to my alarm on vibrate which is great because I always have a kid that crawled into my bed in the middle of the night.
After I get up, I can get dressed and wash my face, and brush my hair so I am ready to tackle some of my to-do list.
Related: Energy Tips For Tired Moms
Ensure Everything Is Ready For School
Part of my to-do list is to make sure my little one has everything he needs for school. That includes a packed lunch (I always make it the night before, so all I have to do is fill up a water bottle with fresh water)
Then I have a moment to take out some breakfast ingredients for when the kids actually do wake up, so it's pretty quick and easy to prepare a good healthy breakfast.
I also check the backpack and make sure we didn't miss any homework assignments or anything for me to sign and send back to school because that happens sometimes!
Have My Morning Tea
After I finish making sure my little one has everything he needs for school, I make myself a hot cup of caffeinated tea so I can have the energy I need for when my kids wake up.
Sit Down With Planner
Once I'm dressed and washed up, and caffeinated, I can start to tackle that to-do list. I run a couple of blogs from my home and one of them offers services to other bloggers, so this is my time to work on client work or promote my blogs.
Since school doesn't start until 8:20am, and we live 2 minutes away from school, my kids don't have to wake up until at least 7:30 which means I can have about 45 minutes to really focus and get stuff done.
When my alarm rings to wake the kids up, I attend to the kids and get their morning started.
Related: Signs you're mastering motherhood
How To Stop Struggling With Waking Up Earlier
You now know the benefits of waking up early, so how do you actually implement that action when you're already exhausted and just want to sleep for the next 5 years?
Have A Bedtime
Set yourself up for success by creating a bedtime that is reasonable for you. Going to bed early ensures you will have enough sleep throughout the night and it will be much easier to wake up in the morning.
Set Your Alarm
You'll want to set an alarm on your phone, or an alarm clock and put it farther away from your bed so you have to really reach or even get up to turn it off. You won't want to hit the snooze button either, first alarm = time to wake up!
Get Your Clothing Ready
When you're still waking up, it can be difficult to pick out clothing. Pick your outfit the night before, even if it is your school drop off sweatpants that you wear every day.
You won't want to be making noise and rummaging through the unfolded laundry or the dirty clothes pile on the floor in the early morning to find clothes to wear, you'll risk waking the kids.
How Waking Up Before The Kids Has Changed My Life
Waking up before the kids has changed my life for the better. I now can make scrambled eggs and french toast for my babies so they can wake up to a fresh breakfast instead of regular cereal and toast. Not that those things are bad, but some days toast is just not filling enough for my kids.
I also feel like I can do anything when I finish my to-do list before school drop off.
I can spend more time with my toddler while my oldest is in school instead of focusing on my to-do list while being very distracted trying to keep up with the demands of a three-year-old.
More Motherhood Articles