This post may contain affiliate links. Full privacy policy and disclosure here.
✨Ready to make BIG changes on your parenting journey? Don't miss the FREE video training: 5-Step No-Yelling Formula. Gets Your Kids To Listen The First Time, Every Time! Learn how to How to avoid blaming, shaming, or causing your kid any pain when you set consequences! Grab your spot in the FREE video training HERE…
Looking for non toxic crayons for toddlers? These are the safest options that your toddler with love to get their little hands on.
Crayons are easy to hold in a child's hand and are fun for all ages. Adults are even willing to sit down and colour a few pages in a colouring book with children. However, we all know that children like tasting crayons, which is why you need the best non-toxic crayons available.
Crayons are likely to be one of the first art supplies you offer your child. Kids like drawing on paper, but you may not realise that many of the crayons available in stores are comprised of poisonous ingredients that may be harmful to your child.
Instead, seek for crayons that are created without any potentially dangerous toxic substances.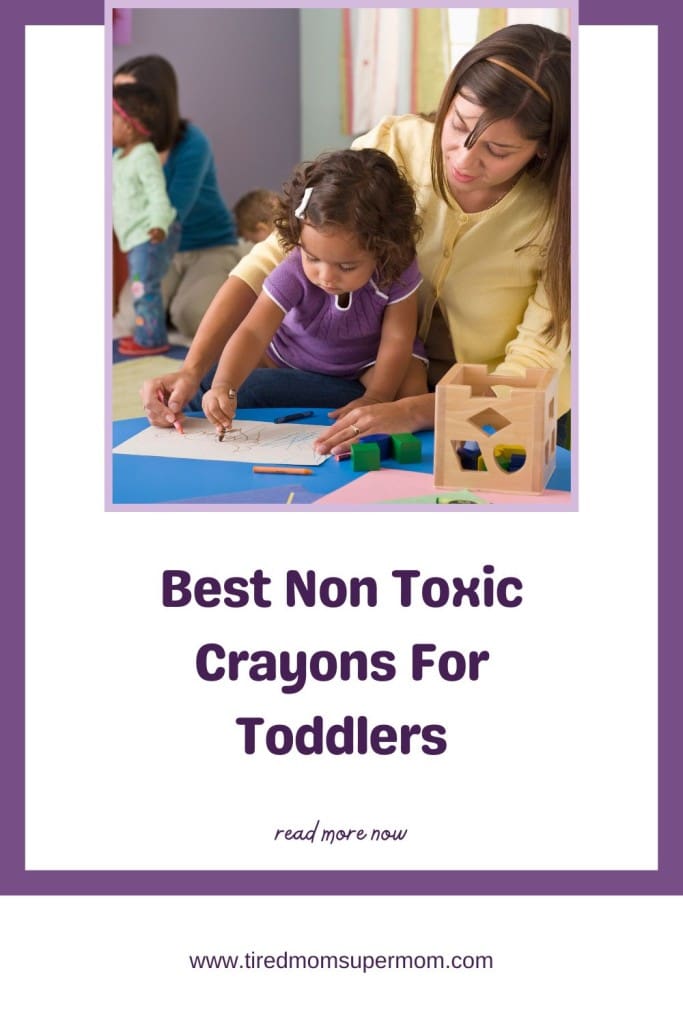 Chemicals Found In Regular Crayons
Our government has inadequate chemical controls across the country, and these toxic compounds are permitted in things that we use every day, such as painting materials.
Hidden toxins in art supplies put children at risk. We know that anything kids touch with their little hands, whether it's crayons or finger paint, ends up in their mouths. Those chemicals are also absorbed via their skin and released into the air they breathe when colouring a picture.
The following substances may be present in your crayons:
PVC and phthalates
Formaldehyde
Cadmium
Touline
Xylene
Ammonia
Heavy metals
VOCs – Volatile organic compounds
Why I Don't Like Crayola Crayons For Toddlers
The truth is, Crayola crayons are not the best option for toddlers because they are too small. If you want your toddler to learn how to use a crayon, then it needs to be at least a quarter-inch wide.
Children younger than one year old simply can't hold a crayon that size with both hands and use it to draw or color in pictures. They will end up frustrated and give up on the activity altogether.
Besides being too small, Crayola crayons are also made with toxic chemicals like benzene and toluene. Both of these chemicals have been shown to cause oxidative stress in children, which can lead to cognitive impairments and neurobehavioral issues such as Attention Deficit Hyperactivity Disorder (ADHD).
Additionally, they are often made with phthalates and PVC plastics that could leach into your child's body through their foods or drinks.
Materials In Non Toxic Crayons
Non toxic crayons is a big plus for child safety. This means that you do not have to worry about toxic chemicals when using these crayons. The non toxic materials make it easy on the child's little bodies. This can help them avoid any negative side effects from using acrylic paints.
This allows your child to focus on the art and not the process of creation. This also makes it easier on their little minds as they are not worrying about harmful chemicals that could alter their development.
You know what is good for your little one? That's right! Non toxic crayons! These crayons are made out of natural materials like soybeans, corn starch and wood flour. This means that they are gluten free, vegan and 100% chemical free.
Soy Wax
Soy wax is an organic option because it originates from a natural soy plant. When used to make crayons, it's considerably softer than other substances on the market, thus it's a safe non-toxic natural wax.
Beeswax
Beeswax is a natural wax that is more powerful than soy wax. Because of its origin, it's also organic. Many crayons are composed of beeswax or contain beeswax-based components.
Plant & Vegetable Extracts
Plant and vegetable extracts are used as natural colourants in just a few organic crayons. Although these crayons are pricey, they are the safest option for your child.
Best Non-Toxic Crayons For Toddlers
The Lebze Jumbo Crayons for Toddlers are the perfect choice for young children who are just starting to explore the world of art and coloring.
With an easy to hold design, these crayons feature a triangular shape that makes them easy for little hands to grip and hold, helping to improve their tripod grip muscles. This design also makes them less likely to roll away and get lost. These crayons are washable and easy to clean up, making them a great option for younger children who may still be learning to control their fine motor skills. Unlike twistable crayons, these jumbo crayons do not have a tiny hole in the middle, eliminating the risk of choking hazards.
Some of the links provided in this product description may be affiliate links, which means that if you purchase through them, we may receive a small commission. These crayons have been reviewed and recommended by children's fashion editors as a great choice for young children.
They are also perfect for use in reusable training pants, providing a safe and effective way to encourage potty training. These crayons are made from high-quality materials, including food-grade pigments, and are free from dangerous chemicals such as paraffin wax.
They are also sustainable, making them a great choice for parents who are concerned about the environment.
Crayon Rocks are the perfect size for little toddler hands unlike typical crayons and are free of toxic chemicals and have an ergonomic shape that little hands love to hold. Crayon Rocks crayon set contains 64 non-toxic soy wax crayons that have a unique shape in 32 distinct hues in this bundle. As a result, you'll get two of each hue.
Crayon Rocks is recommended by occupational therapists and preschool teachers. Their design helps young toddlers build their tripod grasp muscles while also enhancing their fine motor coordination while they color on smooth surfaces. They're ideal for colouring in broad, sweeping strokes with little fingertips.
The best part is that you can easily use this box for a year or even longer for your little artist. They measure 1.25′′ x.75′′ and are extremely robust and safe. The AST and the CPSIA have defined criteria for Crayon Rocks.
The FILANA Organic Beeswax Stick Crayons are created in the United States with natural organic beeswax, as well as GMO-free soy wax non toxic ingredients. They're made using FDA-approved colours and are also non-toxic.
These crayons are a hit for little ones with small hands. They function wonderfully, write nicely, have vibrant colors and come in both sticks and blocks as an added benefit. I've found that sticks are better for older children since they are more sturdy, while blocks are better for young children with smaller hands.
Honeysticks pure beeswax crayons are created with 100 percent pure New Zealand beeswax and handcrafted in New Zealand. They're one of the few non-toxic crayons made entirely of high-quality beeswax and natural ingredients on the market.
They come in different shapes and sizes, including enormous crayons, toddler-sized thick crayons, and regular-sized crayons.
These crayons are completely lead-free, and after speaking with the manufacturer, I have no reservations about honeysticks beeswax crayons. They're tough and feature a thick, ergonomic form that makes them ideal for children. They also have a pleasant aroma. They have a tiny stickiness to them.
Honeysticks' packaging and contents are all reused, recyclable, or biodegradable, making them environmentally friendly.
See also: How To Teach Kids To Share Without Force
Beeswax, soy wax, and stearic acid, a fatty acid found naturally in animal and plant fats, are used to make Eco Kids crayon sticks. Each crayon is three-sided, preventing it from rolling across the table, and comes in a bag of 20 non-toxic crayons. They're manufactured in Portland, Maine, in the United States.
These crayons' pigments are entirely derived from natural minerals, and they have a more muted, less shiny hue than some other kinds. Because the sticks resemble pencils, they are more suited to older children.
Honorable Mentions Non-Toxic Toddler Crayons
What To Look For When Picking Out Non-Toxic Crayons For Your Toddler
To be honest, there aren't many choices, thus the selection is limited. That doesn't rule out the possibility of spending some time comparing crayon options for your toddlers school supply list. You may reasonably presume that most, if not all, of the crayons in your local grocery store are off-limits and full of harmful chemicals because you're particularly looking for non-toxic crayons.
So, how do you make your decision? Here are a few things to think about.
Ingredients
The first is the list of chemicals on the crayon box, which is important because our objective is to choose non-toxic crayons. Knowing the components in the crayons might assist you determine if you're comfortable with them all. Check with the manufacturer if you can't locate an ingredient list on the box. Most people can provide you a list of non-toxic materials, and if they won't, you can cross that option off your list.
Any brand that refuses to reveal the components that your child will be holding in his palm is likely concealing some hazardous substances.
Strength Of Crayon
Different components result in varying degrees of hardness, and we want a crayon that will last. Because we know beeswax is more durable than soy wax, most producers choose it. These crayons may not shatter as easily as others while toddler practice their fine motor skills. For little children, broken crayon fragments might be a choking danger.
Colors
After all, they are crayons, and toddler expect to see different colors on their paper. Those aren't supposed to be drab hues. The pigment, or bright colors, should not be influenced by the substances utilized. Your child should colour a flower purple such that it looks purple, not a diluted form of purple.
Packaging
Last but not least, consider the crayon's packing and shipping. The crayon has to be well-wrapped. They're best if they have a twistable mechanism. Crayons with charming forms, such as flowers or stars, are popular with certain children.
AP Seal
The Art and Creative Materials Institute has approved a "AP Seal" for art materials that are non-toxic and safe for children, as determined by medical specialists.
Traditional Crayons aren't Easy To Use
Traditional crayons are made from wax and are easy for kids to grasp, but they're also difficult for toddlers to use. That's because their small hands can't wrap around the crayon's thick, round shape.
While it's true that children can learn to control their grip with practice, toddlers don't have the fine motor skills and dexterity needed to manipulate traditional crayons. This is why many parents choose to opt out of traditional crayons altogether.
By choosing a set of colorful non-traditional crayons such as finger paints or colored pencils, you can help your toddler experience colors in a safe and effective way.
Simple Crayon Coloring Activities For Toddlers
Toddlers absolutely love to color! And, it's a great way for them to spend some time on their own and learn how to focus.
Here are some easy activities you can do with your little one that will help them practice their fine motor skills and develop their creativity.
There are a few different ways you can encourage your toddler to get creative when it comes to crayon-colored:
Pick a theme or color scheme for your kid's project, and let them loose!
Have them decorate a teddy bear or doll for a loved one.
Encourage them to use their imagination by letting them draw whatever they like!
Non-Toxic Crayons For Kids Bottom Line
Crayons are a favorite activity for children of all ages, but not all crayons are created equal. Paraffin wax is a common ingredient found in many crayon brands, but it is a known carcinogen and can cause health issues when ingested.
The good news is that there are now washable crayons and twistable crayons available on the market today that are free from dangerous chemicals. Independent toxicologists recommend looking for crayons that are CPSC certified and made with food-grade pigments, which are safer for children to use. The Lebze crayons are a great crayon choice, they are made with natural ingredients and come in a set of vibrant primary colors that are perfect for color exploration.
They are triangular shape which makes it easy for young children to hold and develop their tripod grip muscles, perfect for building blocks for their creative side. These crayons are also washable, which makes it easy to clean up after a coloring session.
They come in a jumbo size, which makes them easy for small hands to grip, and have a tiny hole that prevents them from being a choking hazard. However, if a child does manage to get a crayon in their mouth, seek medical attention right away. These crayons are also great for bath time, as they are not soluble in water and can be used to create colorful designs on tile and tub walls.
So, when it comes to crayons, don't settle for the classic crayons, instead look for the best crayons that are safe and non-toxic, and come in sufficient quantities to last a while, to ensure that your child's safety is always a priority, while also encouraging their cognitive abilities and unleashing their creative side.
Print This Positive Parenting Guidebook – The 5 Pillars Of Positive Parenting
Listen… parenting with connection and positivity has been seen as permissive and lazy parenting BUT this is totally not the case.
I am a mom of 3 beautiful children and I've spent HOURS, DAYS, MONTHS, and YEARS researching this topic and seriously, it is my favorite way to parent.
Way better than what I grew up with – which was A LOT of yelling, spanking and frankly, neglect.
This little guidebook is a golden nugget that you can have for free – and print it out! Put it on the fridge, refer to it often. It's really a great tool for kids of all ages.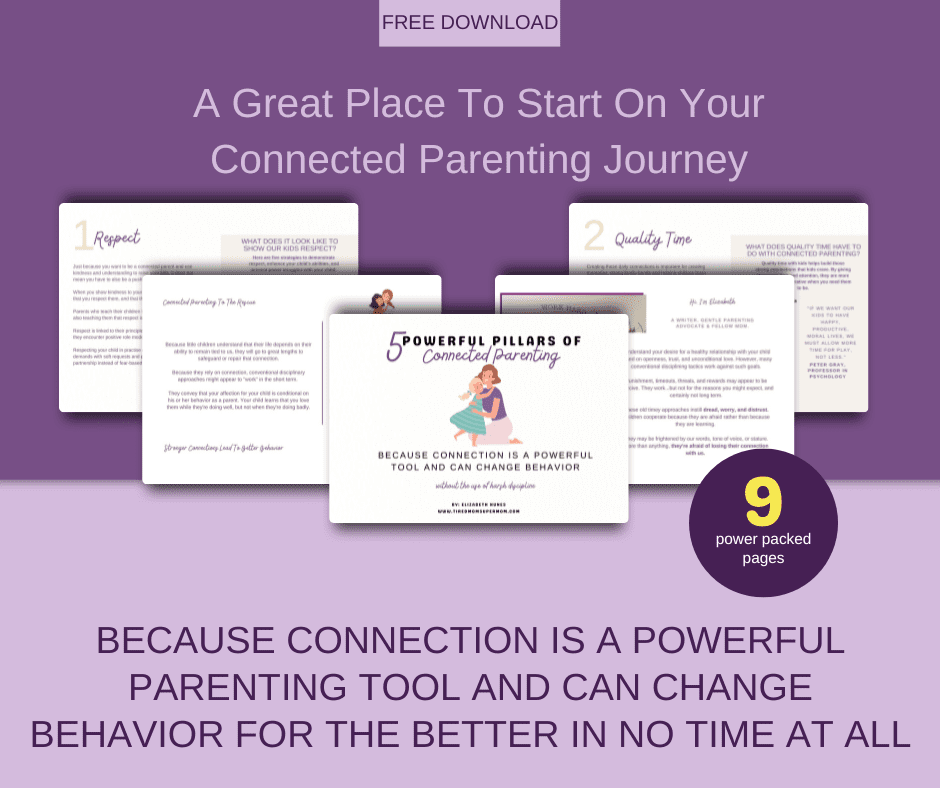 Download Your Free Printout
Download the guidebook. You'll get the printable, plus join hundreds parents who receive my weekly parenting tips and ideas! (Sometimes I'll promote a parenting program, but only the best ones that are in the positive parenting community, I promise.)
Print. Print out the guidebook!
Place it where you can see it. There is a lot of great information in this guidebook, even though it's small. It's power packed full of great stuff so put it where you can refer to it often.