Discover essential rain gear items that every child should have to stay dry and comfortable during rainy weather.
If you're a momma who loves to get outside and play in all kinds of weather, you might be asking yourself where to find the best rain gear for your kids.
Finding appropriate play clothes for the great outdoors has been one of the biggest challenges for myself as a 3rd time mom.
Keeping kids safe in the rain is no easy feat. Even if you're able to get your child inside before they're fully soaked, that doesn't guarantee they won't be cold and miserable later that afternoon.
That's where a quality rain jacket comes in handy — not only will it keep them dry for the rest of the day, but it might also help keep them from getting sick in the first place!
Read on for more information about the best rain gear for kids, so you can make sure your little one stays dry all season long!
This post may contain affiliate links. Full privacy policy and disclosure here.
How To Find The Best Rain Gear For Kids
To start, you'll want to think about your child's age, size and activity level. A toddler will have different needs than a child in middle school, after all — a younger child may not be ready for a heavy duty rain shell, for instance, but an older kid might appreciate the extra warmth and coverage.
You'll also want to consider your child's climate and the overall forecast for the season. If you live in a rainy area, obviously you'll want to make sure you have rain gear for your kid.
If there are other seasons that get rainy days, you'll want a waterproof option that's breathable so it doesn't make them too hot as well.
What To Look For In Rain Gear For Kids
As far as rain gear goes, you'll want to make sure you're getting something that's lightweight, breathable, and waterproof, obviously. You'll also want to keep an eye out for features like adjustable cuffs, hoods, and snaps and zippers that are easy enough for your tiny tot to manipulate.
A hood is an essential feature in any rain jacket, and you'll want to make sure it's the right size, so it doesn't fall over your child's eyes. Weight is another key factor, especially if you're shopping for a child who needs a heavy duty rain jacket.
If you can, try to find a lightweight option that will still keep them dry and warm. A high-quality rain jacket will be made of premium materials like a water-repellent finish, a tightly woven fabric, and a fleece lining.
Jackets
Types of Rain Jackets for Kids
Rain slickers: The most cost-effective alternative, this sort of waterproof children's apparel is suitable for infants and toddlers. This gear, which is often built with a waterproof, nonbreathable polyurethane (PU) covering, keeps the rain out, but an active child can soon become sweaty while wearing it.
Raincoats and wind shells that are water resistant: Kids' outerwear that is labelled as "water resistant" isn't totally waterproof, but it can tolerate light rain for short periods of time. Wind shells (sometimes known as windbreakers) provide a comparable level of protection.
Waterproof/breathable rain gear: This gear is best for youngsters who will be out on longer trips since it protects them from both stormy circumstances and the cooling impact of their own perspiration.
3-in-1 jackets: These jackets typically contain a water-resistant shell with a detachable fleece layer. Because each layer may be worn independently, they're quite adaptable. While they may provide some rain protection, they may not perform as well as a genuine rain jacket in extremely wet conditions.
Insulated and snow coats: These jackets will provide varied degrees of rain protection, so you won't need to purchase a separate rain jacket. Consider the type and amount of precipitation (light mist vs. severe rain), as well as how long your child will be out in the weather, and whether the jacket is water resistant or waterproof.
Rain protection for infants: Instead of purchasing a separate rain jacket, wrap your baby in a warm, insulated jacket or infant suit, many of which feature a water-resistant shell best toddler rain suit. You may also protect them by purchasing a raincover for your stroller or kid carrier.
With excellent rain jackets for outdoor play, small children, toddlers, and older children may spend longer time outside while being comfortable and dry.
Shell: 100% Nylon; Lining: 100% Polyester
Zipper closure
Columbia's Watertight Rain Jacket for Boys is made of a coated, waterproof shell that can resist everything from drizzle to deluge at any time.
This soft shell rain jacket for boys has two zippered side pockets, elastic cuffs, an elastic hem, a hood, and reflective details to assure your young one's safety and protection.
This boys' rain jacket is made of a waterproof 100 percent nylon shell that is both lightweight and protective. It's the ideal layering item and first line of defence for rainy play dates.
waterproof, windproof and breathable ripstop outer fabric
fixed hood
2 hand pockets
reflectors
Jack Wolfskin is a European brand that has finally made its way to the United States. Their gear is of exceptional quality and has a strong focus on the outdoors. This jacket is PFC-free, lightweight, and packable.
Hood is detachable. Fully adjustable, with luminous tape around each arm to improve visibility.
Toxin-free manufacturing. In the dark, reflective tape on both arms improves visibility.
Made in Finland.
Even when it's chilly, this jacket is soft and flexible since Reima never utilises PVCs. It has a fantastic hood, is entirely waterproof, and is generously sized, which we appreciate.
Bibs
These rain jackets are thicker and softer, and they're perfect for mud since they clean off quickly. In the summer, we'll often send the kids out in only bibs. They're roomy, yet they snap at the waist for a slimmer fit.
PVC, fluorine compounds, nickel, AZO colours, and flame retardants are all absent from CeLaVi's iconic rain pieces.
Jan & Jul's machine washable, waterproof fabric is free of dangerous chemicals and is intended to keep the wind and rain out while remaining breathable! For enhanced safety and visibility, we've placed luminous triangles to the rear lower legs. Our toddler rain bibs are designed to be effective for the cold seasons without adding bulk; they roll up simply to fit into your child's bag.
These rain bibs are entirely waterproof, with adjustable suspenders, and are ideal for allowing kids to spend more time outside. They are bibs that are light to medium in weight and are a great option for waterproof rain pants for toddlers.
Rainsuits
Because toddlers spend so much time crawling and sitting, rain coats are an excellent method to keep them dry. Rain-proof one-piece suits are essential for stepping outside in damp weather. However, several of these suits are available in bigger sizes. Is your tween in need of a rain suit? The Oaki rain suit is available in sizes 14/15, the biggest of all of these.
Jan and Jul cozy-dry is one of my favourites since it is fleece-lined and ideal for extra warmth in really wet and cold conditions. We wear it a lot in the fall and spring, but with a little more layering, you could wear it all winter. The Puddle Dry, an unlined version of their playsuit toddler rain gear set, is also available.
Their outfits include a brimmed hood, adjustable cuffs, luminous piping, and brimmed hoods. They're another favourite in really cold and wet weather.
The Oaki trail toddler rain suit one piece is a favourite of many families since it is extremely durable, comes in a variety of sizes and colours, and is easy to layer underneath. I particularly enjoy the adjustable waist and cuffs AND ankles, which allow you to buy a size up and grow into it. I'm not a great lover of the hood, but a nice rain hat can make up for it.
Stonz is a Canadian manufacturer whose winter clothing we've used and adored for years. With bonded, seam-sealed construction, PU coating, and covered waterproof zippers, their rain suit is loose-fitting and lightweight, yet highly durable. It is available in eight distinct hues. This is our go-to toddler rain suit since it's made to withstand hard play.
Other useful features include a built-in hood visor and soft cuffs with thumb openings, which make these suits even more practical and comfortable.
Best Rain Mittens For Kids
On chilly and wet days, keeping young hands dry goes a long way toward enjoyable explorations.
Best Rain Boots for Kids
Waterproof boots for toddlers and children are essential for keeping them dry and comfortable. The following suggestions are listed in alphabetical order. Examine them thoroughly to discover what we propose for various ages and situations.
They're all terrific rain boots, ranging from conventional rain boots to ones that may also be worn in the winter.
Best Rain Hats for Kids
Some Practical Tips about Toddler Rain Suits
Rain Boots Are Important
If you want to play outside with your infant or toddler when it's raining, you'll also need waterproof footwear. Wellington boots are an obvious choice. However, these might be very hefty for tiny children who are just learning to walk.
Because they are lightweight, Baby Bogs are arguably the ideal rain boots for toddlers who are just starting to walk. They're also lined, so they'll keep you warm in the winter. They are, however, a little pricey. These rain boots are a good value for money.
Rain Pants Should Go OVER the Boots
Rain trousers for your kid should be worn over rain boots. Waterproof rain pants, on the other hand, have a propensity to ride up. Although velcro cuffs remain in place better, I like stirrup straps. Because the straps extend beyond the boots, they might become filthy.
Some rain boots, on the other hand, feature drawstring tops that keep water out. These will keep your toddler's feet dry in light rain but will not keep her feet dry if she jumps in a puddle.
You will get muddy too
In the rain, your youngster has been running and leaping. He/she now has a wonderfully attractive mud-caked appearance.
It's now time to return home. Your kid, on the other hand, is too exhausted to walk by himself. So, how can you bring your child home without being dirty as well?
If you're serious about letting your child play in the muck, you might want to invest in some rain gear as well.
Tips For Keeping Your Kid Dry When It's Raining
If you're worried about your child getting wet when it's raining, there are a few things you can do to keep them dry. Make sure they're wearing the right shoes.
While they don't necessarily have to be rain boots, it's important to choose a pair that has a good grip and won't easily slip on wet pavement. A great way to keep your kid dry when it's raining outside is to make sure they have a raincoat or rain slicker.
You can also make sure they have a good umbrella to shield them from any falling water. If you and your child are walking, make sure to keep them close to you and walk at a slower pace so they don't trip.
Make Sure They're Wearing The Right Shoes
As mentioned above, you'll want to make sure your kid's wearing the right shoes when it's raining outside. A good pair of rain boots or rain sneakers will protect their feet from getting soaked and help prevent them from slipping on wet pavement.
Just make sure they're wearing the right size. An ill-fitting pair of rain boots can make walking difficult, while a pair that's too big can lead to water pooling inside the shoes, which can quickly make a child's feet cold and uncomfortable, especially if it's raining all day long.
Conclusion
Rain gear is essential for kids during cold weather and bad weather. For little kids, great rain boots are a must-have. Big kids need the best rain jackets to stay dry on a wet day. The right outer layer can make a big difference in staying dry.
Brands like North Face offer high quality waterproof rain jackets with a waterproof rating to keep your child dry. For younger kids, a waterproof jacket with a removable hood is a good choice, and for older kids, a jacket with an attached hood is a great option. Bright colors are also available for kids who want a pop of color during rainy weather.
A base layer of merino wool or other natural materials can add extra warmth on chilly days. The best rain suits for serious outdoor play are available from brands like Polarn O. Pyret and Helly Hansen in a variety of colors. A waterproof outer shell and rubber rain boots are a pro tip for warmer weather.
The most important factor in choosing rain gear for kids is protection, visibility, and natural materials. Check out our list of the best rain gear to keep your child dry during outdoor activities and extreme conditions.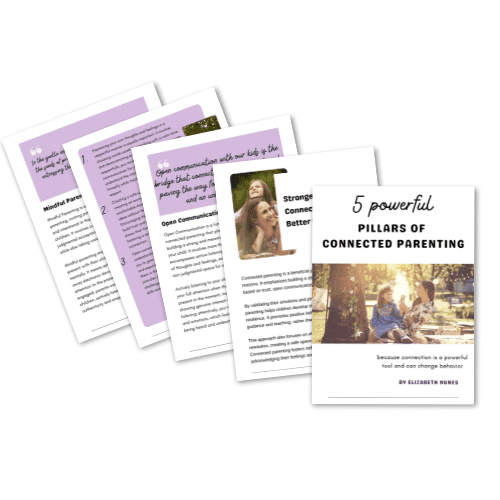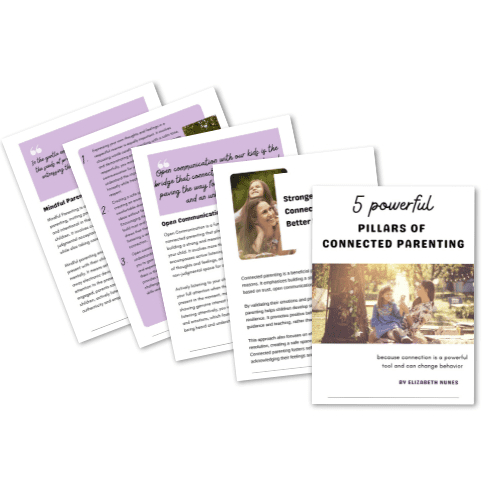 Free Download
Take your parenting journey to the next level with our comprehensive ebook on Connected Parenting.
Download this ebook now and embark on a transformative parenting experience that will strengthen your bond with your child and bring joy and fulfillment to your family life.