This post may contain affiliate links. Full privacy policy and disclosure here.
Being a parent is hard work, and most of the time it's not easy. There will always be stressful moments and challenging times ahead, but things get so much better when you discover the world of music with your kids.
Music has an incredible power to inspire and heal, helping us through difficult times and brightening up our days.
To introduce your kids to the wonderful world of music and its many benefits, you need amazing songs that are fun to listen to while also teaching them important lessons about kindness, honesty, courage or any other virtue you want to instill in your child.
The secret is finding songs that they won't get sick of listening to over and over again. If your child is loving a song over and over again, perhaps a pair of headphones for your little one is in order.
A great way to spend some quality time with your kids can be listening to music! Here are 42 inspirational songs you can listen to.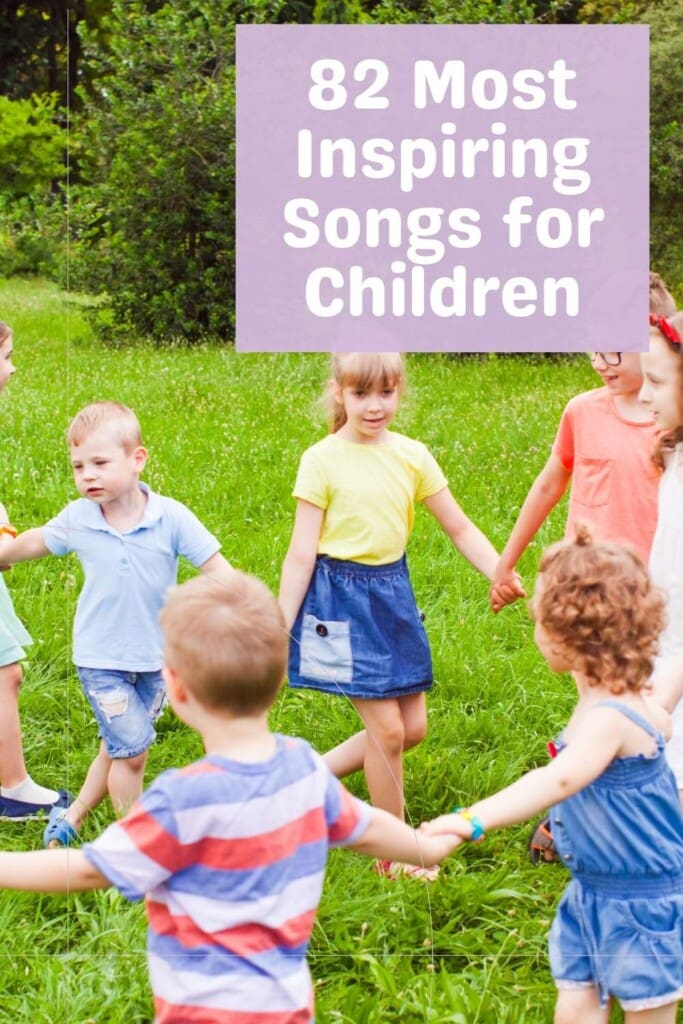 The Benefits of Music for Children
Music has a transformative power to improve mood and enhance wellbeing. Even just listening to a few minutes of music every day can improve your mood and decrease feelings of anxiety.
When kids regularly engage with music they're building skills that last a lifetime. At the same time, they're also improving their self-confidence, self-esteem, communication skills, and much more.
Music can help kids develop a healthy body and mind, with benefits for their well-being including stress reduction, improved sleep, and even stronger immune systems.
There are many ways in which music can play an important role in the lives of children.
Whether it be for enjoyment, education, or therapy, music is a valuable tool for bringing change and growth in children's lives.
Streaming Services You Can Use
Listening to music with our kids can be a fun and enjoyable experience for the whole family. It can also be a great way to introduce them to different genres of music and expose them to positive and uplifting messages. There are many music platforms available that make it easy to access a wide variety of music.
One popular option is streaming services like Spotify and Apple Music. These platforms offer a vast library of songs, playlists, and podcasts. You can create custom playlists for your kids and even listen to them together as a family.
Another option is Amazon Music, which also offers a large selection of songs, playlists, and podcasts. It also has the added benefit of being easily accessible on Amazon devices like Echo Dot, Echo Show, and Fire TV.
All these platforms offer a free trial period and also provide subscription based services that give you access to ad-free music, offline listening and more. These subscription based services can be a great way to support the artists and creators of the music you and your family enjoy.
Inspiration Songs Kids Love
"What a Wonderful World" by Louis Armstrong
"We Are the World" by USA for Africa
"Eye of the Tiger" by Survivor
"Don't Stop Believin'" by Journey
"The Climb" by Miley Cyrus
"I Believe I Can Fly" by R. Kelly
"Roar" by Katy Perry
"Brave" by Sara Bareilles
"Happy" by Pharrell Williams
"Stronger" by Kelly Clarkson
"Beautiful" by Christina Aguilera
"Born This Way" by Lady Gaga
"You Raise Me Up" by Josh Groban
"Fight Song" by Rachel Platten
"Count on Me" by Bruno Mars
"Don't Give Up" by Peter Gabriel and Kate Bush
"Ain't No Mountain High Enough" by Marvin Gaye and Tammi Terrell
"Lean on Me" by Bill Withers
"I'm Still Standing" by Elton John
"Man in the Mirror" by Michael Jackson
"I Will Survive" by Gloria Gaynor
"Let It Go" from Frozen
"The Power of the Dream" by Celine Dion
"Never Give Up" by Sia
"True Colors" by Cyndi Lauper
"Brave" by Moriah Peters
"Don't Stop" by Fleetwood Mac
"I'm a Believer" by The Monkees
"Walking on Sunshine" by Katrina and The Waves
"Happy" by Leona Lewis
"The Future Is Ours" by The Office
"I Can See Clearly Now" by Johnny Nash
"Smile" by Uncle Kracker
"I Hope You Dance" by Lee Ann Womack
"Hall of Fame" by The Script ft. will.i.am
"Shake It Off" by Taylor Swift
"Good Time" by Carly Rae Jepsen and Owl City
"Sing" by Pentatonix
"Rise Up" by Andra Day
"Hero" by Mariah Carey
"I Am Not Alone" by Kari Jobe
"Heal the World" by Michael Jackson
"One Love" by Bob Marley
"Live Like You Were Dying" by Tim McGraw
"We Will Rock You" by Queen
"I'm Free" by Kenny Loggins
"You Are the Sunshine of My Life" by Stevie Wonder
"You've Got a Friend in Me" from Toy Story
"Hakuna Matata" from The Lion King
"Everything Is Awesome" from The Lego Movie
"We're All in This Together" from High School Musical
"Try Everything" from Zootopia
"The Bare Necessities" from The Jungle Book
"Under the Sea" from The Little Mermaid
"Circle of Life" from The Lion King
"You Can Fly" from Peter Pan
"When You Wish Upon a Star" from Pinocchio
"Zip-a-Dee-Doo-Dah" from Song of the South
"Supercalifragilisticexpialidocious"
"A Spoonful of Sugar" from Mary Poppins
"Colors of the Wind" from Pocahontas
"Let's Go Fly a Kite" from Mary Poppins
"Hallelujah" by Leonard Cohen
"The Greatest Love of All" by Whitney Houston
"I Believe in You" by Don Williams
"Stand by Me" by Ben E. King
"We Are Family" by Sister Sledge
"Celebrate" by Kool & The Gang
"Love Train" by The O'Jays
"Shining Star" by Earth, Wind & Fire
"We Got the Beat" by The Go-Go's
"What's Up?" by 4 Non Blondes
"A Whole New World" from Aladdin
"Can You Feel the Love Tonight" from The Lion King
"Colors" by Jason Derulo
"Don't Worry, Be Happy" by Bobby McFerrin
"Gonna Fly Now" from Rocky
"I'm Gonna Be (500 Miles)" by The Proclaimers
"Jump" by Van Halen
"Kiss" by Prince
"Livin' on a Prayer" by Bon Jovi
"Rockin' Robin" by Bobby Day
These songs offer positive messages of hope, perseverance, self-confidence, and the power of community. They can inspire and uplift children, encouraging them to dream big and pursue their goals with passion and determination.
YouTube Playlists With Inspirational Songs For Kids
See also: 20 Apps That Don't Require Wifi For Kids Under 5
Music That Kids Should Avoid
As a parent, you want to give your child the best start in life. That starts with eating right, getting a good night's sleep and listening to music that fits their age and development level.
You should of course make the best decisions about the right type of music for your family and you may not agree with me, but in my mommy opinion here are the types of music styles that kids should not hear.
One of the most dangerous forms of music for children is heavy metal.
This type of music is loud and high-energy, which makes it perfect for young ears to hear. But even more dangerous than metal music is rap music, which often has violent and sexual themes.
Both of these types of music should be avoided at all cost by parents because they can cause lasting damage to a child's brain development. Another type of music that should be avoided is electronic dance music (EDM).
This is the kind of music that you would hear at raves or nightclubs, and it usually has very loud, repetitive beats or bass lines.
Because this type of music can cause hearing loss as well as seizures in some people, it should also be avoided by anyone with an infant or young child nearby.
Music Can Help Bring Out Feelings We Didn't Know We Had
We all have feelings buried deep inside our hearts. Sometimes they surface out of nowhere, while at other times they remain hidden deep within our souls.
Music can help you access those feelings and express them in a healthy way. When you listen to music, the brain releases chemicals called endorphins, which help us process those emotions and bring them to the surface.
Once these feelings are out in the open you can start to understand where they come from, and how to deal with them. This can help you to become a stronger and more confident person.
Inspirational Songs For Kids Bottom Line
Introducing your kids to the wonderful world of music is an amazing gift. It can help them improve their social skills, develop healthier bodies, and discover their hidden talents.
With so many wonderful benefits, music is a gift that lasts a lifetime.
Make sure to choose some amazing songs that are fun to listen to while also teaching your kids important lessons about kindness, honesty, and any other virtue you want to instill in your child.