This post may contain affiliate links. Full privacy policy and disclosure here.
Play is an essential part of a child's development (especially those fine motor skills!), and imaginative play is one of the most important forms of play for kids (no, really).
Play kitchens have been a popular toy for young children for decades, but many parents may not realize that older kids can still benefit from them.
Play kitchens provide a fun and engaging way for older kids to develop social skills, enhance creativity and imagination, and even learn basic cooking skills like writing grocery lists and meal planning( on a much smaller scale than you ofcourse!)
So let's explore the different types of kitchens and what kind of things to watch out for like counter height, small spaces, modern look and feel and even kitchen utensils. You wouldn't think there was much to picking out a kitchen for kids, because they're all the same right? WRONG. There are SO many things to look for..like a coffee station, cordless phone, four-burner stove, farmhouse-style sink or even wooden food..you know…stuff that older kids love! So let's chat about the best toy kitchens asap so you can get to playing with your little one.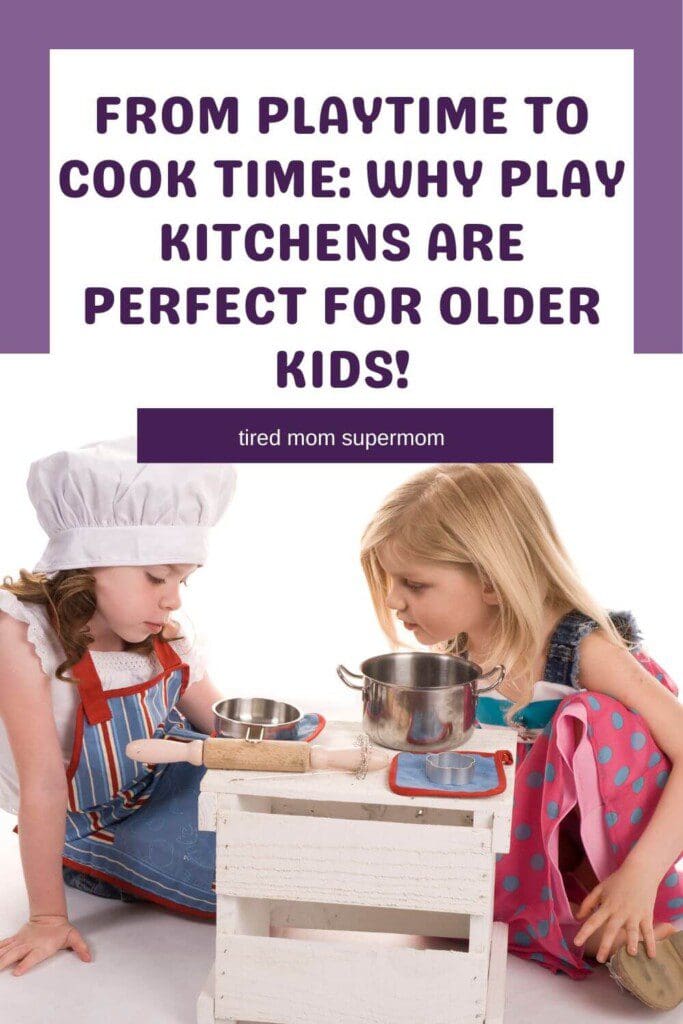 Benefits of Play Kitchens for Older Kids
As children grow older, their interests and abilities change, but the benefits of imaginative play remain constant. Play kitchens are a perfect toy for older kids because they offer a wide range of benefits that can help children in many areas of their lives. Here are some of the benefits of play kitchens for older kids:
top 3 Play Kitchens for older Kids
This is undoubtedly one of the largest wooden play kitchens on this list. Its measurements are 33 x 50 x 46.75 inches. The counter is 22 inches high. So, if you don't have a lot of room, this can be a little difficult to fit.
If you do manage to squeeze it in, you'll be providing your child with a memorable experience because this play kitchen has many fun interactive features. Everything has a lot of detail and is really realistic. The graphics are also really sharp.
Its doors open to make the game more enjoyable. The lights are there to give the whole thing a more realistic feel. And it works quite nicely in this case. The sink is a unique design. A goose-neck faucet is included. They're just like the ones you'd see in the real world with a modern design. You can add your own pretend appliances to keep on the ample counter space.
Your child can enjoy this great kitchen for many years to come. The stove is of excellent quality, is a great size and well-constructed.
This one is significantly superior than other tall play kitchen sets that are shaky. There's even a storage area for your children's cooked meals and play food. The rooms are spacious and serve a practical purpose. Hello storage- we all need storage solutions when it comes to toys!
They can also store a cookbook if they so desire. The set's design and dimensions make it very easy for older children to play comfortably. There is, of course, an age limit.
This one, on the other hand, is ideal for a 10-year-pretend old's kitchen. I also recommend this great play kitchen for children aged 4 to 10 for hours of fun and imaginative play.
| Pros | Cons |
| --- | --- |
| Good build quality | Quite large |
| Storage space included | |
| Realistic doors and lighting | |
| U-shape design | |
Melissa and Doug doesn't make a lot of kitchens for kids. But when they do, you'll notice it's high quality. Even though there are no realistic lights, it's still a good choice for 4-10 year olds.
The Wooden Chef is a work of art. It has received a lot of positive feedback from parents since its release in late 2018. This toy kitchen is not only suitable for older children, but also for children as young as two years old. If you have little kids of various ages at home, this is a benefit.
When it comes to cleaning, big toys are a mother's worst nightmare. The Wooden Chef is not one of them. It's designed in such a way that cleaning this kitchen play set is a breeze.
This pressed-wood playset will make a statement in any room it is placed in. Charcoal, cloud, and pink are three kid-friendly colours for the Wooden Chef pretend kitchens.
The interactive design of the Wooden Chef is one of the things that appeals to older children. The microwave plate rotates in the same way that a conventional plate does. Realistic ice cubes are dispensed by the ice maker. There's also a movable faucet and handle on the sink so it really feels like the real thing.
In comparison to other large kitchen play set, this top pick is easier to put up thanks to well-illustrated thorough directions.
| Pros | Cons |
| --- | --- |
| Large set but not too overwhelming | No storage spaces |
| Realistic features | |
| Fake ice dispensers | |
| High-quality graphics | |
The kidkraft ultimate corner play kitchen has an edge over the other pretend kitchens on this list in that it is made to endure knocks and kicks from children while they engage in creative play and has a realistic look.
The kidkraft uptown kitchen kid's set is designed to survive through multiple generations of children which is one of the most important things if you're going to have a large family.
This is a toddler's kitchen where an older child can have a lot of fun. It's a wooden set with a few kitchen accessories thrown in for good measure.
The Uptown Natural Kitchen is a solid little kitchen that won't easily topple over, which is a feature to look for in kitchen playsets for busy kids. It also has much storage space on the counter tops which makes it the perfect place to add extra appliances.
The Uptown Set can generally survive whatever a 5-year-old can throw at it due to it's build quality.
It's also a perfect kitchen for boys because of this. It is also a potential tool for school-age children because to its superb role-playing features and toy devices.
The realistic design is one thing you can't take away from this set and your little chef will love it and all of it's realistic features. If you are looking for something that's a smaller size in your search for the right toy that will play an important role in your child's life, read some more of the reviews below.
| Pros | Cons |
| --- | --- |
| Detailed instructions for easy assembly | Some might find the setup a bit difficult |
| Realistic playset | Is heavy – will need to be secured to wall |
| Authentic looking natural wood finish | |
| Strong and sturdy | |
14 More Kitchen Playsets Kids Enjoy
What Age Do Children Outgrow a Play Kitchen?
As much as we love our children and want them to stay babies forever, the reality is that they will grow up. But that's all right. Parents will adore their children just as much as they did the first time they held them.
You'll notice that their interests shift at this time, and they'll outgrow their toys on their own. But, adorable play kitchen sets, on the other hand, should hold your child's attention for a longer period of time than other toys.
Giving your children a toy kitchen set at the age of two to three years is great. Some sets are appropriate for youngsters as young as one year old or younger than two years old. But, for the most part, 2 to 3 years is a nice length of time.
However, as with other toys, your children will ultimately outgrow it. In comparison to other toys, children will outgrow this one a little later. This is due to the level of stimulation provided by a kitchen set.
I believe that children should not outgrow it until they are at least 11 years old. Your child will have a lot of wonderful memories from these years that they will treasure.
Why Play Kitchens Are Important
They are, without a doubt. When children are young, it is essential to provide them toys that will both stimulate and entertain them. Play kitchens, for example, are one of the greatest methods to do so. Getting your child a kitchen set has numerous advantages:
It teaches you how to socialize
The majority of play kitchens are large enough for at least two children to play at the same time. Your children can invite friends over and play together. This helps them develop key social skills and even language skills. This is also very crucial for your child.
Beneficial to Growth
Children's brains are like sponges when they are young. Their minds will quickly absorb and learn new information. Playing with these kind of toys is quite important.
They aid in the development of your child, as well as teaching them creativity and encouraging them to think beyond the box. The children are free to design their own playtime. That's the allure of it.
It will also help them enhance their linguistic skills. Role-playing encourages your child to express himself or herself. As a result, your children's vocabulary will improve.
Enhances organization and planning
You'll notice your children sorting and categorising the foods and pots as they play with these sets. They'll even clean them up for you. This is a crucial life skill that should be learned at a young age.
How to Choose the Best Play Kitchen For Kids
Check the quality and durability of the product
Don't get too hung up on the design or appearance of the play kitchen. Instead, focus on the quality and durability of the product. Go for a play kitchen that is made from high-quality materials that will last for years. Durable materials are important because a play kitchen can get a lot of rough use.
Kids are naturally curious and they will want to play with everything, including their toys. A play kitchen that is made from cheap or flimsy materials won't last long.
You might have to replace it, or maybe even discard it, after a few months of use. To inspect the quality and durability of the product, look at its overall construction.
Make sure all the parts are screwed together and don't come apart when you try to move them. Look for sturdy materials like wood and steel, instead of plastic.
See what's included in the package
While you are checking the quality and durability of the product, also check what's included in the package. Most play kitchens come with an assortment of accessories and tools, like pans, plates, cups, pots, and cooking utensils. Whatever accessories are included in the package should be safe for children to play with.
Ideally, they should be made of non-toxic materials and be BPA-free. You should also check if there is a place to store the accessories when not in use. This way, everything stays organized and isn't left lying around the floor. If your child loves playing with dolls or toys, you should look for a play kitchen that comes with doll-sized chairs and tables.
This will give them an opportunity to act out different scenes with their toys.
Consider your child's age and stage
Another important thing to consider when buying a play kitchen is your child's age and developmental stage.
Generally, toddlers are interested in role-playing as grown-ups. Thus, they will enjoy playing with a miniature kitchen.
Kids in the preschool and elementary years also love to pretend to cook and prepare meals. In fact, it is an excellent way for them to learn about good nutrition and health. Kids at this age tend to be more hands-on and tactile.
Thus, they will enjoy a play kitchen that is interactive and promotes creativity.
Check for safety features
It is always important to check for safety features, especially if you are buying a play kitchen for a child who is too young to be safe around the kitchen.
If your child is too young to be unsupervised, you might want to buy a play kitchen that has safety features. A play kitchen with safety features will help your child stay safe, even when you aren't around. For instance, look for a play kitchen with a lockable door or a door that automatically shuts when it is closed.
This way, your child won't leave the kitchen while they are playing. Some play kitchens have a timer, so they can be programmed to shut down after a certain amount of time. In this way, your child will have to stop playing once the timer goes off.
Read customer reviews
Once you have checked the product thoroughly, it's time to read customer reviews.
This will help you decide whether the product is worth buying. There are many online retailers that sell play kitchens. Thus, you can read the customer reviews of each one to determine which one has the highest rating.
You should also look for reviews that are written by parents, as opposed to someone who bought the product for research.
Tips for Encouraging Play with a Play Kitchen
While play kitchens can be a great addition to any child's toy collection, encouraging play with a play kitchen can be a challenge. Here are some tips for encouraging play with a play kitchen:
Set up a designated play area: Creating a designated play area for the play kitchen can help encourage kids to use it regularly. This area should be free from distractions and other toys, and should be easily accessible for the child.
Provide realistic play food and utensils: Providing realistic play food and utensils can help spark children's imagination and creativity. This can include play fruits and vegetables, pots and pans, and even a play oven mitt.
Encourage group play with friends or siblings: Encouraging group play can help children develop their social skills, and also make the play kitchen more exciting and interactive. This can be a great opportunity for children to learn how to share, cooperate, and communicate with others.
Join in on the fun and model imaginative play: Modeling imaginative play can help encourage children to use their own creativity and imagination. Parents and caregivers can participate in the play, making up their own scenarios and demonstrating different cooking techniques.
Benefits of Buying the Best Play Kitchen
When buying a play kitchen for young children, keep in mind that you're buying a toy that will provide your child with hours of imagination play.
When buying a play kitchen, keep in mind that you're buying a toy that will provide your child with years of entertainment. A younger child will begin by banging pots and pans together. However, when she grows older, your little one will be running a full-service restaurant for you and her pals.
They're fantastic educational toys! They're not only fun for pretend play, but they're also a fun method to teach your child about colours, numbers, cooking, and different types of food.
Play kitchens are a huge hit with kids on playdates! When you bring other kids over, they'll all want to play in the kitchen.
It's simple to update the best kid kitchen set! Food play sets can be added to the original kitchen at any time. Start with a simple selection and expand the menu to include pizza, cupcakes, waffles, and burgers. To add to the enjoyment, you may find toy blenders and toasters that create noise. It won't be difficult to add new pieces to your child's repertoire if you build a sound storage system. You may also save empty cereal boxes and breakfast bars to create a realistic kitchen atmosphere for a reasonable price.
FAQ
Are Play Kitchen Sets Worth It?
They are, without a doubt. When children are young, it is essential to provide them toys that will both stimulate and entertain them.
Are play kitchens safe?
It is critical to include features that are child-friendly. This is especially true when it comes to purchasing toys for your child. All of the sets we've described are composed of safe materials and don't include any potentially hazardous elements.
Can boys play with kitchen sets?
They certainly can. There are a plethora of gender-neutral kitchen sets available for both boys and girls. Give a kitchen set to a future Gordon Ramsay in the house and watch their eyes light up.
What is the best age to give my kids a play kitchen set?
You can start giving your children a playset when they are as young as two years old. The majority of the sets will be suitable for children of that age. What's even better is that they'll keep playing with it when they get older. As a result, your purchase will get more use than other toys you would have purchased for them.
Is my kid too old to play with a play kitchen?
A kitchen set may keep kids occupied for a long time. This is due to the high level of excitement these sets give for your children. Their play might evolve with them as they get older.
It can become more complicated. They can add additional variety and fascinating twists to their game.
When a child is around 11 years old, they usually outgrow their set. Prior to that, they will undoubtedly appreciate a high-quality playground.
Do play kitchen sets come ready to go outside the box?
The toy's design necessitates some assembling before your child may play. There are numerous bits and sections that must be assembled. The assembling, on the other hand, isn't difficult. Easy-to-follow instructions are included in the bundle. Getting up and moving shouldn't take more than a couple of hours.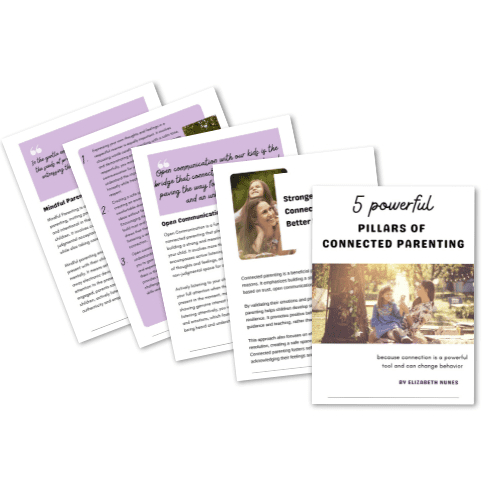 Free Download
Take your parenting journey to the next level with our comprehensive ebook on Connected Parenting.
Download this ebook now and embark on a transformative parenting experience that will strengthen your bond with your child and bring joy and fulfillment to your family life.
More Articles You Might Enjoy