Explore delightful Christmas morning customs, such as coordinating family sleepwear and merry playlists, nurturing enduring bonds, and crafting enchanting memories for the years ahead.
This post may contain affiliate links. Full privacy policy and disclosure here.
Special Christmas Morning Traditions You May Love
As a mom of three, I understand the unique joy and anticipation that the holiday season brings. It's a time filled with warmth, togetherness, and a sense of magic in the air.
For my family, the most cherished moments during this festive season revolve around the traditions we've built together.
Christmas morning, in particular, holds a special place in our hearts. There's something truly enchanting about witnessing the wonder of the season through the eyes of my children.
It's not the gifts under the tree that create this magic; it's the enduring family traditions we've cultivated over the years.
These traditions, along with the special bonds my kids share, turn our holiday season into something truly extraordinary.
Traditions, I've found, don't have to come with a hefty price tag. In fact, many of the most meaningful traditions are cost-free.
They not only enhance the holiday experience but also strengthen the ties that bind us as a family. These are the traditions that we pass down from one generation to the next, creating a legacy of warmth and togetherness.
Who knows, the Christmas morning tradition you start this year might be carried on by your grandchildren or even your great-grandchildren in the future.
I'm excited to share some of my family's favorite Christmas morning traditions with you. These are the moments that make the holiday season truly magical and unforgettable.
So, whether you're a seasoned mom or just starting your journey, let's embrace the joy of creating lasting traditions that will fill your home with love and laughter for years to come.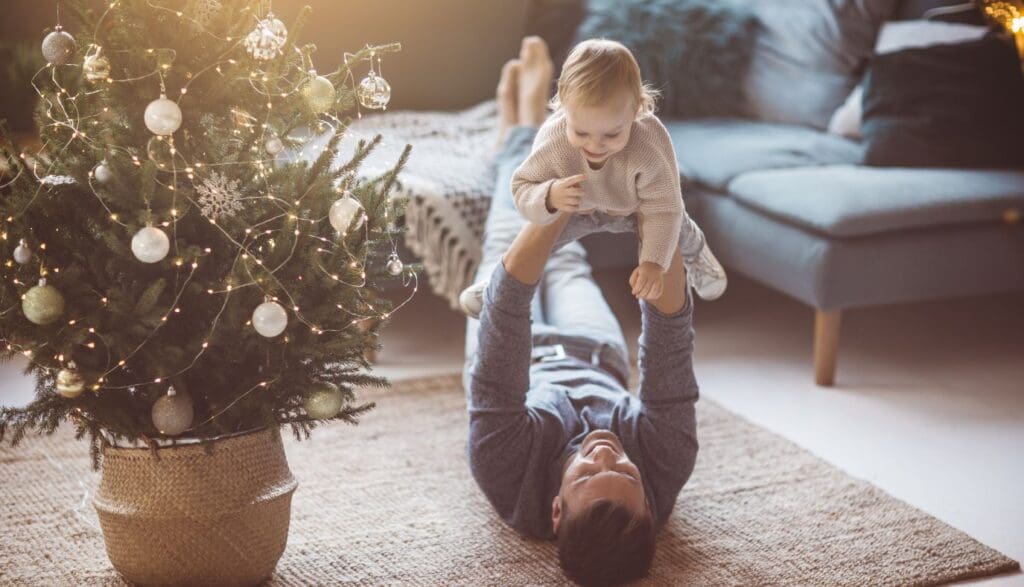 Christmas Traditions For Families
Among the multitude of festivities, it's Christmas morning that holds a unique place in our hearts. The wonder and excitement in my children's eyes as they wake up on this special day are truly enchanting. It's not the presents under the tree that weave this magic; rather, it's the enduring family traditions we've nurtured throughout the years. These traditions, along with the special sibling bonds my children share, transform our holiday season into something extraordinary.
Santa's Footprints and a Personalized Letter
Imagine the delight in your child's eyes when they wake up to find Santa's footprints leading from the chimney to the Christmas tree. Create these footprints with baking soda and glitter, forming a trail to the gifts. Accompany this enchanting sight with a personalized letter from Santa, expressing his delight in your child's good deeds throughout the year. Our Santa letter is something that I like to write on Christmas eve myself on Santa paper.
Breakfast Extravaganza
Begin the day with a delightful breakfast that the entire family can help prepare. Whether it's a simple meal like eggs and bacon or a special treat like cinnamon rolls, this is a tradition that sets a joyful tone for the day. You can create a pancake bar with various toppings, set up a fresh fruit station, or offer hot cocoa with marshmallows, whipped cream, and sprinkles.
The Gratitude Stockings
Embrace the spirit of gratitude by having each family member fill a stocking for another with small items and heartfelt notes. These notes can express appreciation, share memories, or offer tokens of love. When the stockings are opened, take turns reading the notes aloud, emphasizing the love and gratitude felt within the family.
Charity and Giving Back
Instill the true meaning of the holidays by incorporating a charitable aspect into your Christmas morning. You can visit a neighbor with a thoughtful gesture, choose a cause or organization to support as a family, or volunteer your time. This tradition not only teaches the importance of generosity but also reinforces the joy of giving back.
Annual Family Christmas Video
Capture the essence of each Christmas morning by creating a family video that documents the unwrapping of gifts, special moments, and heartfelt conversations. Watching these videos together as a family allows for reflection on the passage of time and the cherished moments shared.
Matching Family Pajamas
Enhance the holiday spirit by having the family don matching festive pajamas on Christmas morning. This tradition not only creates adorable photo opportunities but also fosters a sense of unity and togetherness.
This is NOT one of our traditions but I have always wanted to do it…maybe this year is the year we start! It's just too cute.
Creating a Christmas Playlist
Craft a family Christmas playlist featuring everyone's favorite holiday tunes. Let the melodies of the season fill your home with warmth and cheer as you enjoy breakfast, unwrap gifts, or partake in other festive activities.
Here are some of my favorite christmas songs for Christmas morning!
"Jingle Bells"
"Frosty the Snowman"
"Rudolph the Red-Nosed Reindeer"
"Deck the Halls"
"Santa Claus Is Coming to Town"
"Let It Snow! Let It Snow! Let It Snow!"
"Here Comes Santa Claus"
"We Wish You a Merry Christmas"
"Winter Wonderland"
"Jingle Bell Rock"
Bottom Line
As you get ready to celebrate Christmas morning with your dear ones, cherish the true spirit of the holiday, which is all about love and togetherness. Christmas morning's enchantment isn't just in the gifts under the tree; it's in the bonds among family members.
By adopting these heartwarming traditions—like wearing matching family pajamas, enjoying fun games, crafting a Christmas playlist, and more—you'll enhance the happiness of the day and create enduring memories.
Embrace these traditions, forge lasting connections, and savor the beauty of the holiday season with your loved ones, carrying them forward for years to come.
May your Christmas mornings be brimming with laughter, love, and these meaningful traditions that bring your family even closer
More Like This
42 Christmas Activities For Kids
172 Christmas Movie Trivia Questions To Play With Your Family This Year
How Many Gifts Should Santa Bring Each Child?
Sweet Christmas Poems for Parents
Sibling Christmas Traditions You'll Want To Try
20 Magical Reindeer Books for Kids
Does Elf On the Shelf Make Kids Behave Better?
50 Sweet Ways To Make Christmas Magical For Children
13 Steps To Make The Perfect Christmas Eve Box For Baby
11 Of My Best Tips For A Stress Free Christmas