This post may contain affiliate links. Full privacy policy and disclosure here.
✨Ready to make BIG changes on your parenting journey? Don't miss the FREE video training: 5-Step No-Yelling Formula. Gets Your Kids To Listen The First Time, Every Time! Learn how to How to avoid blaming, shaming, or causing your kid any pain when you set consequences! Grab your spot in the FREE video training HERE…
Are you looking for some fun and educational activities to do with your toddler? If you're anything like me, you're always on the lookout for new ways to keep your little one engaged and learning.
Well, have you ever thought about exploring the fascinating world of water tables?
Water tables are a great way to encourage sensory play and spark your child's curiosity about science and the natural world. I have a water table for indoors and one for outdoors – that's how much i love them!
In this blog post, I'll share some of my favorite water table activities for toddlers that are sure to provide hours of entertainment and learning.
So grab a towel and let's dive in!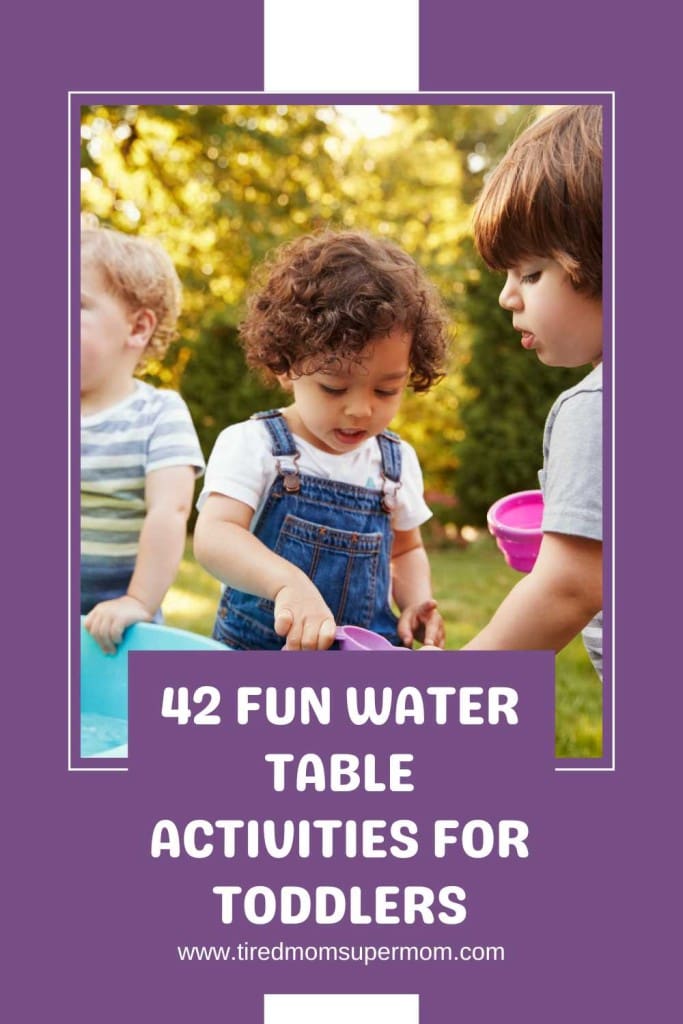 What is Water Play?
Water table activities are a fun way for kids to play and explore. Setting up a small world at a water table is a great idea that provides hours of fun for kids. A bucket of water, a cup of water, or even warm bath water in the tub can be used as a water source.
Adding different colors with food coloring, cookie sheets, and kitchen sinks to the mix can add extra fun and creativity to the play. Dramatic play is also possible, making it a great addition to their imaginative play.
Dish soap and drops of food coloring can add to the fun, making it a fantastic play activity for curious kids.
With close supervision, water play can provide hours of entertainment and is a wonderful activity for children of all ages, including older children who can enjoy activities like rainbow rice or playing with squeeze bottles and small objects with a slotted spoon.
Children like playing with the tools close to a high water table, as well as getting into the container and immersing themselves in the water while playing.
How to Set Up a Water Play Area for Preschoolers and Toddlers
Here are some guidelines for your water table ideas:
There aren't any regulations at all. You'll only need a water play table or container, as well as some tools or utensils.
To fully encourage your child's creativity, try using different containers and provide a choice of tools and toys.
On a warm day, children can play barefoot and in light clothing; on a chilly or wet day, set up an indoor water table on an elevated surface (aprons required) or in the bath.
At least once a week, try to have a water play day (even indoors if it's rainy!)
Water Play Ideas for Kids
Sensory play with water beads
Water painting with brushes or sponges
Floating toy boats
Pouring water from one container to another
Splashing in a shallow pool
Washing toy dishes or dolls
Water play with measuring cups and spoons
Blowing bubbles in water
Fishing for toys with a net
Floating and sinking experiments with different objects
Creating waterfalls with plastic cups and funnels
Water sensory bin with various objects to explore
Ice cube melting races
Water balloon toss (with reusable balloons)
Playing with water squirters or spray bottles
Pouring water over different textured surfaces (e.g., sand, rocks)
Washing toy cars or trucks in a water bin
Water pouring through a colander or strainer
Making DIY rainsticks using water-filled tubes
Watercolor painting outdoors
Stacking cups and creating water towers
Making water tracks with PVC pipes and funnels
Floating and catching foam shapes
Water balloon piñata
Creating bubble snakes with a plastic bottle and sock
Sensory ice play with frozen water and food coloring
Washing baby dolls or plastic animals
Water play with floating alphabet or number toys
Pouring water through different shaped containers with holes
Using spray bottles to create water art on pavement
Watering plants with small watering cans
Water transfer with a turkey baster or pipette
Creating watercolor resist art with crayons and watercolors
Using a water table with built-in activities like water wheels or slides
Exploring buoyancy with objects that float or sink
Creating ice sculptures by freezing water in different molds
Sensory water play with scented or colored water
Playing with water-filled sensory balls
Making ice cube sensory bottles
Water-filled sensory bags for squishing and exploring
Painting with water on chalkboards or sidewalks
Using water play toys like water guns, sprinklers, or water slides.
What Supplies to Use with Your Water Table
Water Table
Water
Rocks
Dirt
Flowers
Sticks
Sidewalk Chalk
Plastic Cookie Cutters
Water Balloons
Kitchen Utensils
Soapy Water
Spray Bottle
Turkey Basters
Water tables come in a variety of shapes and sizes. They're all entertaining and will fit in with all or most of these activities. Try to get a sensory bin with two or more compartments if you want to make miniature worlds in your water table.
See also: 6 Best Water Tables For Kids For The Best Sensory Play Experience
FAQ
How do you make a water table fun?
Water tables are one of the finest open-ended toys for toddlers and preschoolers since they are intrinsically entertaining. Add fascinating sensory elements as well as a range of toys, including as vehicles, animals, cups, and scoops, to make them more enjoyable. Basically, anything that won't get harmed by water can go in a water sensory bin!
What can I put in my water table beside water?
The adaptability of water tables is one of their finest features. In a water table, you may use a variety of materials such as water beads, ice cubes, soap foam, shaving cream, beans, grains, flower pebbles, sand, dirt…the choices are unlimited! Common toys like a marble run, plastic animal figurines, or thematic math counters can also be added.
How can I have a water table indoors?
Water tables are also a fantastic addition to any indoor play area. They may be used as a sensory bin when filled with dry objects. Place a big bedsheet, tarp, or tablecloth underneath for simple cleanup and protection of the flooring. You can even make a water bin out of a bathtub! Just be sure that anything you put isn't so insignificant that it goes down the drain.
Water Table Activities for Toddlers Bottom Line
For my small children, having a water table is fantastic.
For toddlers and preschoolers, they give hours of excellent play and learning possibilities. Compiling this list reminded me of many happy times spent with my sons at the water table in the garden, in the playroom, or in the kitchen.
We even transform the bathtub into a water sensory bin on occasion!
In every house or classroom, a water table is a must-have for playing. They're great for all types of sensory play, as well as the development of fine motor skills by scooping and pouring water or squeezing a turkey baster, and colour mixing with an egg beater. They can also be utilised for educational purposes!
Print This Positive Parenting Guidebook – The 5 Pillars Of Positive Parenting
Listen… parenting with connection and positivity has been seen as permissive and lazy parenting BUT this is totally not the case.
I am a mom of 3 beautiful children and I've spent HOURS, DAYS, MONTHS, and YEARS researching this topic and seriously, it is my favorite way to parent.
Way better than what I grew up with – which was A LOT of yelling, spanking and frankly, neglect.
This little guidebook is a golden nugget that you can have for free – and print it out! Put it on the fridge, refer to it often. It's really a great tool for kids of all ages.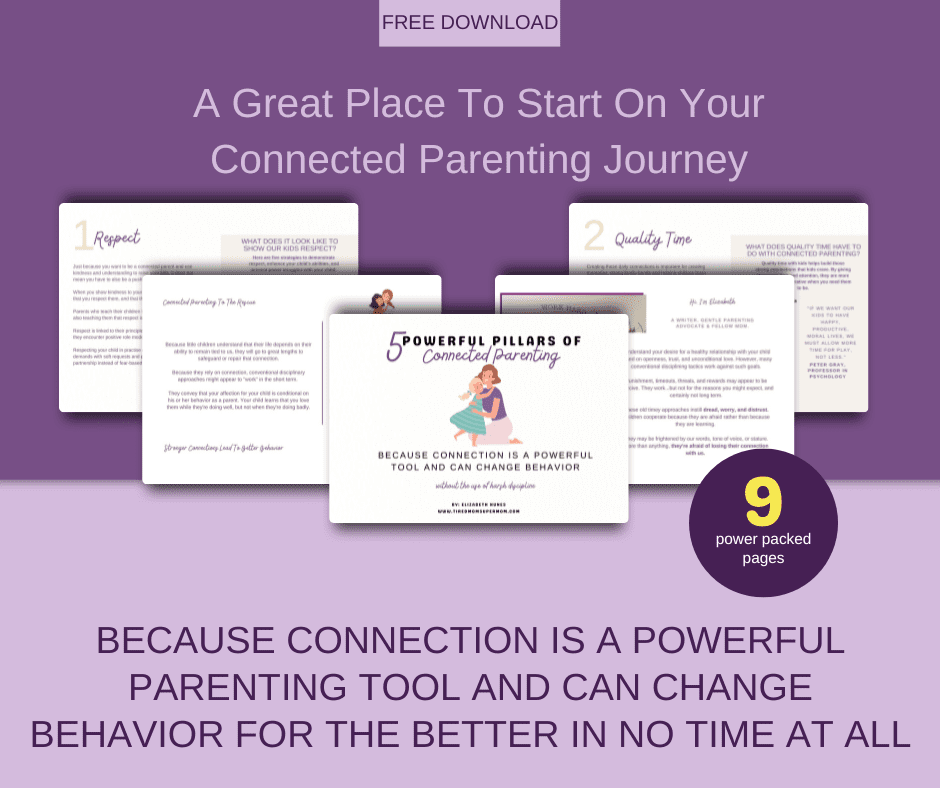 Download Your Free Printout
Download the guidebook. You'll get the printable, plus join hundreds parents who receive my weekly parenting tips and ideas! (Sometimes I'll promote a parenting program, but only the best ones that are in the positive parenting community, I promise.)
Print. Print out the guidebook!
Place it where you can see it. There is a lot of great information in this guidebook, even though it's small. It's power packed full of great stuff so put it where you can refer to it often.