Welcome to a world of enchantment and holiday cheer with my collection of cute and free Letter to Santa printable templates for kids.
As a mom of three, including a 10-year-old who still believes in the magic of Santa, I know the joy these letters can bring to little hearts.
These adorable templates cater to kids of all ages and offer a delightful twist on the timeless tradition of writing to Santa.
Whether your child wants to express their dearest wishes or create charming keepsakes for the memory book, we've got you covered.
Let the spirit of the season shine as your little ones craft their heartfelt letters with these festive and fun kid-friendly templates.
This post may contain affiliate links. Full privacy policy and disclosure here.
Why Write A Letter to Santa
One of our cherished Christmas traditions is writing a Letter to Santa. It's a tradition that brings smiles and anticipation to our home.
These cute, free, printable Letter to Santa templates have become an integral part of our festive preparations. They make the process of writing to Santa a breeze, especially for kids like my own. These adorable templates not only make the letter-writing experience more fun but also create wonderful keepsakes for their memory books.
The best part? Sending it to the North Pole, complete with the right USPS mailing address, and the hope of receiving a return letter from Santa. It's a delightful tradition that fosters creativity and self-expression, whether it's using prompts, school lined paper, or fill-in-the-blank letters.
Free Printable Template Letters To Santa
Dear Santa Letter
Dear Santa With Wishlist Letter
Fill In The Blanks Santa Letter
Dear Santa About Me Letter
Classic Dear Santa Letter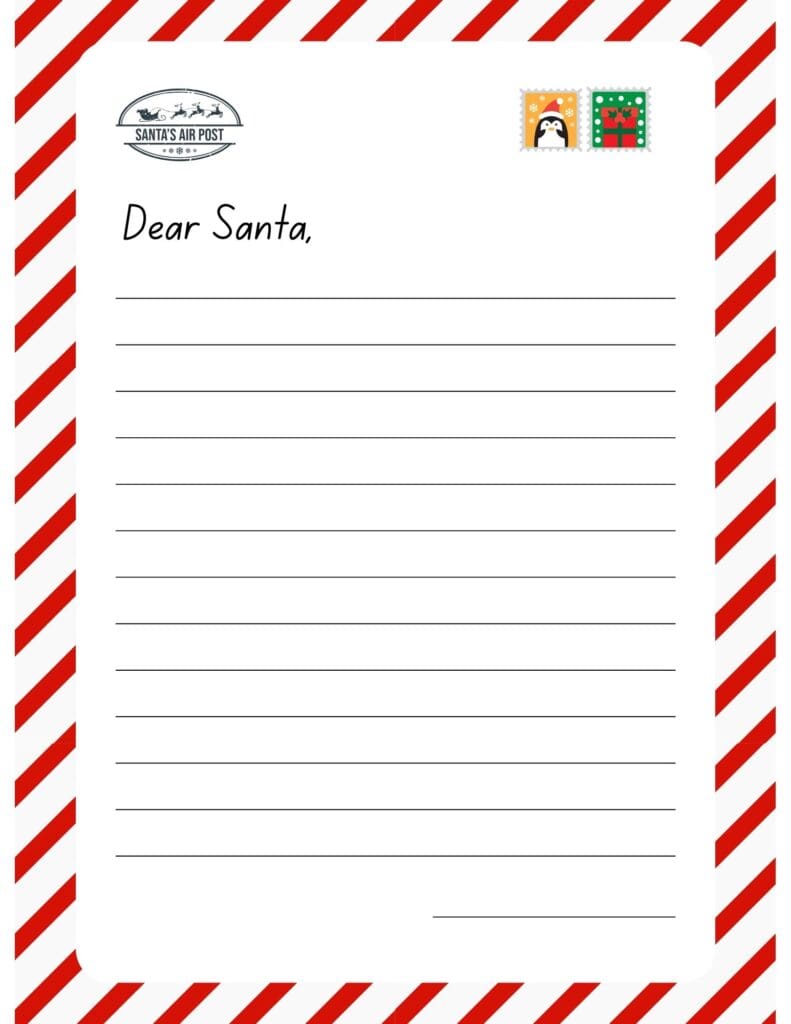 How to Send a Letter to Santa
Sending a letter to Santa is a cherished holiday tradition that brings joy and excitement to children all over the world. Whether you're in Canada or the United States, here's how to ensure your child's letter reaches the North Pole.
United States:
Write the Letter: Encourage your child to write a heartfelt letter to Santa. Let them express their holiday wishes and dreams.
Include Return Address: Make sure to include your return address on the envelope, so Santa knows where to send his reply.
Use the Correct Address: The United States Postal Service (USPS) has a special program to help deliver letters to Santa. Address the envelope to:Santa Claus 123 Elf Road North Pole, 88888
Send Early: To ensure a reply from Santa, it's recommended to send the letter before December 7th, so it reaches the North Pole by December 14th.
Wait for Santa's Reply: With a bit of patience, your child will receive a heartwarming reply from Santa Claus himself, postmarked from the North Pole.
Canada:
Write the Letter: Just like in the United States, have your child write a letter to Santa, sharing their holiday wishes.
Include Return Address: Ensure your return address is clearly written on the envelope.
Use Santa's Correct Address: In Canada, address the envelope to:Santa Claus North Pole, H0H 0H0 Canada
Send Early: For Canadian children, it's recommended to send their letters by December 10th to give Santa enough time to reply.
Enjoy Santa's Response: In Canada, Santa's helpers at Canada Post work diligently to ensure children receive a personalized reply from Santa, making the holiday season even more magical.
Sending a letter to Santa is a heartwarming tradition that keeps the magic of Christmas alive. Whether in Canada or the United States, following these steps ensures your child's wishes reach Santa's workshop and, in return, receive a cherished response from the jolly old man himself.
What Ages Do Kids Send Letters To Santa?
Kids of various ages send letters to Santa. Writing a letter to Santa is a beloved holiday tradition that can start as soon as a child is old enough to understand the concept of Santa Claus, typically around the ages of 3 to 4. Children at this age are often excited about the idea of Santa and may begin drawing or dictating their letters with the help of a parent or guardian.
The tradition continues through the early years of elementary school, with children ages 5 to 10 eagerly composing their heartfelt letters to Santa. During this time, their letters may become more detailed and specific, as their holiday wishes evolve.
Some children, particularly those with younger siblings, may continue to write letters to Santa until their preteen years or even into their early teens, maintaining the holiday spirit and nostalgia associated with the tradition.
Tips For Writing Letters To Santa
Begin with a Warm Greeting: Start the letter with a friendly greeting, such as "Dear Santa" or "Hello Santa." This sets a cheerful tone for the letter.
Express Gratitude: Encourage your child to express gratitude for the gifts they received in previous years. This fosters an attitude of thankfulness.
Share Kindness: Remind your child to be polite and kind in their letter. Encourage them to say "please" when making requests.
Be Specific: Santa loves to fulfill wishes, so ask your child to be specific about what they want for Christmas. Include details like colors, sizes, and brand names if applicable.
Include Personal Touches: Encourage your child to add a personal touch to the letter. They can draw pictures, use stickers, or even add a small holiday-themed craft to make it unique.
Share Achievements: If your child has been good this year, remind them to share some of their accomplishments and good behavior with Santa. Mention school achievements, acts of kindness, or chores they've helped with.
Write from the Heart: Encourage your child to write from the heart. Let them express their genuine feelings and excitement about the holiday season.
Create a Wishlist: Ask your child to create a wishlist. This can include their most desired gifts and also something they "need, want, read, and wear," following the 5 gift rule.
Include Contact Information: Make sure the letter includes your return address so that Santa knows where to send a reply.
Ask Questions: It's okay for your child to ask Santa some questions. They can inquire about his reindeer, the North Pole, or anything else they're curious about.
Proofread the Letter: Encourage your child to read through the letter and check for spelling and grammar errors. It's a great opportunity for a fun writing lesson.
Believe in the Magic: Remind your child that the magic of Christmas is real, and believing in Santa and his ability to bring joy is part of the holiday spirit.
Mail the Letter: Once the letter is ready, help your child address and mail it to the appropriate address (Santa Claus, North Pole, or a designated postal program for Santa letters in your area).
Keep a Copy: Consider making a copy of the letter to keep as a memento in your family's memory book.
More Like This
42 Christmas Activities For Kids
How Many Gifts Should Santa Bring Each Child?
Best Toddler Stocking Stuffer Ideas
Sibling Christmas Traditions You'll Want To Try
50 Sweet Ways To Make Christmas Magical For Children
13 Steps To Make The Perfect Christmas Eve Box For Baby