This post may contain affiliate links. Full privacy policy and disclosure here.
Simple tips to make your next road trip with kids more enjoyable so you can have an awesome, low-stress family vacation.
As we leave the winter (long Canadian winter) behind us, camping, road trips and family fun are all ahead of us.
Such an exciting time!
In our family, we take long road trips to see family in different places far far away from us and Summertime is the best time to travel. Winter is not very safe to travel since we are up in Canada and the snow and ice on the highways can be dangerous.
You can understand how happy our family is when the snow melts and the summer weather comes around.
Summer is always full of adventure, fun, and excitement. As well as a much-needed break from the school year. Learning in a classroom is great, but learning on a long trip doesn't even feel like learning, does it?
The only challenge about road tripping in the summer months is the organization, the planning, and the packing of the whole family, usually all done by MOM. I'm super lucky to have been at this for years, and it doesn't take me very long to pack my young kids for the best road trip.
See also: Toddler And Preschooler Road Trip Activities and 9 Kid-Friendly Road Trip Games (That Don't Involve Screen Time)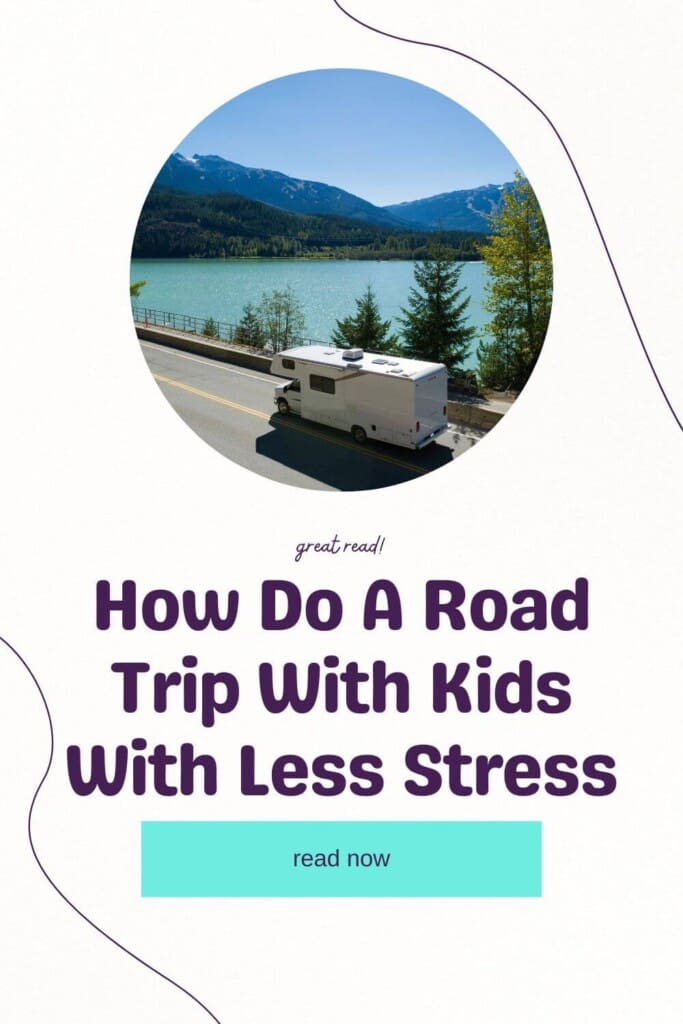 Preparing For Your Road Trip With Kids
It takes a lot of planning and organizing to get ready for a long road trip. However, no amount of planning and organizing is going to stop the questions " Are We There Yet?" and "Where Are Your Shoes", and "I Have To Pee!", but hey, we do our best and try to minimize the chaos that could happen throughout the journey.
There are a few important things you need to get all organized and prepared for a long car ride:
Get Your Car Organized
Get Maintenance On The Car
Prepare Snacks
Keep The Kids Busy In The Car
Prepare Easy Access "Go Bag"
Prepare Emergency Kit
Plan Route and Stops
Prepare Playlist
Get Your Car Organized
Organizing your vehicle will make your road trip much easier. We use this organizer between the children's seats that hold select snacks and toys for the kids to grab themselves. It has 3 compartments so I can keep road trip essentials for my young kids separated, at least for a little while.
If you have small children who are constantly dropping things on the floor, a portable travel tray could be a good idea for you.
If you are planning on mounting your iPad or a portable dvd player to the back of the chair, this organizer might be for you.
No matter how you choose to organize your car, it's always a good idea to keep some snacks and games accessible to kids at all times.
When you pack the car, pack up your items the night before you leave. This can help your family leave on time, or if you're traveling early in the morning, it will make your life easier in general.
Get Maintenance On The Car
It is very important to get someone who knows cars, to insect your vehicle before you go on any summer road trips:
Check your oil
Check lights
Ensure Air Conditioning is working
Change the air filter
Check tire pressure
Check breaks
Ensure wipers are working
Top up washer fluid / have extra in the car
Make sure to have roadside assistance
Follow these maintenance tips and the travel portion of your road trip should be smooth sailing!
Prepare Snacks
Road trip snacks are very important and should not be left to gas station options. Not only will all the snacks at gas stations be overpriced, most of the time they have many unhealthy junk food options and not much else.
The car organizer we used has a built-in cooler, so packing a variety of healthy snacks was a breeze.
Snack Ideas For Cooler
Hard-Boiled Eggs
Cheese Cubes
Cut Up Veggies
Fresh Fruits
Cheese Strings
Non-Cooler Snack Ideas
Trail Mix
Apple Sauce Pouches
Pretzels
Raisins
Cookies / Crackers
PBJ Sandwiches
Beef Jerky
Don't forget drinks! Water is always a great choice for travel, or juice boxes if your kids are allowed to have them.
Mommy ALWAYS gets carbonated water for trips.
Keeping The Kids Busy In The Car
There are a few things you can do to keep the kids busy in the car. If you don't mind the kids making a mess in the backseat, then you may have more options than we normally use.
Personally, I prefer to not do, busy bags or multi peace toys in the car. Because of this, we opt-in for loads of screen time, and I'm ok with that. But here are some fun games that we have played in the past that are a great way to pass the time for a couple of hours.
Activities For The Kids
Licence Plate Game
Play The Memory Game (I'm going on a road trip and I'm going to bring"
Encourage Sleep
Play with small dolls
Use coloring books
Play the alphabet game
Mad libs
I spy with my little eye
Prepare Easy Access "Go Bag"
I always strive to have a small, easy-access bag that goes in the trunk of the car, or in the back seat under the kids feet, but is the first accessible thing to us when we open the back. This is essential if you have kids of all ages and makes a stop at rest areas much easier to get through.
Spare Change Of Clothes For Each Child
Spare Fruit Snacks Just In Case
Chargers For Devices
Sunscreen / Hats / Bug Spray
Tylenol (kids and adults)
Gravol
Plastic Bag
Water Bottle
My go bag is super easy to access, I can't stress that enough. If we have a car sickness incident, the go bag should help get us out of a jam in less than 5 minutes on a family trip on the open road.
Extra water should be used to clean anything gross and put into plastic bags, or wet bags like these. Easy, fast clean-up can help us get back on the road in no time.
If your child does get sick on the trip, give them some Gravol to help ease the tummy.
Prepare Emergency Kit
I have this emergency kit. It has everything we need in case of trouble. I'll usually take a look inside the kit before a trip and make sure everything is still working and if we need to add anything to it before we leave.
Plan Your Route And Your Stops
Let your kids know that the trip is going to be a long one. Make sure you give frequent updates to the family so everyone is aware of how much longer the trip is going to be. Hopefully, that can eliminate the need for "Are We There Yet?"
You may know your destination, but planning your route can help you be prepared for unexpected stops as well. You will know the road ahead of time and can be better prepared for an emergency stop.
You can use apps like Roadtripper or OnTheWay to plan your adventure.
Make sure to check the weather before you leave as well. The Weather Channel Trip Planner can help you with this.
Prepare Playlist
Nothing says road trip like a good playlist. Create your perfect road trip playlist by mixing in songs your children will like, your passengers will enjoy and some the driver will like as well.
We planned our playlist on Spotify . It was great because we got a month free subscription and were able to download all of our favorite tunes. There were some pre-made road trip playlists that we downloaded as well as many children's song options. You can also use Audible (here is a 30 day free trial)
It took us a while to prepare our playlist, so make sure you start downloading those songs well ahead of time!
"You Don't Have To Be Rich To Travel Well."- Eugene Fodor
---
How To Enjoy The Road Trip With Kids
Drive Early (Or At Night)
If you can start your journey while the kids are asleep, do it! Sleeping children, even if it's for one hour, is a blessing to have while you drive. The quiet won't last long, but it'll be nice and enjoyable if you can get a head start on your journey early in the morning or drive through the night. We normally travel for 10+ hours, and the best time to leave is about 4 in the morning so the kids can snooze while we drive out of the city and into the beautiful landscape of the road.
Take Plenty Of Stops And Enjoy The Views
When you're on a road trip, it can be hard for the driver to stop and enjoy the sights because they just want to get to the destination. But don't let these opportunities pass you by! Stop and enjoy nature or pop into that little town you've always been curious about. It'll help create some amazing memories.
Seat Kids Properly
Make sure all the kids have proper car seats and are all buckled in securely before you take off for your trip. I know this seems like a given, but sometimes older children who should still be in a booster seat, end up not using their booster in order to have more space and comfort during the road trip, and this is just not safe.
You'll also want to make sure that siblings aren't too close to each other which can cause fighting and disagreements, which can be disturbing to the driver.
Keep It Tidy
Snacking and playing games during the trip is a must, but all those snacks can cause some garbage problems. Make sure you are controlling the garbage situation so things don't get out of hand because it happens quickly and the next thing you know you're driving a garbage van around the province/state.
Schedule Play Time
It's always nice to have some playtime for the kids while you are on a long road trip. We like to plan an hour at a playground if we are on a road trip that is longer than 10 hours. This gives the kids an opportunity to get out some energy, and perhaps persuade them to take a car nap later..though this doesn't work for all kids but you can hope.
Let The Kids Be Bored
Yes, I said it! While you can totally pack all the travel games, electronics and load up the iPad with all the no wifi required apps you like, the kids are going to show signs of boredom and that's ok. Let them observe nature, whine a little, and just be bored. You'll never know what kind of games they will come up with without this boredom stage, or sing some songs that you didn't even know they knew.  It's ok to be bored! 
Limit The Liquids
It's a good idea to pack liquids on your road trip but limiting them is a good idea too. You'll want to stop the car every few hours for a potty, gas, and snack break, but stopping more often because of emergency bathroom breaks can be avoided by limiting the liquid intake for everyone in the car. 
Accept The Unexpected
Things are going to happen and you never know when! Poop explosions, vomiting, car troubles etc. Just roll with it! If you need to stop to fix a problem, it's best to not be grumpy about it because it's already done and it's out of your control. Remain a calm parent and just go with the punches. 
Tips For Taking A Road Trip With Kids Bottom Line
Road trips are all about family fun and while a lot of preparation and organization are required which can put stress on mom and dad, it's important to put those things behind you and enjoy your family time together.
Our lives are busy, and creating these connections isn't an opportunity that all of us have on a daily basis.
I hope you have a great family road trip and enjoy all the quirky roadside attractions and beautiful national parks as you drive.
You may also enjoy these Quotes About Family Road Trips to help inspire you for your adventure.
Print This Positive Parenting Guidebook – The 5 Pillars Of Positive Parenting
Listen… parenting with connection and positivity has been seen as permissive and lazy parenting BUT this is totally not the case.
I am a mom of 3 beautiful children and I've spent HOURS, DAYS, MONTHS, and YEARS researching this topic and seriously, it is my favorite way to parent.
Way better than what I grew up with – which was A LOT of yelling, spanking and frankly, neglect.
This little guidebook is a golden nugget that you can have for free – and print it out! Put it on the fridge, refer to it often. It's really a great tool for kids of all ages.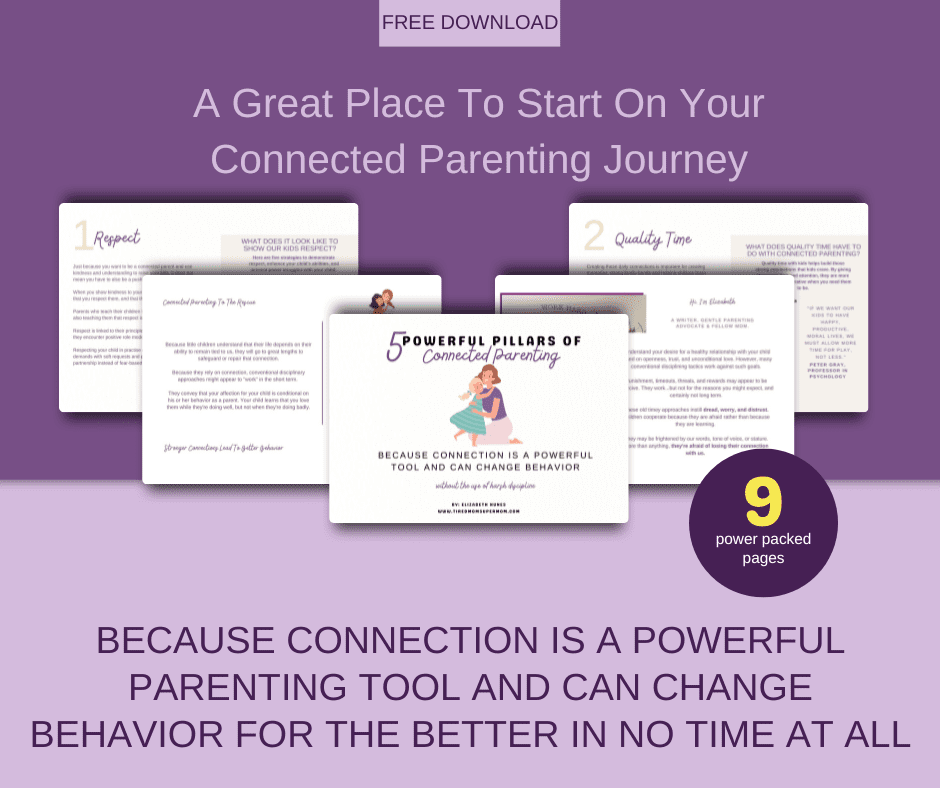 Download Your Free Printout
Download the guidebook. You'll get the printable, plus join hundreds parents who receive my weekly parenting tips and ideas! (Sometimes I'll promote a parenting program, but only the best ones that are in the positive parenting community, I promise.)
Print. Print out the guidebook!
Place it where you can see it. There is a lot of great information in this guidebook, even though it's small. It's power packed full of great stuff so put it where you can refer to it often.