This post may contain affiliate links. Full privacy policy and disclosure here.
If you have a teenager, you know how crucial headphones are to them. They listen to music, watch movies, speak on the phone, and ignore you while doing so. Because teenagers are challenging, finding the ideal headphones for them might be tricky, and I know you want to make a great choice.
Today's teens are tomorrow's leaders, and that is why it is important to know the right ways to support them.
In an age of constant digital distractions, you want to make sure they have tools that help them focus rather than take them away from real life.
One such way is giving them headphones instead of speakers, so they can listen to music without disturbing others or themselves. Are you ready to get started? Let's see what we discovered!
The best headphones for teens are the Beats Solo3 Headphones. These headphones are not only stylish but they check all the boxes for comfort and sound as well.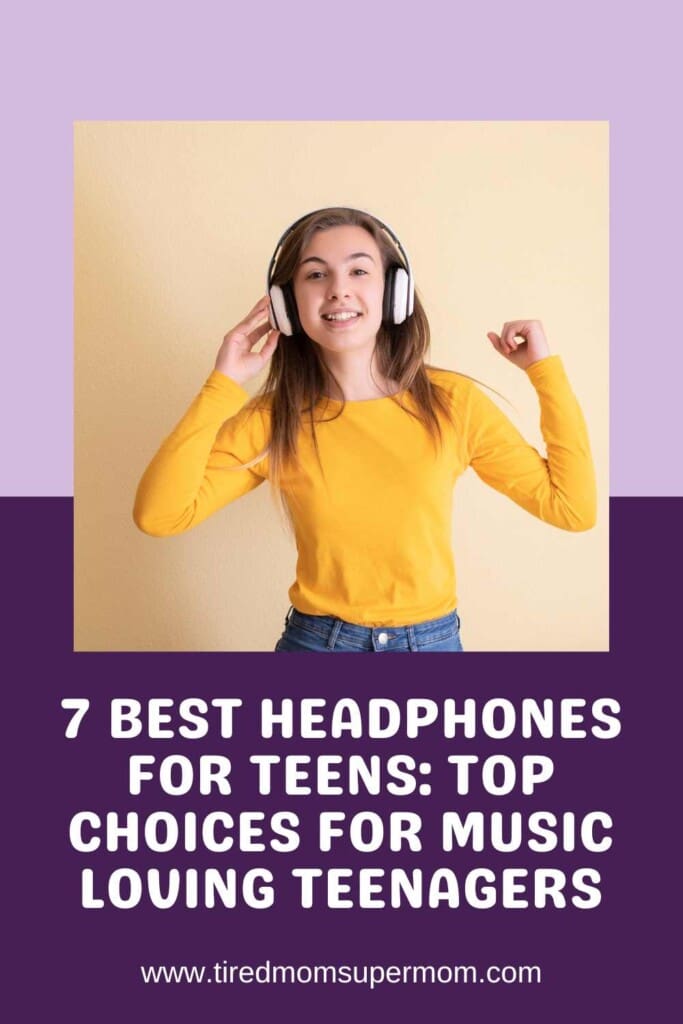 Best Headphones For Teens
This selection of the best headphones for adolescents includes well-known names as well as more budget-friendly options as well as those that cancel out loud noises and can help children focus while they study.
Depending on what your adolescent prefers to listen to, each set of headphones has something unique to offer.
You'll note that we only included the best wireless headphones for teenagers on our list. For many young people, wired headphones are a thing of the past, especially since many phones no longer have a headphone socket.
This list of the best headphones below were chosen for their affordability, style, comfort, and pricing.
If you ask high school students, "What are the coolest headphones for teenagers?" they will most likely say Beats. Since the launching of the initial edition of this gadget in 2008, this brand has consistently ranked first among young children and teenagers It's no surprise that Beats headphones are the most expensive headphones when compared to other manufacturers.
These stylish over-ear headphones with adjustable headband come in different colors and finishes. The sound quality is excellent, and the bass is quite strong. Pure Adaptive active noise cancellation does not totally remove all outside noises (which is an important thing for safety), but it does significantly reduce ambient noise.
You'll enjoy 3 hours of gameplay after just 5 minutes of rapid charging. The playtime will be over 20 hours with a single charge. The gadgets unique features an Apple H1 chip, making it ideal for use with iPhones. For one-touch pairing, Android users need download the Beats app. Overall the Beats headphones are the best option, have the best audio quality and are great for young ears. My husband really likes the beats headphones too if you're needing an adult gift idea!
One of Amazon's most popular and best-selling headphones is the PowerLocus Over-Ear Headphones.
These are some of the best over-ear headphones for adolescents, with over 30,000 ratings and a 4.5 out of 5 star rating. They're also reasonably priced.
These headphones offer the longest battery life of any on our list. Your adolescent will have plenty of time to stream, speak on the phone, and take virtual classes as a result of this.
These are the headphones to get if you're a parent looking for the most economical headphones for your adolescent. There are a variety of colours to select from, and they sound great. These are the greatest headphones for tweens, out of this list of kids headphones due to their comfortable fit and audio quality.
These headphones are available in four different colours and are remarkably pleasant to use for lengthy periods of time. They have a foldable design, and you will receive a complimentary travel bag to store and transport them.
The sound quality is adequate, and you may tailor your listening experience by adjusting the sensory bass. The gadget features a noise-cancelling microphone and a noise-cancelling function to reduce background noise.
The Bluetooth range of these headphones, on the other hand, is barely 33 feet. Furthermore, you can only charge them using the USB cable that comes with them.
Skullcandy has a 40 hours of battery life on full charge. You may obtain 2 hours of listening time with just 10 minutes of quick charging. Please keep in mind that if you use the adjustable bass, the battery may deplete rapidly.
Riwbox WT-8S Bluetooth Headphones come in a variety of styles that your adolescent will like. Bluetooth connections wireless over-ear headphones are the most common kind, however some teenage girls and boys prefer corded headphones for certain gadgets.
The design of these headphones is foldable. As a result, their volume control is reduced, and they take up less room when being packed. They are also portable and lightweight, making them ideal for travel.
When worn, the lightweight design, along with the soft earmuffs, provide much-needed comfort.
I couldn't have a list of headphones without include ear headphones by Bose in the best wireless headphones, just like AirPods. The best headphones for active teenagers are the Bose Sport Earbuds. This type is the most cost-effective and ideal for travelling adolescents who want to void background noise.
In comparison to the other earphones on our list, these are more compact. Despite their little size, they produce excellent sound quality.
The right earbud is the control, therefore removing it will cause the sound to pause. The Bose app may be used to adjust the control earbud setting.
There have been several concerns about how uncomfortable these headphones are. After wearing them for a long time, they may start to ache. They're also not as loud as some of the other earphones on the list.
Apple AirPods are an unavoidable inclusion in any list of headphones. If there is one thing that Apple consumers agree on, it is that they enjoy using Apple goods. If your adolescent owns an iPhone, I'm virtually certain they'd like a set of AirPods.
I am unfamiliar with the functions of these headphones because I am not an Apple user. They have excellent reviews on Amazon, since Apple appears to be unable of making a bad product.
The nicest part about these headphones is that they were created specifically for iPhones, thus they are compatible with iOS software. With 1-tap technology, they connect instantly and let you to smoothly move between your Apple devices.
My best headphones for adolescents or adults with an Android mobile are the Samsung Galaxy Buds+. These are the headphones I have, and I adore them.
The battery life is excellent, with an average of 11 hours of use per charge. You can receive an extra 11 hours of charge time with the charging carry case, for a total of 22 hours of gaming. In addition, the rapid charging gives you an hour of play time after only three minutes of charging.
You can check each earbud's battery life, which is important if you only use one earpiece. As if that weren't enough, there's also a locate option for tracking down misplaced earphones. Because the missing earbud will beep, it will be simpler to locate.
The option to change the ambient level is my favourite feature. It's almost as if you can adjust the loudness around you, which takes noise cancellation to a whole new level.
These are the best headphones for teenagers in general. They are, in my opinion, the best overall earbuds for anyone using an Android devices who needs clear, clean, and sharp sound with proper volume levels that prevent hearing loss from loud music.
The number of pages in a baby book can vary based on personal preference and the amount of content you want to include. On average, a baby book can have anywhere from 20 to 50 pages. Some people may prefer a shorter and more concise book, while others may want a more comprehensive record of their baby's early years.
What to look for in 'The Best Headphones for Teens'?
When you are looking for the best headphones for teens, there are a few things to keep in mind. Here are a few features you should look for:
Wired or wireless – You should first decide whether you want wired or wireless headphones for your teenager.
Sound quality – You want the best headphones for teens to have the best sound quality. This way, they can enjoy their favourite music or shows even more.
Design – The design of headphones can be important for your teenager. They might want to choose a pair of headphones that has a design they like. You can also choose a pair of headphones that goes with their style. – Noise cancellation
You can choose a pair of headphones that has noise cancellation if you want to have some privacy in your room. – Battery life – If you choose a pair of wireless headphones, then you should check their battery life too.
Wireless or Bluetooth headphones for teens
If your teenager prefers to use wireless headphones, then that's great. You don't have to worry about managing the wires and they will be able to use them anywhere they go.
However, wireless headphones do come with a few disadvantages. One such disadvantage is that they might not have as good sound quality as Bluetooth headphones with a wired connection.
Another thing to keep in mind is that wireless headphones can run out of battery and they cannot be used when they are charging.
Bluetooth headphones, on the other hand, can be connected to your device even when they are charging. When you are out shopping for headphones for your teenager, you should consider all these things.
With the right pair of headphones, they can listen to music and videos without disturbing anyone else. In fact, they can even use them for gaming and online calls.
Volume limiting explained
When it comes to specifications, the first thing to look for when purchasing children's headphones is the presence of a volume limitation. For young listeners, the World Health Organization advises an 85dB-limited volume range, which is supported by both the Hearing Health Foundation and the US OSHA (Occupational Safety and Health Administrator).
While the majority of our listed children's headphones have ear-friendly 85dB limiters, a couple have higher 94dB limiters. This louder option is useful while travelling because the headphones must fight with a higher level of ambient noise (trains, planes and automobiles).
These volume restrictions are in place for a reason: to protect baby lugholes. Take them seriously.
How Does Noise Cause Hearing Loss?
The outer ear, middle ear, and inner ear work together to process sounds. The cochlea, a part of the inner ear, comprises microscopic hair cells. These hair cells aid in the transmission of sound messages to the brain. Loud noises can harm hair cells. When this happens, the cochlea is unable to transfer sound messages to the brain.
Inner ear injuries, unlike damage to other parts of your body, never recovers. Your hearing will deteriorate over time as more and more hair cells are damaged.
Signs of Hearing Problems
Noise-induced hearing loss caused by earbuds usually takes time. As a result, many people are unaware they have a problem until it is too late.
Hearing loss symptoms include:
ringing, buzzing, or roaring in the ears after hearing a loud noise sound muffling
Call your doctor if you suspect you have hearing loss. The doctor may evaluate you and refer you to an audiologist, who is trained to test your hearing. The audiologist can also address your inquiries concerning earbuds and hearing protection.
the Right Way to Use Earbuds
Noise-induced hearing loss caused by earbuds is completely avoidable if you don't use them for too long or too loudly.
The 60 percent/60-minute rule is recommended by doctors:
Listen to music, watch a movie, or play a video game at no more than 60% of maximum volume.
Limit your time spent with earbuds in your ears to 60 minutes.
Another method for determining whether your earbuds are at a safe volume is as follows: Inquire whether those sitting nearby can hear your music. If they can, it indicates that your hearing is being harmed. Reduce the volume till no one else can hear it.
Keep in mind that listening to music at a high volume can cause you to lose track of what's going on around you. This raises the likelihood of an accident. When you're running on a bike path, for example, it's difficult to hear a cyclist yell, "Heads up!" since your music drowns out all other sounds.
What else makes a great pair of kid's headphones?
Bluetooth is typical on all but the most basic children's headphones, and in many cases, battery life matches or even exceeds that of adult cans (since Active Noise Cancelling isn't available in the classroom).
If your child has a destructive nature, it may be advisable to avoid the more expensive Bluetooth versions for the time being and opt for something less expensive and wired. We've also got you covered there.
If you have two kids, opt for headphones with a buddy pairing mode so they can watch Spongebob together.
If your child conducts video homeschooling, spends time FaceTiming friends or relatives, or is an enthusiastic gamer, you'll also need headphones with a built-in microphone.
Headphones For Teens Bottom Line
When shopping for teen headphones, keep the following elements in mind: pricing, design, good sound quality, comfort, and battery life. Teens also love products that have bluetooth connectivity and work well with their cell phones whether they have android phones or iphones.
They should be especially well-suited to the teen's preferred genre of music (rap, house, pop and so on) because you wouldn't want to get the wrong style for the music lovers in your life. A high quality, noise reduction headphone with a comfortable fit is an ideal choice. Many teens also love the samsung galaxy buds, if they use them for running or studying in the library.
Aside from practical duties, keep in mind that this item enhances its owner's social standing and should complement the teen's overall style. As a result, it's a good idea to check with the boy or girl before purchasing headphones for them.
FAQ
Which headphones are good for teenagers?
The best headphones for teenagers are those that are safe, comfy, fashionable, and capable of producing high-quality sound. Make careful to inquire about the teen's preferences: wireless charging may be quite significant to some, while deep bass may be more vital to others.
Why do teenagers always wear headphones?
Music is an important aspect of the younger generation's culture, and teen headphones are an important part of their self-identification. It's critical for both boys and girls to emphasise their sense of belonging to a fashionable society. They can use headphones to show that they're part of a specific subculture that's tech-savvy, fashion-savvy, and has good musical taste.
Do teens prefer earbuds or full headphones?
Everyone is different. You should ask your teen which type of headphones they would like before going out to buy them a pair!
Are wireless earbuds safe for teenagers?
For children, the WHO advises a loudness level of no more than 85 decibels
Bottom Line
When shopping for headphones for your teenager, it's important to keep a few key elements in mind. First and foremost, consider the pricing, as you want to find a good value for your money. Additionally, think about the design and the overall aesthetic, as many teens will want headphones that complement their personal style.
Sound quality is also an important factor to consider, as teens will likely be using these headphones to listen to music, make phone calls, and play video games. It's important to find a pair that offers good sound quality and noise isolation, so they can block out outside noise and enjoy their favorite songs and games.
Comfort is also a key element to consider, as teens may be wearing these headphones for long hours of playtime. Look for headphones with soft ear pads and cups, as well as a lightweight design.
Many teens also appreciate the convenience of Bluetooth connectivity, so they can easily connect their headphones to their cell phones. Some headphones also have a wireless mode, so they can easily connect to other devices like gaming consoles or laptops.
More On Raising Teens
Top Mother And Teenage Son Activities
7 Best Teenage Parenting Blogs
Best Electric Skateboard For Kids