6 Best Water Tables For Kids For The Best Sensory Play Experience
This post may contain affiliate links. Full privacy policy and disclosure here.
How to choose the best water table for your child so you can give them the best experience with their sensory play station all summer long.
Water tables are a must have summer toy in my backyard. Even my older kids still enjoy splashing around with pirate ships and various other water toys. They are pretty easy to keep clean, especially if you have a drain plug on your water table.
The best part is that these water tables can all be stored away for years over the winter months and brough back out every summer as a brand new water toy. Atleast that's how it is at my house.
My favorite water tables have always had fun features such as a sand portion, spiral tower sections, and an accessory set with small buckets, treasure chest pieces and interchangeable pipes.
But with so many water play table options available, how the heck does one even choose?
It all comes down to what your kids will enjoy. Not all water tables are created equal and while some water tables seem awesome and exciting, they may be lacking a feature that your kids would go bonkers over.
This is why it is so important to go through this list of the best water tables and see for yourself which features your kid will enjoy the most.
Keep in mind that if you want to use a water table for indoor use, then you may need to think about the space you have for play and storage as well.
I've included a buyer's guide at the bottom of this post to assist you to figure out what to look for when buying a great water table.
I've also included some suggestions for expanding the fun beyond water and how to care for your water table for kids so that your younger toddlers may enjoy it for years to come while still being able to pass it on to someone else.
I hope this list of water tables helps you narrow down your search and help you enjoy your backyard to the fullest in the great summer weather.
| Table Name | Quick Reason It's Awesome | Where To Buy |
| --- | --- | --- |
| Little Tikes Sandy Lagoon Sand & Water Table | If you're searching for a dual-medium table, the Little Tikes Sandy Lagoon Sand & Water Table is a good choice. This water table for kids is guaranteed to give hours of educational fun, with dual slides and a wonderful sand cover that keeps dirt and the neighbour's cat out. | Amazon |
| Frog Pond Water Table | The Little Tikes Frog Pond Water Table is a great option for a simple yet entertaining water table for young children. It includes a lily pad-shaped centre water tower with two launchers on the sides for the frogs to leap into the water. | Amazon |
| Duck Dive Water Table, | The Duck Dive Water Table, our Top Pick, is hard to match for value at under $40. It's a long-lasting, sturdy, and steady water table with some unique attachments. It'll almost certainly be the finest $40 you've ever spent. | Amazon |
| Little Tykes Anchors Away | Matey, welcome aboard! The Little Tykes Anchors Away water table is the prize you've always wanted if you adore pirates as much as we do. It's not a hornswoggle at all, and your child will adore it. Remember, being a pirate is always more fun than serving in the navy. | Amazon |
| Fiesta Cruise Sand & Water Table | Water tables are a lot of fun, and once you have one, your child will probably spend hours playing with it. When the sun is shining, it's only natural to drape an umbrella over them to protect them from the sun's dangerous UV rays. A built-in umbrella stand and umbrella are included with the Fiesta Cruise Sand & Water Table for children. | Amazon |
| Step2 Rain Showers Splash Pond Water Table. | There are several well-themed water tables on our list, but the Step2 Rain Showers Splash Pond Water Table is the one to get if you want something that closely mimics a water park. It has a rain simulator among its many functions. It's not cheap, but it'll keep your little kids entertained and interested for hours. | Amazon |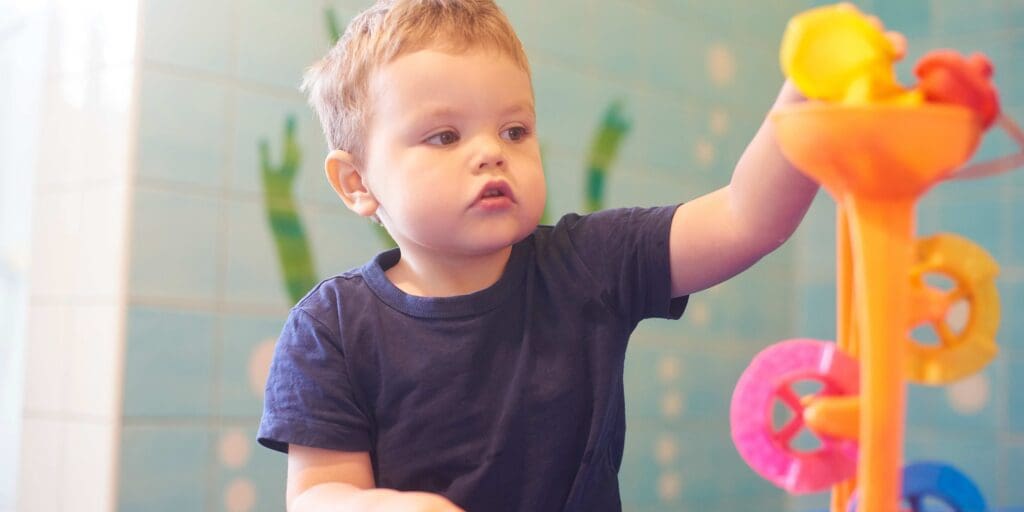 Benefits of a Water Table for Kids
So, what's all the hullabaloo about? As we previously said, children's water tables are excellent "tools" for assisting your children's growth in numerous crucial areas.
Sensory Exploration
Water, sand, wet sand, plastic figurines, spinning wheels, spiral towers, lazy river, and waterfall noises are just a few of the sounds you'll hear. Your child will be exposed to various textures, noises, sights, and temperatures thanks to the water table.
As they splash, dig, and giggle together, it will push your toddler to utilise many senses at once to explore on a hot day. Water tables aren't simply toys for kids to pass the time and have fun with; they'll learn new things by seeing, feeling, and hearing new things.
Learning in the STEM fields
Your younger children will learn about physics principles like flow and motion by playing with water tables. Teach children by asking them to predict what would happen if a pirate miniature is put on a water slide and sprayed from behind.
Spinners, water wheels, and slides are excellent methods to promote STEM learning, explain cause and effect, and introduce concepts like as motion and inertia.
Focus and Concentration
Your kid will get fascinated with their water table as a result of all the new noises, textures, motions, and concepts. You are encouraging children to focus and develop their concentration spans, which will benefit them later in life when they begin formal schooling.
Communication and Social Skills
For group play, water tables for children's are ideal. Kids chat, role-play, negotiate, and take turns on different sections of the table when they gather around a water table and splash together. They'll work together to try new things and enhance their vocabulary using words like "squirt," "spout," "trough," and "maelstrom."
Physical and Motor Skills
A water table for kids is a great way to help your child improve their physical skills. They will expand their physical dexterity and develop their fine motor skills and hand-eye coordination as they scoop a floating toy from the water or dump a huge bucket of water into a trough at the top of the tower.
See also: Water Table Activities For Toddlers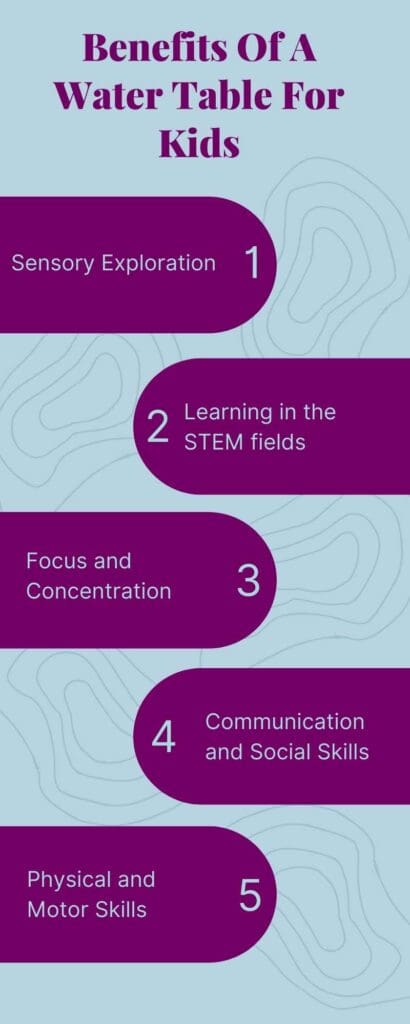 Types Of Water Tables For Kids
Basic Water Table
If you are looking for a water table to has less frills but all the fun of sensory play then you might want a simple, basic water table.
The Little Tikes Frog Pond Water Table For Kids is a great option because it holds 7 gallons of water, has a few simple accessories such as beach molds and a slotted water cup and provides your toddler with a safe environment to explore with water.
See also: 5 Easy Sensory Activities And Play Ideas For Kids
Bi Level Water Table
If you're looking for a water table that has a few different levels, then you may want to consider a bi level water table. These 2 level water tables create a mini water park in your own backyard!
If you're searching for a water table with a lot of pieces and imaginative play options then the Step2 Rain Showers Splash Pond Water Table For Kids is a great option.
Water Table With an Umbrella
If you're looking for a water table that also offers some shade on sunny days, then one with an umbrella feature is a good idea.
My personal favorite water table with the umbrella feature is the SoliWood Kids Multi-Function Wood Outdoor Picnic Table. This table doubles as a picnic table, a water table and a sand table which offers hours of fun. It's one of the most popular water tables for those that have a smaller sized backyard because it has multiple features!
Water Table With Spiral Center
If you're looking for a smaller more basic water table but one that has so many fun features to it, then you may want to consider a water able with a spiral center.
My kids really enjoyed the Little Tikes Spiralin' Seas Waterpark Water Table For Kids. This is a great table because you can pour water down the spiral and watch it slide down over and over again.
Sand and Water Table
If you are looking for a sensory table that has both sand wand water capabilities, there are a few options for you to choose from.
There are plastic water tables, as well as wooden picnic style sand and water tables. Most sand and water tables have a cover so you can keep cats away from your clean sand which is always a nice feature to have.
Some water tables are elevated and have the capability to store sand and water. The Little Tikes Sandy Lagoon Sand & Water Table for Kids is a fantastic option if you're looking for a sand and water table. This is a great addition to your backyard, but you won't want to practice water table play indoors with this one since it's rather large in size.
Cleaning and Maintaining Your Sand and Water Table
It is critical to keep your water and sand table clean and sanitary for your children's health and pleasure of this item. You're using common sense, just like with any other toy, and excellent judgement is crucial when determining when, how often, and how to clean your kids' water table.
Sand tables, in particular, may quickly become a breeding ground for a variety of viruses and pests. We recommend disinfecting your perfect water table on a regular basis, but there are a few more common-sense techniques to keep your kids' water table clean.
It Needs to Be Hosed Down
If your water table spends most of its time outside and you have a yard and some space, we recommend starting by hosing it down every now and again. It won't destroy germs, but it will get rid of muck, sand, and filth on the surface.
Wash with Soap and Warm Water
Next, find some time to wash the table using ordinary dishwashing solutions and hot water, depending on how you use it. Brush the accessories' grooves and hard-to-reach places using a brush that can get into them. It's how you clean your eating utensils.
Disinfect Frequently
If you want to keep your water table clean, disinfect it on a regular basis, especially if your kids use it for group play or share it with other kids. Allow 200 parts per million (ppm) chlorine or 400 parts per million (ppm) quaternary ammonium to rest on the toy and in the tub for a few minutes before rinsing. Always read the manufacturer's instructions before putting disinfectants on their toys.
Keep Out Of Sun
Almost of children's water tables are composed of sturdy plastic. They can withstand the environment for years, but prolonged exposure to direct sunlight can decrease their life expectancy. Plastic becomes brittle when exposed to the sun, and it will discolor and shatter over time.
Change the Sand
If you have a sand and water table, pay specific attention to the sand area. Sift the sand on a regular basis to remove any particles. When it comes to fully changing the sand, use your best judgement. When in doubt, simply switch the sand! It's inexpensive and simple to obtain.
It Must Be Covered
Many water and sand table combos include a sand cover to keep dirt, trash, and neighbouring animals out of the sand. However, covering your whole children's water table is a good idea. You may buy a weather-resistant cover online, have one custom-made, or construct one out of a cardboard box.
See also: 8 Easy Backyard Games For Kids
How to Choose the Best Water Table for Your Children
Age
First and foremost, choose an age-appropriate table for the best sensory experience. Every manufacturer will include a suggested age range for their water table, which typically ranges from 18 months to 6 years. Children often love a water table as soon as they can pull themselves up and balance by hanging onto the edges.
If you prefer to start your kid sooner, we recommend doing so under continual supervision or, at the absolute least, simply adding a small amount of water to the pond and removing all choking risks. A water table for kids, particularly for little children, could be purchased.
Remember, though, that they give years of amusement, and children will happily play in them until they are at least six years old on hot summer days. If you buy a small "baby table," kids may outgrow it quickly, forcing you to delve more into your wallet.
Features of the Design
Water tables are simple toys, yet the majority of the best water tables have similar design elements. Some simply do them better and differently than others. When reading reviews and investigating your possible purchase, these are the ones you should pay attention to.
Height – Knowing the height of the top of the rim of your water table will help you determine if your child will be able to reach it or if it is too low for your child who has already outgrown it. Most children's water tables have a tower element into which you may pour water; be sure you know how high the tower's top is.
Weight – Almost of children's water tables are constructed of durable plastic, so they're not too heavy. If you'll be moving it around a lot for stoanger or other reasons, be sure you can lift it securely and comfortably. Some of the larger models are rather substantial.
Footprint –The size of the water tables varies. If you have a little area, such as an apartment balcony, look at the table's dimensions and "footprint" before you buy. You don't want to wind up with stuff strewn throughout the living room because it won't fit anywhere else!
Sturdiness –Your children will tug on it, lean over it, and most likely climb on or inside it. That is what children do. Fortunately for you, water table manufacturers are aware of this, and the majority of the finest water tables are built to be quite strong and withstand some added weight. You know your child, so you can decide how much weight to place on this.
Drainage –Most water tables include a drainage hole, which makes it simple to empty the water pond when it's time to put it away. The most common complaints regarding water drainage plugs are that they can fall out, that children can easily remove them, or that they are slightly raised and not meant to drain all of the water. If there are any difficulties, be sure to check our and other customer reviews.
Assembly –While some water tables are intended to easily "click together" without the use of tools or screws, the majority will require you to screw the legs to the body. We find it strange that many versions on the market don't come with pre-drilled holes for the screws. As a result, you'll have to drill them yourself. Regardless, water tables are simple to put together, so this won't be another Ikea disaster!
Accessories
The water table with the most attachments isn't always the greatest for kids. Some fun accessories might assist your children's creativity by giving them new shapes and textures to play with. It could be more practical to establish a simple water table and let your child to decide how they want to utilize it. If you're on a budget, remember that bathtub toys and most other toys that can get wet are all good additions to a simple water table.
Sand and water
Do you require a sand and water table? That is all up to you. Sand and water tables with a combination of the two are wonderful for adding another medium to your toddler's sensory play, and the options for what they may accomplish on the table are endless. If you want things to be nice and tidy, keep in mind that your children will happily combine water and sand to their hearts' delight. That's fantastic, in our opinion! Make peace with it before you go out and buy a sand and water table.
Umbrella
The inclusion of an umbrella stand in the best water tables is becoming more prevalent. It makes logic when you think about it. If you're going to leave the water table for kids out in the backyard on a hot summer day, this is a smart method to shield your child from dangerous UV rays while also helping to maintain the table's plastic.
It also makes it easier to place an umbrella on a grassy area or a hard patio surface. The umbrella is kept erect for you by the built-in umbrella stand. If you have the choice, there are no drawbacks to doing so. Simply don't set up the umbrella if you don't want or need it!
Playing at the Water Table Can Be Even More Exciting
So you got your kids that water table, and they've been spinning the spinny-thingies and making everything that can slide down the slide go down the slide. What can you do to make it a little more interesting for them? Here are a few pointers from the pros.
Foam Bash!
Yes, adding a spray of bubble bath or even dishwashing detergent to the water is the simplest and cheapest solution. Sit back and watch your children have hours of newfound bubble fun.
Add Colors
Color the water is another simple, inexpensive, and enjoyable alternative. A food colorant or even water paint can be used. Make sure it's non-toxic, and keep in mind that you'll probably only need a little to color the water purple. Then let their imaginations run wild. Keep in mind that some colorants may stain or be difficult to remove from clothes!
Water Beads
Yes, add some non-toxic water beads to your water table, such as these Marvel Beads Water Beads Rainbow Mix. They're entertaining and provide your child a totally new sensory experience. Even if they're non-toxic, be sure your child is old enough to comprehend how to safely play with them.