Fun and exciting strategy and board games for families to really enjoy family time and create connections and memories that last.
Fun and exciting strategy and board games for families to really enjoy family time and create connections and memories that last.
Family game nights are fantastic for creating memories and strengthening bonds, and there is no reason preschoolers can't join in on the fun.With the high amount of technology that we deal with daily, having get-togethers with family and friends is not as popular as it once was.
It is fantastic to be able to play games on our devices, like these wifi free games for toddlers you can play on your apple or android device, but those are best saved for road trips or long plane rides.
But do you get the same satisfaction and the fun when you play a game on your iPad as you would play with your family?
I mean come on, nothing beats a toddler smile when they're having fun!My husband and I decided that board games should be a regular part of our weekends so we can get the family together in one room and enjoy the time together.
Life is so busy sometimes that simple family time without TV and cell phones is easily missed.
This post may contain affiliate links. Full privacy policy and disclosure here.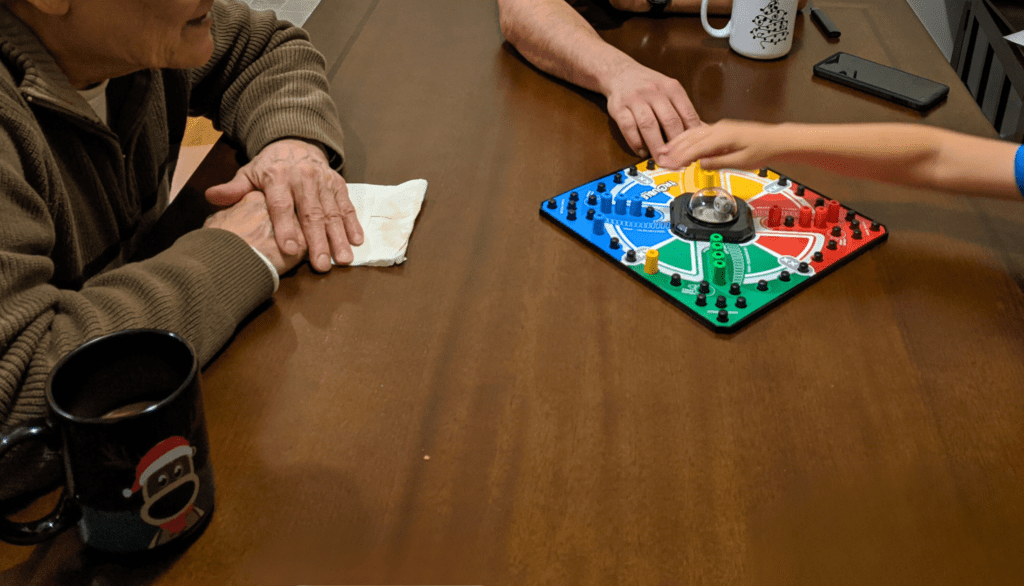 Can A 3 Year Old Play Board Games?
Absolutely! Board games are great for three-year-olds and preschoolers.
The amount of learning through play that happens during a game is fantastic.
Toddlers and preschoolers can fine-tune their fine motor skills, sharpen their analytic capability, and even learn a lot about colors and counting during one game with the family.
There is a lot of value in playing games with preschoolers.
Best Board Games For The Really Little Ones
The Sneaky, Snacky Squirrel Game
This colorful and simple game helps toddlers develop fine motor skills as they use squirrel-shaped tweezers to pick up and place acorns into their logs. It's suitable for children as young as 2 years old.
Candy Land
Candy Land is a classic game that's easy for toddlers to understand. They simply draw colored cards and move their game piece to the corresponding colored space on the board. It's a great way to introduce young children to the concept of taking turns and following simple rules.
Chutes and Ladders
Chutes and Ladders is another classic game that's suitable for toddlers. It teaches them counting skills as they move their game piece up ladders and down chutes to reach the finish line. This game is typically recommended for children aged 3 and up.
Hi Ho! Cherry-O
This game is perfect for teaching toddlers basic math skills like counting and addition. Players pick plastic cherries from their trees and add them to their baskets, with the goal of filling their baskets first. It's designed for children aged 3 and up.
Pop the Pig
In this colorful and interactive game, young players take turns feeding the hungry pig by placing hamburgers into its mouth. As they do so, the pig's belly expands until it eventually pops open with a playful surprise, delighting kids with laughter and anticipation. It's a fun way for toddlers to learn about taking turns, counting, and basic motor skills while enjoying a lively and entertaining game.
Elefun
"Elefun" is an exciting board game tailored for toddlers. In this whimsical game, kids chase after fluttering butterflies released from a friendly elephant's trunk using butterfly nets. It encourages active play, hand-eye coordination, and teamwork as toddlers laugh and giggle while trying to catch the colorful butterflies. "Elefun" offers an energetic and joyful gaming experience for young children.
Gator Golf
Gator Golf is a delightful board game for toddlers. Children use miniature golf clubs to hit colorful balls into the gator's mouth. The game combines fun and skill as toddlers practice their aim and coordination while enjoying the whimsical antics of the gator.
Let's Go Fishing
Let's Go Fishing is an engaging game for young children. Players use magnetic fishing poles to catch fish as they circle around in a rotating pond. It's a fantastic way for toddlers to improve hand-eye coordination and enjoy friendly competition.
Monkey Around
Monkey Around is an active and educational game for toddlers. It includes various cards with fun challenges that promote physical activity, such as hopping like a kangaroo or waddling like a penguin. This game encourages movement, creativity, and laughter.
Trouble
Trouble is a classic game that many toddlers enjoy. Players move their game pieces around the board based on the roll of a pop-o-matic bubble, aiming to be the first to get all their pieces to the finish line. It teaches counting, strategy, and anticipation.
Mr. Bucket
Mr. Bucket is an entertaining game for young kids. Players race to scoop up colored balls with their buckets and then shoot them back out. This active game enhances hand-eye coordination and is sure to keep toddlers entertained with its playful antics.
Bluey Scavenger Hunt
Based on the popular children's show Bluey, this game involves searching for specific items around the house or yard, just like Bluey and her family do in the show. It's a fun way to promote exploration and problem-solving in toddlers.
Honey Bee Tree
Honey Bee Tree is a charming game where toddlers take turns pulling out leaves from a beehive without letting the bees fall into the honey pot. It encourages fine motor skills and introduces the concept of gentle and careful play.
Dive into our comprehensive guide on crafting a balanced digital life for your kids, where screen time meets green time. Click to learn the secrets of integrating tech with touch – it's time to redefine family time!
Yeti in my Spaghetti
In this hilarious game, players place plastic spaghetti strands on top of a plastic bowl with a yeti character inside. The goal is to remove the spaghetti without making the yeti fall into the bowl. It's a simple yet entertaining game that fosters concentration and fine motor skills.
Hungry Hungry Hippos
Hungry Hungry Hippos is a classic board game that toddlers adore. Players frantically press levers to make their hungry hippos gobble up as many marbles as possible. It's a fast-paced and lively game that promotes hand-eye coordination and excitement.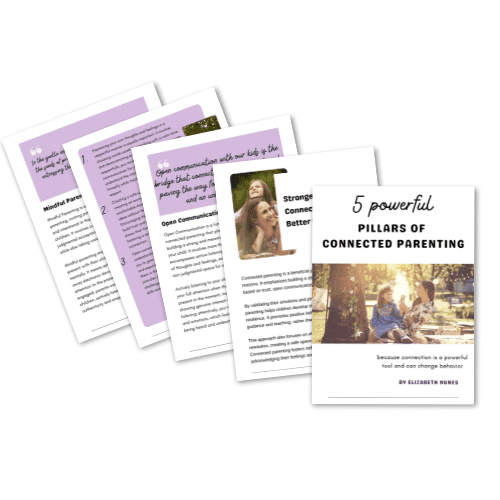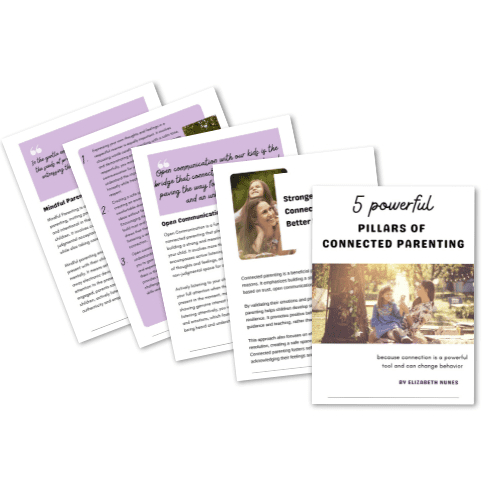 Free Download
Take your parenting journey to the next level with our comprehensive ebook on Connected Parenting.
Download this ebook now and embark on a transformative parenting experience that will strengthen your bond with your child and bring joy and fulfillment to your family life.
Best Board Games For The Little Kids That Aren't Quite Big Kids Yet
Don't Rock The Boat
Don't Rock The Boat is a balancing game where players take turns placing penguins on a wobbly ship. The goal is to keep the ship from tipping over by strategically positioning the penguins. It's a fun and challenging game that tests players' balancing skills and is suitable for both kids and adults.
Monopoly Junior
Monopoly Junior is a simplified version of the classic Monopoly board game designed for younger players. It introduces children to the world of property buying and trading in a more accessible way. The game features kid-friendly tokens and properties, making it a great introduction to financial concepts and strategy.
OUTFOXED
OUTFOXED is a cooperative board game where players work together to solve a mystery. In this game, players take on the roles of detective foxes trying to figure out which suspect stole Mrs. Plumpert's prized pot pie. It's a great game for encouraging teamwork and deductive reasoning among kids and families.
The Original The Floor is Lava!
The Floor is Lava! is an active and imaginative game where players pretend that the floor is made of lava and must navigate their way through a room without touching the ground. It's a fun and physical game that promotes creativity and quick thinking.
Eye Found It
Eye Found It is a cooperative search-and-find board game designed for young children. Players work together to find hidden objects in various colorful and detailed scenes. It's a great game for enhancing observational skills and teamwork among kids.
Perfection
Perfection is a fast-paced game of speed and precision. Players race against the clock to fit different shapes into a puzzle board before the time runs out. It's a challenging and exciting game that tests players' dexterity and hand-eye coordination.
Don't Wake Daddy
Don't Wake Daddy is a suspenseful board game where players try to sneak past a sleeping "Daddy" figure to reach the kitchen without making noise. It's a game that combines strategy and luck and is filled with moments of tension and excitement.
Guess Who?
Guess Who? is a classic two-player guessing game where players ask yes or no questions to determine their opponent's mystery character. It's a game of deduction and logic that's been a family favorite for generations.
Connect 4
Connect 4 is a simple yet engaging two-player strategy game. Players take turns dropping colored discs into a grid, aiming to be the first to connect four of their pieces vertically, horizontally, or diagonally. It's a game that's easy to learn but offers strategic depth.
Clue Junior
Clue Junior is a child-friendly version of the classic Clue board game. In this version, players try to determine which pet has been "missing" by making deductions based on clues. It's a great introduction to mystery-solving games for kids.
Kerplunk
Kerplunk is a classic dexterity game where players take turns removing sticks from a cylinder filled with marbles without letting them fall. The goal is to collect the fewest marbles by the end of the game. It's a test of skill and steady hands.
Game of Life
The Game of Life is a classic board game that simulates a journey through life. Players make choices about education, career, and family as they move through various life stages. It's a game that reflects the ups and downs of real life in a fun and lighthearted way.
Mouse Trap
Mouse Trap is a whimsical and elaborate board game where players build a Rube Goldberg-style contraption to catch a mouse. It combines elements of strategy and creativity as players work to set up the trap.
Best Board Games For the Big Kids
Trivial Pursuit
Trivial Pursuit is a trivia game that tests players' knowledge across various categories. Players move around the board, answering questions to collect pieces of the pie and ultimately complete their pie-shaped game piece. It's a game that challenges general knowledge and memory.
Speed Charades
Speed Charades is a fast-paced word-guessing game where players act out or describe words to their team as quickly as possible. It's a lively and entertaining party game that requires quick thinking and communication skills.
Sorry!
Sorry! is a classic family board game where players race to move their pawns around the board and into their home base while sending opponents' pawns back to the start. It's a game of strategy and luck with elements of revenge and competition.
Rapid Rumble
Rapid Rumble is a fast and frantic dice-rolling game where players compete to complete various challenges and objectives. It's a game that combines quick thinking with physical tasks, making it great for parties and gatherings.
Scrabble
Scrabble is a word game where players create words on a game board using letter tiles. Each letter has a point value, and players compete to form high-scoring words. It's a game that promotes vocabulary, spelling, and strategic thinking.
SPOOF
SPOOF is a traditional bluffing and trick-taking card game where players attempt to predict the total number of dice showing a particular number. It's a game of deception and psychology that can lead to laughter and surprises.
Skillmatics Board Game
Skillmatics Board Game is a series of educational games designed to enhance various skills, from math and vocabulary to reasoning and creativity. These games provide a fun and engaging way for kids to learn and develop essential skills.
Battleship
Battleship is a classic strategy game where players take on the roles of naval commanders trying to sink their opponent's fleet. It's a game of deduction and strategy as players try to outmaneuver and outguess their opponents.
Fast Sling Puck Game
Fast Sling Puck is a tabletop dexterity game where players use elastic bands to propel pucks into the opponent's side of the board. It's a fast-paced and competitive game that tests speed and accuracy.
Bamboozled
Bamboozled is a family game that challenges players to complete various physical and mental challenges while racing against time. It's a game that encourages creativity and quick thinking.
Ultimate Catch Phrase
Ultimate Catch Phrase is an exciting word-guessing game where players try to convey a secret word or phrase to their team without using certain key words or gestures. It's a lively party game that requires quick communication skills.
The World Game
Details about "The World Game" are not available in my knowledge. It may be a lesser-known or newer board game.
Hedbanz Lightspeed Game
Hedbanz Lightspeed Game is a fast-paced version of the classic Hedbanz game. Players wear headbands with cards displaying various images and race to guess what's on their card by asking yes or no questions. It's a quick and entertaining guessing game.
Smart Ass
Smart Ass is a trivia board game where players compete to be the first to shout out the correct answer to various questions. It's a game that encourages quick thinking and general knowledge.
Catch The Golden Snitch
Catch The Golden Snitch is a Harry Potter-themed board game based on the popular Quidditch sport from the wizarding world. In this game, players take on the roles of Quidditch players and compete to catch the elusive Golden Snitch, just like in the books and movies. It's a game that combines strategy, dexterity, and a bit of luck, making it a must-have for Harry Potter fans and board game enthusiasts alike.
Jumanji The Game
Jumanji The Game is based on the iconic Jumanji franchise, made famous by the book and subsequent films. In this board game, players embark on a wild adventure as they explore the mysterious and perilous jungle of Jumanji. They encounter various challenges and must work together to survive and complete the game's objectives. It's a thrilling and immersive board game that captures the essence of the Jumanji world, filled with excitement and suspense.
How Do Board Games Help Child Development?
Children need to feel a connection with their parents; that's something that everyone needs in life.
Spending time with parents makes them feel joy. Spending time with your kids builds self-confidence and makes them feel important.
I know my kids light up when I bring up the idea of doing an activity together, even if it's to grab the popcorn and watch a movie.
But What Makes A Family Game Night So Important For Kids?
Playing games with the family is an easy way to spend the time that isn't hurried and can be super enjoyable.
Not to say we haven't had some crying and tantrums during our game nights, but each time we play, the kids learn how to self-regulate their emotions more.
Kids learn so much when they play board games.
Some skills and concepts that are learned during a family game night might be:
Patience While Waiting For Their Turn
Counting Skills
Shape Recognition
Hand-Eye Coordination
The really great thing about games is they don't have to be educational in theme. The point of the game is to have fun. Games can be super silly and still teach amazing skills.
My children learn that they can be pretty much for quite a long time within a game, but one roll of the dice can change the way their game is going in an instant.
This can make them very upset sometimes, but this is a great learning moment that you can talk through.
The Losing Conversation
Children take to winning and losing very seriously.
We need to be there to help them with their emotional reaction, especially if its a negative one when they have lost the game.
When we first started to play games, my son would run away to his room because he was upset about losing, or sometimes even losing a turn in the middle of a game.
We need to be there to guide them through their frustration and provide a positive experience during this fun time with the family.
It can be daunting to play a game with a toddler who can explode with unhappiness at any given moment, but it's essential.
You can always help toddlers win; they need that guidance when playing the game. You will probably want to keep your toddler happy when playing games with the family, to keep the peace.
Remember that even though games are great for learning, they are also great for just plain fun.
I hope you enjoyed this amazing list board games for families. These games have brought my family a lot of joy, some tears, but mostly joy
Remember that kids take to losing seriously and it is really important to walk them through their disappointments when that happens.
I hope you truly enjoy your phone free family games nights with these awesome games.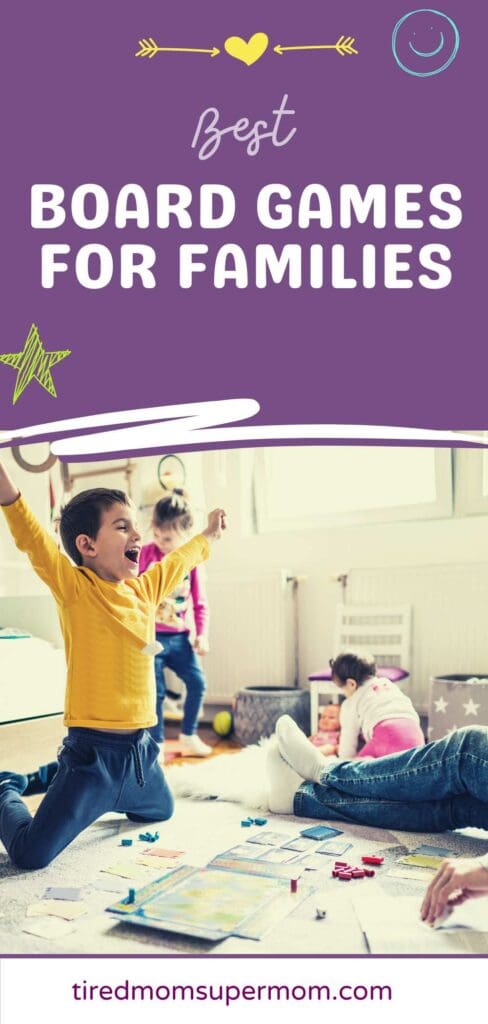 More Like This
Tips for Cultivating Healthy Habits as a Family: From Exercise to Nutrition, Find Your Strategy