This post may contain affiliate links. Full privacy policy and disclosure here.
I embrace boredom for the mental health of my children, and ignore all the negative connotations that come along with allowing my kids to be bored, here's why!
Being bored is something that every child deals with. My kids come to me and tell me just how bored they are due to a lack of stimulation from siblings, video games or other fun activities.
I usually offer up a boring task for them to do which they might participate in but then in the end let their mind wander to creative places.
Being bored allows room for great ideas to blossom and encourages independent play as well.
It takes time and care to encourage autonomous play in young children.
Some children are naturally happier in their own company, but for others, playing independently can be difficult.
Here are some ways you can encourage your kids to play on their own.
My Response When Kids Say "I'm Bored"
When my kids come up to me on a rainy Saturday afternoon with no more time left on screens, they often start with "hey mommy, I'm so bored."
Theb they flop around on the couch like a fish out of water, and proceed to groan and moan of boredom pains.
My response?
"Oh I See." or "Oh ok"
This lets my kids know that no amount of moaning and groaning is going to let me say yes to screen time (because they usually have run out of it since we only allow 45 minutes of it per day.)
After a few more minutes of groaning and complaining that there's nothing to do, I'll find my kids run off with each other playing some sort of new imagination game.
A game they never would have started playing if it wasn't for their boredom.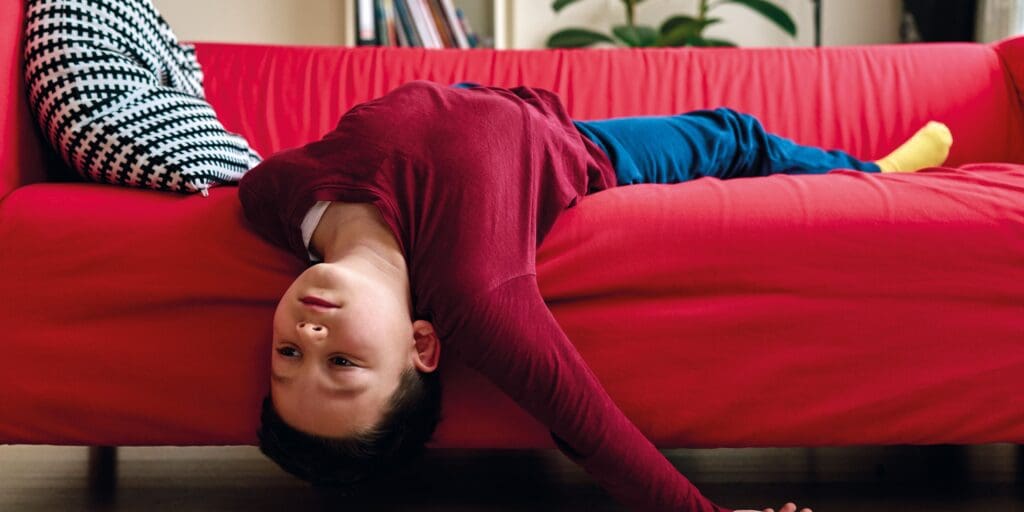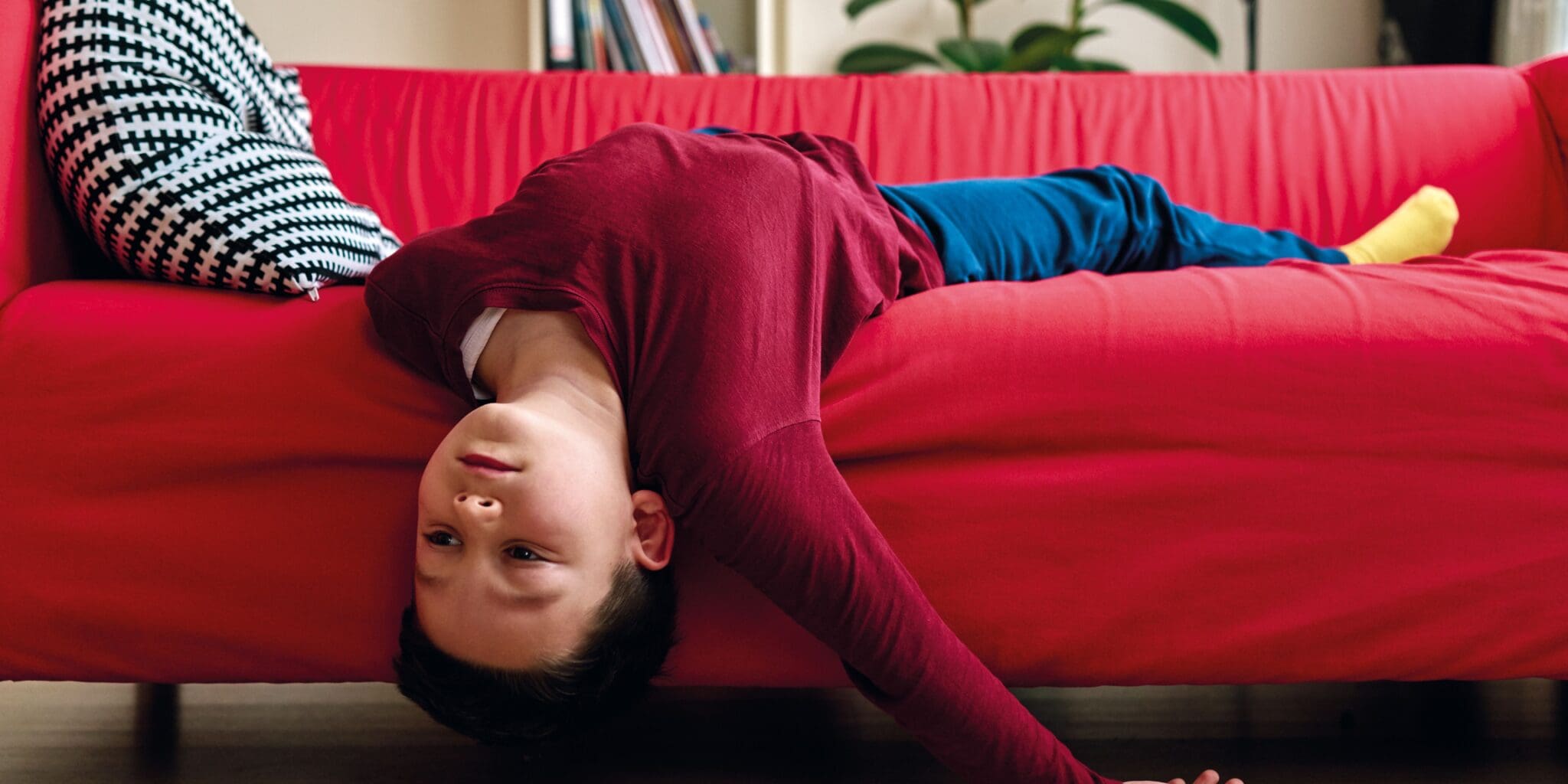 How To Get Kids To Play On Their Own (So They'll Tell You They Are Bored Less)
Start Young
you can let your kids be bored in the baby stages. Instead of constantly entertaining your baby, you can allow room to be free and explore their environment.
You'll be impressed with how many new ideas your baby can come up with! This kind of creative work stimulated the brain which is one of the most important things when raising a baby.
Use Quiet Time In Routines
Kids have busy days and busy minds, and a busy mind will often have trouble getting creative juices flowing.
Quiet time is a good thing that can help your child snap out of their pure boredom phase and onto a new activity.
Have A Handful Of Backup Activities
If your kids are experiencing the feeling of boredom, go ahead and give them some activities to do.
You don't have to entertain them with these activities but you can suggest they use their arts and crafts, play with their magnet tiles or lego or even set up an activity of making slime for them (if they are old enough to do it without your help).
The trick here is to allow this bit of boredom to help your children become more creative with a little bit of a push towards creative activities.
Let Them Get Messy
What are the most popular pastimes among children who suffer from the experience of boredom? Building. Creating. Messes. Dirt. Mud.
Here are some suggestions for them to consider to get some neural stimulation:
Make mud pies, dig out dinosaur bones, and play in the dirt.
Sandbox (or fill a transparent container with sand and let them play!)
Bins or water tables
Sprinklers, sandboxes, squirt guns, water balloons, etc (no pool if unsupervised, of course)
Boat racing on the water
Allow your children to make a lemonade stand or bird house with hammer, glue, nails, and wood if they are old enough and responsible enough.
These messy activities can lead to some quiet moments as well as create sustained curiosity!
Stop Playing For Them
Magda Gerber concluded from decades of research on children that they are extremely capable beings capable of far more than many people give them credit for.
She argued that if children are raised in the appropriate atmosphere with enough love, support, and respect, they will naturally flourish, learn, play, and grow at their own speed.
She saw that when children were playing with their caretakers, they blossomed, but when the play was done for them, they lost confidence in their capacity to play.
When the caregiver took over, made suggestions, or dominated the play environment, kids began to believe that their own type of play was not respected. As a result, it is critical to delegate play to the children.
This isn't to say you can't be present to appreciate it; it just means that watching and observing rather than playing and thinking for your child is a better way to encourage their natural play inclinations.
My kids frequently include me in their play, and I often play the part of a puppet. They pull the strings, and I play along, trying not to bring the game up to the level of my growth or experiences.
Make Time To Connect
Do you know what a child craves above everything else?
It's not about toys. This isn't ice cream. I'm not one for staying up late.
Believe it or not, they have a connection with their parents. (I guarantee, even your adolescent.)
They want to be liked and to believe that they are lovable.
So, while we spend a lot of time doing things together, I also make time for family fun, such as playing board games, UNO, coloring pages, or having an unplanned water balloon war.
After that, I know we've filled their and my attention buckets, and they're set to go for an hour of solitary play without needing my help.
Limit Screen Time
It's easy to succumb to the allure of screen time in modern society. It is a guaranteed way for many parents to get some autonomous and calm time away from their children.
However, in the world of autonomous play, the sensory overload and excitement that screens give our children might be difficult to counteract.
After seeing a dramatic episode of Fireman Sam, a basket of blocks or some cardboard boxes, coupled with their own imaginations, may not seem like enough.
This is a difficult habit to break for both children and parents, but it is possible if you believe it would benefit your children's autonomous play.