This post may contain affiliate links. Full privacy policy and disclosure here.
As a mom of 3, Christmas is a busy time. The holiday magic can be demolished quickly by stress during this season, but if you follow these tips you can have a stress free Christmas this year.
Christmas can be a very stressful time for many people. There are a plethora of causes for this. It might simply be the increased number of locations you need to visit and the demands placed on your time. Maybe, like me, it's all the extra locations you have to go in addition to the fact that it's winter.
See also: 49 Brilliant Gifts For Kids That Aren't Toys
Perhaps the holidays are stressful because of strained relationships or having to visit individuals who complicate your life. It's possible that the holidays are difficult for you since you've lost a family member or friend with whom you'd give everything to spend this time of year.
Whatever the reason for your stress is, you can get through this Holiday season, here are my best tips on how to keep it as stress free as possible.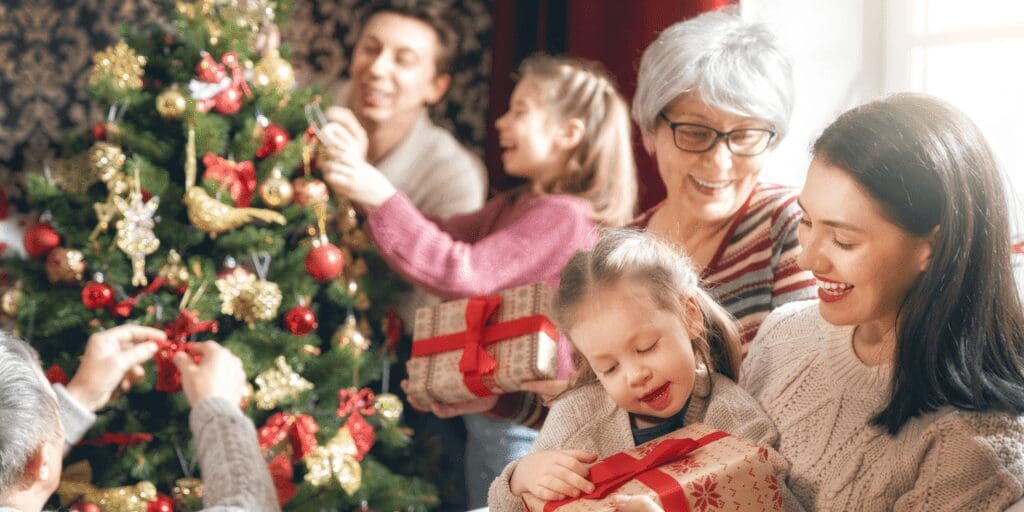 How Can You Make Christmas Stress Free
Make A Plan With 3 Main Goals
This Christmas season, there are so many things you could, should, and must do. But, what about your ambitions? So much of what we really want to accomplish this time of year gets pushed aside.
So, among all you do this Christmas season, make sure you do three things that are significant to you.
My main goals are: Try to do a Christmas craft daily, get my shopping done by mid December and get outside to play everyday with the kids.
If these tasks are completed, I will feel as if I have accomplished what was important to me.
If you're having trouble achieving your objectives, it's possible that this step is missing. If you haven't prepared for your objectives to happen, they are unlikely to happen, even if they are written goals. That is the purpose of this step. Once you've settled on your three objectives, figure out what you'll need to make them a reality.
Simplify The christmas Menu
Big family dinners are tradition, I get it. But can you substitute the gravy with a gravy packet and make a roast in the instant pot to make things easier? Yes you can.
Here is what we do to simplify the Christmas menu at our home. We keep it simple.
We have our meat which we like to do roast OR turkey, then a quick ham if extra family is coming over.
Then I like to have a few side dishes such as mashed potatoes, roasted yam and some sort of fancy rice instad of regular plain white.
The next thing is I add some veggies. For Christmas I like to stick with fresh veggies but you can totally do frozen too. My favorite is to sauté veggies in the pan, which takes 5 minutes!
Finish it off with a gravy and you've got a Christmas dinner.
Listen, sometimes the traditional stuff takes a lot of time, and it makes the stress of the Holidays even higher, so if you need to, keep it simple.
Simplify The Christmas Gifts
There's nothing quite like selecting the ideal present for someone. However, this might occasionally come at the price of your sanity.
Don't do it this year. Make the decision to purchase online. Purchasing gift cards is an option. Instead of presents, give experiences. Reduce the number of items on your present list.
There are several methods to make the gift-giving procedure as well as the presents themselves easier. As a result, you'll be able to experience the stress-free Christmas you've always desired.
See also: 12 Favorite Toddler Stocking Stuffers For Under $20, Ultimate Guide To Making A Magical Christmas Eve Box For Baby and The Best Christmas Books For Kids Of All Ages.
Delegate Tasks
Take a look at all that has to be done, not just on Christmas Day, but also in the weeks preceding up to it. Divide them into what you can easily achieve and what will push you, whether in terms of skill, time, or money.
Alternatively, divide them into what you enjoy and what you despise! Pass on the dislikes on someone else!
Even if you're only outsourcing one task this Christmas, it's one less thing for you to worry about and complete.
Say Yes To Less
I adore Christmas just as much as the next person, but trying to attend a million white elephant parties, ornament exchanges, and cookie baking events is ridiculous.
You can't be everywhere at the same time. Be honest with yourself about how much you can manage and speak up if it becomes too much. Instead of attending five Christmas parties, limit yourself to one or two. Prioritize your time with your family and only do what you want to do. It's all about the quality of the product, not the quantity. You have the option to pick once more.
Compromise With Family
You get to choose where you travel, how long you stay, who you welcome into your house, and how much money you spend during the holidays. It may appear like your mother-in-law, father-in-law, or second cousin is in charge. Wrong. You make the decision.
Before you get too caught up in the Christmas spirit, it's critical to set some ground rules. You don't want to end up arguing with your grandmother about politics or debating vaccines with your father-in-law. Everyone loses when there are no boundaries.
Decide what your boundaries are for travelling or having visitors before you commit to anything. Is it three days or three nights? How about a two-week period? If you're married, discuss your options with your partner and come up with a strategy that works for both of you.
Make Connections A Priority
I prefer to think of connections as your life's emergency fund, and I encourage you to use this season to store those dollars. Make others a priority in your life. Christmas is supposed to be a time of joy, thanks, long dinner table chats, and plenty of laughing. However, connections do not arise by chance. You must be deliberate. Don't get so caught up in the frenzy that you fail to appreciate the individuals for whom you're doing it.
Also, this year, do your hardest to cope effectively with Christmas stress. Yes, it's annoying when great-aunt Becky pinches your kids' cheeks, so respect her and protect your kids by having a polite request ready for her to stop. Because stress is an inevitable part of life, let us do our share to be gracious and giving to ourselves and those we love.
See also: 11 Ways To Make Christmas Magical For Children
Get Lots Of Sleep
When you don't get enough sleep, your emotional centres in your brain become hyperactive, which raises anxiety levels. So, rather than staying up late for the third night in a row binge-watching Hallmark movies, put your sleep first. It will not only help you cope with stress and anxiety, but it will also keep your immune system in good shape.
Also, remember to get outside and move. Put on some more clothes and simply do it, no matter how chilly it is (or at least get into the gym as often as possible). Exercising allows your body to process and release stress chemicals, and spending time in nature is beneficial to our mental and physical well-being. So, wrap up and go on your own Christmas light walking tour or organise a neighbourhood snowball war (play is exercise too). Anything is preferable to nothing!
Create Boundaries For Off School Kids
Make sure you keep up with the bedtime routines throughout the holidays because sleep for kids is very important.
Make sure to keep your expectations and routines in a place where they can see what needs to be done. For example at our house, they cannot have any screen time until they have gotten dressed, brushed teeth hand had their breakfast.
Make sure they get physical exercise during the day. Sledding and having a snowball fight are great ways to get that in!
Start your back to school transitions at least 3 days before school starts so the transition is easier on everyone.
Don't Forget To Do Your Daily Cleaning Routines So You Don't Fall Behind
Keep up on your laundry and dishes throughout the Holidays. I know it's a pain in the butt, but having your to do list pile up is simply going to cause more stress. I do a load of laundry everyday so it only takes 5 minutes to fold and put away. Easy peasy, and you can do that too. See also: An Efficient Laundry Routine That Could Help You Keep Up With It All.
Breathe
It's time to take stock and see how hectic this period is already shaping out to be for you.
Try not to cram everything in. The Christmas holidays are an excellent time to relax and rejuvenate yourself. You'll be frazzled before the end if you're out every day or have a slew of play dates.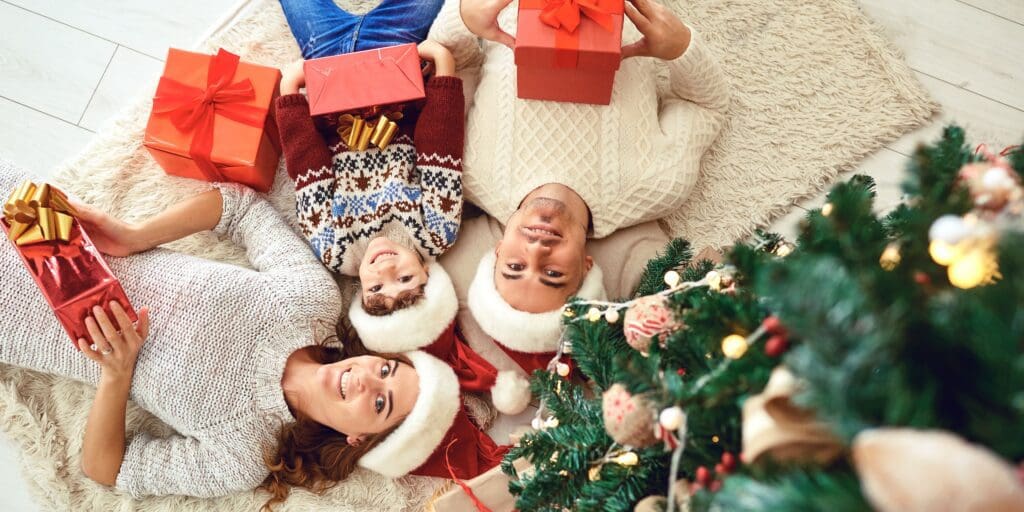 Have A Stress Free Christmas By Focusing On What You Can Control
On this earth, there are only two things you can control: your ideas and your actions. That is all there is to it. You have no influence over what your parents say at supper. You have no influence on your children's attitudes. And, by refusing to carry other people's troubles, you'll instantly minimise the amount of stress in your life when you choose to let go of what you can't manage.
Making a list of things I'm anxious about is the first thing I do every morning when I'm going through a stressful period in my life. Then I make a list of the things that I can manage. Everything else will be thrown away. Take charge of your thoughts and behaviours, and make the greatest decisions for you and your family.