This post may contain affiliate links. Full privacy policy and disclosure here.
If you're someone who loves to collect inspiring quotes and thoughts, then the Quotebook Notebook on Etsy is the perfect tool for you.
This notebook is designed to help you keep track of all the quotes that inspire you, with plenty of space for writing down your thoughts and ideas.
In this review, we'll take a closer look at the features and benefits of the Quotebook Notebook.
In order to remember more, the family behind the Quotebook developed a family ritual so they could recall more of the positive stuff and even strengthen the family bond. Read more about their story here!
That's my entire parenting policy – creating strong connections!
Which is why I love this quotebook so much.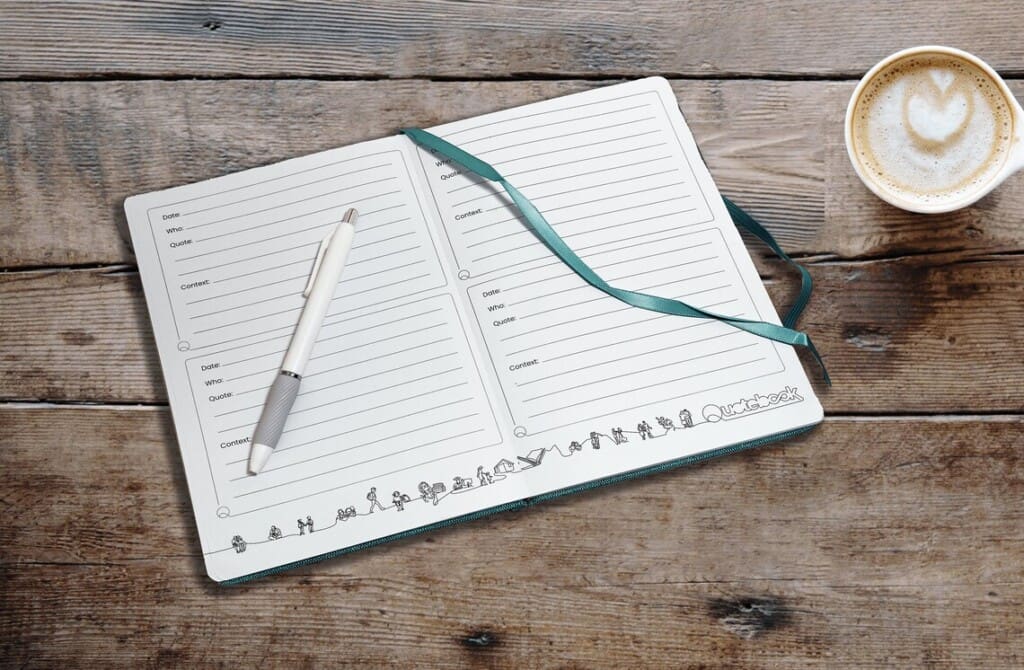 I Love The Quotebook
I am a huge fan of the Quotebook for a few reasons.
The first reason is because it's such a brilliant idea. I mean, it's a condensed space for you to write down your precious memories, without being an intimidating blank page.
The second reason I am a huge fan of this notebook is because of how beautiful the actual notebook is.
I know these days a lot of our memories are in the form of technology but there is something to be said about holding a high quality, beautiful journal that holds memories in it. It's more…special!
Because we are all connected, you can utilize a beautifully designed timeless connection symbol (the quotebook) to access that power in non-digital form.
Design and Features
The Quotebook Notebook is a beautifully designed notebook that features lined pages with space for writing down quotes and notes.
Each page includes sections for recording the source of the quote, the date it was collected, and any thoughts or reflections on the quote.
The notebook also includes a table of contents to help you keep track of all the quotes you've collected.
Quality
The Quotebook Notebook is made from high-quality materials, with a durable cover and thick, acid-free paper that won't yellow over time. The notebook is also designed to lay flat, making it easy to write on both sides of the page.
Benefits
The Quotebook Notebook is a great tool for anyone who wants to keep track of their favorite quotes and thoughts. It's perfect for writers, artists, and anyone who wants to stay inspired and motivated. By collecting and organizing your favorite quotes in one place, you can easily refer back to them whenever you need a boost of inspiration.
Why It's important To Collect Family Quotes
Collecting family quotes is a wonderful way to preserve the memories, wisdom, and values of your family for generations to come. Here are some reasons why collecting family quotes is important:
Preserving family history: Family quotes can offer insights into the beliefs, values, and experiences of your family members. By collecting and recording these quotes, you can help to preserve your family's history for future generations.
Celebrating family bonds: Family quotes often reflect the close relationships and strong bonds between family members. By collecting and sharing these quotes, you can celebrate the unique connections that make your family special.
Sharing family wisdom: Family quotes can offer valuable advice and wisdom that can be passed down from generation to generation. By collecting and sharing these quotes, you can help your family members learn from each other's experiences and insights.
Keeping memories alive: Family quotes can bring back cherished memories of loved ones who have passed away. By collecting and sharing these quotes, you can keep their memory alive and honor their legacy.
Strengthening family relationships: Collecting family quotes can also be a fun and meaningful way to bring your family members closer together. By sharing favorite quotes and memories, you can create a deeper sense of connection and understanding among family members.
Collecting family quotes is a wonderful way to preserve your family's history, celebrate your family bonds, share wisdom and memories, and strengthen your family relationships. By taking the time to collect and record your family's quotes, you can create a lasting legacy that will be treasured by generations to come.
Getting Your Memories Organized
If you are the type of person who has little notes and quotes all around you, then you might really need a Quotebook.
For example, my husband really loves Gary Vee and has a collection of his quotes scattered all the around house!
Well no more, those notes are going into the Quotebook asap.
Another way that we will use the Quotebook is to record all of the kids sayings.
Because honestly kids say the darnest things. They say funny stuff and lovely things that make your heart skip a beat and tears form in your eyes.
For our family, the Quotebook is a tool of inspiration as well as a tool for memories.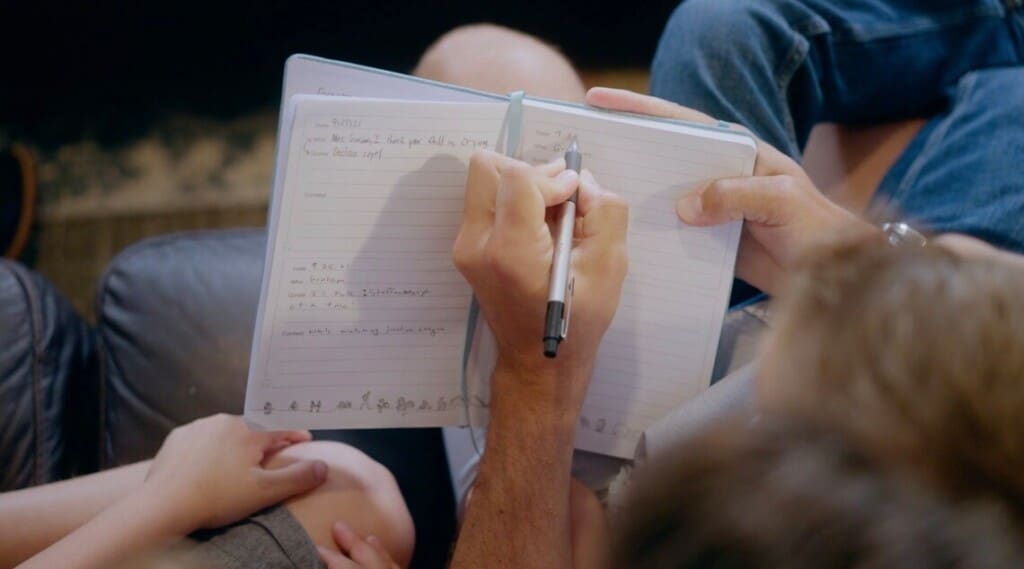 A Video Note From Michael – The Creator of Quotebook
How To Order The Quotebook
The Quotebook can be ordered by visiting this link and using this code FREEUSSHIPPINGTIRED to get free shipping from the Quotebook website directly.
You can receive 15% off your order if you submit a quote on the website here.