This post may contain affiliate links. Full privacy policy and disclosure here.
✨Ready to make BIG changes on your parenting journey? Don't miss the FREE video training: 5-Step No-Yelling Formula. Gets Your Kids To Listen The First Time, Every Time! Learn how to How to avoid blaming, shaming, or causing your kid any pain when you set consequences! Grab your spot in the FREE video training HERE…
Reading is an essential skill that children need to develop in their early years. It not only helps them with their cognitive and language development but also provides a great opportunity for parents and children to bond.
One type of book that is particularly popular among preschool children is caterpillar books. These books often feature a lovable caterpillar character and are filled with colorful illustrations and interactive elements.
Caterpillar books can be a great way to introduce children to the joys of reading and enhance their literacy skills.
In this blog post, we'll explore the benefits of reading caterpillar books for preschoolers, introduce some popular titles, and provide tips on how to make reading more interactive and engaging for children.
Benefits of Reading Caterpillar Books for Preschool Children
Reading caterpillar books can provide numerous benefits for preschool children. Here are some of the most significant benefits:
Cognitive Development: Caterpillar books can help enhance children's vocabulary and language skills by exposing them to new words and concepts. Reading caterpillar books also improves memory and comprehension skills as children follow the story from beginning to end.
Emotional Development: Caterpillar books can encourage empathy and emotional intelligence as children relate to the caterpillar's experiences and emotions. Caterpillar books can also help children deal with difficult emotions such as loneliness, fear, and sadness by offering a safe and relatable way to explore these feelings.
Physical Development: Turning pages and interacting with the various elements of caterpillar books can help develop fine motor skills and hand-eye coordination.
Overall, caterpillar books can provide an engaging and fun way for children to develop various skills while also fostering a love for reading.
The Best Caterpillar Books For Kids
Rommie's journey
We get to accompany a caterpillar on a huge excursion in this narrative. The life cycle, getting lots of rest, positive thinking, and dealing with our worries will all be discussed with the children.
From Caterpillar to Butterfly
This is the PERFECT beginner's guide to learning everything there is to know about caterpillars! A caterpillar in a jar attends school before enveloping itself in a cocoon in this novel. The kids will be enthralled to watch what occurs next.
Caterpillar and Bean
This is a fantastic introductory scientific tale for young brains! It shows how a caterpillar, as well as many other species, grows. As they learn about how things grow, kids will enjoy turning through the pages with these stunning illustrations.
The Very Impatient Caterpillar
In this delightful storey about a little caterpillar that couldn't wait to turn into a large, gorgeous butterfly, kids may learn about patience. This will undoubtedly be a book that you will enjoy for many years to come.
Charlie the Caterpillar
This storey will delight you and your children, educating us all about the genuine essence of friendship. When this beautiful caterpillar wants to play but is informed he won't be able to till he is a butterfly, he puts those in their proper place. He exemplifies exactly what true friendship is all about.
The Goodnight Caterpillar
This is the PERFECT tale for children who have trouble sleeping. It takes us on a wonderful journey with a cute caterpillar while also teaching us how to relax. It will undoubtedly assist children in unwinding and becoming slumber.
Loretta's Pet Caterpillar
In this lovely storey, kids will discover all about caterpillars and how they transform into butterflies. When a young girl brings home a leaf with an egg on it, she takes special care of it and preserves it. When it flies out to be with its buddies, it's a bittersweet ending.
Thank You, God, For Blessing Me
This is such a nice storey about Hermie the caterpillar that kids will enjoy! Follow Hermie as he discovers many things to be grateful for and expresses his gratitude to God for each blessing.
The Case of the Vanishing Caterpillar
Follow along as we search for our missing caterpillar! When the gumboot kids go out to the garden, they discover that one of their friends has vanished. What do you think happened to the little caterpillar who vanished?
Caterpillar Caterpillar
This is an excellent book for young children to learn about caterpillars. They'll have a blast flicking through the pages and learning everything there is to know about caterpillars.
A Sparkle Book: Crazy Caterpillars
This book is a must-have because of the stunning artwork. The glittery caterpillars will delight children as they browse through the pages.
The Crunching Munching Caterpillar
Follow along with this adorable tale about a caterpillar who wishes to fly. When he wakes up from a slumber one day to the surprise of his life, he wishes to fly like his bumblebee friends.
What does a caterpillar do
There are millions upon millions of unappreciated, but absolutely fantastic bugs in the world around us. From the tiniest ant to the largest snail, each has a distinct personality that allows it to thrive in its own habitat. 'What Does a Caterpillar Do?' invites children to meet some of these bugs and learn a little bit about what makes them unique via the perspective of the cheeky caterpillar.
Pete the Cat and the Cool Caterpillar is a Level I Can Read book that includes original pictures by Pete the Cat creator James Dean and is ideal for children who are starting to sound out words and sentences. The brief sentences, common words, and straightforward concepts in Level One books enable success for children anxious to begin reading on their own, whether shared at home or in the school.
How to Make Reading Caterpillar Books More Interactive and Engaging
Here are some tips on how to make reading caterpillar books more interactive and engaging for preschool children:
Using Props and Toys: Bring the story to life by using props or toys that relate to the book. For example, use plastic fruit to represent the food the caterpillar eats in "The Very Hungry Caterpillar."
Incorporating Movement and Dance: Encourage children to act out the story through movement and dance. For example, children can pretend to be the caterpillar as it crawls through the pages of the book.
Asking Open-Ended Questions: Engage children in discussions about the book by asking open-ended questions. For example, ask children how they think the caterpillar feels at different points in the story.
Making Sound Effects: Use sound effects to bring the story to life. For example, make munching sounds as the caterpillar eats or buzzing sounds as it turns into a butterfly.
By incorporating these interactive elements, reading caterpillar books can become a fun and engaging activity for preschool children.
Print This Positive Parenting Guidebook – The 5 Pillars Of Positive Parenting
Listen… parenting with connection and positivity has been seen as permissive and lazy parenting BUT this is totally not the case.
I am a mom of 3 beautiful children and I've spent HOURS, DAYS, MONTHS, and YEARS researching this topic and seriously, it is my favorite way to parent.
Way better than what I grew up with – which was A LOT of yelling, spanking and frankly, neglect.
This little guidebook is a golden nugget that you can have for free – and print it out! Put it on the fridge, refer to it often. It's really a great tool for kids of all ages.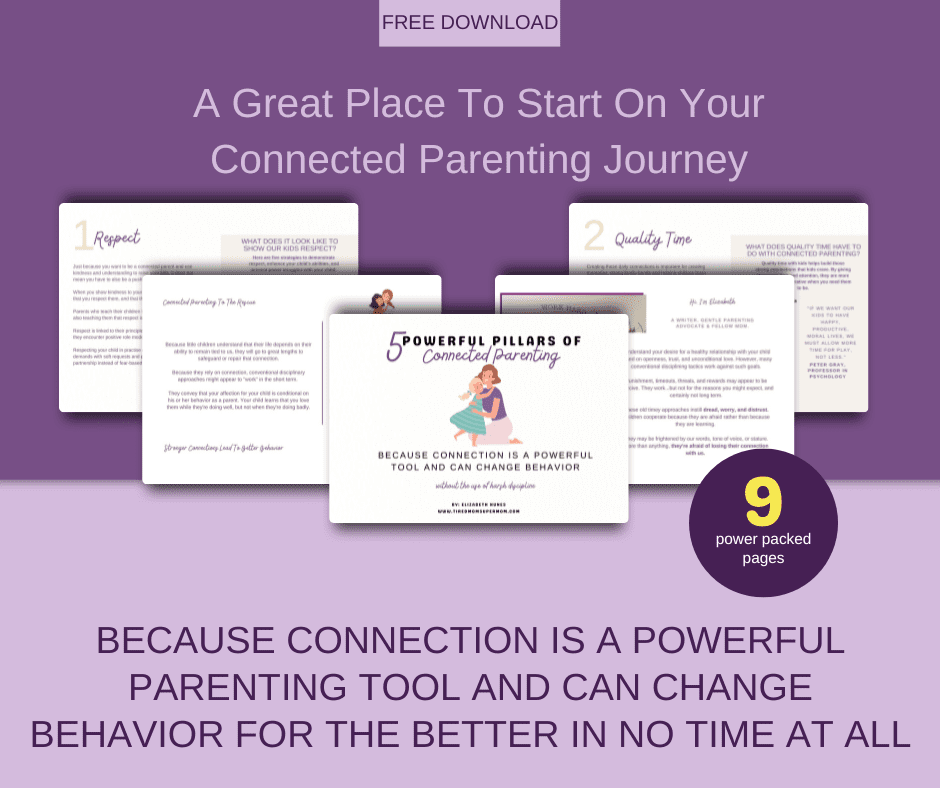 Download Your Free Printout
Download the guidebook. You'll get the printable, plus join hundreds parents who receive my weekly parenting tips and ideas! (Sometimes I'll promote a parenting program, but only the best ones that are in the positive parenting community, I promise.)
Print. Print out the guidebook!
Place it where you can see it. There is a lot of great information in this guidebook, even though it's small. It's power packed full of great stuff so put it where you can refer to it often.