Words have the power to both energise and deflate children, which is why choosing good things to say to your child is so important.
What are you going to put in their bucket?
If you tell a child they're bad, they'll be awful. If you tell a child they're good, they'll do the same.
You can begin to fill that bucket with love, generosity, positivity, and confidence by thinking some encouraging words for kids or good phrases to speak to your child.
It is undeniable that when children experience warmth and affection from their parents, it has a long-term impact on them.
As adults, they acquire healthy self-esteem, are emotionally happier, and are less worried.
So let's get started: let's shower our children with love, use positive language, boost family communication, and empower our children with a bucket of love and support!
This post may contain affiliate links. Full privacy policy and disclosure here.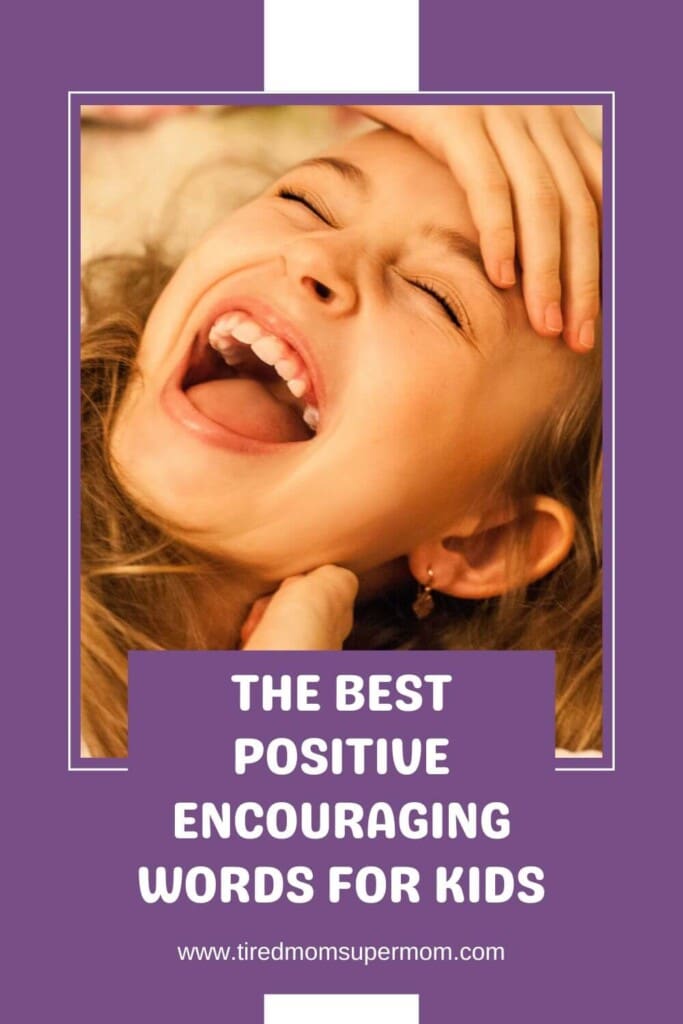 benefit of using encouraging words for kids
Instead of barking, consider saying, "Come help empty the dishwater— right now!" "You are a very helpful person; thank you for helping me unload the dishwasher!" you could say.
Isn't there a change in tone here?
These encouraging things to say to kids can be sprinkled throughout your day in a variety of ways.
The kind of praise we offer our children inspires, empowers, and influences them later in life, according to research.
It aids in the development of a positive outlook in children.
Creates a safe and nurturing environment at home
Boosts self-esteem and encourages children to believe in themselves.
Encourages imagination and creativity.
Encourages children to work harder (have you considered making a chore sheet for children?)
Improves children's self-esteem
Perseverance, self-confidence, and determination have an impact.
Tips on using positive phrases for kids
When speaking positively to your child, experts recommend doing the following:
Say their name, this gets their attention
Don't speak over the child
Use eye contact
Get down on their level
Be sincere and be honest
Get Specific: Instead of saying "good work, buddy," try "the way you shared that toy with Tommy was incredibly compassionate." Being overly broad does little to assist a child in determining how their efforts resulted in a good grade.
Focus On Effort: We teach kids a growth attitude when we say good things to them that emphasise effort. They can then piece together how their effort contributed to their achievement, as well as how they can better without feeling like a failure if they didn't succeed.
Give Just Enough Praise: Giving undeserved praise to children might have long-term consequences. Don't praise people who don't deserve it; it's counterproductive. Overpraise reduces motivation and can lead to the development of narcissistic children, according to research.
Practicing encouraging Words At Home
Choose one phrase to say each night before going to bed. (Plus, if you pair it with one of these 5 mindfulness practises, you'll score even more bonus points.)
If you've had a quarrel, say something uplifting out of the blue.
Use lunch box notes to keep in touch with your child during the day (even if you aren't present).
Play games and color books like this that promote awareness.
Get down on your child's level and tell them something specific that you admire about them.
positive words of encouragement for Kids
You are loved
You make me smile
You are SO intelligent
I think about you ALL the time
You can be a great leader
I'm glad you're here
You can tell me anything
Your choices matter
You are kind
I love spending time with you
My world is better with you in it
You are beautiful!
I know you will do GREAT things
You are special
Your honesty makes me so proud
It's fun to do things with you
Follow your heart
Wow, what a thoughtful kid you are
I believe in you
You mean the world to me
I love you!
I'm grateful for you
I need you!
You are amazing!
I will always be here
Your laugh is one of the best things about you
The world needs you
You are gifted!
I am proud of the person you are becoming
I am so proud of you
I will love you no matter what
You are unique!
Tell me about what you are doing
Just keep going and keep trying
Not giving up is one of your best traits
Participation and effort are more important than winning
Don't give up, and start what you finish
The view from the top is spectacular
You can ask for help
If you believe it, you can achieve it
Your mistakes are chances to learn
Reach for the stars
You are unstoppable
Challenges make you stronger
Make an effort, NOT an excuse
Think before you act
Follow your dreams
Don't think too much
This feeling will pass
Work towards solving problems
Take a break and come back to it
I love seeing you work together
What you are feeling is normal
Go play!
You can always try again
You don't always need to win
It's okay to feel scared, it's okay to feel sad, and it's okay to feel angry too
Everyone worries sometimes
Nobody is perfect, and that is ok
You are MORE than your emotions
Everyone feels upset sometimes
Have fun!
Trust your instincts
Don't be afraid
In time, you will feel better
Enjoy the moment!
Don't worry, be happy
Let your mind settle, like the sand in the ocean
You will feel better after you get some rest
You will get through this
This is not the end, but the beginning
You have a kind heart, so always be kind, no matter what.
Not all days are bad
You got this!
The sun will come out tomorrow
You can't always make everyone happy
Stay positive, keep dreaming
Life is like a box of chocolates; you never know what you're going to get
Nothing call dull your shine: you are beautiful inside and out.
Get back up!
You are strong
Always help those who need it
Pause, breathe, everything will be okay
Tell me something that made you smile today
I believe in you.
Be honest, even if you mess up!
I see you working really hard
Thanks for being a great helper
You are one smart cookie
There is only one you, so be yourself
You can say no!
You are growing
You are learning
I'm proud of you
I believe you, I believe in you
Your ideas matter
I am curious, what do you think?
Let's try it your way.
You are a good boy/girl
You don't always need to follow the crowd
Treat others the way you want to be treated
Bottom Line
Make an effort to incorporate these nice things to say to your child into your daily conversations. Positive words and phrases can and will have a significant impact on your children. Words have the ability to take your child high into the sky, allowing them to dream big and achieve anything!
Words matter, so how will you use them today?
Dive into "Parenting with Heart," your go-to guide for nurturing deep connections with your children, packed with practical tips for every stage of their growth. It's a lighthearted and insightful read that promises to enrich the parenting experience with joy and understanding.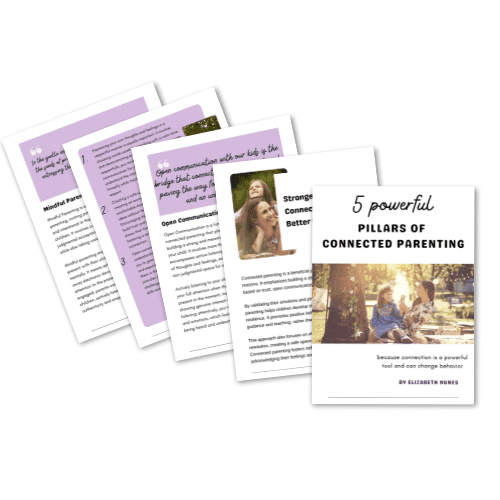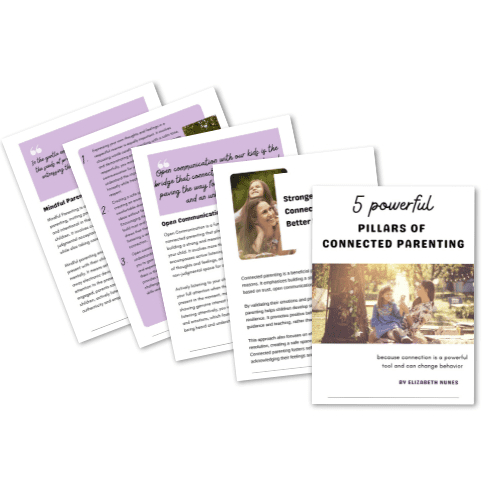 Free Download
Take your parenting journey to the next level with our comprehensive ebook on Connected Parenting.
Download this ebook now and embark on a transformative parenting experience that will strengthen your bond with your child and bring joy and fulfillment to your family life.
If you need a good resource to share with your kids, I have just the thing for you! Global Tinker's Mini Meditations for Kids is a mindfulness podcast series that is designed to help children develop a growth mindset.
The meditations are short, lasting about five minutes, to keep children's attention. They are also free and easy to access. The meditations provide functional tips, breathing exercises and mindfulness techniques to help children in different situations such as taking a test, making mistakes and dealing with general anxiety.
The series is an offshoot of the award-winning animated series, The Paper Girls Show, which aims to empower children to be resilient, confident and curious learners. The podcast is a great tool for parents, educators and caregivers to introduce children to mindfulness and help them develop a positive attitude towards making mistakes and growing from them.
More Like This