This post may contain affiliate links. Full privacy policy and disclosure here.
Reading is an essential skill that children must develop, as it enhances their language and communication skills, imagination, and academic performance. However, it is equally important to choose age-appropriate books for children to ensure that they can comprehend and engage with the content.
Not only does this build reading skills and confidence, but it also avoids overwhelming or underwhelming children with the material. Therefore, in this post, we will be sharing the best books for 8-year-old girls, ranging from picture books to early chapter books, non-fiction to fiction, and graphic novels to book series.
Our goal is to provide parents, caregivers, and young readers with a list of top-quality books that will not only entertain but also educate and inspire girls to see themselves in the stories they read.
Characteristics of books for 8-year-old girls
Books for 8-year-old girls should be engaging, relevant, and appropriate for their reading level. The content of the books should feature relatable themes and topics, such as adventure stories, magical creatures, social skills, and family life, and the main characters should be diverse and realistic, including little girls, young boys, best friends, and even stray dogs.
The writing style should be appropriate for their reading level, with varying vocabulary levels that cater to early readers, young readers, reluctant readers, and older children. The length of sentences and paragraphs should be appropriate for their age, making the books easier to read and understand.
Additionally, illustrations play a crucial role in capturing their attention and providing visual aids to the text. The illustrations should be of high quality and quantity, with bright colors and funny pictures that appeal to young readers.
Moreover, the illustrations should integrate seamlessly with the text, making the books more enjoyable and easier to follow.
Best Books for 8-year-old girls
Here are the best book recommendations for 8-year-old girls:
Fiction
"Matilda" by Roald Dahl (classic book, must-read book)
"The Secret Garden" by Frances Hodgson Burnett (great read, sweet story)
"Harriet the Spy" by Louise Fitzhugh (entertaining story, better comprehension skills)
"Charlotte's Web" by E.B. White (adventure story, family life)
"Mary Poppins" by P.L. Travers (magical lands, social skills)
"The Witch Boy" by Molly Knox Ostertag
"Where the Red Fern Grows" by Wilson Rawls
"Diary of a Wimpy Kid" by Jeff Kinney
"The Magic Faraway Tree" by Enid Blyton
"Dog Man" by Dav Pilkey
"The One and Only Ivan" by Katherine Applegate
"Big Nate" by Lincoln Peirce
"Roller Girl" by Victoria Jamieson
"Because of Winn-Dixie" by Kate DiCamill
"The One and Only Ivan" by Katherine Applegate
Non-fiction
"Who Was Amelia Earhart?" by Kate Boehm Jerome (real life, history)
"The Story of Ruby Bridges" by Robert Coles (life skills, overcoming challenges)
"The Girl Who Thought in Pictures: The Story of Dr. Temple Grandin" by Julia Finley Mosca (inspiring story, autism awareness)
"Women in Science: 50 Fearless Pioneers Who Changed the World" by Rachel Ignotofsky
"The Girl Who Ran: Bobbi Gibb, the First Woman to Run the Boston Marathon" by Frances Poletti and Kristina Yee
"The Diary of a Young Girl" by Anne Frank
"The Story of Ruby Bridges" by Robert Coles
"The Boy Who Harnessed the Wind" by William Kamkwamba and Bryan Mealer
"Good Night Stories for Rebel Girls" by Elena Favilli and Francesca Cavallo
"The Ultimate Guide to Video Game Writing and Design" by Flint Dille and John Zuur Platten
"Smile" by Raina Telgemeier
"National Geographic Kids Almanac 2022"
"Real Friends" by Shannon Hale and LeUyen Pham
Series
"The Magic Tree House" by Mary Pope Osborne (time travel, great for younger readers)
"Judy Moody" by Megan McDonald (funny story, great for girls ages 6-8)
"Dork Diaries" by Rachel Renee Russell (entertaining story, relatable characters)
"Ivy and Bean" by Annie Barrows and Sophie Blackall
"A Wrinkle in Time" by Madeleine L'Engle
"The Babysitters Club" series by Ann M. Martin
"Rainbow Magic" by Daisy Meadows
Junie B. Jones" by Barbara Par
"Amelia Bedelia" by Peggy Parish
"The Princess in Black" by Shannon Hale and Dean Hale – Children's book series, adventure, humor, girls aged 6-9.
"Nancy Drew and the Clue Crew" by Carolyn Keene – Children's book series, mystery, problem-solving, girls aged 6-9.
"The Land of Stories" by Chris Colfer – Children's book series, fairy tales, adventure, middle school-aged girls.
Choosing Books
Choosing the right book for young children is essential, especially when they are experiencing changes such as starting a new school or moving to a new town. From board books for little ones to chapter books for elementary-age children, there is a type of book out there for everyone.
The Magic Tree House series and the Diary of a Wimpy Kid series are great book series that have stood the test of time and are sure to be a hit with 6-8-year-olds. Must-read books such as Harry Potter, Percy Jackson, and the magical land of Narnia have captured the hearts of young children and older kids alike. For a good laugh, try Bad Kitty or Peter Pan.
If graphic novels are more their style, the Dog Man and Captain Underpants series are sure to entertain. The Little House books and Mindy Kim are perfect for young girls who want to relate to a character or story, while Planet Omar and Big Nate offer fun stories for young boys.
For the entire family, check out the Carnegie Medal winner, The Bad Guys. Whatever the age, stage, or life changes of the child, there is a book out there that is just right. So, take your time, browse book lists, and share your favorites in the comments to help others find the perfect book for them. Happy reading!
Bottom Line
Encouraging young girls to read is one of the most important things we can do to help them grow into thoughtful, creative, and curious adults. Whether it's through classic books like "Matilda" and "Charlotte's Web" or newer series like "Judy Moody" and "Dork Diaries," the books recommended here offer a great start. So go ahead and share these books with the young girls in your life, and encourage them to keep exploring the wonderful world of reading.
And if you have any favorite books to add to this list, please share them in the comments! Together, we can help these young readers discover the joy of reading and open up new worlds of knowledge and imagination.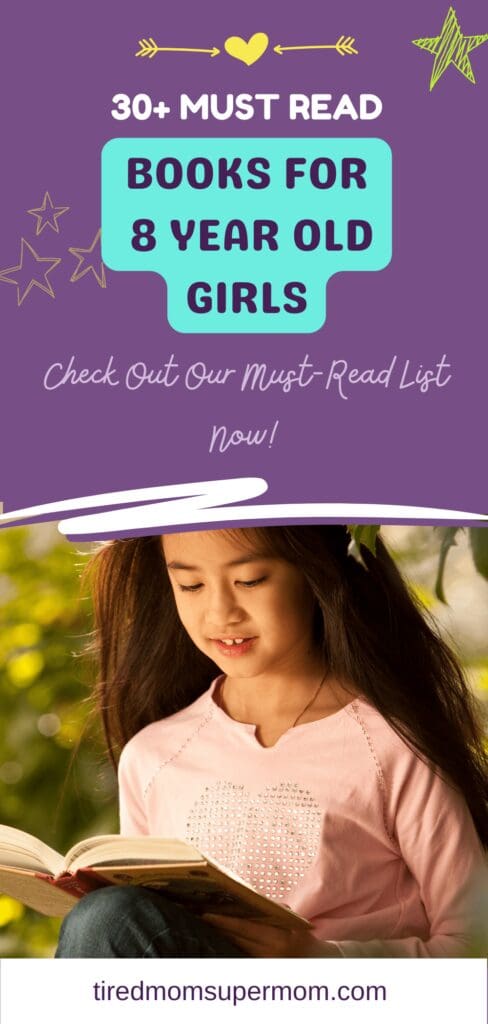 More Like This