This post may contain affiliate links. Full privacy policy and disclosure here.
I'm thrilled to introduce our latest playroom addition: a microphone for our little ones! As a mom of three, I've discovered their innate love for music and singing. With a year of lockdowns, we aimed to keep indoor life enjoyable. So, we decided to invest in a toddler-friendly microphone.
It's a fantastic way to get them moving and grooving, and it also offers developmental perks like language and cognitive growth.
After researching various options, from handheld mics to portable karaoke machines, our kids are having a blast with their new toy.
I'll share the best toddler microphones, selection tips, and ideas for maximizing the fun!
Top Picks for the Best Toddler Microphone
The Kidzlane Microphone for Kids is a wonderful tool to nurture young talents and confidence. This microphone is designed with children in mind, boasting a vibrant and durable build that's perfect for their little hands. It features multiple voice-changing effects, allowing kids to experiment with different sounds and have endless fun. With its built-in speaker and pre-recorded songs, young performers can sing along and stage their own mini concerts. The Kidzlane microphone not only encourages creativity but also helps improve language skills and self-expression. It's a fantastic choice for budding stars and provides hours of entertainment and learning.
The Hape Mighty Echo Microphone is a fantastic musical toy designed to inspire young performers. This colorful and durable microphone encourages children to explore their vocal talents and creativity. With a built-in echo effect, it adds a touch of magic to their singing, making every performance sound captivating. The ergonomic design is perfect for small hands, making it easy to hold and use. Whether kids are singing their favorite songs or creating imaginative stories, the Hape Mighty Echo Microphone amplifies their voice and imagination, making it an ideal toy for fostering self-expression and musical exploration in little ones.
The Cocomelon Toy Microphone is a delightful musical toy inspired by the popular children's show. It allows young fans to sing along with their favorite Cocomelon songs and create their musical adventures. With interactive features and catchy tunes, it brings the joy of music and learning to little ones.
The VTech Sing It Out Karaoke Microphone is an engaging musical toy that encourages young performers to shine. With a built-in speaker and fun voice-changing effects, kids can sing along to their favorite tunes while adding their unique twist. It's a delightful way for children to explore music and boost their confidence.
This microphone is a popular choice for kids of all ages, thanks to its fun features like flashing lights and the ability to connect to devices via Bluetooth. It also has an adjustable stand and delivers high-quality sound.
The Weymic WM58 Classic Style Dynamic Microphone is a versatile and stylish choice for budding musicians. With its classic design, it offers a professional feel for young performers. Its dynamic range captures clear and dynamic sound, making it perfect for karaoke, recording, or stage performances. It's a reliable choice for musical enthusiasts.
This microphone is a perfect choice for younger children as it has an easy-to-use interface, rechargeable battery, and the ability to connect to a mobile device. It also comes with built-in songs and a singing app.
The Niskite microphone for toddlers is a fantastic choice for little music enthusiasts. Designed with young children in mind, it offers a safe and entertaining way to explore the world of singing and music. This microphone features easy-to-use buttons, colorful lights, and fun sound effects, making it a delightful playtime companion. With sing-along features that include built-in songs and voice changers, it adds an extra layer of excitement to their performances. Plus, it's built to withstand the playful handling of toddlers, ensuring durability. Whether they're singing their favorite tunes or creating imaginative performances, the Niskite microphone is a fantastic tool to foster creativity and entertainment in young kids.
The Move2Play Kidz Bop Karaoke Microphone is a fun and colorful microphone designed specifically for young children. It comes with preloaded songs and a voice changing feature to keep kids entertained for hours.
This microphone is a great option for young kids, as it comes with a remote control and offers various voice effects and built-in songs. It also has a professional audio processor that helps to eliminate background noise and enhance audio quality.
This microphone is a great gift for any little pop star in your life. It comes with built-in songs from the hit movie Frozen, as well as voice changers and special effects. It runs on AA batteries and has a portable speaker for on-the-go karaoke nights.
The YLL Kids Karaoke Machine is a portable Bluetooth speaker and wireless microphone with instant pairing to mobile devices and a long playback time of 5-10 hours. It also has fun features like LED lights, 4 kinds of magic voices, and an internal vocal removal function, making it a great gift for kids of all ages. To adjust the echo, simply double click the microphone button and adjust the volume.
Croove Karaoke Machine is a versatile and portable device that allows you to sing your heart out anywhere you go. With its built-in rechargeable battery, wireless microphone, and impressive sound quality, it's perfect for karaoke parties, family gatherings, or even just singing in the shower.
The Risebass Portable Karaoke Machine is an excellent option for anyone looking for a versatile and portable karaoke system. It features Bluetooth 5.0 connectivity, making it easy to connect to your mobile devices with great stability. With a wireless mic that automatically connects to the speaker when powered on, you can enjoy singing from a distance of up to 32 feet.
The Battat Musical Light Show Microphone is a captivating musical toy for kids. It combines the joy of singing with dazzling light effects, creating a mini concert experience. Designed with little hands in mind, it's easy to hold and operate, making it perfect for young aspiring singers to shine and have fun.
Types of Microphones for Kids
When it comes to finding the best microphone for kids, there are plenty of options out there to choose from. Whether you're looking for a microphone for younger children or older kids, there are specific features to consider when making your choice.
Handheld Microphones – These are the most popular type of microphone for kids. They are easy to hold, and most come with a built-in speaker, volume control, and rechargeable battery. Some even have wireless capabilities and Bluetooth connections, allowing your child to sing along to their favorite tunes from a mobile device or MP3 player.
Toy Microphones – These microphones are designed specifically for kids and come in fun colors with various features, such as flashing lights, voice changers, and built-in songs. They are a great addition to any playroom and a perfect choice for younger children.
Karaoke Microphones – These are the best option for kids who love to sing along to their favorite songs. They often come with a rechargeable lithium battery, LED lights, and disco effects. Some even have a singing app or music magic mode that can turn your child into the lead singer of their own band.
Portable Microphones – These microphones are perfect for karaoke night or for taking your child's musical talent on the go. They often come with an awesome Bluetooth speaker, remote control, and specific features for excellent audio recording, such as background noise reduction and voice effects.
Musical Instruments – Some microphones for kids come with the ability to double as a musical instrument. These are great for little pop stars who love to play and sing along with their favorite tunes.
No matter which type of microphone you choose for your child, make sure it is kid-friendly, has excellent sound quality, and suits your child's age and interests. Some of the best options out there include the BONAOK Wireless Bluetooth Karaoke Microphone, the Little Pretender Kids Karaoke Machine, and the VTech Kidi Star Karaoke Machine. Whichever you choose, a microphone is an excellent gift for any young music lover and a great way to encourage their creativity and self-expression.
Specific Features to Look for in a Kid's Microphone
When choosing a microphone for kids, there are some important things to think about. First, we need to make sure it's the right age for the child. Some microphones might be too hard for little ones to use, while others could be too easy for older kids.
We also need to check how the microphone gets its power. Some use regular batteries that you can replace, while others have special batteries that you can recharge. This affects how long the microphone will work and how much it costs to keep it powered.
It's also cool if the microphone can connect wirelessly to things like phones and tablets through Bluetooth. That way, we can sing along to songs from apps like Apple Music, which is a lot of fun!
Kids love microphones with fun stuff like disco lights, stands that you can adjust, and different colors to choose from. These things make the microphone even more awesome to play with.
Another important thing is how good the microphone makes our voice sound. Microphones with something called "condenser microphones" make our voice sound really clear and nice.
For younger kids, it's great if the microphone has built-in songs and funny voice changers. It makes singing even more fun!
We should also check if the microphone is strong and won't break easily. Microphones made just for kids are usually super strong and can handle lots of playing.
And lastly, it's important to see if the microphone can work with different things like phones, tablets, and MP3 players. That way, we can use it with all our favorite devices.
So, by thinking about all these things, we can find the perfect microphone for kids that will give us hours of fun and singing!
How to Choose the Right Microphone for Your Child's Age and Needs
When looking for the best kids microphone, it's important to consider the child's age, needs, and preferences. For younger kids with little hands, a toy microphone with sing-along capabilities may be the best option. For older kids, wireless microphones with Bluetooth connectivity and compatibility with smart devices can offer original sound and hours of use.
High-quality kid-friendly microphones from top brands like Melissa & Doug can also be a good choice. When choosing a handheld or portable karaoke microphone, features such as Bluetooth function, audio cable compatibility, and good sound quality should be the top pick.
In addition, seeking feedback from 8-year-old testers and considering the environment, such as using it in the living room, can ensure that you get the best kid's microphone that meets your needs.
Bottom Line
In conclusion, when looking for the best microphone for little kids, it's important to consider factors such as Bluetooth connectivity, high-quality sound, and durability. Options like the Melissa & Doug sing-along mic, the best toy microphone, and the best karaoke microphone are great choices for little ones who want to sing and play with music.
Handheld microphones and Bluetooth-enabled devices like the best kids headphones and portable karaoke microphones are also good options for little hands and smart devices. Regardless of the type of microphone, the most important thing is to choose a high-quality, kid-friendly option that will provide hours of fun and entertainment.
Frequently Asked Questions
What is the best starter microphone?
The VTech Sing It Out Karaoke Microphone is an excellent choice as a starter microphone for young children. It's designed with ease of use in mind and features voice-changing effects and built-in songs, making it engaging and fun for budding singers. Plus, it encourages confidence and creativity in young performers.
Which microphone is best for speech?
The best microphone for speech typically depends on the specific use case and environment. For general speech, a lavalier or lapel microphone provides excellent clarity and hands-free operation. Brands like Shure, Sennheiser, and Audio-Technica offer quality options. For professional settings, dynamic microphones like the Shure SM7B are favored for their crisp speech reproduction.
What is a good microphone for kids?
A good microphone for kids should be easy to use, durable, and entertaining. Options like the Niskite microphone or the VTech Sing It Out Karaoke Microphone are popular choices. They offer features like built-in songs, voice-changing effects, and colorful lights to make singing and playing more enjoyable for children while fostering creativity.
How much is a microphone for kids?
The price of a microphone for kids can vary widely depending on factors like brand, features, and quality. Basic toy microphones can be found for as little as $10-$20, while more feature-rich options with better audio quality may range from $20 to $50 or more. Professional-grade kid-friendly microphones can be even more expensive.
What character microphones are available for kids?
There are various character-themed microphones available for kids, featuring beloved characters from popular franchises. These include Disney princess microphones, Paw Patrol microphones, Frozen microphones, Spider-Man microphones, and more. These character-themed microphones often come with fun sound effects and built-in songs, adding an extra layer of excitement to singing and playtime for kids.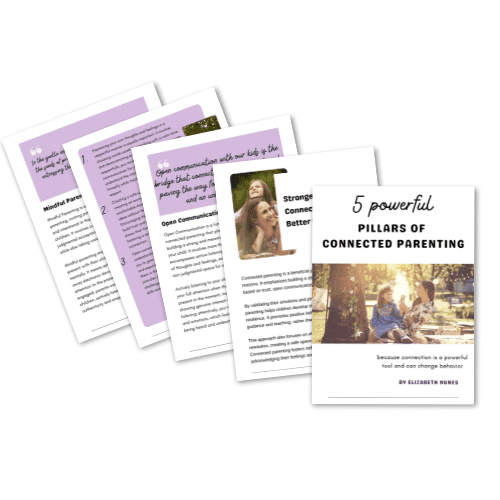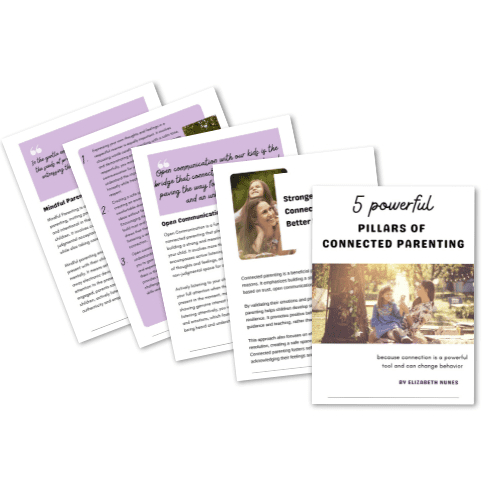 Free Download
Take your parenting journey to the next level with our comprehensive ebook on Connected Parenting.
Download this ebook now and embark on a transformative parenting experience that will strengthen your bond with your child and bring joy and fulfillment to your family life.
More Like This