Perseverance is a valuable life skill that can make a huge difference in a child's success and happiness.
But let's be real, it's not always easy to teach kids the importance of sticking with something even when it gets tough.
That's where books come in!
Reading stories about characters who overcome obstacles and keep trying despite setbacks can be a powerful way to inspire children to develop their own perseverance.
Plus, who doesn't love a good book?
So, I've rounded up a list of 18 books that teach perseverance and that kids will absolutely love.
From picture books to chapter books, these stories are filled with relatable characters, engaging plots, and important life lessons.
Get ready to add some amazing titles to your child's reading list!
This post may contain affiliate links. Full privacy policy and disclosure here.
Why Is Perseverance Important To Kids
Perseverance is a vital skill for children to learn since life is full of obstacles, and perseverance is what allows you to overcome them and achieve your goals.
Sometimes the challenge is something physically demanding, such as raking the entire yard or staying strong at the end of a long sports event.
It might be difficult for your mind to focus on something you need to do when you really want to be doing something else, such as learning a new arithmetic equation or keeping focused on something you need to do when you really want to be doing something else. Emotional obstacles arise from time to time, such as when a pet dies or a friendship ends.
Perseverance is crucial no matter what the struggle is since it is the drive that allows you to go beyond the obstacle and onto the easier part on the other side. Even when it feels impossible to overcome a hurdle, perseverance will see you through to your objective and the satisfaction that comes from knowing you tried your best.
Taking the easy way out by cheating, resigning, or ignoring a situation will not solve the problem. It simply means you'll have to deal with it at a later date. Perseverance allows you to get through a difficult situation and gives you the nice feeling in your heart that you did the right thing.
If you need a good resource to share with your kids, I have just the thing for you! Global Tinker's Mini Meditations for Kids is a mindfulness podcast series that is designed to help children develop a growth mindset.
The meditations are short, lasting about five minutes, to keep children's attention. They are also free and easy to access. The meditations provide functional tips, breathing exercises and mindfulness techniques to help children in different situations such as taking a test, making mistakes and dealing with general anxiety.
The series is an offshoot of the award-winning animated series, The Paper Girls Show, which aims to empower children to be resilient, confident and curious learners. The podcast is a great tool for parents, educators and caregivers to introduce children to mindfulness and help them develop a positive attitude towards making mistakes and growing from them.
Children's Books That Teach Perseverance
Have you ever wondered what happened to Humpty Dumpty after he threw himself to the ground?
Dan Santat's touching novel continues where the timeless classic left off. Humpty Dumpty is terrified of heights as a result of his famous fall, which stops him from performing some of his favourite things.
One day, he gets a wonderful idea: to build an aircraft so that he may once again enjoy flying. When his hard word fails to go as anticipated, he faces his worries and climbs the wall once more. This is an inspiring story that has an important message about overcoming adversity.
A story by Deloris Jordan and Roslyn Jordan. Michael believes his diminutive stature is the reason he isn't particularly good at basketball.
To help him grow, his mother advises putting salt on his shoes and saying a prayer. Months pass, and he hasn't grown any taller. Finally, when speaking with his father, Michael realizes that being taller isn't everything; practice, determination, and putting up your best effort are what actually matter. And the rest is history for Michael Jordan…
I am really enamoured with his pictures since they are so different. Many various skin tones, races, cultures, and impairments are represented. Representation is crucial, and this book excels at it. I really like the affirmations for kids that emphasise compassion and acceptance of others in addition to having a development mentality. This book is really fantastic!
A girl sets out to create the most lovely thing imaginable — shouldn't it be simple? She already understands how it will work; all she has to do now is put it together. Making this most amazing object, however, proves to be anything but simple, as she tries and fails numerous times. She eventually becomes enraged and decides to leave. However, after her dog persuades her to go for a walk, the girl returns to her creation with a new perspective and manages to perfect it.
This is the tale of thirteen American girls who overcome adversity to become incredible women who shaped our country. They achieved this by continuously standing up and speaking out for what was right, even when it was difficult or unpopular.
Harriet Tubman, Helen Keller, Clara Lemlich, Nellie Bly, Maria Tallchief, Claudette Colvin, Ruby Bridges, Margaret Chase Smith, Sally Ride, Florence Griffith Joyner, Oprah Winfrey, Sonia Sotomayor, and one additional inspirational woman are among the women included in Chelsea Clinton's book.
Little penguin is determined to fly; after all, why can't he fly like other birds? He enrols in a flight school to learn how to fly, and despite finishing last in his class, he maintains his determination and ambition of flying. Finally, with a little assistance with the technical aspects, the tiny penguin realizes his dream of being able to fly.
Luigi is the quickest barefoot runner on Philadelphia's Regent Street. He's beaten everyone, including Mikey, a quick kid from another area. However, Luigi is confronted with a true challenge – one that is even a little frightening – when his title as the fastest barefoot runner is challenged.
After losing all of their furniture in a fire, a young girl, her mother, and grandmother have dedicated themselves to saving their spare change in order to purchase an easy chair. After a long day of work, their perseverance pays off, and the mother now has a comfy chair to relax in in the evenings.
Grace enjoys stories of all kinds, and she often acts them out after hearing them, often playing the most interesting role. Grace knows exactly who she wants to be when her instructor informs the class that they will be performing the play Peter Pan.
Others, though, disagree: "You can't be Peter – that's a boy's name," says Raj, a student. Grace is told by Natalie that she can't be Peter Pan since she's black. Grace's mother and grandma try to encourage her at home, hoping to restore her confidence just in time for tryouts. Grace eventually discovers that sticking to her dream, despite what others think or believe, pays off.
This narrative encourages young children to attempt new things, invent new things, and never give up. The reader can deduce from the graphics that Rosie's great-great aunt Rose is World War II's Rosie the Riveter. This book provides several possibilities to address female scientists as well as the importance of helping others when they experience difficulties.
Written by Willian Steig this fantastic story is about a seemingly impossible mission. Irene is a little girl who is tasked with delivering a gown to the duchess, but there is a strong snowfall brewing and the wind is howling.
Nonetheless, Irene sets off on her objective. Irene ultimately makes it to the palace after overcoming immense odds and is rewarded with a hot lunch, admiration, nice words, and the satisfaction of having finished her job.
The biography of Vasily Kandinsky and his journey to becoming one of the first abstract artists is told in The Noisy Paint Box. Kandinsky's painting was initially rejected, but with enough patience, persistence, and deviance from the norm, he eventually broke through to become a well-known artist.
Bert, a bird, is a little anxious about jumping off a branch into the water below in this simple narrative. He thinks about what he's doing before taking the plunge, only to discover that what seemed terrible at first wasn't so horrible after all.
Henri Rousseau's Fantastic Jungles relates the story of Henri Rousseau, who began painting at the age of 40. Despite never having taken painting school, Rousseau is dedicated to learning about art in this book. And, despite constant criticism from art experts, his resolve to keep developing his trade. Artists do not begin to appreciate Rousseau's work until he is 61 years old. Not only will children learn about this famous artist, but they will also understand how keeping loyal to oneself and not allowing defeat to get in the way helped Rousseau become the famous artist he is today.
A young boy wishes to catch a celebrity. He tries everything he can to catch a star, including jumping up and grabbing it, using a life preserver as a lasso, and then considering additional options such as utilizing a spaceship or enlisting the help of a seagull. In the end, the boy's request is granted in an unexpected manner.
The biography of Henri Matisse and his quest to become a great artist is told in Colorful Dreamer. Henri was regarded as a dreamer as a child, with no prospects or potential. While he continued to paint, his parents were not optimistic about his prospects.
But as he travelled the world and continued to pursue his passion of painting, more and more people noticed. When he became unwell and was no longer able to paint, Henri began making art out of colored paper cutouts. This storey demonstrates how patience and drive, even in the face of adversity, may pay off.
Ashley Spires depicts the delay, excuse-making, and denial that youngsters frequently exhibit when faced with a new or difficult task. Spires' book also highlights the tremendous sense of strength and progress that comes from overcoming new obstacles. Lou's pals show compassion throughout the novel as they patiently assist Lou.
He was born with one malformed limb in Ghana, West Africa, and was disregarded by most people—except by his mother, who encouraged him to pursue his aspirations.
Emmanuel walked more than two miles to school each way as a child, learnt to play soccer, left home at thirteen to support his family, and finally became a cyclist. In 2001, he cycled an incredible 400 kilometres throughout Ghana, sharing his compelling message that handicap is not inability.
Today, Emmanuel continues to advocate for the disadvantaged, and this is one of my favourite books for children about disability!
How To Teach Kids Perseverenace
While books are an awesome tool for talking to kids about perseverance, here are some more tools for your parenting toolbox to help your kids learn how to use intrinsic and extrinsic motivation to help them persevere in tough situations.
Get To The Point
Begin by identifying areas in which your child already uses goal-setting approaches. If you find that your kid has managed to save enough money to purchase a video game, for example, talk to him about the steps he has to take to get it. Talk to him about how satisfying it is to complete something you've worked hard for. Then, talk about how these same strategies can be used to other problems.
Start Small
Assist your child in coming up with a fun objective that she can attain in a short period of time. Maybe she'll finish a book she's been working on or finish a craft item she's been working on.
Allow Kids To Choose
Even though you want your child to make the honour roll, you should let her pick what she wants to accomplish. Then you can assist her in devising a strategy. Obviously, some objectives will necessitate more of your participation. If your child wants to learn to figure skate, you'll have to assist her in setting and achieving her goals.
Talk About Failure
When children misjudge how difficult it is to achieve a goal, they become frustrated and disheartened when they fall short. Encourage but be realistic if your child wants to learn to play the guitar, for example. Make a list of the difficulties and the time commitment required. The purpose isn't to make the task appear overly difficult, but to share in the gravity of the project by assisting in its planning.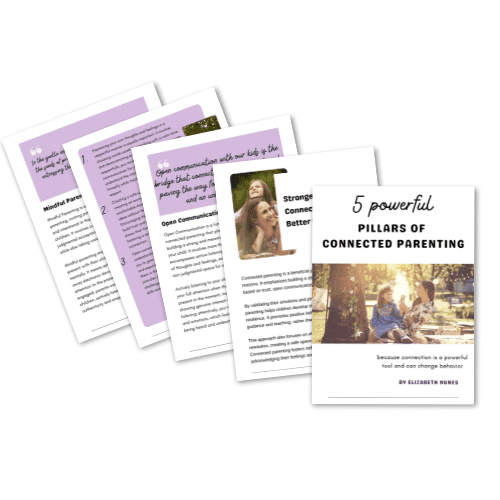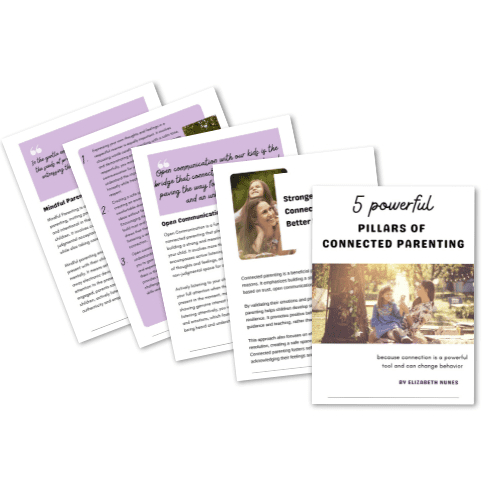 Free Download
Take your parenting journey to the next level with our comprehensive ebook on Connected Parenting.
Download this ebook now and embark on a transformative parenting experience that will strengthen your bond with your child and bring joy and fulfillment to your family life.
More Books For Kids