This post may contain affiliate links. Full privacy policy and disclosure here.
A great way to start an after school routine. Meltdowns after school are common and normal. Here are some proven strategies to help you get ahead of the meltdown and help your child cope with overwhelm and stop the after school backtalk and attitude.
After school time provides a precious opportunity for kids to develop their own interests, explore new hobbies, and engage in activities that will support them as they grow. It's also the perfect time to set up a routine to help your child continue working towards their goals independently.

The after school routine is an essential part of maintaining a healthy balance in your kid's life. It allows them to know what they need to do at particular times of the day and how this impacts the rest of their schedule.
An after school routine can also have a positive effect on your child's life by making certain tasks more convenient or even assisting them with responsibilities they may struggle with alone.

With the right structure, an after school routine can be a catalyst for growth and development and help your child transition into adulthood successfully.
See also: How To Establish A Daily Routine That Is Beneficial To Your Family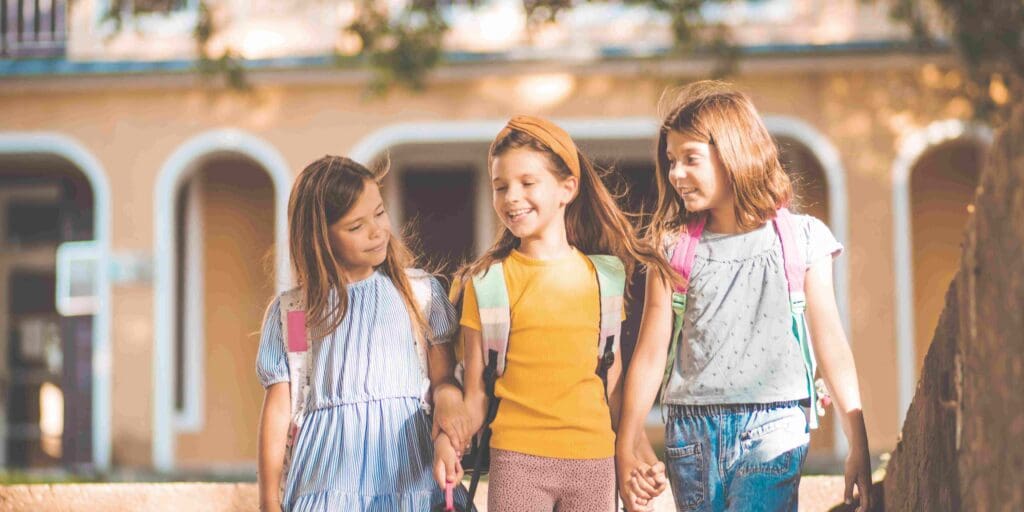 Why is a consistent after school routine important?
An after school routine can have a positive effect on your child's life by making certain tasks more convenient or even assisting them with responsibilities they may struggle with alone. A consistent after school routine means your child knows what to expect and can plan accordingly accordingly.
Your child will also have time to decompress from the day, unwind, and transition into their bedtime routine. A consistent after school routine can help your child manage their time by providing them with a clear structure. It can also help them develop independent skills, progress towards their goals, and feel a sense of accomplishment.
An after school routine can also help your child feel more comfortable and confident. By having a set structure in place, your child will be able to understand the difference between work, play, and relaxation times.
This can help your child stay focused during class and make them feel less stressed when they know there is an after school routine waiting for them when they get home.
What Should Be Included in an After School Routine?
Every child is different, so it's important to create your after school routine with your child's unique needs in mind. Most importantly, your after school routine should be inclusive. It should be something that your child feels connected to and wants to be a part of.
To ensure your after school routine is the right fit for your kid, you'll want to consider the following: – Your child's goals – How your child likes to unwind – Your child's interests – Your child's responsibilities
Important Aspects Of Your After School Routine
Your after school routine should reflect the priorities and goals you want your child to build towards.
There are many ways to structure the perfect after school routine for your kids, but make sure it is something they can follow through with. It should include activities that are engaging and that kids want to do.
They should also be able to finish their routine on time and ready for bed at a reasonable time. When it comes to creating an after school routine, there are no hard and fast rules.
The most important thing is that your child feels connected to their routine and is able to follow through on it. That being said, the above recommendations can help you create a strong foundation for your child's routine.
Food First
My child is usually hungry when he gets home from school, so an after school snack is the first thing on the to-do list before homework assignments. This was especially true in kindergarten when his lunch was served absurdly early and his mid-afternoon snack was insufficient to keep him going.
Kids need to fuel their bodies to get through the school day and any after-school activities, even if it's simply playing at home and doing homework. After school, a quick bite of a healthy snack to keep you going is the best thing.
Sprinkle In Responsibilities
Incorporating responsibilities for kids into their after-school routine can provide an opportunity to build their self-esteem and sense of accomplishment.
Giving kids tasks, such as helping pick out a snack or anything similar, provides them self-esteem and a sense of purpose, and they like feeling that they can achieve things as well as we can. They are enthusiastic and eager to assist if given the opportunity at an early age.
Homework
Right away, parents should assist their children with schoolwork as soon as things are settled and out away. It's crucial to keep distractions to a minimum and ensure that children focus on their assignments.
If they do it right immediately, they won't feel rushed or have to stay up later to finish it. Additionally, if the school sends out any reminders regarding supplies or tasks that need to be completed, it provides me with the opportunity to take care of them right away and eliminates the power struggles that happen if we have to do homework after dinner time.
See also: The One Thing You Need For A Chaos Free School Morning Routine For Kids
Make Time For Chores
If you're having trouble motivating your kids to perform chores after a long day at school (since they're probably fatigued), tell them that getting their tasks done will allow them to spend the remainder of their evening doing activities they like.
Evening Walk/Exercise
Make time for daily exercise. Exercise can help your child focus, be more productive, and improve their mental health.
Exercise can also contribute to a more restful sleep, which is important as your child is transitioning into adulthood. Exercise can be as simple as taking a long walk outside. Ideally, you want to make sure your child is getting at least 60 minutes of exercise per day.
You may want to consider monitoring your child's calories and nutrition as they enter their teenage years. As kids grow, they naturally need more calories, protein, and nutrients than they did as younger children.
Exercise is also an important part of honing your child's motor skills as they prepare for adulthood. Consider setting aside time for exercise in your child's after school routine.
Free Time
Make time in your after-school routine for them to decompress for 20 to 30 minutes.
They could, for example, sit outside beneath a tree, watch a movie, snooze, or play with their LEGO toys or have a little family time as it is one of the most important things. Of course, some children will require more time than others, but recognizing that rest and restoration are necessary for healthy growth on a daily basis is a vital aspect of purposeful parenting.
Organized Activities
Research published in the Journal of Sports Medicine showed that participating in extracurricular activities and organized school sports can give "an emphasis on enjoyment while building a balance between physical fitness, psychological well-being, and life lessons for a healthy and active lifestyle." Of course, all of these factors are critical to a children's general growth.
Allowing your child to engage in an organized activity after school provides them with an additional chance to connect with their peers and blow off steam after a full day of studying.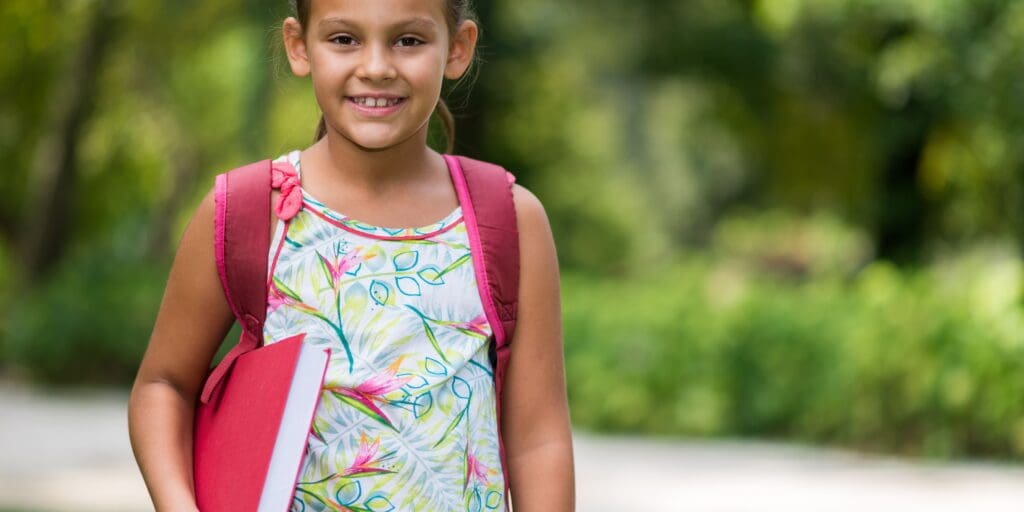 After School Routine
When children come into the house after a full day of school (hey even after a half-day of school), they simply have no energy to deal with life and experience the after-school restraint collapse.
But don't let that happen!
Set up a few things that NEED to get done before they go off to their room or park their butt on the couch.
The first thing on our after-school schedule for home is to put away our shoes and backpack, and then unpack the lunch bags.
Once that is entirely completed, they are allowed to have snack time. Sometimes I'll put together a snack for them, other times it's fend for yourself and pick something out of the food we have.
It's usually a good idea to allow some time to consume snacks and relax before starting the evening hustle and before school work.
Every household will have a different evening routine, but the basics are usually :
Set Up For Dinner
Help Cleanup After Dinner
Complete Homework
Take A Shower
Brush Teeth
Off To Bed
My thing is if all the items on the list are completed at the end of the day, and they are all ready for the next day, then 30 minutes of electronics are ok with me.
Creating a routine like this sets them up for success in the future.
This helps them be more productive now with a healthy routine, meaning they can be more productive in their adult life too.
I understand that an after-school routine for an 8-year-old will look different than an after-school routine for a 12-year-old, so feel free to use this routine as a guideline.
It is a great idea to come up with a schedule that works well for your family. It doesn't have to be fancy either; pen and paper schedules work fantastic too.
Another thing you can do as part of your after-school routine is to ask your child engaging questions about their school day.
This will help your little one open up and get comfortable talking to you, which will help later in life when they need to discuss more difficult things.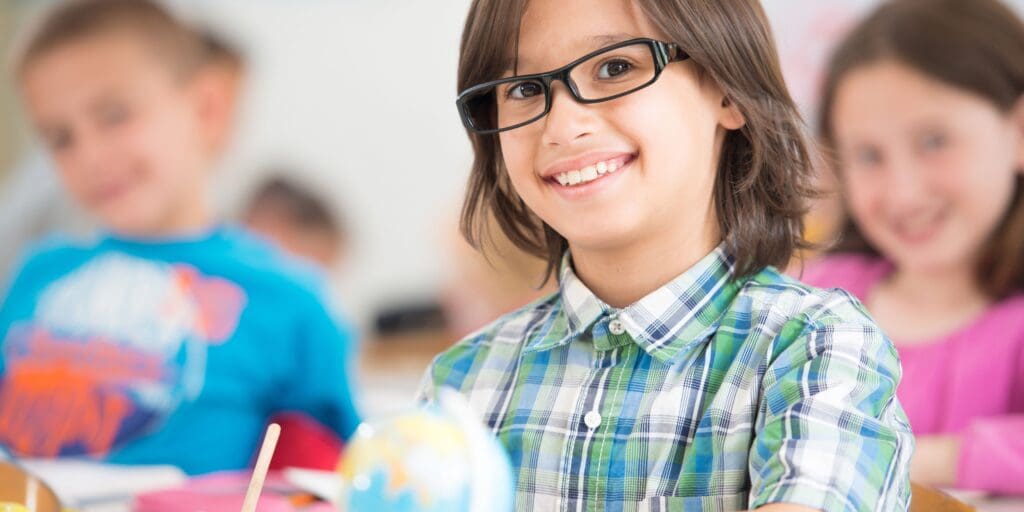 Our After School Routine Schedule
This is an after school checklist for Kindergarten and grade 2 that we use in our home and have it posted by the front door.
Hang up backpack and coat
Put away shoes
Empty lunchbox
Wash hands
Have a snack
Set the table for dinner
Finish homework
Clean up after dinner
Pack backpack for the next day
Relax before bedtime routine
Here is a chart of this simple routine you can use in your own home if you like! Enjoy this free routine chart for young children and I hope you can use it in your daily schedule.
CLICK HERE FOR THE PDF VERSION!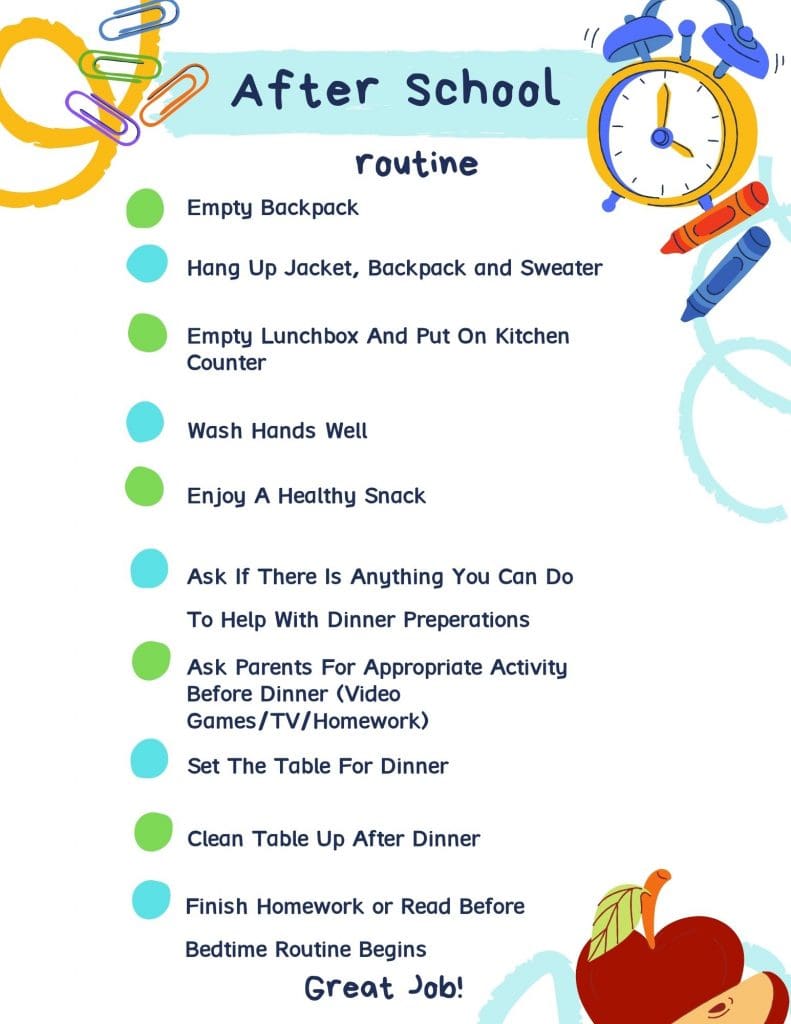 This schedule can be applied for kids who need to curb toddler tantrums after daycare too and is fairly easy to add to existing family routines.
If you need more inspiration, check out how this mom of 4 rocks her after-school routine with 4 kids!
How After School Routines Improve Behaviour
Routines give the opportunity to grow external structures
As adults, we can multi-task due to a part of the brain that's called executive functioning.
This basically means that the brain is able to identify the problem, solve it and come up with a solution to prevent it from happening again.
We aren't born with this brain. We need to nurture it to develop from early childhood. Routines help with this as they provide structure and knowledge of how to manage daily life at home and at work.
See also: The One Way Positive Parenting Can Encourage Personal Development
Routines Put Us On Autopilot
Having a routine takes away from having to make more decisions than necessary in our daily lives.
Putting some of the mundane aspects of our day-to-day on autopilot helps us solve the problems that are different daily, and the expected tasks still get completed without thought.
Routines Nurture Independence
Once children learn and understand their routines, they no longer need hand-holding for the next step. Therefore they become independent little beings that know they have clear expectations from you.
Having a morning routine, an evening routine, an after-school schedule for kids, and so on helps children learn the expectations of life, and they can learn to "Adult" (as the kids say..).
Whether your kid is in Kindergarten or High School, they all need constant reminders after school.
Put an end to the nagging with an excellent after-school routine which you can begin at the start of a new school year or anytime for school-aged children if you need help or a different routine mid year.
If you can start an after-school routine at an earlier age, that will help a lot when your child is older and seemingly lazier.
I mean, isn't it common sense to put your backpack away and not throw your shoes in the middle of the floor after school? I guess not, since kids don't seem to be able to handle that kind of responsibility without constant reminders. An excellent routine chart will help you instill good habits in your child.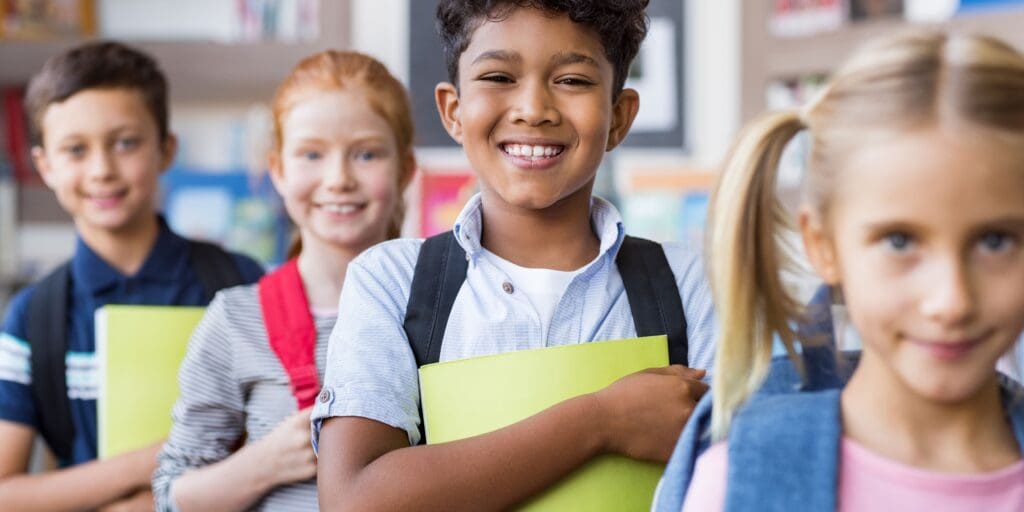 Conclusion
An after school routine provides your child with a clear structure that can help them develop independent skills and progress towards their goals. Your after school routine should reflect the priorities and goals you want your child to build towards. It should also be inclusive, allowing your child to participate in the parts of their routine that they enjoy.
Free Resource For You
I've created a free pdf just for you! If you are struggling with finding a routine, a rhythm or a schedule for your toddler then this PDF will help you find one that will work for your family.
This free pdf will help you
See sample routines for kids
Teach your child to follow a set routine
Help beat bedtime battles
All you have to do is download and print