Full Positive Parenting Solutions Parenting Course Review
A review on the positive parenting solutions for toddlers and big kids alike. This course helped improve my family life with a proven success system so I can be the best parent to my children, and you can too.
First of all let me say that I absolutely loved the positive parenting solutions course. Over everything that goes on in parenting. From handling whining and complaining kiddos to handling really big explosive behaviors.
My favorite part about her teachings is that she does not want you to handle negative behavior in a terrible way she practices positive parenting which is what this entire website is all about.
Now I am not a parenting expert but I get a lot of my information from parenting experts like Amy McGrady the author of positive parenting solutions who can help you be a good parent.
In 7 steps Amy goes over how how to mix all the negative behaviors that you might be facing. Each step takes a little while to get through there is definitely some self learning that you'll need to look into and do some reflection.
Amy's entire objective is to help young children become confident and be capable and feel like they've grown up in a loving and firm home. Let me be clear that this course is not about being a permissive parent and just letting your child do whatever the heck they want. This course focuses a lot on setting limits and setting boundaries that help your child grow into the best person.
This is a very long review but if you want the nitty gritty of it all here it is.
This course is great for parents who are busy and only half of them an hour each day to dedicate to learning how to be a better parent. There are 7 steps in this program that help you realize who you are on the inside and help you parent your children in a more effective and better way.
Amy tackles difficult behaviors common sibling rivalry issues and how to teach your children to be kind and respectful human beings using a proven success system.
One last thing before you go on and read all the nitty gritty details about this amazing course I want to let you know that this course goes to show you exactly how a young child feels when negative punishment and discipline strategies are being used on them.
It really puts into perspective how important it is to practice gentle and positive parenting strategies with children. You'll never be a perfect parent, but you can strive to be the best parent for your child which is the most important thing.
More Parenting Resources You May Enjoy
This post may contain affiliate links. Full privacy policy and disclosure here.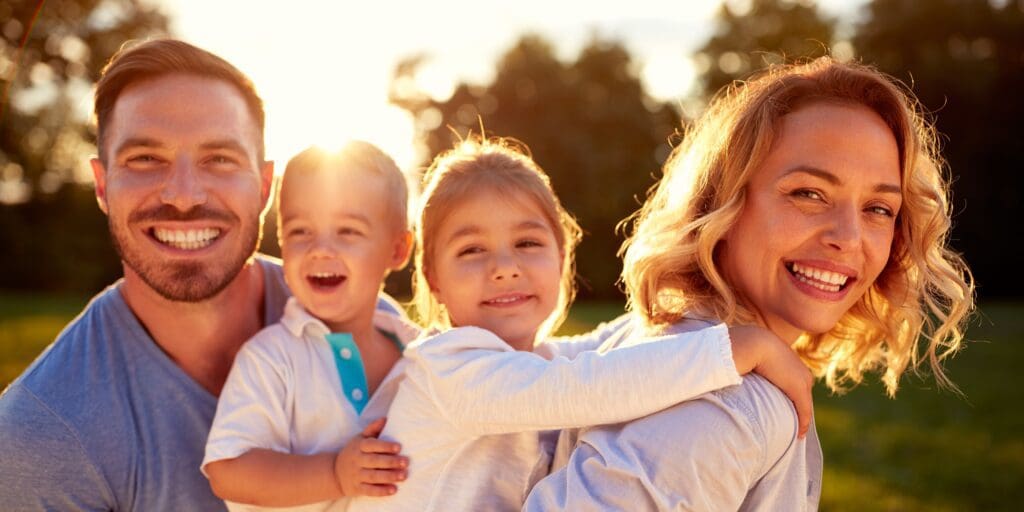 With Positive Parenting Solutions, We Can Say Goodbye To Stressful And Uncertain Parenting Practices And Say Hello To A Peaceful, No Yell, Home Environment.
Because I've actually taken this course and experienced it for myself I can help you decide if this is a good course for you to help you in your parenting journey.
After reading this guide you will be able to decide for yourself if this is something that you really need and if you are still a little bit apprehensive because the cost can be a little bit high for some families there is a free one hour webinar that Amy hosts which could be a really good next step for you if you're interested in learning more about this program.
Overall, Positive Parenting Solutions is an online course that will arm you with tools to help you When you are finished with the positive parenting solutions online course you will have all the tools that will help you through those challenging parenting moments that you're facing today and that you'll face tomorrow.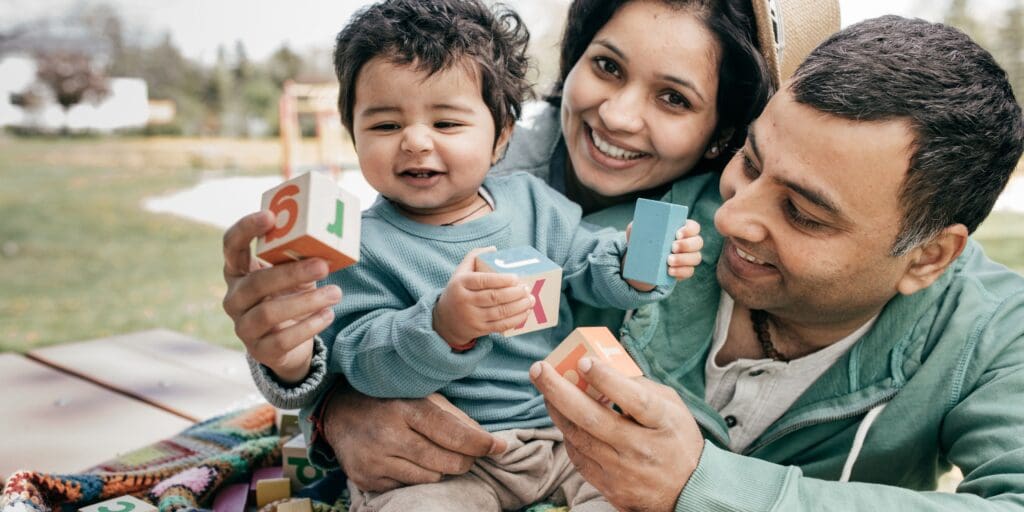 Why Positive Parenting Solutions? What is Positive Parenting Solutions?
It uses only Positive Parenting Strategies: Amy is very much against shaming and using negative punishment. She goes over strategies that are positive and respectful for children.
It works for children of all ages: this course is great for children ages 2½ all the way up to 16 years old. Amy also goes over a lot of different challenges that parents face throughout all the different ages and stages.
There is a lot of information in bite-sized videos: Amy is very thorough in her teachings and goes deep into different ages, behaviors, and parenting principles. This means this course is very valuable and there is a lot to learn without feeling overwhelmed.
It's an established parenting course with a proven track record: This course has helped over 75,000 families already, so there is no reason it won't be able to help you as well.
Amy McCready is an experienced parent coach: Amy McCready is a certified Positive Discipline Coach. She has been helping families for over 15 years and has 2 best-selling parenting books on Amazon which both have 4-5 star reviews.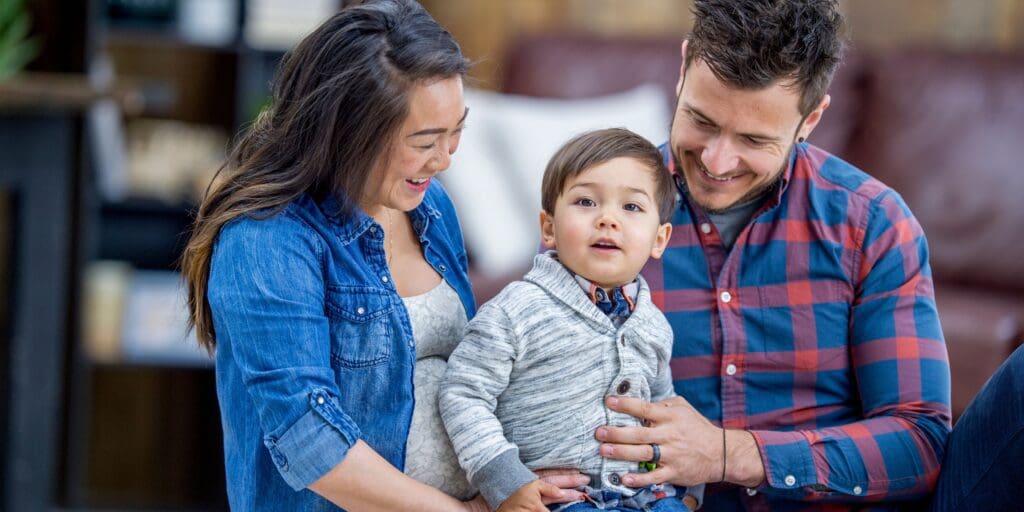 An Overview of Positive Parenting Solutions Parenting Course
If you're asking yourself why would you choose positive parenting solutions and what exactly does positive parenting solutions even teach, Then you're in the right place and I'm going to break everything down for you.
Positive parenting solutions only uses positive parenting strategies which do not include any sort of shaming and negative punishment tactics.
Positive parenting solutions is also a course that works for children of all ages from 2 and a 1/2 all the way up to 16 years old and I'm sure you can also use it for your children as well.
What I really like about this course is that the information is in bite sized videos these small videos are very deep and they are so thorough and they go through all of the parenting principles that are so important in gentle and positive parenting.
This parenting course also has an approval track record it's helped over 75000 families already and there is no reason that it is not able to help you as well.
Last but not least aiming McGrady is an experienced parenting coach. Amy has been helping families for over 15 years and she has 2 best selling parenting books on Amazon which both have 4 to 5 star reviews.
Who Can Benefit From Positive Parenting Solutions
If you're wondering who this positive parenting solutions course is for then let me tell you that it's for parents who have tried everything and are soul frustrated and have gotten nowhere in their parenting efforts.
I'm sure you're wondering how this particular course will be any different than any other books or other courses that ye may have read and taken.
There are so many testimonials that you can go and read over yourself on the positive parenting solutions website so you can hear from real parents who had tried everything and have been so frustrated with their parenting efforts just like you that have taken this course and have found a lot of success with it.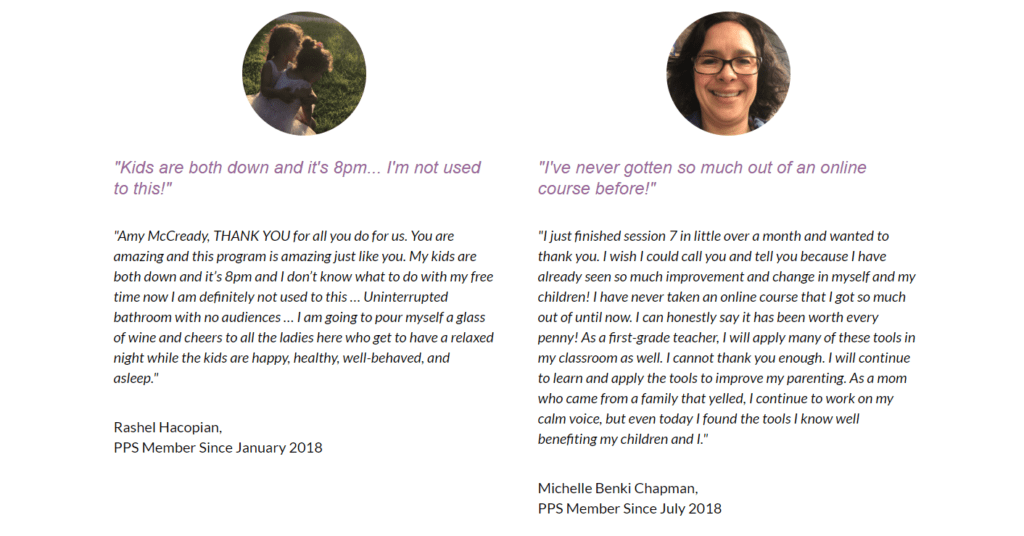 Amazing Free Parenting Class Everyone Should Take
Before you go and do a deep type into the content of the positive parenting solutions course you might want to take a look at the free parenting class that Amy has available.
This parenting class is about an hour long and then you have a chance to ask questions after words from the coarse leader Amy.
This is a full on lesson that teaches parents strategies that they can implement right away and see an improvement in their home life. This free class focuses on getting your kids to listen without using nagging or yelling strategies.
Even if you've already made up your mind to purchase this parenting class you should definitely still take the free class that's available because it is a golden nugget that every parent should listen to.
Click This Link To Check Out The Free Class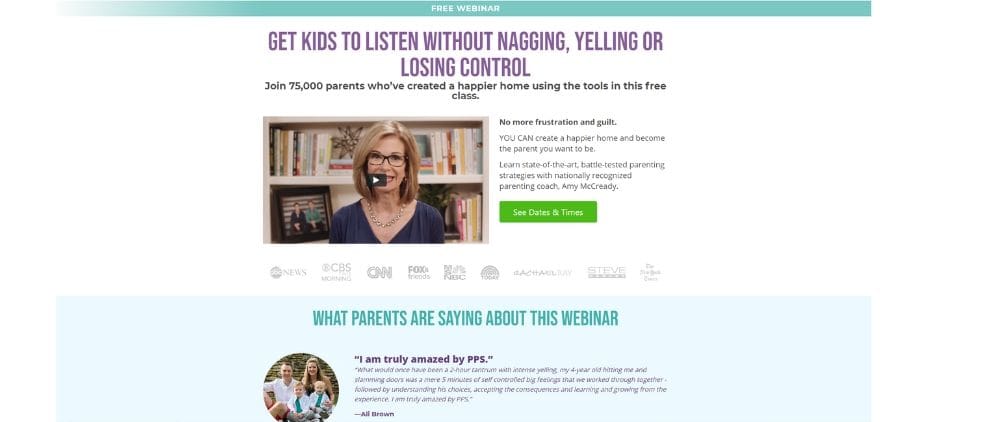 Who Is Amy And Why Did She Create Positive Parenting Solutions
Amy McCready is the Founder of Positive Parenting Solutions and the best selling author of The "Me, Me, Me" Epidemic – A Step-by-Step Guide to Raising Capable, Grateful Kids in an Over-Entitled World (Penguin, August 2015) and "If I Have To Tell You One More Time…The Revolutionary Program To Get Kids To Listen Without Nagging, Reminding, or Yelling". (Penguin, 2011). She is a regular contributor on The TODAY Show and has also appeared on Rachael Ray, CNN, CBS This Morning, Fox & Friends, MSNBC, and elsewhere.
In case you may ask: these books are not included in the online course and would need to be purchased separately. They are good companions to the course, but the course is much more in-depth.
I Personally Loved The Positive Parenting Solutions Course!
Positive Parenting Solutions is presented in the form of online video, created by parenting educator Amy McCready. She has been featured in the TODAY Show, Fox And Friends, CNN, and so many more amazing shows.
Amy takes you through 7 sessions, where she teaches parents why our kids behave in specific ways, how to decode the behavior, and how to peacefully resolve the issue.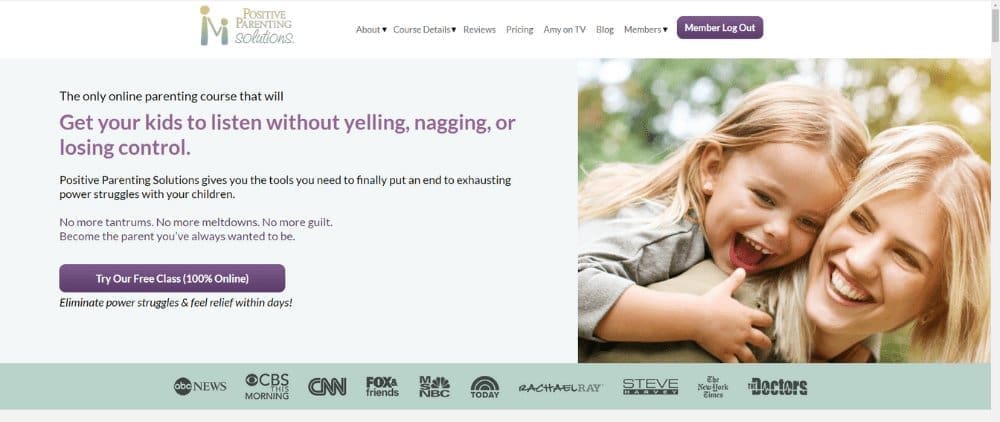 I'm sure you can tell already that I absolutely adored the positive parenting solutions course.
This course goes to 7 different sessions where Amy McGrady teaches you and taught me why kids behave in specific ways how parents can decode that particular behavior and how parents can peacefully resolve the behavior issue.
The course is very easy to understand however some of the topics will be a little bit more difficult to implement based on the person that is taking them. If you have a lot of childhood trauma from the way that you are raised you might have to dig a little bit deeper in order to get through the corporate principles of this course but if you do the hard work you will be rewarded in your family life.
The entire concept of this course is to help you create a peaceful family environment where you have kids who are who listen and who are kind and you're not nagging and yelling at them all day everyday.
Aimee McGrady also features a series of expert series and specialty modules that focus on topics such as keeping kids safe from bleeding at school and resources to help an anxious. These are very important issues that need to be addressed if you are facing them and while Amy doesn't have the experience to talk about it she does have experts on the course that talk about that.
I absolutely love the downloadable workbook that comes with this course so you can follow along with the class you can take notes and you can soak in all the information. The positive parenting solutions workbook is also an excellent reference point if you ever need to go back and try to remember what you learned if you have forgotten in stressful situations.
I'm not ashamed to admit that I have gotten through my notebook a few times since I've taken the course few years ago. It's actually a very helpful resource and I have it at my computer desk so I can reach into it any time I need to without going back to the video lessons.
Another perk of the positive parenting solutions course is the ask Amy coaching calls where members can get their questions answered in a weekly webinar and the recording is made available to members who purchase the gold membership. The gold membership is the highest tier of membership and is the most expensive so if you have the funds I would definitely go for that because just the ask Amy coaching calls are very value.
As well in the gold member's membership you get access to the Facebook page so you can talk to other moms who are going through the same things that you might be going through and other parents solutions on what they did to help them through specific behaviors.
I'll go over the individual lessons within the full course which have real life examples on tackling difficult behavior.
I know online course parenting is intimidating at first but honestly, it will give you less stress and help you fight those technology battles and sibling conflicts with ease. Not to mention the private facebook group where parents are constantly discussing solutions and problems they face daily with their children.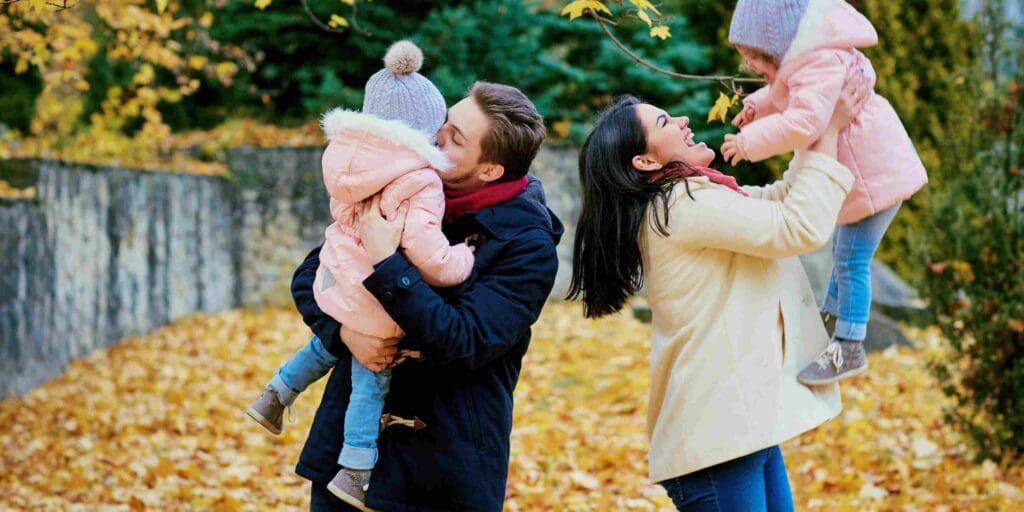 What's Inside The Positive Parenting Solutions Course?
Session One: Behind the Behavior: Your Kids, Explained!
I know there's been a lot of information to read before you've even gotten what's in the nitty gritty of the course but I think that all the information that I've given you so far is vital. But without further ado let's take a look inside the positive parenting solution course.
Session one is called behind the behavior your kids explained. This is an entire section that help you get to the root of the behavior so you can be consistent in how you correct this situations.
This is a soft introduction to the positive parenting solution course and goes over the different parenting styles the effect that birth order has on specific behaviors or child may be facing and how you can personally affect the way your children react based on your personality. You can take a parent personality priority assessment in this session which plays an important role for the kind of parent you can become.
Your parenting style is actually really important in the way that your child behaves at home and you can learn about all the different styles of parenting and why some parking styles are better than others.
There is also a parent personality assessment in this module and you can figure out your specific parenting style just in case you don't know what your parenting style is and you also get introduced to the strongest and most powerful tool that focuses on this course focuses on which is a great beginning to your new parenting journey.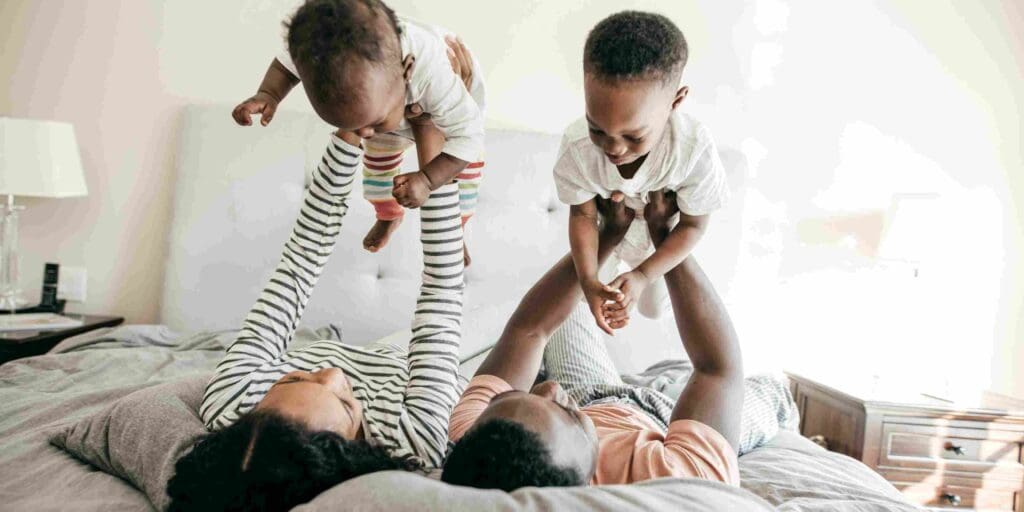 Session Two: Encouraging the Best in Our Kids
The 2nd session is called encouraging the best of our kids and it is a really eye opening session because you'll learn how your children actually see you in the home and how it feels when they're feeling overpowered and discouraged by the way that you may be parenting them right now.
This is one of the most powerful sessions for me because it really showed me how children perceive some an adult who is authoritative and uses negative punishment and yelling as a form of discipline. Amy makes great videos that really show the fear that these children face.
Amy also talks about the 7 ways we discourage our kids and why you can ditch rewards as a way to get your kids to listen and behave at home.
This also kind of ties into how you could be raising a praise a junkie and she goes over all the things that actually kill encouragement of a child.
This is a section where she goes over chores or as she calls them family contributions and whether ye showed or ye should not use allowance at home.
Session Three: Revolutionize Your Routines: Regain Control, Let Go of Guilt
Another section that was very powerful to me personally was section 3 which is about revolutionizing your routine so you can regain control of your life and let go of all the guilt that you may be facing as a mom.
Amy goes into details on how to deal with disrespectful backtalk how to fix common power struggles at home in just 10 seconds and how routines can improve behavior and also be saving your sanity.
Amy goes into detail about mastering those morning after school and bedtime routines to reduce bedtime battles that I talk about so often as well and how those kinds of routines are a very integral part of your parenting journey.
In this section Amy also goes over how to create successful consequences and how to use the remove and redirect strategies in your house as well.
Session Four: From Power Struggles to Peace: How to Handle Extreme Behaviors in a Positive Way
If you're facing constant power struggles at home with your child then session 4 which is all about power struggles and how extreme behavior can be handled in a positive way.
In this section Amy goes over how to handle common whining and interrupting behaviors and children and how you can handle it without losing control and yelling at them.
When your children have behavior issues and outbursts they are asking for a reaction from you Amy goes over all of the reasons why they may be doing the behavior they're doing and what kind of reaction they're expecting out of you and how you can react in a way that won't encourage them to continue the bad behavior.
If you have a child at home who are you are constantly facing power struggles with then this lesson is going to be your most important lesson.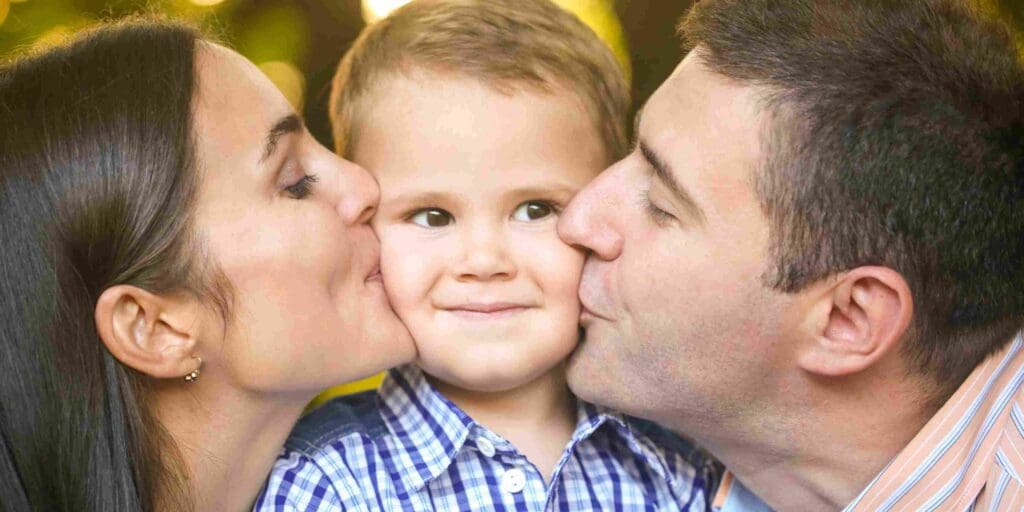 Session Five: Transform Sibling Relationships: From Enemies to Besties
Amy McGrady also loves to talk about sibling relationships in the home.
She goes over how children can interact with friends and family how to resolve common sibling conflicts and conflicts and how you as a parent could be adding fuel to the sublime fire without even knowing.
Amy has tools for you to strengthen the bong between the siblings as well which will in turn help you create a more peaceful home.
Session Six: The Family Harmony tool: Calm The Crazies, Fire Up The Fun
Parenting positively also includes family harmony and in session 6 Amy McGrady talks about family harmony tool which comes the crazies and fires up the fun.
In this session Amy talks about increasing empathy in your home and building your child's leadership abilities.
This means you can shift your focus from the individual child over to your family as a whole unit and you'll find all the most effective tools for family problem solving and strategies for family negotiations should you need some.
This session also includes how to increase empathy within your home and build leadership abilities in your children.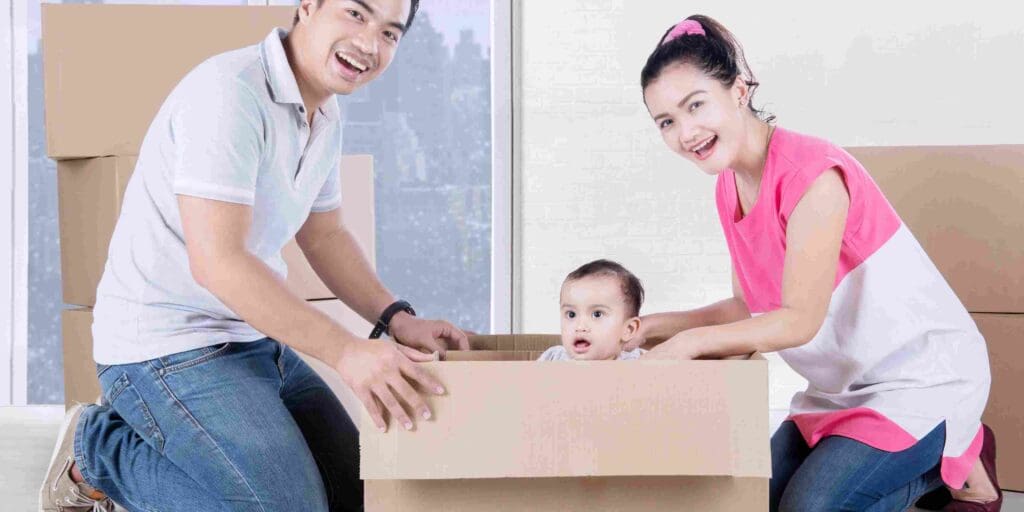 Session Seven: Your Future Success: Staying Strong Through The Ages And Stages
And the last session in the positive parenting solutions course is session 7 which goes over your future success so that you can use the things that you learned within this course to help you parent more effectively in the future.
Amy discusses how you can handle if you feel like you're sliding back into your old habits and how you get back on track to act to get things back under control these are important strategies for building long term parenting success.
Expert And Specialty Modules
Even though the 7 sessions are now over there are expert and specialty modules that can help you further your parenting learning.
This is where Amy brings in the expertise of outside professionals to talk about special and specific topics to get you the most out of the basic information that's out there.
Specialty modules:
Learn 5 Tools for Nag-Free & Tear-Free Mornings
Discover the recipe for mealtime success for you and your kids!
Learn how to cure the Bedtime Blues.
No More chore Wars
How BUSY parents can use the #1 Tool for a happier home
Sibling Bullying
How to use work solutions at home… and with great results
Are Rewards and Praise Ruining Our Kids?
ABC's of allowance
Curing Entitlement Epidemic
Keeping Kids Safe From Bullying At School
Learn the 3 R's
Technology Survival Plan
How to Maintain Your Sanity, Self-Respect, & Sense of Humor While Raising Teens
Resources to Help the Anxious Child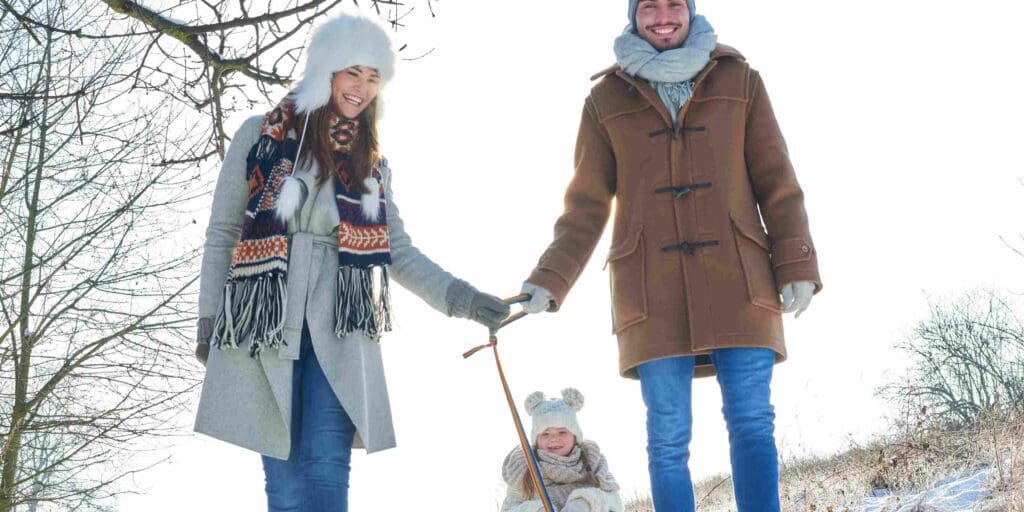 Tools And Training Provided By Positive Parenting Solutions Course
In addition to those 7 sessions and the specialty modules there are more tools and trainings that positive parenting solutions offer such as the toolbox the workbook group coaching calls and the Facebook group and the mobile app.
Toolbox
The toolbox is a set of of resources that you can arm yourself with if you're facing difficult situations the toolbox grows as you go through the sessions and it's a very important piece of the positive parenting solutions course. You'll have lifetime access to this as well anytime you are facing a difficult situation with your child's behavior and other temper tantrums.
In each session Amy goes over through the tools that she puts into the toolbox and she goes really deep into how the tool works and how you can use it at home she also has examples on how the tools can be used effectively in your home.

Each session ends with an overview of the new tool in your toolbox as well as all the old tools that you've added to your toolbox thus far and there is a summary that makes it easy for you to refer to lessons quickly if you need a refresher.
Workbook
The workbook is one of my favorite components of this positive parenting solution course. This is a comprehensive and very helpful workbook that is a note taking guide and a great resource that you can reference quickly when you're faced with a behavior that is challenging.
It's kind of a fill in the blank workbook where you listen to the course as she goes through her videos and then you fill in the missing information and missing information and this helps you retain the information that you learned and you learned and then you have a very complete workbook that helps you parent in a more positive way.
Group Coaching Calls
Another bonus of this positive parenting solutions course is the group coaching calls which are really advanced training modules. The group coaching calls are only available with the gold membership. This is basically a live webinar where parents ask questions and Amy answers them then these videos are posted to the positive parenting solutions portal where gold members can access this recording at any time.
Facebook Group And app
In addition to the group coaching calls there is also a Facebook group and a cell phone app which parents have access to all the materials on their cell phone you can download all the audio for each video you listen to and you can listen to the lessons kind of like a Podcast.
In the Facebook group you can connect with like minded members and really talk about other behavior challenges that other parents might be facing.
With the cellphone app the silver and gold memberships have access to the app but the download audio option is only available for the gold membership at this time.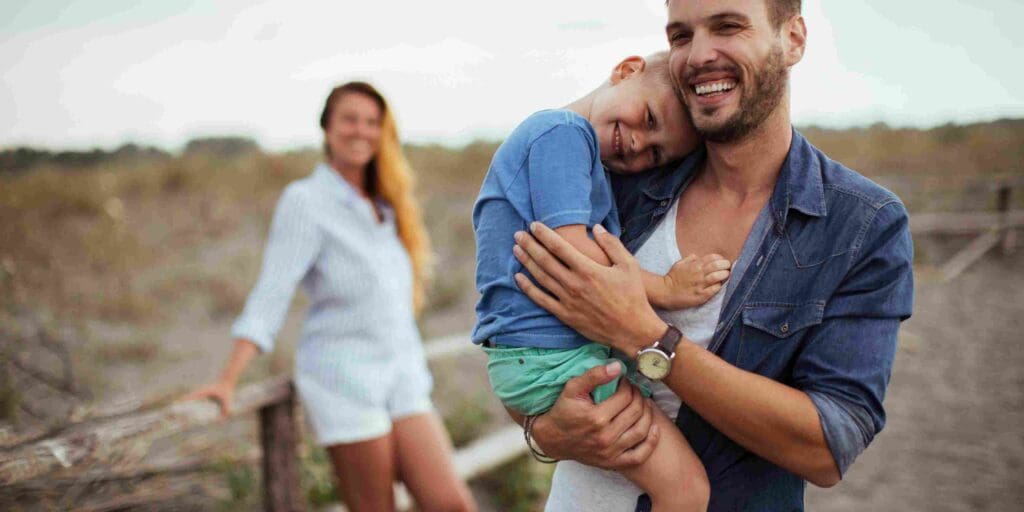 Positive Parenting Solutions Parenting Blog
Amy also has a parenting blog that goes over some of the most important challenges that Amy also has a positive parenting blog over at www.positiveparentingsolutions.com. Parents who are members of the positive parenting solution group as well as anybody who is not part of the part of the parenting solutions course can access this blog.
The Membership Options And Investment : How much does positive parenting solutions cost?
By now, you are aware that this course is JAM-PACKED with amazing, super helpful and relevant information to help you with your parenting struggles, but you're asking, what's the investment?
There are 3 levels of membership to this course: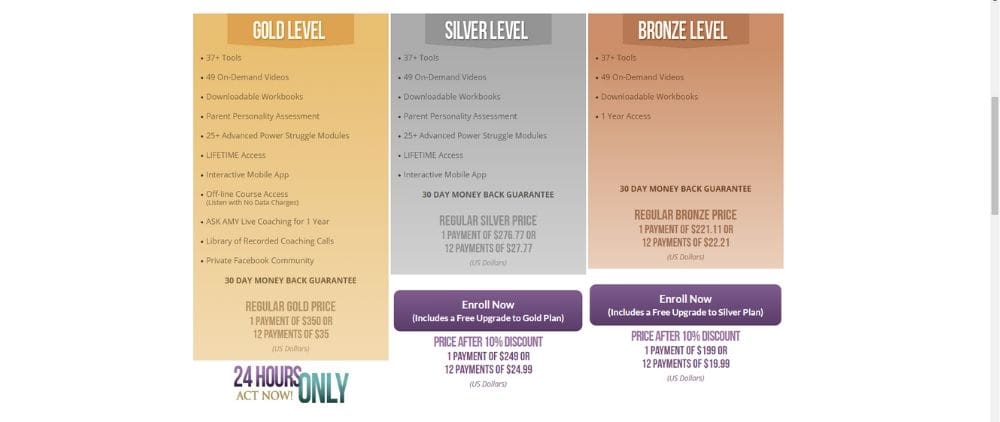 If you register for Amy's free webinar, then you'll receive a 10% discount and free upgrade automatically!
This makes the pricing package a little bit different!
The Bronze package becomes a free upgrade to the Silver Package.
The Silver Package stands at 10% off, and the Gold Package also becomes 10% off!
The Gold Package is the BEST as it has the most features such as access to the Facebook group, downloadable audio from the App, unlimited access to all Ask Amy coaching calls.
Cancellation Policy Of Positive Parenting Solutions
I mean this course is fantastic, but if for some reason you don't love it, you have 30 days to change your mind. The 30-day money-back guarantee means this is a great way to help change your kids' behavior and those big-ticket power struggles with easy to digest training videos and in depth modules with no risk.
You can request a refund here.
What Are The Video Tutorials In the Course Like?
Most of the videos have Amy talking directly to us and each video covers a specific parenting issue and then offers her solution.
Amy is very concise and doesn't get off topic at all.
The video tutorials include:
Background psychology behind the problem you're facing.
Actionable ways to deal with the problem.
Exact scripts of what you can say to your child.
Guidelines of how you can adapt your approach.
Common questions from other parents. F
Interactive workshops.
Online quizzes.
25+ Bonus videos.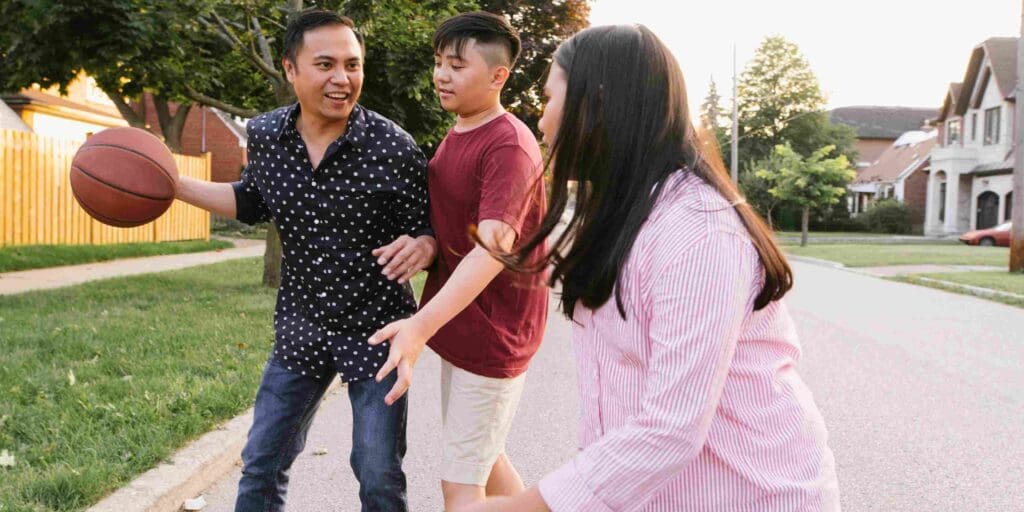 Online Courses Can Be Tricky…But…
If you're skeptical about the positive parenting solutions course because it's an online parenting course you're not alone. This is one of those things that made me very comprehensive about the scores in the 1st place but I am still obviously very glad that I took it.
I really do wish there was times where I could interact with the teacher and on specific lessons but unfortunately there is not that option With an online course.
The nice thing is if you do have a gold membership there are questions and answer coaching calls so if you ever do have a question Amy McGrady is there to help you answer it just you have to wait until those coaching calls.
The one downside of this course is that the videos are not able to be downloaded so if you're having any Internet troubles and you may not be able to access the videos.
Remember that you can download the audio on a gold membership which is a good solution if you are not able to access the videos due to spotty Internet.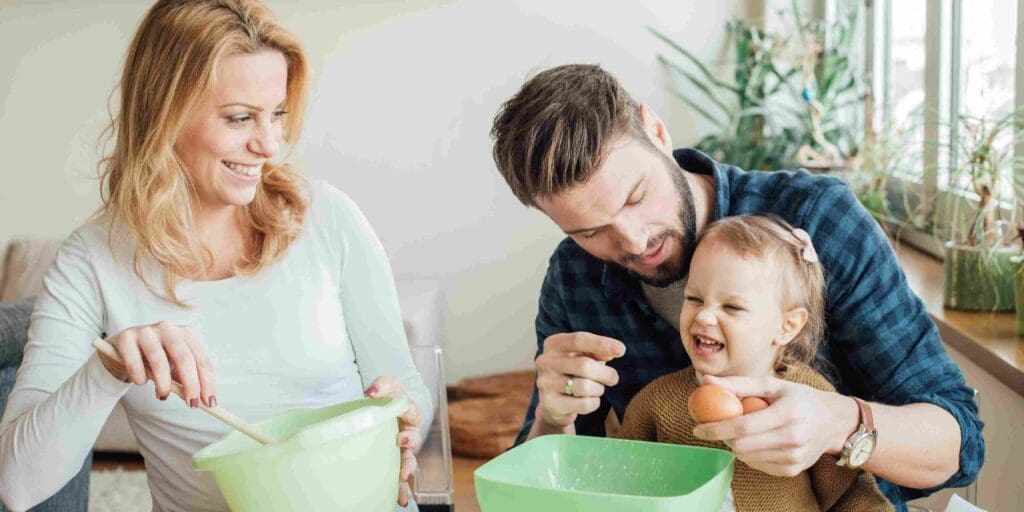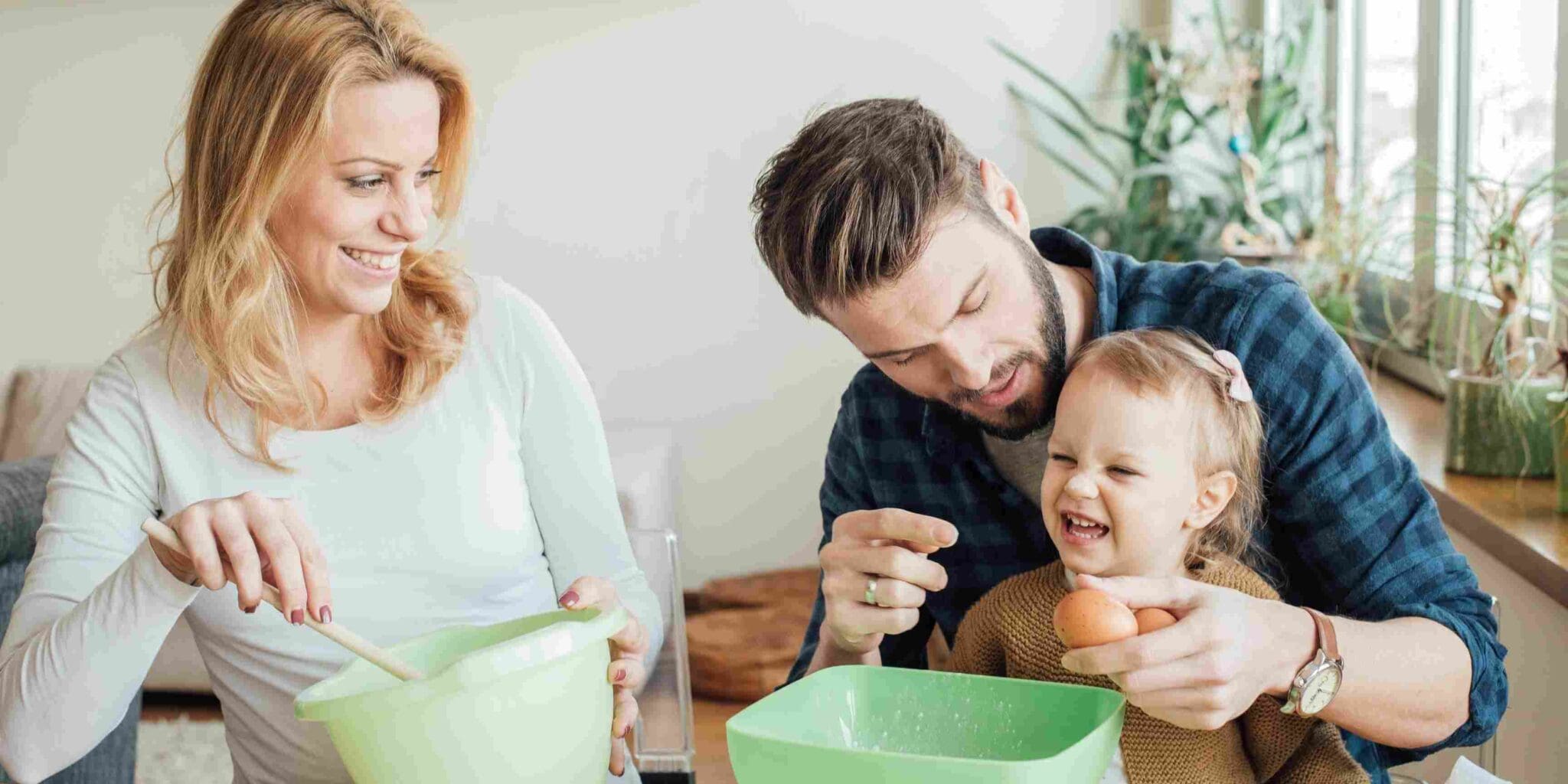 Does the Positive Parenting Solutions Course Really Work?
Most people worry that the investment may not return the results you're expecting and no one wants to waste money and lot of time.
While there are so many positive reviews on positive parentingsolutions via website and Facebook, many lay claim that their family lives have been transformed with most families seeing improvements within weeks.
Can you really trust these reviews?
Well I tested these strategies on my children and these are the things that I found:
Day 1 improvements
For each video that was watched, I put it into action as soon as possible. It was incredible to see how calm the kids became and how these small changes were not very difficult to implement yet had a huge impact on our daily lives.
Easy Tactics
A lot of the tactics that Amy mentions are common sense and practical. All the things she teaches are backed by science and research and while the changes are small, they are actionable and effective.
Easy To Follow
These videos and lessons are really simple to follow, even in our super busy hustling lives. Going through the course a little bit at a time was easy enough to do without feeling lost and confused.
It Helps You See From Your Child's Point Of View
It's a huge mindset shift, but this course taught me that I should be looking at the day through my children's eyes and not my own eyes.
A Quieter Home
This course helped create more peace and quiet in the home right away. There was no more fighting when it was time to brush teeth and get dressed.
Independent Children
This course encourages children to complete tasks on their own such as getting dressed which helped relieve some of the stress from my daily life.
Who Would I Not Recommend This Course To?
If you are a parent who uses harsh discipline and punishment and are an authoritarian parent, you should not take this course.
This course focuses strictly on positive parenting practices.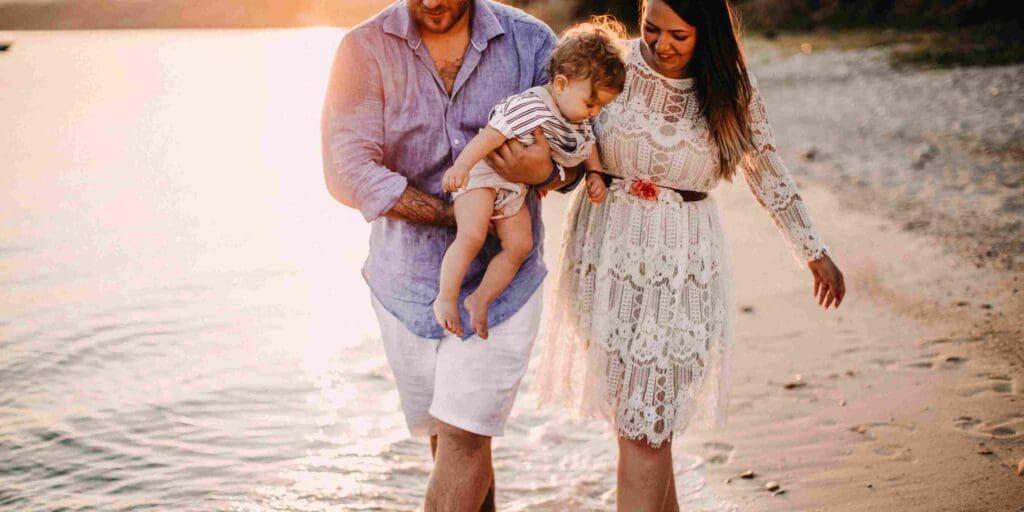 My Final Opinion of Positive Parenting Solutions
There are many things to love about this course, but here are the highlights:
Amy is a natural speaker and is very easy to listen to
Redirection and saying "NO" less to your child will have great benefits, and no it will not raise spoiled children
Amy has a lot of experience on the subject and is truly an expert on raising kids
Amy calls herself a recovering yelled, so she really is just like us and now some parenting expert who has no kids but went to school for it.
The video quality is excellent and easy to follow.
The examples provided in the course are realistic and relatable.
She uses group studies to show her point.
The workbook is so detailed, you won't miss recording a thing.
The related articles to help you further understand concepts are very helpful.
The App is terrific! Especially if you can download the audio and learn on the go.
The Toolbox is packed full of amazing tools.
There are interactive activities such as quizzes that help the learning process.
The expert modules are super-specific to behavior issues we all face.
You can get a refund in 30 days if you're unhappy with the course. (but you will be, I'm confident!)
I hope this was a helpful review of positive parenting solutions to help you with an explosive child, stressful behavior challenges, sibling squabbles or tackle mealtime madness with a powerful 7-step interactive course with toolbox strategies. There is a great power of positive parenting and it works for kids of all ages so get started with the online training today!
Access to the Free Parenting Class
Free Resource For You
I've created a free pdf just for you! If you are struggling with gentle parenting with your kids this PDF will help you find one that will work for your family.
This free pdf can show you:
The pillars of gentle parenting
Example conversations you can have with kids
Example consequences you can use
Family activity ideas for connection