A Positive Parenting Solutions review using honest opinions about a course that teaches parents how to overcome daily parenting struggles with real-life examples, demonstrations and comprehensive explanations.
From the moment you get pregnant to the day your baby arrives, you'll hear strangers tell you that your maternal instincts will kick in, and you'll know just what to do with your child as they grow.
Well, that may be more truthful for the baby stage (although I certainly needed a lot of help in that area!) the toddler, preschooler, pre-teen, teenage and young adult stages, are much less instinct, and a lot more strategic.
You're going to get hit with an attitude you never thought was possible to come from the cutest creature you've ever seen.
You're going to experience your children feel emotions that you've never felt yourself.
You're going to get pushback, and you're going to want to yell at your child.
These are all things parents go through, and they are reasonable.
The difference is how you handle these difficult situations.
The solution is Positive Parenting Solutions, a course for parents who want to raise resilient, kind, and happy kids who listen to learn values that are important to your family.
Stick around, let me tell you more about this course, which I've taken, and LOVED every moment of.
This post may contain affiliate links. Full privacy policy and disclosure here.
Is Positive Parenting Solutions Worth It?
As a mom, I can't express enough how much I enjoyed the Positive Parenting Solutions course. It truly is worth it for any parent seeking effective strategies and support.
The insights and techniques provided have been invaluable in promoting positive communication and discipline with my children – now I feel like the best parent ever (most days).
I now feel equipped with the necessary tools to address challenging behaviors and build a strong bond with my kids. The emphasis on empathy and understanding has created a nurturing environment that supports their development.
Seeing the evidence-based approach in action has been amazing. It's clear why so many families have found success with this program – it has improved our relationships and reduced stress significantly.
There is also a downloadable workbook that I refer to often, especially in stressful situations, even 3 years after taking the course. We barely have any negative behavior in our home!
Since investing in Positive Parenting Solutions, our family life has become happier and more harmonious. I'm grateful for the positive impact it has had on our parenting skills and the overall well-being of my children, it is truly a success system.
What Does the Positive Parenting Solutions Course Include?
It's been such a valuable resource for me as a mom, providing me with a comprehensive set of tools and strategies to tackle the challenges of parenting.
The course started with a self-assessment, which was eye-opening and helped me understand my strengths and areas for growth.
Learning the core principles of positive parenting was a game-changer. Emphasizing connection, communication, and consistency made a significant difference in how I interacted with my kids.
The step-by-step guidance on handling behavioral issues like tantrums and sibling rivalry was incredibly helpful.
I no longer feel overwhelmed when faced with these situations, and I know how to set clear expectations and boundaries while maintaining a positive relationship with my children.
What I appreciated the most was the focus on understanding the reasons behind their behaviors and using positive discipline techniques.
It shifted my perspective from punishment to teaching, allowing me to address the root causes of their actions.
The communication skills I gained from the course have been priceless. Learning active listening and empathy has improved our family dynamics, and I feel more connected to my children than ever before.
The course also stressed the importance of self-care, which was a much-needed reminder for me. Taking care of myself has made me a more patient and understanding mom.
Being part of the Positive Parenting Solutions community has been amazing. I've met other parents going through similar experiences, and we've supported each other through the journey.
Overall, the Positive Parenting Solutions course has transformed my approach to parenting, and I highly recommend it to all moms out there. It's made raising my kids a more enjoyable and rewarding experience, and I'm grateful for the positive impact this online parenting course had on our family.
Is The Course Pretty Expensive?
This is the courses biggest downfall, and Amy ( founder of positive parenting solutions) knows it! She actually created a new payment system recently where you can pay in monthly installments and cancel anytime.
For example, the gold membership (which has all the things you want) is now 12 Payments of $35 a month!
And it's not a YEARLY subscription – once you pay, it's yours – it's called lifetime access. Like buying a sweater at the store. But you have a 30-day money-back guarantee with no questions asked if the course with video lessons is not for you.
And, AND you get a FREE UPGRADE if you think you need a higher level of membership. Amy makes that so easy.
I actually really enjoyed the advanced training modules that addresses bedtime battles for young children, mealtime madness, chore wars, homework hassles and even morning mania.
There really is just a goldmine of tools to battle any kind of kids' behavior challenges you might be dealing with.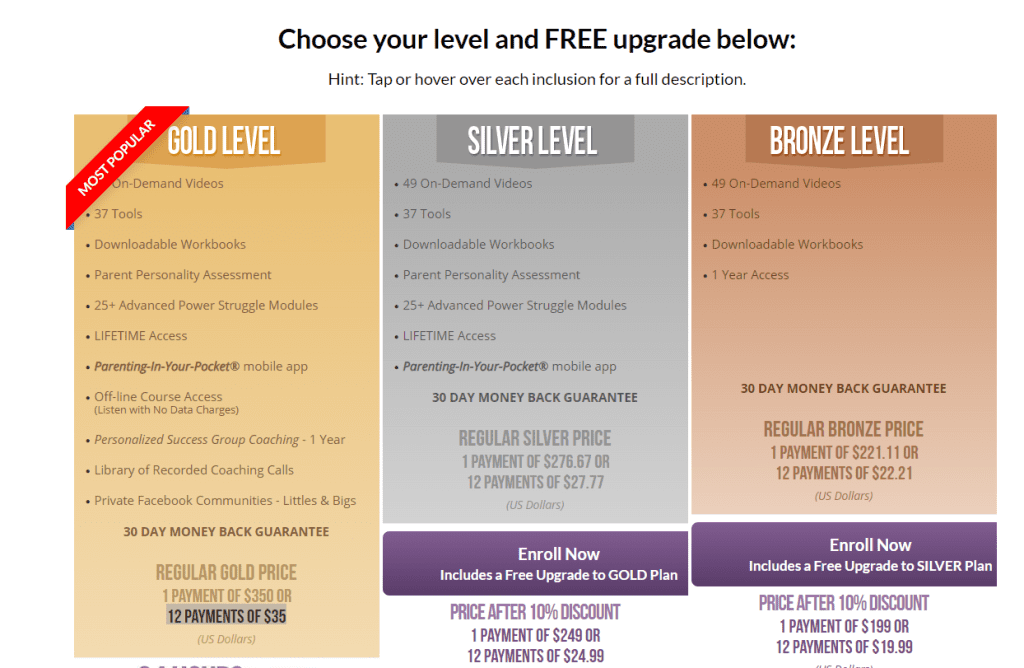 How Long Does It Take To See Results With This Course?
The time it takes to see results with the Positive Parenting Solutions course can vary depending on the individual and their unique family dynamics.
For me, it was mere days. In fact, some of our most common issues were seeing improvement on day 1 using Amy's positive parenting strategies.
Some parents may start noticing positive changes in their interactions with their children within a few weeks of implementing the strategies taught in the course.
For others, it may take a bit longer as they adjust their parenting style and work on building stronger connections with their kids.
Consistency and practice are key to success.
With dedication and patience, most parents can experience significant improvements in their parenting approach and see positive changes in their child's behavior within a few months of taking the course.
Do The Parents Who Take This Course Love It?
YES. See for yourself on Google!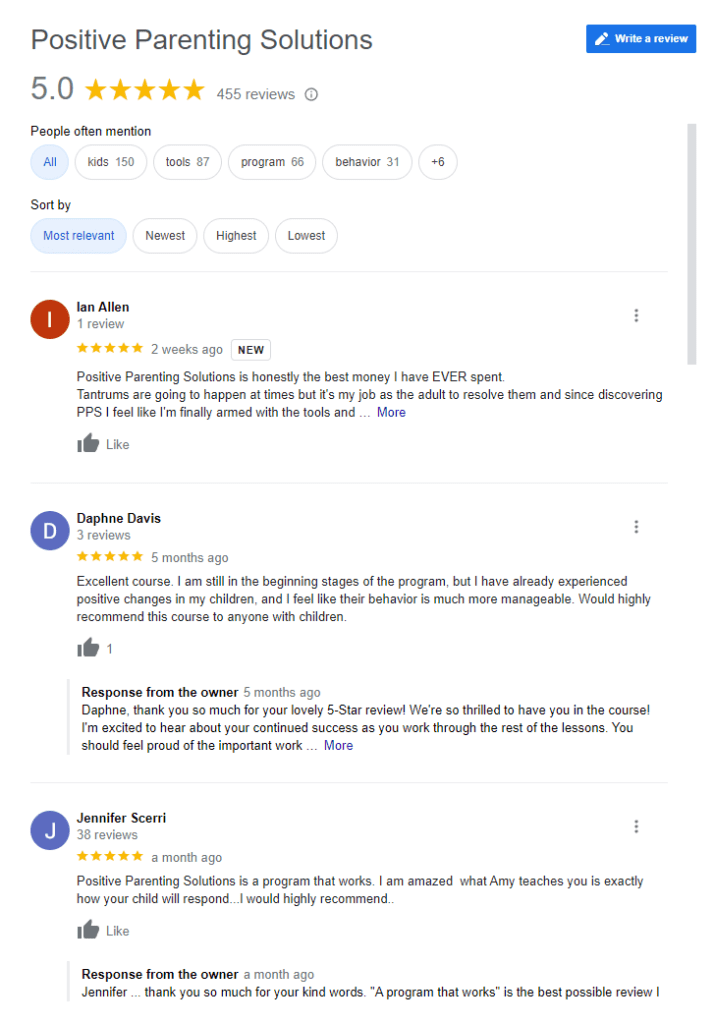 FAQ
Is positive parenting solutions legitimate?
Yes, Positive Parenting Solutions is a legitimate and highly recommended resource for being a good parent. With an expert series, specialty modules, and an impressive roster of experts like Steve Harvey, it offers a better way to handle parenting challenges.
Their mobile app saves a lot of time and provides common-sense advice. Positive reviews mention valuable content on birth order, future success, and temper tantrums, playing an important role in parenting.
With interactive courses, live calls, and a private Facebook group, it's perfect for all parents, including first-timers.
The program covers a wide range of timely topics and provides powerful strategies from experts like Amy McCready, a Today Show contributor. Overall, Positive Parenting Solutions is an excellent online course that benefits kids of all ages and helps parents create a more harmonious family life.
What is positive parenting course?
A positive parenting course is an educational program designed to teach parents effective strategies and techniques for nurturing their children in a positive and supportive manner.
It typically covers topics like communication, discipline, building strong relationships, and promoting children's emotional and social development through positive reinforcement methods.
Do positive parenting techniques work?
Yes, positive parenting techniques have been shown to be effective in promoting healthy child development, fostering strong parent-child relationships, and reducing behavior problems.
By emphasizing positive reinforcement, open communication, and empathy, these techniques create a nurturing environment that helps children thrive emotionally, socially, and academically.
Is positive parenting the same as mindful parenting?
Positive parenting and mindful parenting share some similarities but are not the same. Positive parenting emphasizes positive reinforcement, effective communication, and setting clear boundaries to raise well-adjusted children.
Mindful parenting, on the other hand, involves being fully present and attentive to the child's needs and emotions without judgment, cultivating awareness and empathy in the parenting process.
While both approaches prioritize nurturing relationships, mindful parenting places additional focus on being present and non-reactive in interactions with the child.
Is gentle parenting worth it?
Yes, gentle parenting can be worth it for many families. It prioritizes empathy, understanding, and respectful communication to nurture a strong parent-child bond.
By promoting emotional intelligence and positive behavior, it can lead to healthier relationships and overall well-being for both parents and children.
What are the disadvantages of Overparenting?
Overparenting can have several disadvantages. It may hinder a child's development of independence and problem-solving skills, leading to a lack of resilience.
Children may become overly reliant on parents, experience anxiety or low self-esteem, and struggle to cope with challenges as they grow older.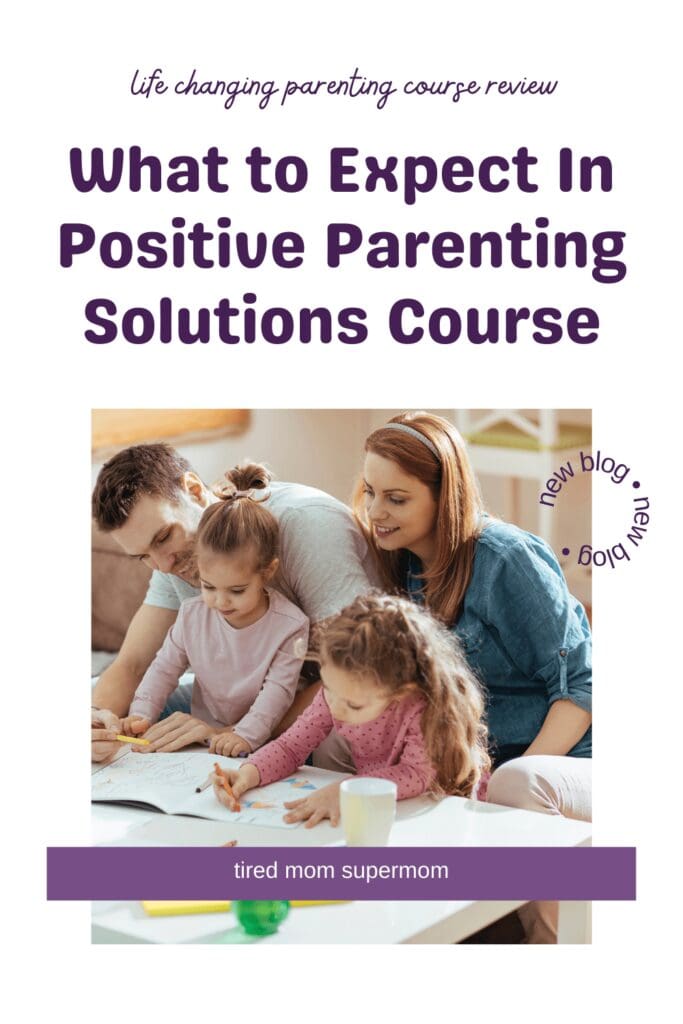 Want More On Parenting?