Is Positive Parenting Solutions Parenting Course Worth It? (Yes…But Why?)
If you're like me, you don't really like spending money on things that could be a potential waste. I totally get it, and I was super skeptical about this parenting course too. I mean after all, shouldn't we know what we are doing when raising our own kids?
Well, I'm certainly learning new things daily, and let me tell you, having this course in my back pocket has been a huge lifesaver. I've changed the way I speak to my children, and even how I speak to myself just based on some of the lessons taught in this course.
Yes, the course is long, yes there are lots of materials and hours of video to go through…no you don't have to do it all in one day. I love that you get a booklet to follow along with and fill in the blanks, and then hang that up on your fridge so you have a constant reminder of the things you learned.
Overall, yes the positive parentingsolutions course by Amy McGrady is worth it.
Here is my full review, sorry it's long, but you know. it's in-depth and I tried not to leave anything out.
This post may contain affiliate links. Full disclosure here.
Want to learn how to use positive parenting? Register for a free class called GET KIDS TO LISTEN THE RIGHT WAY; an exclusive FREE class from nationally recognized parenting coach, Amy McCready.
A Positive Parenting Solutions review using honest opinions about a course that teaches parents how to overcome daily parenting struggles with real-life examples, demonstrations and comprehensive explanations.
From the moment you get pregnant to the day your baby arrives, you'll hear strangers tell you that your maternal instincts will kick in, and you'll know just what to do with your child as they grow.
Well, that could be more truthful for the baby stage (although I certainly needed a lot of help in that area!) the toddler, preschooler, pre-teen, teenage and young adult stages, are much less instinctive, and a lot more strategic.
You're going to get hit with an attitude you never thought was possible to come from the cutest creature you've ever seen.
You're going to experience your children feel emotions that you've never felt yourself.
You're going to get pushback, and you're going to want to yell at your child.
These are all things parents go through, and they are reasonable.
The difference is how you handle these difficult situations.
The solution is Positive Parenting Solutions, a course for parents who want to raise resilient, kind, and happy kids who listen to learn values that are important to your family.
Stick around, let me tell you more about this course, which I've taken, and LOVED every moment of.
Parenting doesn't come naturally for everyone, in fact, many people use outside resources to help them through difficult situations.
We can all try and follow our instincts all through this parenting journey, but the thing is, they aren't always right.
A lot of the time, follow our instincts, actually just defaulting to the way we were raised.
When it comes to life, there are a lot of courses we take to learn how to do things.
We pay for University to teach us about physics and science so we can become engineers and math teachers.
We pay for classes to learn to be mechanics, graphics designers, and fashion designers.
But when it comes to parenting, there are not many resources and classes available for us to take and learn from.
This is why I was so happy to find Positive Parenting Solutions.
Not only is it easy to follow, but it also provides real-life examples that I could relate to, step by step solutions to my most pressing issues and provided me with tools to handle any upcoming difficulty I may face in the future.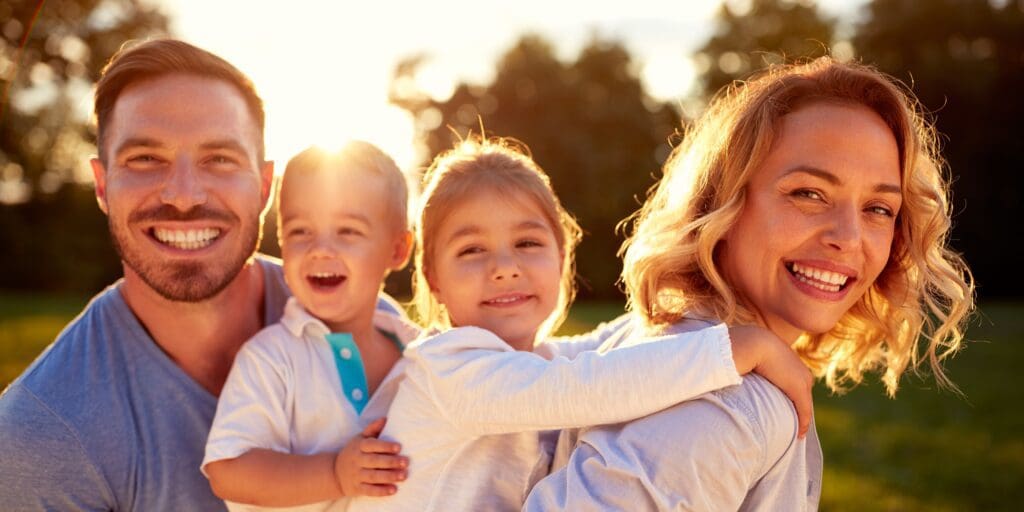 With Positive Parenting Solutions, We Can Say Goodbye To Stressful And Uncertain Parenting Practices And Say Hello To A Peaceful, No Yell, Home Environment.
Because I've taken this comprehensive course, I can help you decide if this is an excellent course for you to invest in. I'll take you through the entire course so you know exactly what to expect so you can decide for yourself if this is a leap you want to take for your family right now.
I'll go through the course overview, the training and tools provided, the investment required, Other reviews from real parents like me, and all my personal thoughts and feelings about the course as well.
Overall, Positive Parenting Solutions is an online course that will arm you with tools to help you through challenging parenting moments and prepare you with knowledge about child brain development so you know the reason for these behaviors occurring in the first place.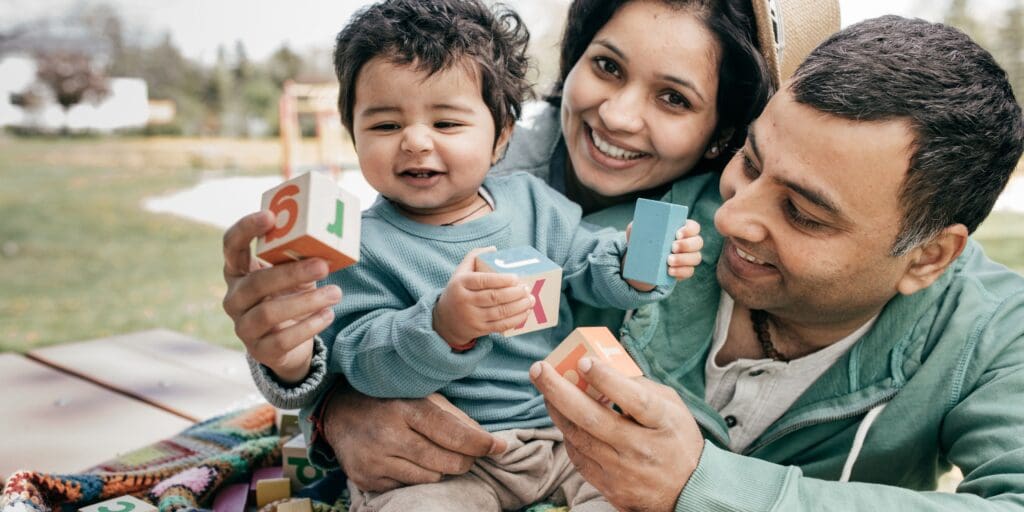 Why Positive Parenting Solutions? What is Positive Parenting Solutions?
It uses only Positive Parenting Strategies: Amy is very much against shaming and using negative punishment. She goes over strategies that are positive and respectful for children.
It works for children of all ages: this course is great for children ages 2½ all the way up to 16 years old. Amy also goes over a lot of different challenges that parents face throughout all the different ages and stages.
There is a lot of information in bite-sized videos: Amy is very thorough in her teachings and goes deep into different ages, behaviors, and parenting principles. This means this course is very valuable and there is a lot to learn without feeling overwhelmed.
It's an established parenting course with a proven track record: This course has helped over 75,000 families already, so there is no reason it won't be able to help you as well.
Amy McCready is an experienced parent coach: Amy McCready is a certified Positive Discipline Coach. She has been helping families for over 15 years and has 2 best-selling parenting books on Amazon which both have 4-5 star reviews.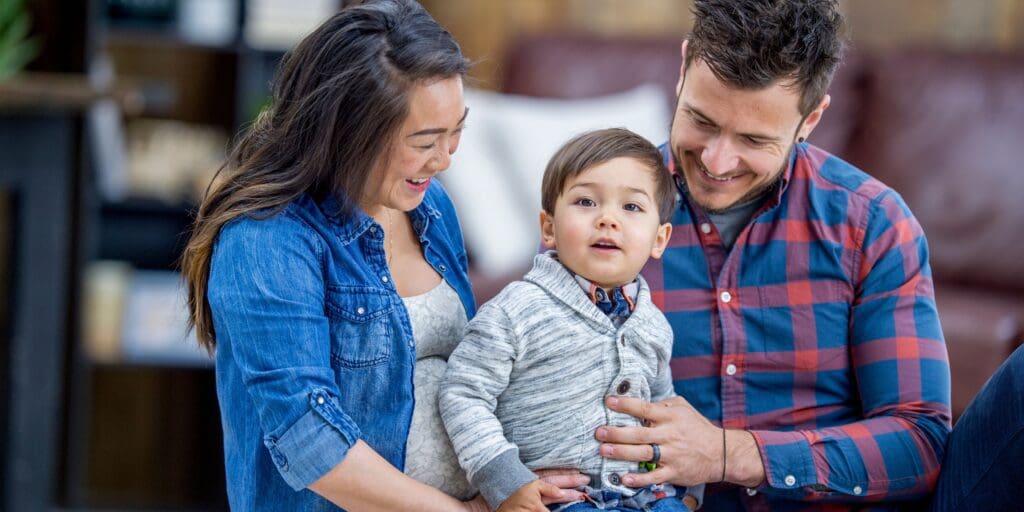 An Overview of Positive Parenting Solutions Parenting Course
The Positive Parenting Solutions online course is made up of seven training sessions that each contain about 6-8 individual lessons.
Each lesson comes with a 5-25 minute video that takes you through all of the information and tools. You can follow along and take notes with the companion workbook.
The course as a whole contains more than 37 specific, battle-tested discipline strategies and step-by-step action plans for the most stressful parenting challenges – from the toddler years through the teens.
It was created by parenting educator and TODAY Show contributor, Amy McCready. Based on her extensive research, education, and experience, she teaches parents why children exhibit certain behaviors, how to figure out the root cause behind the behaviors, and how to calmly and confidently manage them.
In this article, I'm going to take you step-by-step through the course material so you know everything that this course offers, and then you can decide if it's worth the investment for your family.
Here is an overview video from Amy McGrady, the creator of the Positive Parenting Solutions Course.
Who Can Benefit From Positive Parenting Solutions
This is a positive parenting course for parents who have tried everything and are frustrated.
"How do I know this will be different?" you're undoubtedly wondering.
We could tell you all about the program's advantages, but wouldn't it be better if you heard what real parents had to say about it? Parents who were despondent, desperate, and worn out. Parents who couldn't see any other way out of their power battles. Parents who had tried everything, just like you.
If you're still not sure if the 7-Step Parenting Success System online course is right for your family after hearing from other parents, know that you're covered by our 30-day Get-Your-Life-Back Guarantee.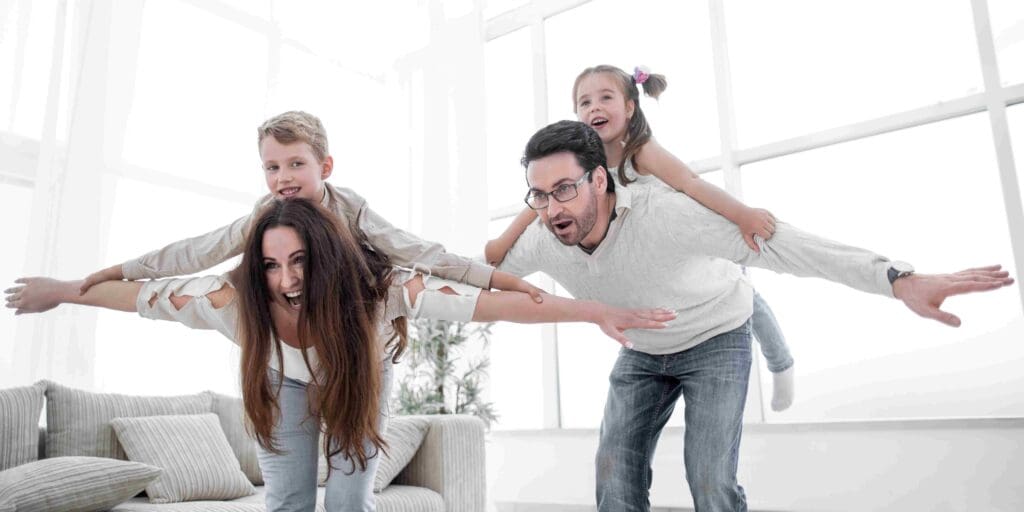 Amazing Free Parenting Class Everyone Should Take
Before we dive into the full paid course, there is Free Parenting Class that you may want to take a look at.
It is about an hour long and you have a chance to ask questions afterwards from the course leader, Amy.
This is a full lesson that includes strategies that parents could try right away and see improvement in their home life.
There is no commitment or payment required for this free webinar.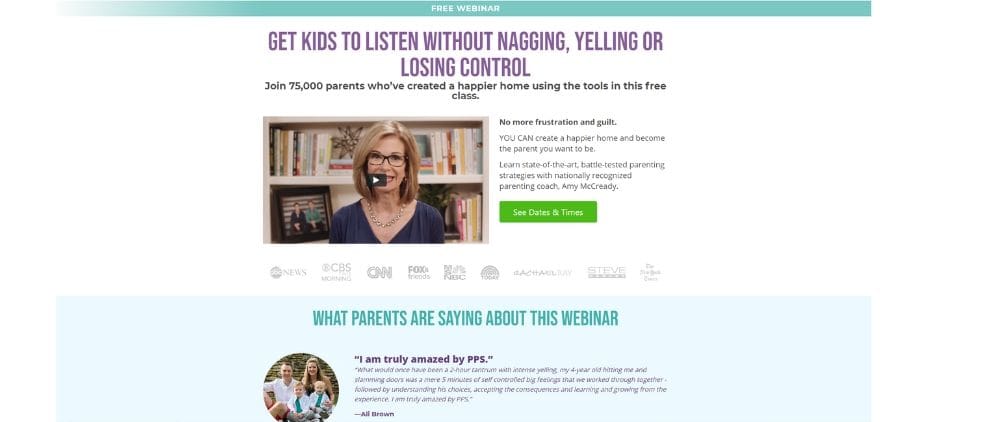 I would recommend anyone who is interested in the course, to go through this free class.
Who Is Amy And Why Did She Create Positive Parenting Solutions
Amy McCready is the Founder of Positive Parenting Solutions and the best selling author of The "Me, Me, Me" Epidemic – A Step-by-Step Guide to Raising Capable, Grateful Kids in an Over-Entitled World (Penguin, August 2015) and "If I Have To Tell You One More Time…The Revolutionary Program To Get Kids To Listen Without Nagging, Reminding, or Yelling". (Penguin, 2011). She is a regular contributor on The TODAY Show and has also appeared on Rachael Ray, CNN, CBS This Morning, Fox & Friends, MSNBC, and elsewhere.
In case you may ask: these books are not included in the online course and would need to be purchased separately. They are good companions to the course, but the course is much more in-depth.
I Personally Loved The Positive Parenting Solutions Course!
Positive Parenting Solutions is presented in the form of online video, created by parenting educator Amy McCready. She has been featured in the TODAY Show, Fox And Friends, CNN, and so many more amazing shows.
Amy takes you through 7 sessions, where she teaches parents why our kids behave in specific ways, how to decode the behavior, and how to peacefully resolve the issue.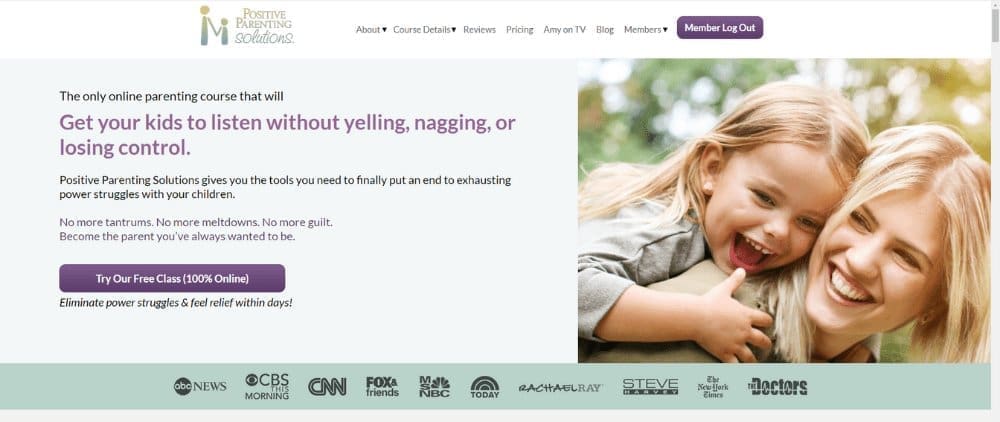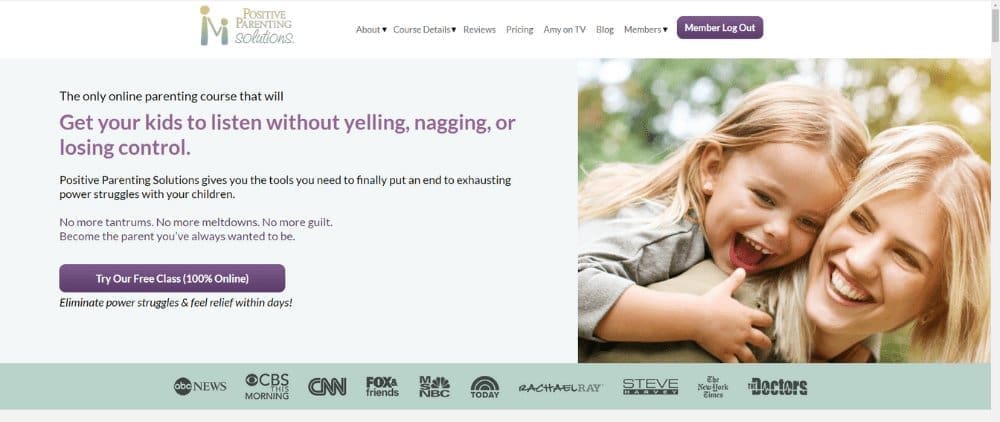 The course begins with an easy to understand introduction to the basics of parenting to help us understand the hidden needs of our children. After she goes through the basics, Amy presents the Toolbox of actionable tips that we can use to raise and support our children.
She goes over how to avoid power struggles and how to stay calm when faced with difficult parenting situations.
The entire concept of the course is to help you create a peaceful family environment where you have kids who listen, and you don't have to nag or yell at them always.
There are 49 lessons throughout the entire course, and each lesson has a 5-30 minute video to explain the accompanying article that comes with the lesson.
There is also a series of Expert Series and Specialty Modules that focus on topics like "keeping kids safe from bullying at school" and "Resources to Help the Anxious Child."
There is a beautiful, comprehensive "workbook" that comes with the course so you can really follow along with the class, takes notes, and soak in all the information.
Additionally, Amy offers "Ask Amy" coaching calls where members can get their questions answered in a weekly webinar, which is recorded and is made available to Gold Members.
The Gold Membership also comes with access to the Facebook Page, where you can meet 15 thousand other members who strive to be amazing parents, just like you.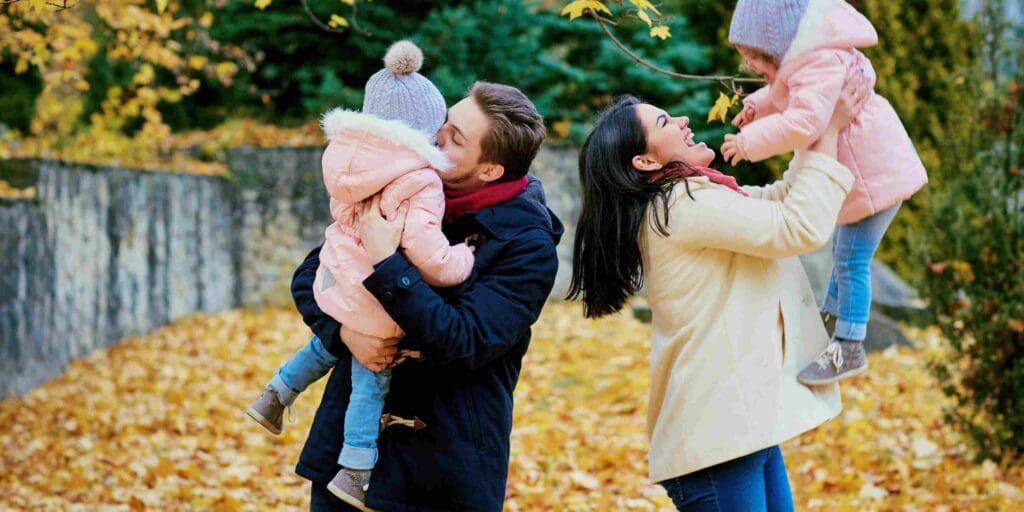 What's Inside The Positive Parenting Solutions Course?
Session One: Behind the Behavior: Your Kids, Explained!
Session one is all about a soft introduction to the course. It goes over parenting styles, the effect birth order has on behavior, and how your parenting personality is affecting the way your children react.
Did you know that you parenting style actually greatly impacts the way your child behaves? You'll learn all about the different styles of parenting and why some are better than others.
There is also a Parent Personality Assessment for you to figure out what your specific parenting style is, just in case you don't know this information yet.
You'll also get introduced to the strongest and most powerful tool that the course focuses on, right here in session 1.
This soft introduction to the course is comprehensive and really eye-opening. A great beginning to your new parenting journey.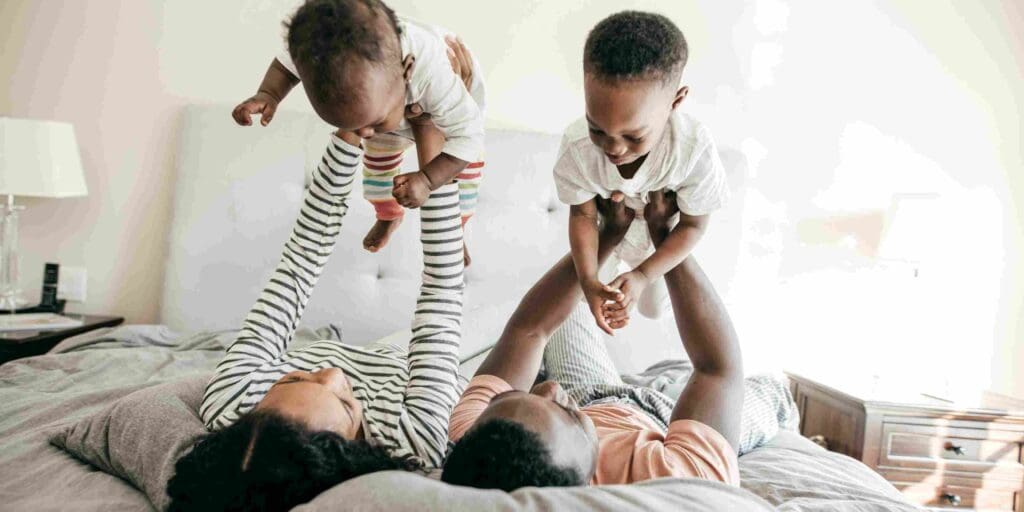 Session Two: Encouraging the Best in Our Kids
In this eye-opening session, you'll learn how your children see you in your home. You'll learn how it feels to be overpowered and even discouraged.
In this session, Amy shares tools that you can use to provide your kids with positive power.
When you take a look at yourself from the perspective of your kiddo, you'll really see how easy it is for your child to feel discouraged and overpowered, even if you don't really mean for that to happen.
There is a full video explaining how this overpowering looks in the eyes of the child and really opens your eyes to the idea of a parenting being the giant in the room.
She talks about the 7 ways we discourage our kids and why you should ditch rewards as a way to get your children to listen and behave.
Amy also covers how you could be raising a praise junkie and goes over the things that kill encouragement too. This section goes over how rewards don't really help your children in the long term and what you can do instead.
This is where you learn about chores (of family contributions) and whether you should or should not use allowance.
Session Three: Revolutionize Your Routines: Regain Control, Let Go of Guilt
I love this section, as it was the most helpful to me when I was taking the course.
Amy goes into in-depth detail on how to deal with backtalk, how to fix power struggles in 10-seconds, and how routines can be sanity-saving but also can help with improving behavior.
Amy goes over the topics on power, control, and consequences in great detail.
This is where Amy goes into detail about mastering morning, after school, and bedtime routines so they become a successful part of your parenting journey.
This is also the section where Amy goes over how to create a successful consequence, and how to use remove and redirect strategies in your home.
There is a strategy when using consequences and Amy lays it out plain and clean how to create the perfect consequence that teaches your child the important lessons.
Session Four: From Power Struggles to Peace: How to Handle Extreme Behaviors in a Positive Way
Amy goes over in great detail how to get to the root of your child's behavior problem, and how to handle in-the-moment power struggles.
She also teaches how to handle whining, interrupting, and helplessness without losing your cool, and why those behaviors occur in the first place.
Amy goes over the hidden goals behind your children's behavior and how your child expects you to react to their outbursts. You'll know exactly how to spot this behavior and how to respond effectively in this lesson.
This lesson in itself is worth its weight in GOLD!
This powerful session also goes into how to handle hateful behavior and how to decide exactly what you're dealing with.
Amy goes over how to fill the attention bucket, as well as how to handle backtalk and disrespectful behavior and even how to handle aggressive revenge behavior.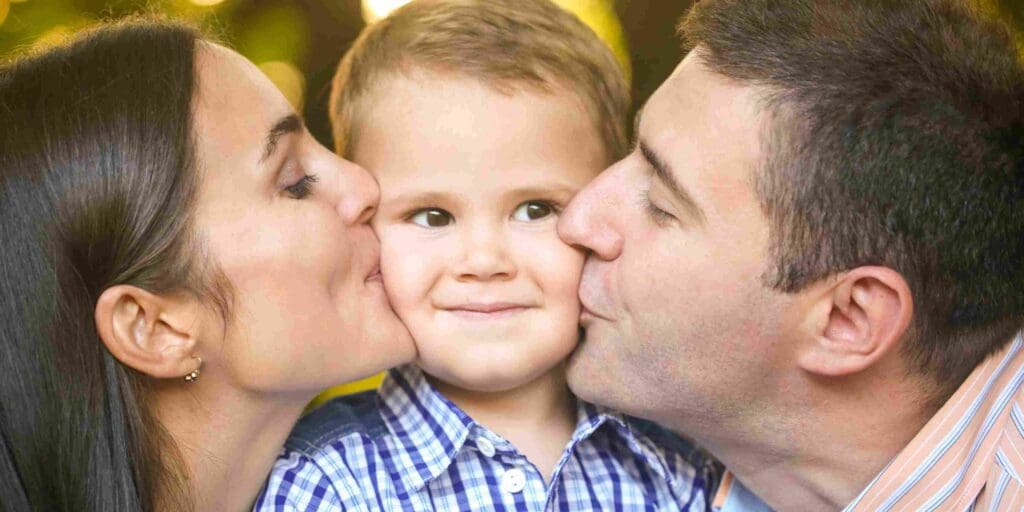 Session Five: Transform Sibling Relationships: From Enemies to Besties
This was an important section because it not only goes over sibling quarrels but also how an only child can react and interact with friends and family.
Amy goes over how to teach conflict resolution and also goes well into how you could possibly be adding fuel to the sibling fire without realizing it.
Amy goes over tools you can use to strengthen the bond between siblings too, which will help you create a more peaceful home.
This session is full of tools to handle sibling rivalry at the moment, even when things get physical. This section is GOLD for any parent with more than one child.
Session Six: The Family Harmony tool: Calm The Crazies, Fire Up The Fun
In session 6, you will focus on your family unit as a whole Amy talks about the most effective tool for family problem-solving.
She talks about increasing empathy in your home and how to build up your child's leadership abilities.
In Session Six, you will shift your focus from the individual child over to your family as a whole. You'll find out the most effective tool for family problem solving as well as strategies for family negotiation.
Also included in this session is how to increase empathy in your home and how to build your kids' leadership capabilities.
She also goes over the ways family meetings can go sour, and how you can avoid that situation!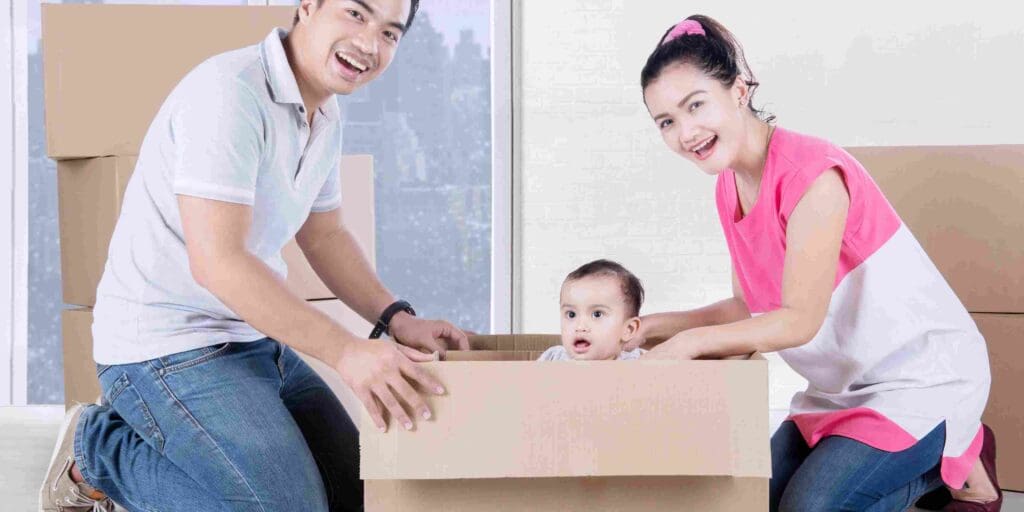 Session Seven: Your Future Success: Staying Strong Through The Ages And Stages
Session 7 is a large review module. Amy goes over all the tools discussed in the course.
Amy also provides a chart that acts as a roadmap for all the behavior issues discussed. You can easily see the behavior and look up the strategy that matches it. It's a parenting cheat sheet, handy.
She discusses how you can refrain from sliding back into your old habits and how to get back on track if things get a little out of control.
There are important strategies for long-term parenting success discussed in this session.
Expert And Specialty Modules
You'll get a few extra modules in addition to your 7 in-depth foundation sessions. These modules take a deeper look into specific critical issues such as mealtime issues, bedtime blues, and chore wars.
Amy brings in the expertise of outside professionals that talk about these special topics to help you get the most and best information that is out there.
Specialty modules:
Learn 5 Tools for Nag-Free & Tear-Free Mornings
Discover the recipe for mealtime success for you and your kids!
Learn how to cure the Bedtime Blues.
No More chore Wars
How BUSY parents can use the #1 Tool for a happier home
Sibling Bullying
How to use work solutions at home… and with great results
Are Rewards and Praise Ruining Our Kids?
ABC's of allowance
Curing Entitlement Epidemic
Keeping Kids Safe From Bullying At School
Learn the 3 R's
Technology Survival Plan
How to Maintain Your Sanity, Self-Respect, & Sense of Humor While Raising Teens
Resources to Help the Anxious Child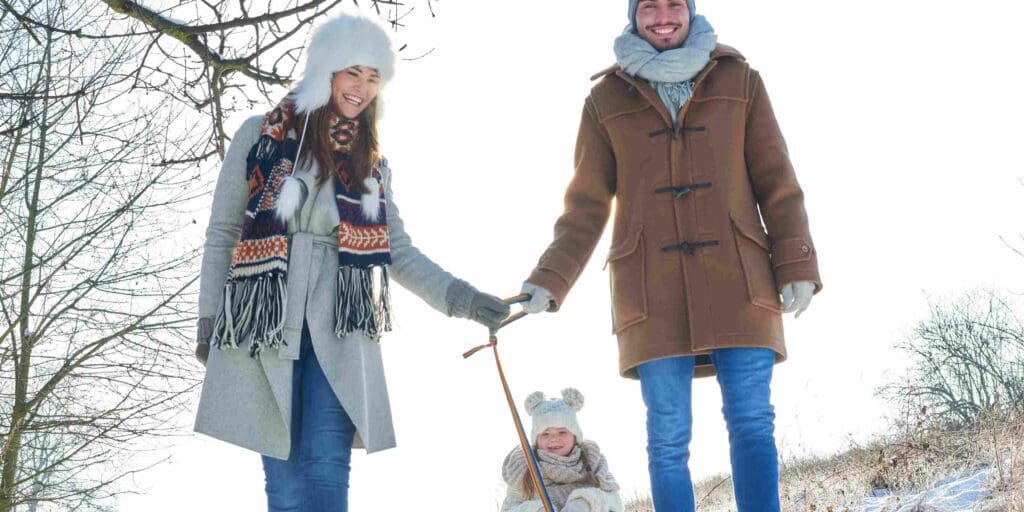 Tools And Training Provided By Positive Parenting Solutions Course
Toolbox
Each session contains different lessons with it, and each experience is chock-full of tools that you can use on a day to day basis.
Amy does a brief introduction to each tool and then goes deeper into how the tool works and how you can use it in your home.
She also provides examples of how the tools are used effectively.
Each session ends with an overview with your "toolbox," which includes a summary of all the tools you've gathered in that session which makes it easy for your to refer to the lessons quickly if you need a refresher.
Workbook
There is a comprehensive and very helpful workbook that is a notetaking guide and a great resource that you can reference quickly when faced with specific behavior, or if you need a brush up on some strategies.
This workbook is easy to follow, nicely designed, and has lots of space for notes.
You can print out this workbook and place it in a binder so you can easily access the information that you've learned throughout the course.
She also provides prompts for notetaking, so you don't miss a beat!
Basically, this allows you to find the solution you were looking for without having to see the video that explains it.
Group Coaching Calls
With the Gold Membership, Amy provides members to ask questions and answers them on a webinar.
The recording is then added to the member's area so you can access it anytime. The library of calls is organized by date, and the topic discussed so you can easily find the recording you want to listen to.
Facebook Group And app
The App is super cool. It allows parents to have access to all the course materials on your android or iOS device.
You can download all of the audio for each video so you can listen to it on the go, like a podcast.
You can get access to the App with the Silver and Gold memberships, but the download audio option is available only for the Gold membership at this time.
Besides the App, you also gain access to the Facebook group.
This is an excellent supplement to the course, and Gold members get lifetime access to this group.
There are over 18,000 members that talk and support each other through their parenting issues. Amy is also around and jumps in on the discussions.
This is a huge support group for struggling parents!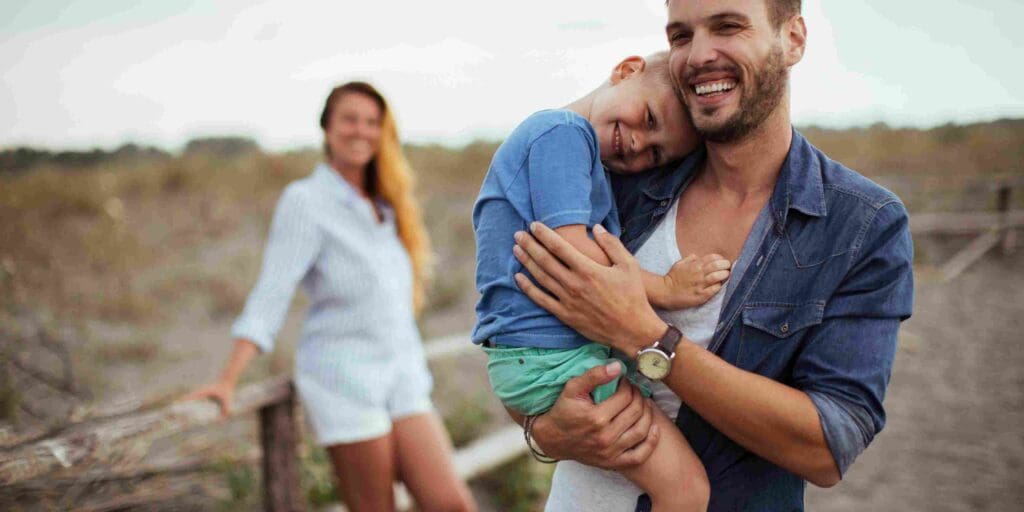 Positive Parenting Solutions Parenting Blog
Amy also has a parenting blog that goes over some of the most important challenges that parents face. While this information is free for all to use, when you have the tools from the course at your disposal, you'll be able to understand the articles and have more information to put those words into action.
The Membership Options And Investment : How much does positive parenting solutions cost?
By now, you are aware that this course is JAM-PACKED with amazing, super helpful and relevant information to help you with your parenting struggles, but you're asking, what's the investment?
There are 3 levels of membership to this course: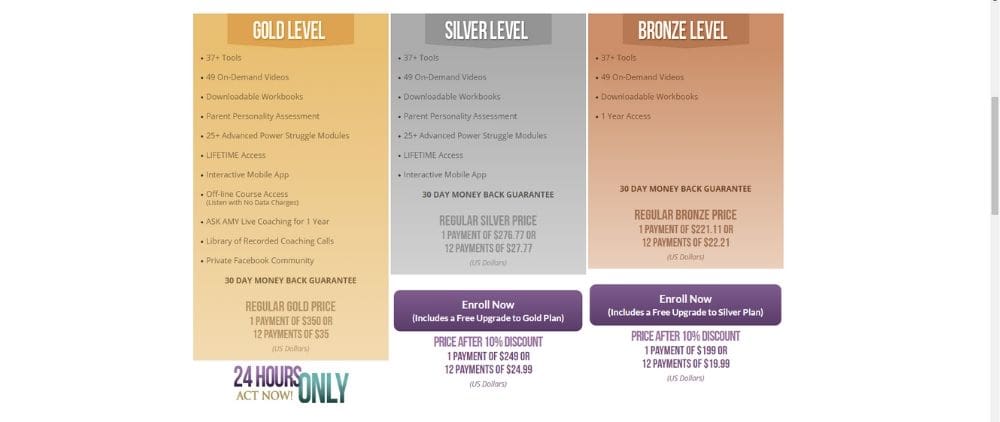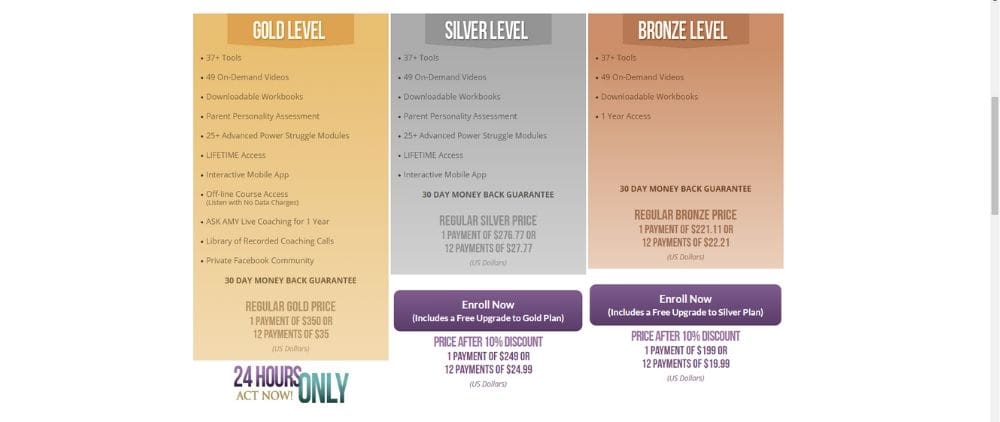 If you register for Amy's free webinar, then you'll receive a 10% discount and free upgrade automatically!
This makes the pricing package a little bit different!
The Bronze package becomes a free upgrade to the Silver Package.
The Silver Package stands at 10% off, and the Gold Package also becomes 10% off!
The Gold Package is the BEST as it has the most features such as access to the Facebook group, downloadable audio from the App, unlimited access to all Ask Amy coaching calls.
Cancellation Policy Of Positive Parenting Solutions
I mean this course is fantastic, but if for some reason you don't love it, you have 30 days to change your mind.
You can request a refund here.
What Are The Video Tutorials In the Course Like?
Most of the videos have Amy talking directly to us and each video covers a specific parenting issue and then offers her solution.
Amy is very concise and doesn't get off topic at all.
The video tutorials include:
Background psychology behind the problem you're facing.
Actionable ways to deal with the problem.
Exact scripts of what you can say to your child.
Guidelines of how you can adapt your approach.
Common questions from other parents. F
Interactive workshops.
Online quizzes.
25+ Bonus videos.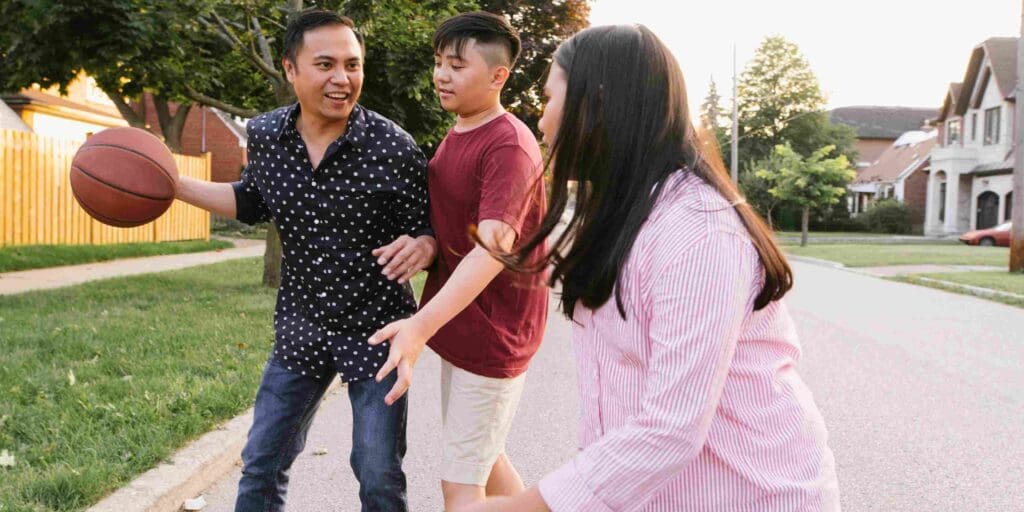 Online Courses Can Be Tricky…But…
Online courses are a little tricky because you're not in a private consultation and you cannot interact with a teacher during the lessons.
The nice thing about this course, in particular, is Amy teaches directly at you, through the videos.
With the Gold and Silver memberships, there are online quizzes that can help customize the course towards your families needs. While this isn't exactly private consultation it does help get the most value for your specific family.
Having a private therapist or consultant come to your home to help you with your family troubles will cost a lot more than this course, and they don't stick around for 24 hours with re-playable materials!
The downside of the course is that the videos cannot be downloaded so if you are having internet troubles, then you may not be able to access the videos.
On a Gold membership, you CAN download the audio, which can help offer a solution when you cannot get online.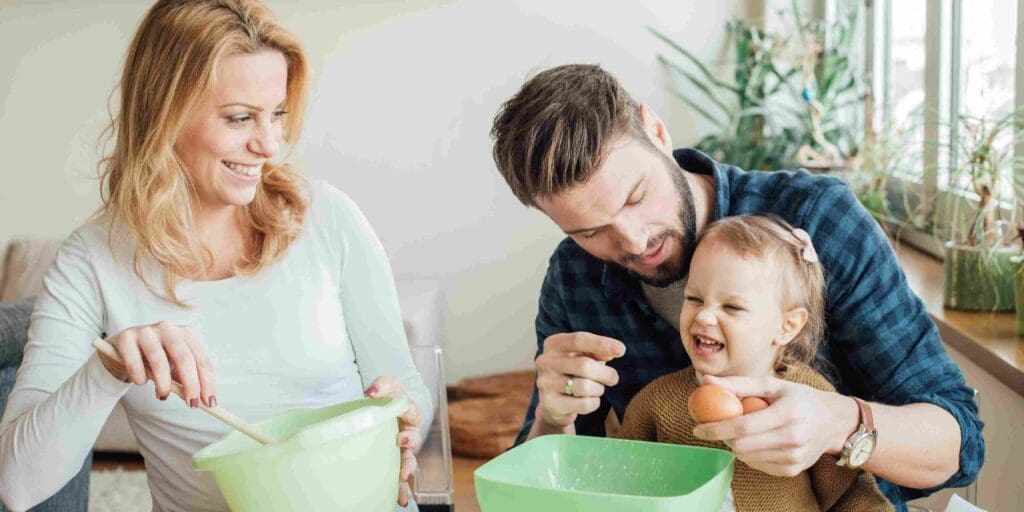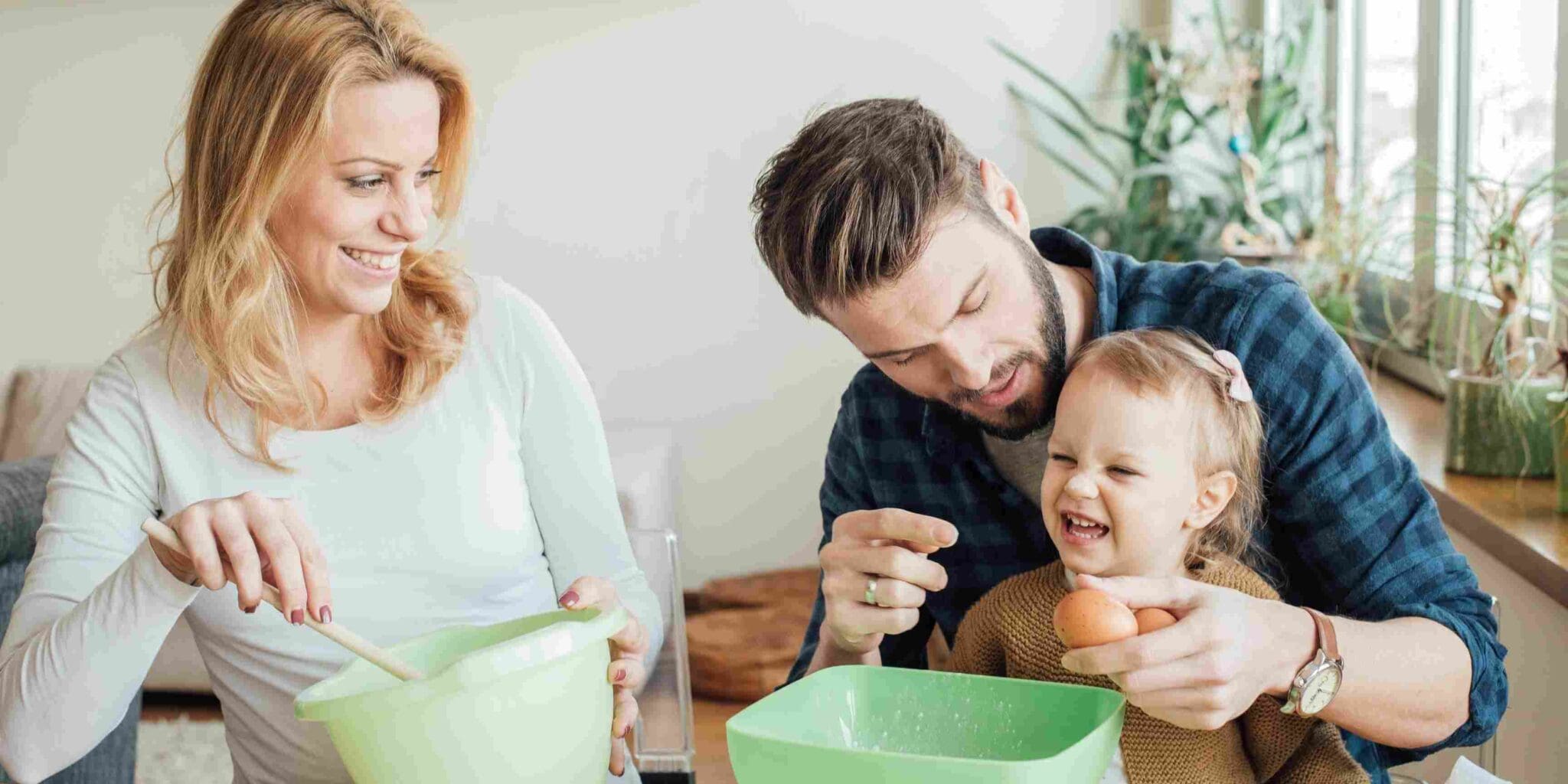 Does the Positive Parenting Solutions Course Really Work?
Most people worry that the investment may not return the results you're expecting and no one wants to waste money and time.
While there are so many positive reviews on positive parentingsolutions via website and Facebook, many lay claim that their family lives have been transformed with most families seeing improvements within weeks.
Can you really trust these reviews?
Well I tested these strategies on my children and these are the things that I found:
Day 1 improvements
For each video that was watched, I put it into action as soon as possible. It was incredible to see how calm the kids became and how these small changes were not very difficult to implement yet had a huge impact on our daily lives.
Easy Tactics
A lot of the tactics that Amy mentions are common sense and practical. All the things she teaches are backed by science and research and while the changes are small, they are actionable and effective.
Easy To Follow
These videos and lessons are really simple to follow, even in our super busy hustling lives. Going through the course a little bit at a time was easy enough to do without feeling lost and confused.
It Helps You See From Your Child's Point Of View
It's a huge mindset shift, but this course taught me that I should be looking at the day through my children's eyes and not my own eyes.
A Quieter Home
This course helped create more peace and quiet in the home right away. There was no more fighting when it was time to brush teeth and get dressed.
Independent Children
This course encourages children to complete tasks on their own such as getting dressed which helped relieve some of the stress from my daily life.
Who Would I Not Recommend This Course To?
If you are a parent who uses harsh discipline and punishment and are an authoritarian parent, you should not take this course.
This course focuses strictly on positive parenting practices.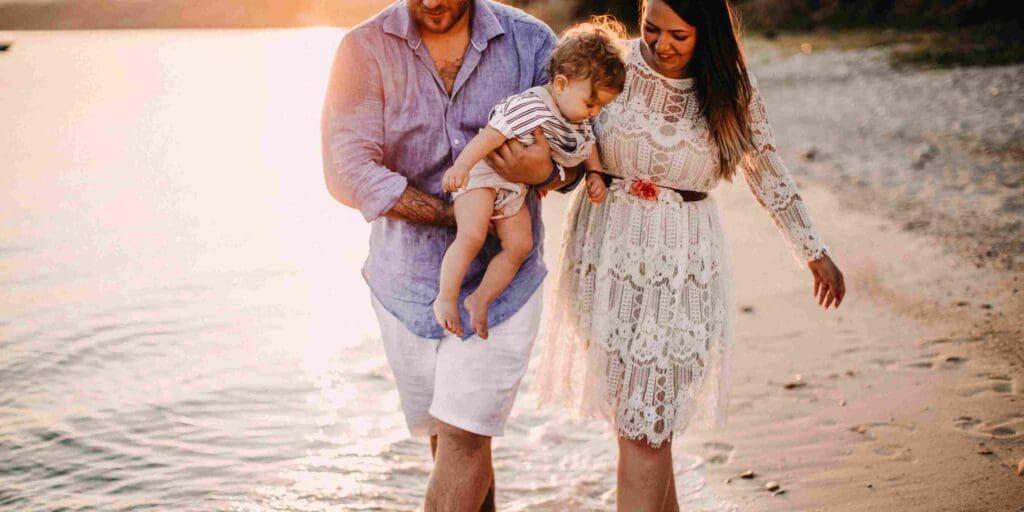 My Final Opinion of Positive Parenting Solutions
There are many things to love about this course, but here are the highlights:
Amy is a natural speaker and is very easy to listen to
Redirection and saying "NO" less to your child will have great benefits, and no it will not raise spoiled children
Amy has a lot of experience on the subject and is truly an expert on raising kids
Amy calls herself a recovering yelled, so she really is just like us and now some parenting expert who has no kids but went to school for it.
The video quality is excellent and easy to follow.
The examples provided in the course are realistic and relatable.
She uses group studies to show her point.
The workbook is so detailed, you won't miss recording a thing.
The related articles to help you further understand concepts are very helpful.
The App is terrific! Especially if you can download the audio and learn on the go.
The Toolbox is packed full of amazing tools.
There are interactive activities such as quizzes that help the learning process.
The expert modules are super-specific to behavior issues we all face.
You can get a refund in 30 days if you're unhappy with the course. (but you will be, I'm confident!)
Access to the Free Parenting Class
A Few More Notes On Positive Parenting And Discipline
Positive discipline is the ultimate way for parents to raise their kids with kindness while still being firm.
I can honestly say I was not the positive parent I am today when I first became a parent.
My goal has always been for my kids to listen to what I tell them, and to respect the adults around them, but I was going about it all the wrong way.
I was brought up with harsh discipline and yelling, and I thought this was the right way to parent.
Boy was I wrong! I learned the hard way that parenting with love and a little bit of detective work to figure out my children's real feelings rather than lashing out and punishing was the better way to parent.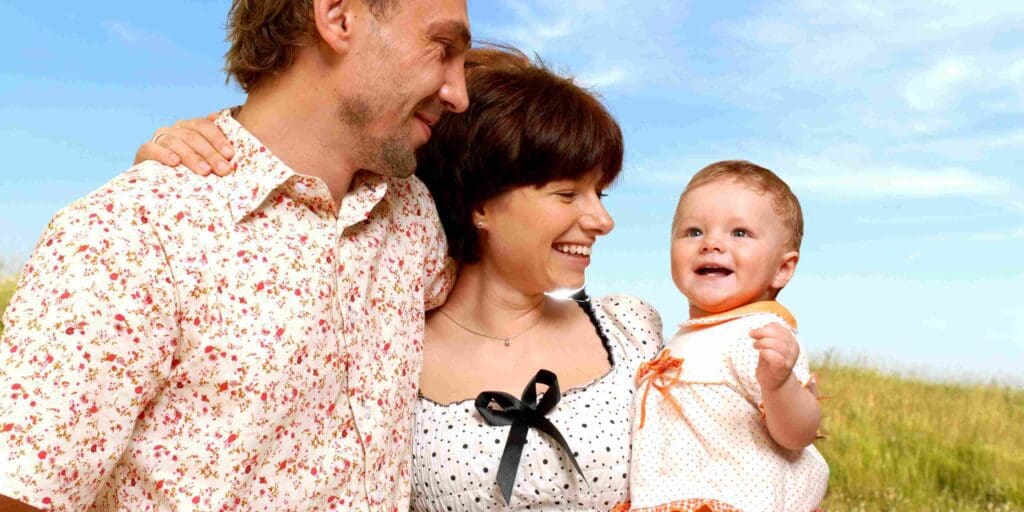 Need More Parenting Help?
Register For A FREE Parenting Class
Register for a free class called GET KIDS TO LISTEN THE RIGHT WAY; an exclusive FREE class from nationally recognized parenting coach, Amy McCready.
---
"GENTLE PARENTING IS A LIFESTYLE THAT EMBRACES BOTH YOUR PHYSICAL AND PSYCHOLOGICAL BEHAVIOR, NOT ONLY TOWARDS YOUR CHILDREN, BUT TO YOURSELF TOO"

— SARA HOCKWELL-SMITH
---