Inside this post: An honest review of the "Positive Parenting Solutions" online course that helps parents overcome common parenting struggles with real examples and comprehensive explanations.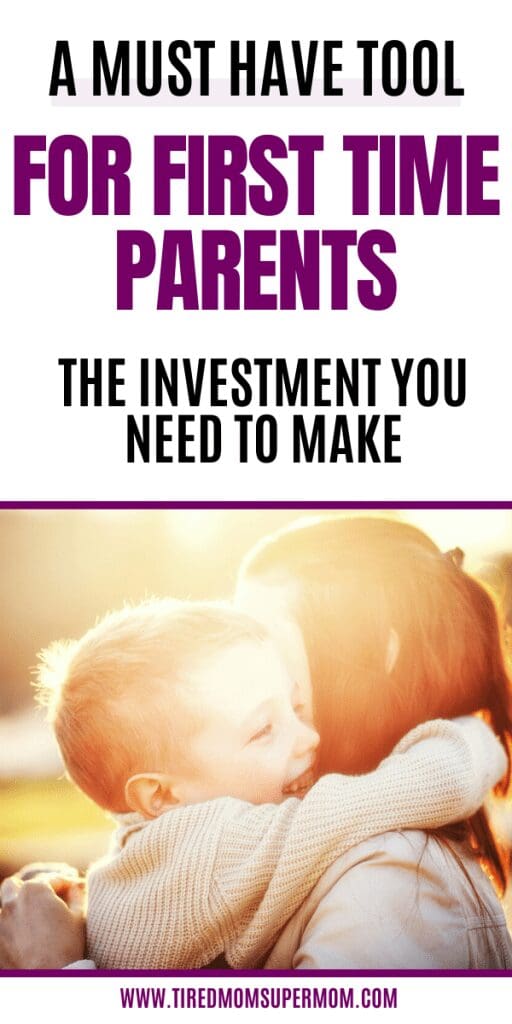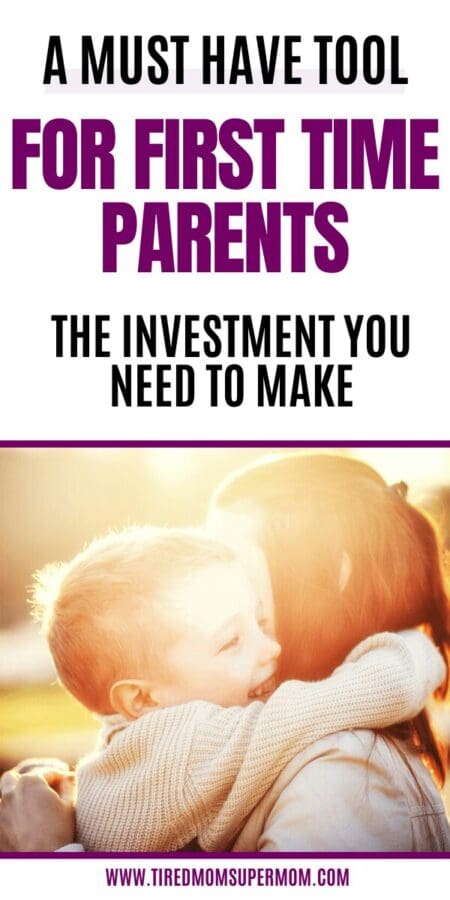 From the moment you get pregnant to the day your baby arrives, you'll hear strangers tell you that your maternal instincts will kick in and you'll know just what to do with your child as they grow.
Well, that may be more truthful for the baby stage (although I certainly needed a lot of help in that area!) the toddler, preschooler, pre teen, teenage and young adult stages, are much less instinct, and a lot more strategic.
You're going to get hit with attitude you never thought was possible to come from the cutest creature you've ever seen.
You're going to experience your children feel emotions that you've never felt yourself.
You're going to get pushback, and you're going to want to yell at your child.
These are all things parents go through, and they are normal.
The difference is how you handle these difficult situations.
The solution is, Positive Parenting Solutions, a course for parents who want to raise resilient, kind and happy kids who listen learn values that are important to your family.
Stick around, let me tell you more about this course, which I've taken, and LOVED every moment of.
*This post contains affiliate links. Full disclosure here.
Parenting doesn't come naturally for everyone, in fact, many people use outside resources to help them through difficult situations.
We can all try and follow our instincts all through this parenting journey, but the thing is, they aren't always right.
A lot of the time, follow our instincts actually just defaulting to the way we were raised.
When it comes to life, there are a lot of courses we take to learn how to do things.
We pay for University to teach us about physics and science so we can become engineers and math teachers.
We pay for classes to learn to be mechanics, graphics designers and fashion designers.
But when it comes to parenting, there are not many resources and classes available for us to take and learn from.
This is why I was so happy to find Positive Parenting Solutions. Not only is it easy to follow, but it also provides real-life examples that I could relate to, step by step solutions to my most pressing issues and provided me with tools to handle any upcoming difficulty I may face in the future.
With Positive Parenting solutions, we can say goodbye to stressful and uncertain parenting practices and say hello to a peaceful, no yell, home environment.
Because I've taken this course, I am able to help you decide if this is a good course for you to invest in. I'll take you through the entire course so you know exactly what to expect so you can decide for yourself if this a leap you want to take for your family right now.
I'll go through the course overview, the training and tools provided, the investment required, Other reviews from real parents like me and all my personal thoughts and feelings about the course as well.
What Is Positive Parenting Solutions Review: An Overview
The Positive Parenting Solutions online course is made up of seven training sessions that each contain about 6-8 individual lessons. Each lesson comes with a 5-25 minute video that takes you through all of the information and tools. You can follow along and take notes with the companion workbook.
The course as a whole contains more than 37 specific, battle-tested discipline strategies and step-by-step action plans for the most stressful parenting challenges – from the toddler years through the teens.
It was created by parenting educator and TODAY Show contributor, Amy McCready. Based on her extensive research, education, and experience, she teaches parents why children exhibit certain behaviors, how to figure out the root cause behind the behaviors, and how to calmly and confidently manage them.
Let's take a closer look at those sessions and what they all include…
Positive Parenting Solutions Course Features
Positive Parenting Solutions is presented in the form of online video, created by parenting educator Amy McCready. She has been featured in the TODAY Show, Fox And Friends, CNN and so many more amazing shows.
Amy takes you through 7 sessions where she teaches panrets why our kids behave in certain ways, how to decode the behaviour and how to peacefully resolve the issue.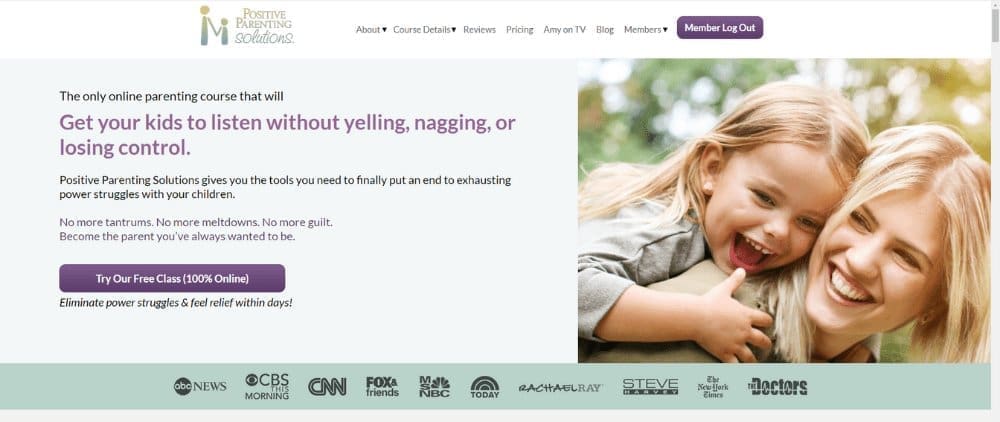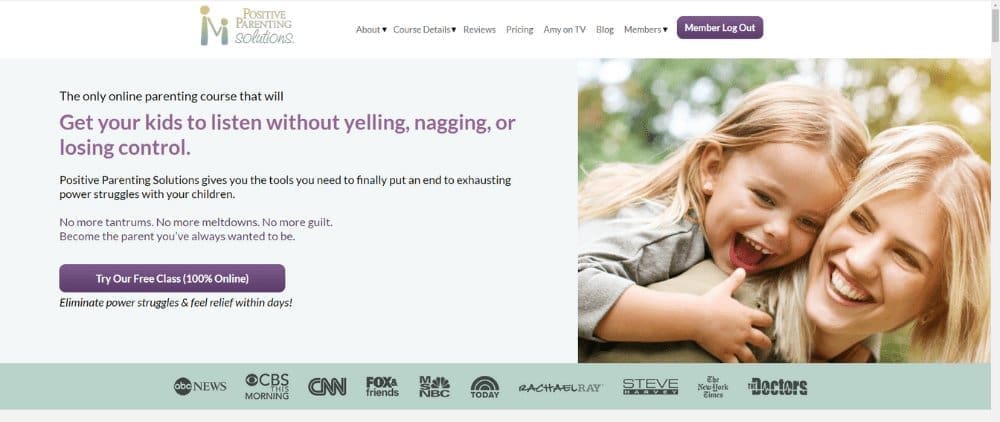 The course begins with an easy to understand introduction to the basics of parenting to help us understand the hidden needs of our children.
After she goes through the basics, Amy presents the toolbox of actionable tips that we can use to raise and support our children.
She goes over how to avoid power struggles and how to stay calm when faced with difficult parenting situations.
The entire concept of the course is to help you create a peaceful family environment where you have kids who listen and you don't have to nag or yell at them constantly.
There are 49 lessons throughout the entire course, and each lesson has a 5-30 minute video to explain the accompanying article that comes with the lesson.
There is also a series of Expert Series and Specialty Modules that focus on topics like "keeping kids safe from bullying at school" and "Resources to Help the Anxious Child"
There is a wonderful, comprehensive "workbook" that comes with the course so you can really follow along with the course, takes notes and soak in all the information.
Additionally, Amy offers "Ask Amy" coaching calls where members can get their questions answered in a weekly webinar which are recorded and are made available to Gold Members.
The Gold Membership also comes with access to the Facebook Page where you can meet 15 thousand other members who strive to be amazing parents, just like you.
Session One: Behind the Behavior: Your Kids, Explained!
Session one is all about a soft introduction to the course. It goes over parenting styles, the effect birth order has on behavior, and how your parenting personality is affecting the way your children react.
This soft introduction to the course is comprehensive and really eye-opening. A great beginning to your new parenting journey.
Session Two: Encouraging the Best in Our Kids
In this eye opening session, you'll learn how your children see you in your home. You'll learn how it feel to be overpowered and even discouraged.
She talks about the 7 ways we discourage our kids and why you should ditch rewards as a way to get your children to listen and behave.
Amy also covers how you may be raising a praise junkie and goes over the things that kill encouragement too.
This is where you learn about chores and whether you should or should not use allowance.
Session Three: Revolutionize Your Routines: Regain Control, Let Go of Guilt
I love this section, as it was the most helpful to me when I was taking the course.
Amy goes into deep detail in how to deal with backtalk, how to fix power struggles in 10-seconds and how routines can be sanity saving but also can help with improving behavior.
This is also the section where Amy goes over how to create a successful consequence, and how to use remove and redirect strategies in your home.
Session Four: From Power Struggles to Peace: How to Handle Extreme Behaviors in a Positive Way
Amy goes over in great detail how to get to the root of your child's behavior problem.
She also teaches how to handle whining, interrupting and helplessness without losing your cool.
This powerful session also goes into how to handle revengeful behavior and simply how to decode exactly what you're dealing with.
Session Five: Transform Sibling Relationships: From Enemies to Besties
This was an awesome section because it not only goes over sibling quarrels, but also how an only child can react and interact with friends and family.
Amy goes over how to teach conflict resolution and also goes well into how you could possibly be adding fuel to the sibling fire without realizing it.
This session is full of tools to handle sibling rivalry in the moment, even when things get physical. This section is GOLD for any parent with more than one child.
Session Six: The Family Harmony tool: Calm The Crazies, Fire Up The Fun
In session 6, you will focus on your family unit as a whole Amy talks about the most effective tool for family problem solving.
She talks about increasing empathy in your home and how to build up your child's leadership abilities.
In Session Six, you will shift your focus from the individual child over to your family as a whole. You'll find out the most effective tool for family problem solving as well as strategies for family negotiation.
Also included in this session is how to increase empathy in your home and how to build your kids' leadership capabilities.
She also goes over the ways family meetings can go sour, and how you can avoid that situation!
Session Seven: Your Future Success: Staying Strong Through The Ages And Stages
Session 7 is a large review module. Amy goes over all the tools discussed in the course.
Amy also provides a chart that acts as a roadmap for all the behaviour issues discussed.
You can easily see the behavior and look up the strategy that matches it. It's a parenting cheat sheet, very useful.
Expert And Specialty Modules
You'll get a few extra modules in addition to your 7 in depth sessions. These modules take a deeper look into specific behavior issues mealtime issues, bedtime blues, and chore wars.
Specialty modules:
Learn 5 Tools for Nag-Free & Tear-Free Mornings
Discover the recipe for mealtime success for you and your kids!
Learn how to cure the Bedtime Blues.
No More chore Wars
How BUSY parents can use the #1 Tool for a happier home
Sibling Bullying
How to use work solutions at home… and with great results
Are Rewards and Praise Ruining Our Kids?
ABC's of allowance
Curing Entitlement Epidemic
Keeping Kids Safe From Bullying At School
Learn the 3 R's
Technology Survival Plan
How to Maintain Your Sanity, Self-Respect, & Sense of Humor While Raising Teens
Resources to Help the Anxious Child
Tools And Training Provided By Positive Parenting solutions Course
Toolbox
Each session contains different lessons with it and each lesson is chalk full of tools.
Amy does a brief introduction to each tool and then goes deeper into how the tool works and how you can use it in your home.
She also provides examples of how the tools are used effectively.
Each session end with an overview with your "toolbox" which includes a summary of al lthe tools you've gathered in that session.
Workbook
There is a comprehensive and very helpful workbook that is a notetaking guide and a great resource that you can reference quickly when faced with a certain behavior.
This workbook is easy to follow, nicely designed and has lots of space for notes. She also provides prompts for note taking so you don't miss a beat!
Basically this allows you to find the solution you were looking for without having to find the video that explains it.
Group Coaching Calls
With the Gold Membership, Amy provides members to ask questions and answers them on a webinar. The recording is then added to the member's area so you can access it anytime. The library of calls is organized by date and the topic discussed so you can easily find the recording you want to listen to.
Facebook Group And app
The App is super cool. It allows parents to have access to all the course materials on your android or iOS device. You can download all of the audio for each video so you can listen to it on the go, like a podcast.
You can get access to the app with the Silver and Gold memberships, but the download audio option is available only for the Gold membership at this time.
In addition the App, you also gain access to the Facebook group.
this is an awesome supplement to the course and Gold members get lifetime access to this group. There are over 18,000 members that talk and support each other through their parenting issues. Amy is also around and jumps in on the discussions.
This is a huge support group for struggling parents!
The Membership Options And Investment
By now you are aware that this course is JAM-PACKED with amazing, super helpful and relevant information to help you with your parenting struggles, but you're asking, what's the investment?
There are 3 levels of membership to this course: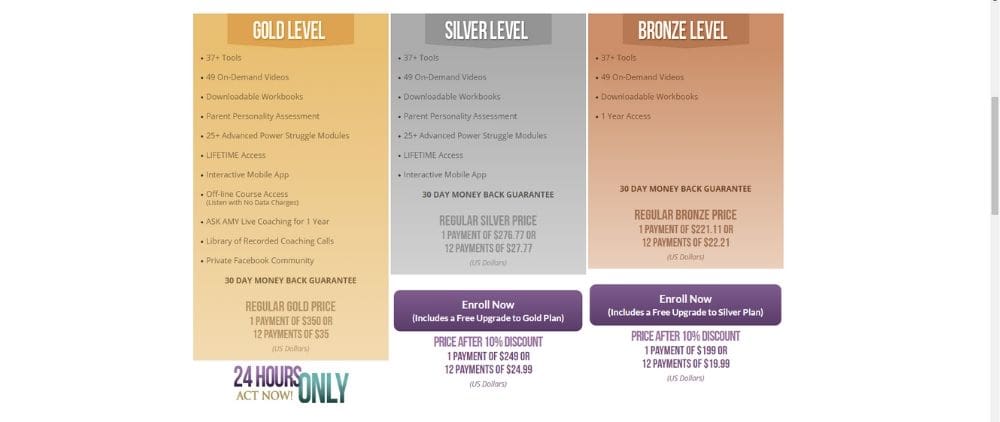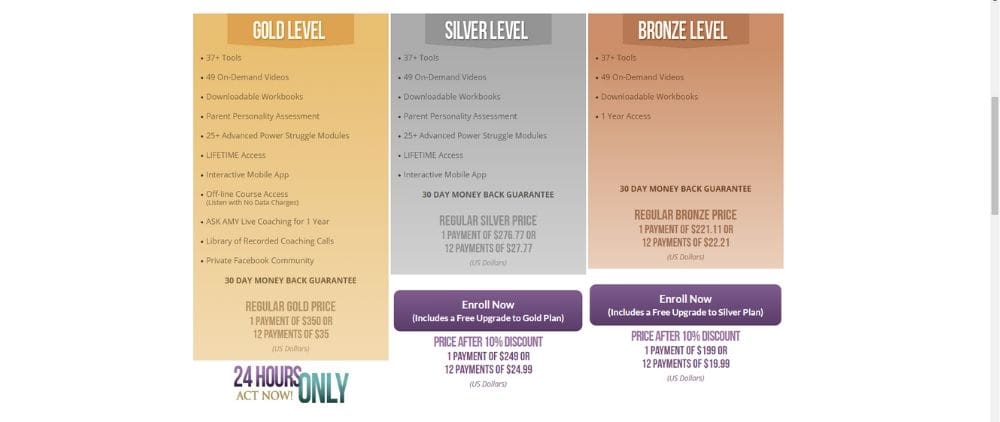 If you register for Amy's free webinar, then you'll receive a 10% discount and free upgrade automatically!
This makes the pricing package a little bit different!
The Bronze package becomes a free upgrade to the Silver Package.
The Silver Package stands at 10% off and the Gold Package also becomes 10% off!
The Gold Package is the BEST package as it has the most features such as access to the Facebook group, downloadable audio from the app, unlimited access to all Ask Amy coaching calls.
Cancellation Policy
I mean this course is amazing, but if for some reason you don't love it, you have 30 days to change your mind.
You can request a refund here.
Final thoughts
There are many things to love about this course but here are the highlights:
Amy is a natural speaker and is very easy to listen to
Amy has a lot of experience on the subject and is truly an expert on raising kids
Amy calls herself a recovering yelled, so she really is just like us and now some parenting expert who has no kids but went to school for it.
The video quality is great and easy to follow.
The examples provided in the course are realistic and relatable.
she uses group studies to show her point.
The workbook is so detailed, you won't miss recording a thing.
The related articles to help you further understand concepts are very helpful.
The app is amazing! Especially if you can download the audio and learn on the go.
The Toolbox is packed full of amazing tools.
There are interactive activities such as quizzes that help the learning process.
The expert modules are super-specific to behavior issues we all face.
You can get a refund in 30 days if you're unhappy with the course. (but you will be, I'm confident!)
So now you have all the facts, will you join me and 75,000 other families and transform your life?
Still not sure?
Join the free NO-STRINGS ATTACHED class and see what a difference it makes to you and your family.