This post may contain affiliate links. Full privacy policy and disclosure here.
✨Ready to make BIG changes on your parenting journey? Don't miss the FREE video training: 5-Step No-Yelling Formula. Gets Your Kids To Listen The First Time, Every Time! Learn how to How to avoid blaming, shaming, or causing your kid any pain when you set consequences! Grab your spot in the FREE video training HERE…
Gifts you can give children who are suffering a loss of a family member of friend. Give your deepest sympathy with a great gift or a beautiful inspirational poem to help your child through this time of sorrow.
Sympathy gifts for children need to be carefully considered, with a view to offer comfort and support rather than additional stress at what will already be a difficult time.
The best sympathy gifts for children are those that show you care about their wellbeing and help them through this challenging time, rather than simply offering another present as if it was their birthday. It is also important to bear in mind the age of the child when choosing a sympathy gift.
While a child of almost any age can enjoy something as simple as an animal-themed book or even stickers, older pre-teens may prefer something more substantial such as an iTunes voucher or even cash so they can spend it on something they really want. Let's take a look at some ideas…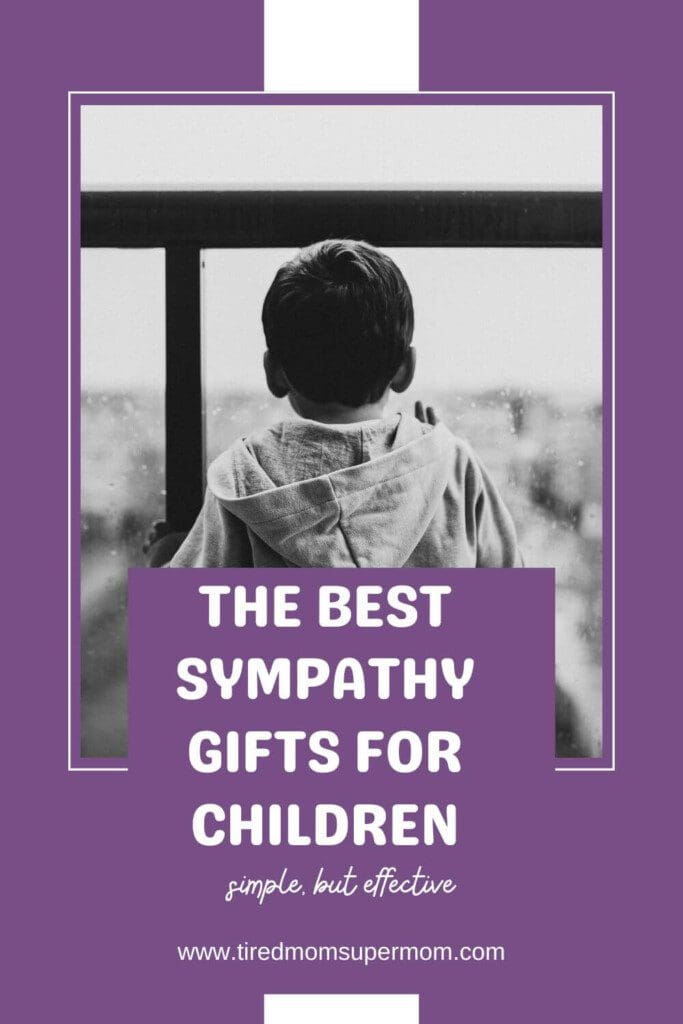 Allowing Kids To Grieve
When it comes to death and dying, even very young children know more than we generally give them credit for. I was one of those kids who lost a parent at the young age of 5, and I remember it all 30 years later.
Whether a child just lost a beloved pet or have recently endured the life-changing death of a parent, grandparent, sibling, or friend, the anguish they're feeling is very genuine and may be all-consuming (and downright bewildering), especially if it's their first major loss.
So right now, more than anything, you want to better understand the grieving child in your life so that you may better assist them work through their difficult feelings.
So, while you consider what to get the grieving youngster in your life, attempt to put yourself in their shoes.
Thoughtful Gifts for Grieving Children
The purpose here isn't just to give your child a toy or something else to distract them from their grief; rather, these the best gift choices should have actual value and can help your child heal from their loss in this difficult time.
This Quotebook Journal is a great gift for grieving children so they can write down their thoughts and feelings as a therapeutic outlet. This particular quotebook is made with beautiful moleskin, and is a wonderful way for a grieving child to connect to their inner self.
Memory Bear
Mementos & Monograms is an Etsy store that will utilise the clothes of a deceased family members to make a one-of-a-kind teddy bear memorial gift. This memory bear is a great way to give an everlasting souvenir with a special meaning for the grieving child in your life, and it's a gift they'll cherish beyond their time of sorrow.
Grief Journal
The Angel Catcher for Kids Journal provides a therapeutic outlet for kids who appreciate that type of thing through easy question-and-answer prompts and other creative techniques. It is essential the perfect gift!
You may also buy the adult version for yourself if you're experienced the loss of child.
Memory Necklace
A memory necklace is a thoughtful sympathy gift with a place for a small photo like this is a great idea for kids who want to keep their loved one close to their hearts. Its a sweet gesture and kids will treasure it forever. You can always engrave some important words on a special necklace as well.
Sympathy Gift Basket
Gift baskets are a wonderful gift for grieving kids who have lost a family member that help provide thoughts of comfort.
You might put together a condolence gift basket on your own. Fill it with items you know your child would enjoy, and you might just be able to brighten their day a little so make sure a poem card included.
Here are a few suggestions of gifts for heartfelt condolences:
Food/snacks/treats
Books, hot chocolate, and mugs
Writing/drawing equipment and a journal
Games with cards
Art materials
Memorial Quilt
On days when the pain is still raw, a quilt is ideal for snuggling with to help ease that pain and provide heartfelt sympathies. You can make your own, or hire a local company to make it for you. Use the clothes of the person you lost to make it very special.
Alternatively you can give your child an angel blanket like this that has beautiful angel's wings and special words to get them through the grieving process.
An iTunes voucher
The death of a loved one can be incredibly traumatic for children, who may be struggling to process their new reality.
Music and sound can play a big part in the grieving process for many people, with certain songs helping to trigger strong emotions and memories. You can use this to your advantage by getting your grieving friend an iTunes voucher, so they can download their favourite music to help them through this challenging time.
Music is also great for children, allowing them to express their feelings without having to talk. iTunes Gift Cards are available in a variety of denominations and can be redeemed either on a desktop computer or an iOS device like an iPhone or an iPad, and downloaded to these devices.
This means the person who has lost their loved one can choose the music that helps them most, and download it to their device. If you know what sort of music your friend likes, you can choose the gift card yourself, allowing you to select their favourite artist or album.
Alternatively, you can pick up a general iTunes gift card and let the person who has lost their loved one decide what music they want to help them through this difficult time.
Keepsake Box
A great way to help your child grieve is by giving them a keepsake box. It's the ideal condolence gift for tweens and adolescents who want a specific location to store photographs, cards, inherited jewellery or trinkets, and so on.
You can use a keepsake box to fill with items the deceased loved, and then add it to the casket at the funeral home.
A framed photo of the deceased parent
A framed photo of the parent who has died can be a touching sympathy gift for a child. It can be a particularly good choice for younger children, who may find it difficult to understand the concept of a framed photo as a gift.
Older children may also appreciate a specially selected photo of their deceased parent, and framed photos are a gift that can be displayed in their bedroom or on their desk, so they can have their parent with them every day.
You can either select a photo from the family album, or get a new photo printed of the deceased parent, to let the child know that they are loved and missed.
If you decide to get a new photo printed, you may want to select a photo of the parent with their child, so the child knows that the parent loves them.
You can also choose a photo of the deceased parent doing something the child particularly enjoyed, for example, if the parent was an avid gardener, you could get a photo of them gardening.
This way, the child will know that there are no strangers around to replace their parent.
Books
Grieving kids will appreciate books as gifts as a unique children's sympathy gift. One of my particular faves is The Fall of Freddie the Leaf, which depicts the "death" of Freddie, a leaf who gradually realises that life as he knows it would cease one day.
Colouring book and pencils or crayons
A colouring book can be a great gift for any child, but particularly for those who have experienced the loss of a parent. Colouring books can help children express their emotions, as well as improving their concentration and fine motor skills.
Because they are generally non-verbal activities, they are also a great choice for children who don't yet have the language skills to talk about the feelings they're experiencing. It can also provide comfort for children who don't yet understand what has happened, as well as for older children who are still adjusting to their new life.
You can buy a colouring book with a wide variety of themes, such as animals, princesses, fairies, or even football. You can also choose colouring books with variety of themes, such as animals, princesses, fairies, or even football.
Colouring books are also a great gift for children with autism, or who are grieving and may be experiencing difficulty communicating their feelings. Another option is to get a box of crayons or coloured pencils so the child can scribble or colour their favourite scenes or images from one of their favourite books.
This can be particularly helpful if the child is having difficulty expressing what they're feeling. If you're not sure what colouring book or crayons or pencils to get, it can be a good idea to get some general children's coloured pencils or crayons so the child can use them to colour in a wide variety of images.
This can help them express their emotions in a non-verbal way.
Memorial Seed Packs
For everyone, getting out in nature can be quite soothing. This is particularly true for a youngster who has just experienced a loss.
These memorial seed packets, which are engraved with the name of their dead loved one, include ready-to-plant wildflower seeds and feature a cardinal picture.
Cash Gift
A cash gift can be a thoughtful choice for many people, particularly if you don't know what else to get them.
If you're not sure whether to get a present or not, a cash gift can be a sensible option and one that many people appreciate. That said, a cash gift can also be tied into a meaningful message, letting the child know that they have your support and that you hope they will find comfort in knowing they have this cash to help them get through this difficult time.
You can either write this message on the gift card or simply hand them the cash gift in an envelope so that the message is clearly expressed. A cash gift is also a good option if you want to help the child financially, but aren't sure how much to give.
A cash gift is also particularly useful if you aren't close to the child and don't know what their interests or hobbies are.
You can either keep the amount small or choose a gift card to a store or online retailer where the child can buy something that they really want.
Do Something Special
Take your child to a place that was meaningful to the person who has died. Did Grandma like going to the beach? Go! Together, write her name in the sand on the beach and watch as the waves gently drag it out to sea. Uncle John was a movie buff, right? Make the anniversary of his death a joyous event by going to the movies every year. That would have been fantastic for him.
Make a balloon release on your own. Although many funeral homes provide these services, you may simply recreate the experience yourself for a fraction of the cost. It's also something that kids can participate in that is actually significant.
Memorial candles, wind chimes, and even a comforting angel plush throw are all things that can add to giving out the warmest condolences for a grieving child.
Wrapping up these gifts
While some of these gifts are fairly easy to wrap, others may present more of a challenge. If you're not sure how best to present your sympathy gift, remember that less is often more.
If you really want to get a gift for a child who has lost a parent, make sure that you check the child's age to make sure they're old enough to understand what the gift means and appreciate the sentiment behind it.
While you don't want to scare the child with a grim gift, you do want to make sure they know that you care.
How To Help Your Grieving Child
Give them time and space
Every child is unique and sometimes the only thing they need is space. Some people will take longer to return to normalcy than others, depending on their age and developmental maturity.
This implies that when it comes to condolence presents, people might not react the way you imagined they would. That's OK. Keep in mind that they are going through a lot and are probably unsure of how to feel or behave.
So give the present and leave them to their own devices. You might be able to get some flowers that do the same day delivery service and give them a special gift at a later time after they've had some space.
Don't bother them by asking how they like it or if they've utilised or exhibited it. Give them your present, make them know you care, explain why you gave it to them, chat to them if they want to (or listen if they don't), and then give them your gift.
Ensure that your child is eating and sleeping well
No one, especially a little youngster, can go through sorrow if they are malnourished or sleep deprived.
If they're having trouble eating, offer to take them to their favourite restaurant to distract them for a bit. Allow them to sleep with you, or you with them, if they are having problems sleeping.
Of course, if you discover that your child's eating or sleeping patterns have drastically changed, there's nothing wrong with seeking expert help.
If they're already having difficulties sleeping or eating, avoid stimulating goods (like video games) or junk food and candy as a nice condolence gift. Consider how they're doing in regard to what you're giving and how your present could harm them.
Keep up with routines
Everyday routines provide stability for children, allowing them to know what to expect next if they're puzzled about what's going on.
As a result, create your present in the tradition of the past. Did you take them out every week for ice cream? Continue to do so. Did the departed loved one take them out every week for ice cream? Now that their loved one has passed away, see if you can commemorate (rather than replace) their memory by taking the child out for ice cream.
Bottom Line
When it comes to sympathy gifts for children, you have many options. The best choice for your child is one that shares their values and provides a chance to talk about the loss with input from you.
If you are unsure about what will resonate with your child in the wake of their grief, consider a gift that contains a few thoughtful components. For example, you could make a book on the child's favourite subject, or buy them a journal that can be used to express their feelings.
That said, you also don't want to be too prescriptive when it comes to your child's grief. They need space to process their loss themselves, so you can help them by being there for them and listening to them. That might mean giving them the space to cry or express their anger, while you watch or hold them.
Print This Positive Parenting Guidebook – The 5 Pillars Of Positive Parenting
Listen… parenting with connection and positivity has been seen as permissive and lazy parenting BUT this is totally not the case.
I am a mom of 3 beautiful children and I've spent HOURS, DAYS, MONTHS, and YEARS researching this topic and seriously, it is my favorite way to parent.
Way better than what I grew up with – which was A LOT of yelling, spanking and frankly, neglect.
This little guidebook is a golden nugget that you can have for free – and print it out! Put it on the fridge, refer to it often. It's really a great tool for kids of all ages.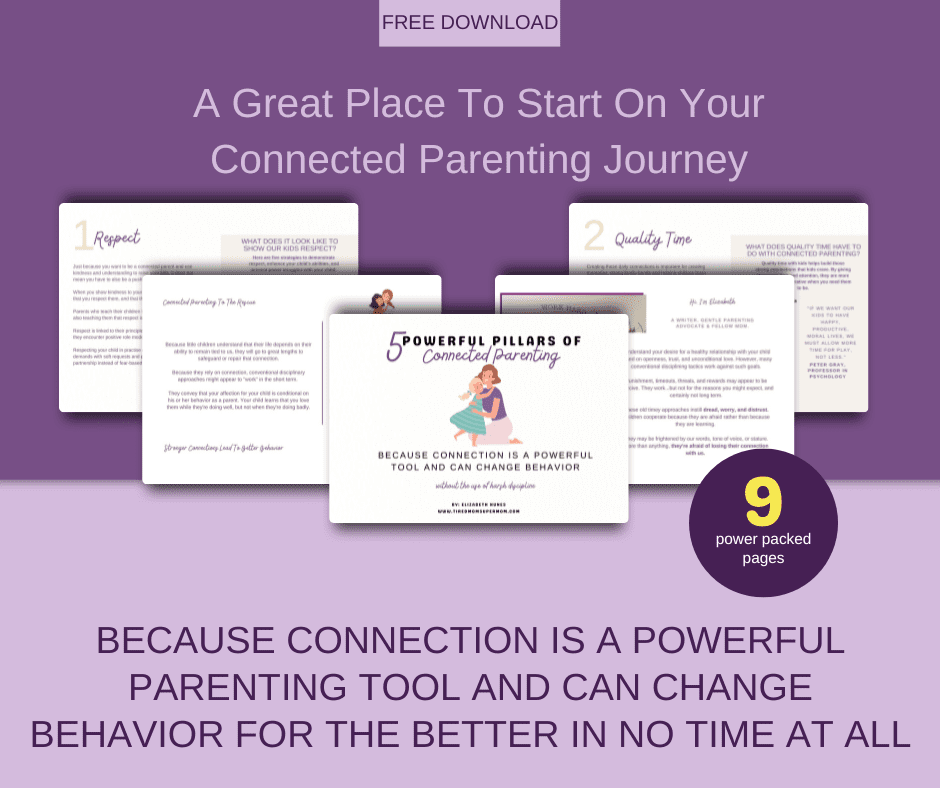 Download Your Free Printout
Download the guidebook. You'll get the printable, plus join hundreds parents who receive my weekly parenting tips and ideas! (Sometimes I'll promote a parenting program, but only the best ones that are in the positive parenting community, I promise.)
Print. Print out the guidebook!
Place it where you can see it. There is a lot of great information in this guidebook, even though it's small. It's power packed full of great stuff so put it where you can refer to it often.
More Like This