This post may contain affiliate links. Full privacy policy and disclosure here.
The best list of outdoor games for kids so you can enjoy your summer in your own backyard without too much stress!
Are you looking forward to summertime and spending hours of fun in the sun in your own backyard?
As someone who spends 6 months stuck inside with children during the winter season, I try my hardest to get the kids outside as much as possible when the weather is nice. It's really important for children to spend time in nature, even if it's just the backyard. After all, being outdoors is proven to be better for your health and also it happens to lower anxiety levels in children and adults too.
I'm currently very lucky, my children can go outside and play without needing a structured activity, but when those moments come when they just want to sit on the couch and watch TV, I have some backup games that get them off the couch and into the backyard.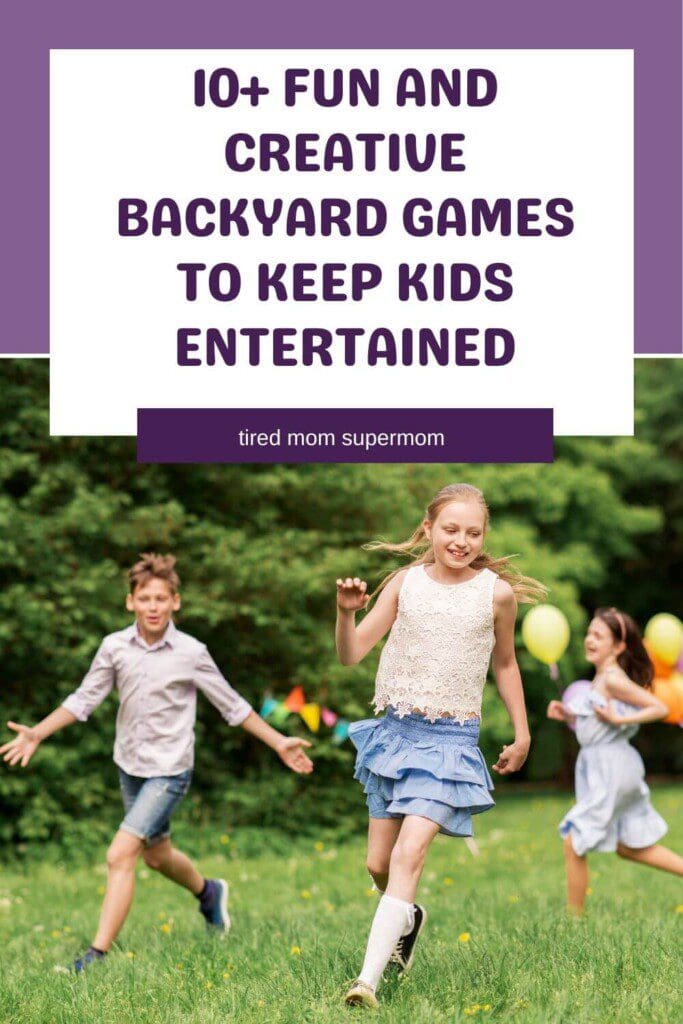 Benefits Of Playing Outside
Fresh air is not a thing of the past, even though sometimes it feels like it might be with all the available tools to help us feel comfortable and entertained indoors, but it really is rather important for mental and physical health for children to play outside.
Playing outdoors builds healthier children physically because they can run wild, jump high, catch and throw balls and lift toys and rocks without any limits. I don't want these things happening inside the home, so outside the home, it's all fair game.
But these actions are required so that children can get exercise and practice their motor movement skills. While they strengthen their skills they also strengthen and exercise their bones and muscles, making them physically more healthy as they run wild and have fun.
Outdoor play that is not structured helps kids learn how to play together, take turns and share their outdoor toys and structures, all while improving their communication skills. The imagination that comes out when the kids are playing outside is always such a joy to watch. My favourite part of listening to my children play is their emergency vehicle storylines where someone is in trouble and the firemen are heroes that save the day!
As if developing communication skills isn't enough of an incentive for kids to play outside, they also develop a better immune system and are generally happier than kids who are always indoors. Spending time with nature naturally improves moods and gives a natural feeling of happiness. This is true for kids and adults as well.
Fun Games You Can Play In Your Backyard This Summer
There is nothing more simple than grabbing a box of chalk and letting the kids use their imaginations. Chalk works well on all different kinds of surfaces. Kids can draw on pavement, brick walls, concrete porches, sidewalks, chalkboards and even paper.
The great thing about chalk is that it washes away after a nice rain, giving them an opportunity to draw all over again! You can always hose the chalk off as well if you're not expecting rain.
I love this open-ended art activity because it truly gives children the opportunity to use their imaginations to the fullest and they can think outside the box when creating their masterpieces. My children often create games with chalk and I love to join in too! Creating these memories is priceless.
Play Hopscotch
Have a blast playing a traditional game like hopscotch together. You can use masking tape, chalk, or even go all out and paint slabs of concrete to create a hopscotch grid.
Just in case you can't remember how to play hopscotch, here are the rules:
Each player has something to roll (a stone, chalk, shell etc)
The first player stands behind the starting line and rolls their item
The first player would then hop on one foot on the one square spaces and two feet on the two square spaces and turn around at the back and hope back to square one. On the way back to square one, the player has to pick up their item without losing balance.
A player must always hop over any square where the item has been placed.
A player is out if they hope on a line if they stumble or use the wrong amount of feet on the spaces provided,
Enjoy this youtube video which explains visually the rules of hopscotch.
Run Through Sprinklers
Do you have amazing memories of yourself as a child running through cold water sprinklers on the hottest summer days? Do the same for your little one! This is a fairly low maintenance activity. Just make sure to sunscreen up and wear proper headwear to avoid sunburns.
You can either go buy a fancy sprinkler or use a simple hose for this kind of water play. There is no right or wrong way to play with water in the backyard.
There are these really fun sprinkler pads which are awesome and work so well for the backyard. We like to use basic sprinklers like these in our home.
You don't need expensive things to enjoy water play in your backyard!
Skip Rope
Studies say that jumping can make you smarter.  Who knew?!
Well someone knew, and they did some research. Get your kids off the couch and teach them awesome jump rope games! 
Teach your kids basic jumping skills and get those heart rates up for the ultimate exercise and fun all in one. Make sure to teach them about games they can play together and alone. Jumping rope isn't just for kids either, mom, you can join in on the fun too!
So go on, grab a jump rope and get active.
Camp Out
You don't have to go far for a family camp out. Set everything up right in your backyard.
Get a campfire going, set up the tent and pretend the house is not right there. If you have little kids, this is a great opportunity to introduce them to the camping lifestyle, and the fact that home is so close can bring the little ones comfort in a new situation.
Sing songs around the campfire, tell scary stories and teach kids some important survival skills while having a blast and creating amazing family memories!
Play In Sandbox
Nothing says hours of fun than a sandbox filled with sand and awesome toys!
You can even get super creative and make your own sandbox.
Stimulate the senses by letting your children play freely in the sand. Let their little toes sink into it and watch them get really dirty and have lots of fun. Let them engage in sensory and imaginative play with a few sandbox toys.
Whether you decide to have a sandbox on the ground or a sand table for this sensory play activity, they will be sure to have loads of fun for hours on end.
Kick A Ball
Good old fashion ball kicking should never be ruled out as a backyard activity. Heck, why just balls? Throw frisbees and baseballs too!
Throwing and kicking balls engages kids in active play and creates lots of laughter too. Think of the memories you'll create if you play along with them!
If you have a small concrete pad in your yard, you can even play basketball and hockey too.
It is never too early to start teaching kids how to properly kick a ball…I mean have you seen the kids on youtube these days?!
Water Fight
On those super steamy hot days, grab a water gun and some water balloons. 
Even though water play seems like a basic and wild activity, it actually teaches kids balance and improves their strength. Not to mention helps them with their aim and coordination. While you think you're just letting them play wild without learning, you actually ARE helping them strengthen core skills that they will use later in life.
Nothing like learning through play while having the best summer ever.
Fly Kites
Fly kites right in your own backyard.
Have hours of fun running around with kites and letting them take off high into the sky.
You can even make your own kites for extra fun!
A simple activity like flying kites is very exciting for children and think of all the exercise they are getting with all that running around. Talk about a healthy kid.
Blow Bubbles
Blowing bubbles is a super fun backyard activity.
You can use traditional bubbles with bottles from the shop or you can make your own super giant bubbles.
Play around with different materials in your home and see what kinds of bubbles these things can create.
Did you know that bubbles are also really good for physical development in children? They better their visual tracking skills, improve gross motor development, hand-eye and foot coordination and body awareness too.
I'm a sucker for activities that are skill building and super fun. Learning through play is the best kind of learning.
Create A Slip N' Slide
Have fun in the hot hot days with a lawn slip and slide.
You can also make your own and buy one pre-made. Water play in the summer is an amazing way to stay nice and cool.
Develop kids motor skills while they play on these slip and slides too! Make sure to continue to reapply sunscreen when playing in the water to practice sun safety.
Play On Tire Swing
Take your modern kids back to the olden days where tire swings were all summer was about.
You can create your own tire swings, especially if you have a nice big tree in your yard to utilize!
If you don't have a tree, not to worry, you can always utilize a fun playset and get it shipped right to your door from Amazon too. Whatever your preference is, having a place to swing is a great addition to childhood memories.
Play With Remote Control Cars
Do you have hills and bumps in your backyard? Get some wicked remote control cars and have hours of fun "off-roading" in your own backyard.
There really is unlimited fun when it comes to remote control cars in the backyard. The only thing that stops the playtime is the running out of power on the remote controls, so be sure to do your homework and get one with extra battery juice for extra fun.
Make Smores
Smores have always been a favourite summer treat.
You don't have to go camping to enjoy smores, you can have them right in your own backyard.
Stuff your mouth full of gooey marshmallows and warm chocolate wedged between 2 pieces of gram cracker cookies.
These traditions may seem crazy, but to kids, they are awfully exciting. Enjoy summer smores this year and create amazing memories.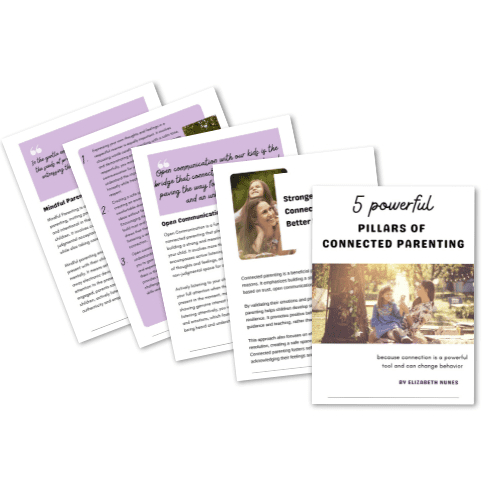 Free Download
Take your parenting journey to the next level with our comprehensive ebook on Connected Parenting.
Download this ebook now and embark on a transformative parenting experience that will strengthen your bond with your child and bring joy and fulfillment to your family life.