This post may contain affiliate links. Full privacy policy and disclosure here.
✨Ready to make BIG changes on your parenting journey? Don't miss the FREE video training: 5-Step No-Yelling Formula. Gets Your Kids To Listen The First Time, Every Time! Learn how to How to avoid blaming, shaming, or causing your kid any pain when you set consequences! Grab your spot in the FREE video training HERE…
What to add to your baby's first Christmas eve box to place under the Christmas tree as a new tradition.
Having a new baby during the holidays can be stressful, especially when it comes to figuring out how you'll manage all of the traditions and expectations.

With so many different things to think about, Christmas might not be at the top of your priority list right now.
However, putting together a thoughtful Christmas Eve box full of small gifts for your new bundle of joy can help ease some of that stress.
By creating a special gift for your baby with items they'll appreciate as they get older, you're easing their transition into the festive season.
Not only will this also give them something exciting to open on the night before Santa arrives but it'll also leave you feeling much less stressed about everything else that needs to get done in order for them to have a happy, memorable first Christmas.
So check out these helpful tips and tricks on how you can make a Christmas Eve box for baby!
What Is The Purpose Of A Christmas Eve box?
Individual or family. Is it a treasure box or an open crate? You make the call!
There are no set guidelines for how you should fill up your xmas eve box.
Some families prefer to prepare a single Christmas Eve package containing everything they want to share with the rest of the family which is always a cute idea. Others prepare a box for each member of the family, with more individualized presents.
You also have a lot of flexibility in terms of the shape of your Christmas Eve box – it doesn't have to be a box! It might be a crate, a hinged box in the manner of a treasure chest, a bag, or a gift box as some excellent choices.
Christmas Eve boxes are a wonderful, one-of-a-kind tradition to start. It might be difficult for many young children to wait until Christmas to unwrap their toys.
Having one box to open the night before allows children to fulfill their urge to unwrap presents without having to do it all at once on Christmas morning. This is also an excellent chance to distribute unique things such as Christmas pajamas.
But you might be wondering if doing this ritual with a newborn is truly worth the effort. Don't worry, I felt the same way about my son's first Christmas.
True, your kid may not be overly interested or enthusiastic about his or her first Christmas, especially if he or she is very young. However, doing everything you can to involve them in the celebrations is completely acceptable.
Many of the rituals you incorporate in your baby's life may not faze them, and they will likely forget about them in the future. Christmas, on the other hand, remains a magical time of year, and everything you can do to make it even more so is commendable.
In fact, involving your infant in family rituals is likely to make the season more memorable for older siblings.
If this is your first child, it will be even more meaningful for you and your partner.
So, even if you don't believe it would make a big impact, don't be scared to include your kid in enjoyable rituals!
See also: Calm Down Corner Best Practices And How To Create One For Your Child
What's in a Christmas Eve Box?
When making a Christmas Eve box for baby, it's important to decide what you want to include in the box. While a box alone can be very meaningful, it's good to know what items you'll put inside it so you can tailor it to your specific needs.
Here are some suggestions for items you can include in a Christmas Eve box for your baby:
Baby-friendly Christmas decorations – If your baby is old enough to appreciate Christmas decorations, these will be a nice addition to the Christmas Eve box. They can also be a great way to get your baby excited about the holiday season ahead of time. – Depending on your baby's age and what they can do with decorations, you can put these in the box either now or once they're old enough to play with them.
Baby-friendly Christmas books – If you have time to read to your baby before bed every night, a baby-friendly Christmas book can be a great addition to their Christmas Eve box. You can either buy a new book or re-read an old classic to your baby on the night before Christmas. – Alternatively, you can put a book that you've already read to your baby during the season in their box as another gift to them.
baby-friendly Christmas toys – If your baby is old enough to play with toys, you can put a couple of Christmas-themed toys in their box. – You can also put non-Christmas-themed toys in the box too, depending on what your baby likes to play with. Just make sure to choose toys that are appropriate for your baby's age and developmental stage.
Putting Together The Perfect, Most Magical Christmas Eve Box For Baby
Decide on what you want in the box
Before you go shopping for items to put in your baby's Christmas Eve box, decide first on what you want to put inside it.
Doing this will help you narrow down your options and make the process much easier. Once you've got a general idea of what you want in the box, you can start thinking about what items you want to put inside it. This will help you to narrow down your options and make the process much easier.
Buy the items you need
Once you've decided on the items you want to put in your baby's Christmas Eve box, you can shop for them. Here's a quick checklist of items you can buy before putting them in your baby's Christmas Eve box:
If you're putting decorations in the box, you'll want to buy these as soon as possible so you can put them in the box.
If you're putting books or toys in the box, you'll have more time to buy these items. However, try to buy them as soon as possible so you have time to wrap them before Christmas.
Wrap each gift individually
Once you've bought the items you want to put in the box, wrap them individually. Not only is it a good idea to wrap the gifts so they don't get squished together but it's also a good way to get some practice for when Santa comes.
You can use any type of wrapping paper you like for the gifts. However, if you want to stay true to the Christmas theme, you can buy wrapping paper with a Christmas pattern or design on it. Here are a couple of tips to help you wrap the gifts in your baby's Christmas Eve box:
Make the wrapping paper as colourful as possible. The brighter the paper, the more festive the gifts will look when they're in the box.
If your wrapping paper doesn't have a Christmas theme, you can still keep the box festive by using ribbon that has a Christmas design or pattern on it. You can also put a bow on the box for an added decorative touch.
Find A Container
You may go old school and use an old shoebox (lined with Christmas wrapping paper!) or create your own bespoke container. Of course, you could always go to Etsy and get a personalized Christmas Eve box, or you could order one from Amazon. It's entirely up to you what sort of box you use for your Christmas Eve package for baby.
However, if you want to make Christmas more magical, I propose buying in a box that you can use year after year. (Using a standard cardboard box and wrapping it in gift paper is also acceptable.) Especially if you're doing it for the first time and aren't sure you'll do it again.)
Your baby's first Christmas is the ideal moment to invest in a sturdy box that you may reuse for future holidays.
You may get a simple wooden box (which is usually less expensive) and design it yourself. Alternatively, you may spend a bit extra money and obtain a more personalized or intricate design.
Whatever choice you select, make sure it has enough room for the goods you intend to store within. If you want to reuse the box, keep in mind that it will need to accommodate larger objects as your child develops.
See also: 26 Mom And Toddler Activities To Try Today At Home
Add Some Books
Reading is a great habit to introduce to even the youngest of babies. It's never too early to start a fun christmas box tradition of sharing something interesting. A book, christmas movies, or even a board game might be the inspiration.
While it could be too early for baby to enjoy a movie or a board game with the rest of the family, reading a book is never too early.
Did you know that on Christmas Eve, Icelanders have a custom of giving everyone a book? The remainder of the night is spent by the family reading their new books. This is a tradition that I believe is such a good idea!
See also: What To Feed A Sick Toddler Who Won't Eat
Don't Forget Pj's
Pajamas with a Christmas motif are a traditional item to put in Christmas Eve boxes. Also, if you want to take family photographs on Christmas morning, the night before is a perfect opportunity to get your infant some new christmas pj sets.
If you want to go all out, you may purchase matching Christmas pyjamas for the entire family. I'm not going to lie, I've always wanted to do this, but the closest I've come is matching christmas socks for everyone.
Snacks Snacks Snacks
Almost all Christmas Eve boxes contain some delectable Christmas goodies and hot chocolate in a hot chocolate mug… However, infant is still too young for that type of small treat. Instead, include some foods that they will love, such as:
fruit pouches
yogurt melts
Rusks
You may need to skip this one or substitute something else if your kid hasn't begun eating solids.
Don't forget to bring some food for mom and dad (and anyone else in the family):
popcorn
Cookies with chocolate
hot cocoa
candy canes
chocolate coins
Fun Accessories
Socks for the holidays
Bow ties or Christmas bow ties
A Christmas Bib and Christmas PJs
Santa Hat
Something special for Santa Claus
A Santa or elf hat is another excellent item to put in your baby's Christmas Eve box. Hats are excellent gifts, especially if you want to commemorate your baby's first Christmas with some unique photos.
Hats are very simple to customise to your baby's needs. Elf hats, for example, come in a range of hues, including pink, blue, and green, in addition to the traditional red.
See also: Best Non Toxic Crayons For Toddlers [Safe For Babies 2022]
Gift For Santa
If you want to preserve the practise of leaving a little gift for Santa every year, you can begin as early as your baby's first Christmas.
Include a unique Santa dish in your Christmas Eve package for Santa's snack and reindeer food — you may use the same plate year after year as a fun tradition!
See also: Organic Cotton Toddler Underwear [A Potty Training Must Have For Boys And Girls]
A Fun Toy
Although babies don't require much in their Christmas Eve boxes, including something to play with is a wonderful touch! Small toys or baby things are excellent gifts for Christmas Eve baskets. Teethers, lovies, gym toys, mirrors, keys, and stacking cups are all excellent additions to your baby's play box.
Whatever you choose, make sure it fits into the box or container you've chosen for your Christmas Eve gifts.
Stocking To Hang
The first Christmas stocking for your infant is a wonderful thing to put in your Christmas Eve box. If you wanted to fill a stocking for your infant, you may put those items away and fill it later that night after your baby has gone to bed. Alternatively, place those objects in the box as well.
Another thing that you may customise for your newborn is stockings. You may opt with a simple and classic red, or you can have a variety of hues. It could be a plain one that grows with your child or one that says "First Christmas" that you can preserve as a remembrance. It's entirely up to you!
See also: 5 Easy Ways To Calm Down Your High Energy Toddler
Special Ornament
Last but not least, Christmas decorations could be a wonderful addition to your children's Christmas Eve box. And there's so much to pick from when it comes to first Christmases!
Choosing a new tree decoration is a memorable tradition that lots of families enjoy.
Bundle up all of the wrapped presents together
Once you've wrapped each gift individually, bundle them up together. You can do this however you like but try to keep the gifts together and make sure they're secure.
Once you've put the gifts in the box, you can write a short message on the box to tell your baby what they're getting. You can also write a message on each gift tag so your baby knows the name of each gift.
If you're short on time, you can put the gifts in the box without writing anything on them. However, if you have a few extra minutes, it can be a great way to make the box even more special for your baby.
When Should You Open Your Christmas Eve Boxes
While many families choose to create their Christmas Eve box on Christmas Eve, others prefer to make it a Christmas Season box and have it arrive on December 1.
This way, your family may enjoy the contents of the box for the whole month of December – which is a no-brainer when it comes to Christmas PJs and movies! If you start on December 1, you may even add an advent calendar.
If you're doing Elf on the Shelf, you could even tie the entrance of the elf to the arrival of the Christmas Eve box and have the elf bring the Christmas Season box.
See also: 15 Best Sticker Books For Toddlers
How Much Should You Put In Your Christmas Eve Box
You can make your Christmas Eve Box For Baby as full or as empty as you like.
The beauty of this tradition is that you can arrange it as you like and according to your family's preferences, so go ahead and add extra items or personal presents to the box!
How do you feel about this Christmas Eve tradition?
I would love to hear from you in the comments if you're putting together Christmas Eve boxes for your family this year. Tell us what you're going to put in them!
Christmas Eve Family Traditions
One of the best things about creating a Christmas Eve box is that you can include items that represent your family's traditions. If your family has certain Christmas Eve traditions that you want to pass down to your baby, place related items in the box.
This will make the transition from the rest of the year to the Christmas season less stressful for both you and your baby. According If your family waits to open presents on Christmas day, you can place a gift in the box for your baby.
This gift can be smaller than the other presents the family receives on Christmas Day. This will allow your baby to be a part of your family traditions, even if they are too young to fully understand what's happening.
introducing Santa's Arrival To Your Baby
When you introduce Santa Claus to your baby, use their Christmas Eve box as a prop. Place their gift in the box and explain that it's a gift from Santa Claus. This will make the box extra special and will make it easier for your child to understand that Santa is real.
You can also use the Christmas Eve box as a prop to tell your child about Jesus' birth. If you celebrate Christmas and are religious, use the gift in the box to explain the reason for the season.
It's important to note that you don't have to celebrate Christmas to use this method. You can use this strategy to tell your child about the reason for the season regardless of which holidays they fall under.
Telling Your child About Father Christmas
One thing that many parents worry about is telling their child that Santa isn't real. It's important to do this at the right time and with the right approach.
When your child is ready, tell them that Santa is their special friend and that he makes toys for all good boys and girls. This will help make the transition a lot easier.
If your child asks where Santa or Father Christmas lives, use the Christmas Eve box to explain that he lives at the North Pole. You can also use the Christmas Eve box to explain how Santa delivers all those gifts in one night.
If you want your child to believe in Santa for as long as possible, you shouldn't rule out the use of reindeer.
Why start a new christmas tradition
As your child gets older, it's a good idea to start a new Christmas tradition. This will help your child transition from being a baby to being a toddler.
Create a new Christmas tradition for your child each year, whether it be related to the Christmas Eve box or not. This is helpful because your child won't have to grow out of their old tradition before they have a new one to replace it.
You can also incorporate your baby's Christmas Eve box into the new tradition to make it even more special.
If you're worried about not having time to come up with a new tradition, there are plenty of Christmas traditions that you can complete in a short amount of time. Examples include baking cookies, making hot chocolate or even watching Christmas movies.
Conclusion
It can be a good idea to make a Christmas Eve box for your baby if you're new to the holiday season and have a new baby. Not only will it help ease your baby's transition into the festive season but it'll also be a special gift for them on the night before Santa comes.
There are many different items that you can include in your baby's box. However, when deciding what items to put inside the box, try to choose gifts that are appropriate for your baby's age and developmental stage.
Not only will this make the box more useful for your baby but it'll also help ease their transition into the festive season.
Print This Positive Parenting Guidebook – The 5 Pillars Of Positive Parenting
Listen… parenting with connection and positivity has been seen as permissive and lazy parenting BUT this is totally not the case.
I am a mom of 3 beautiful children and I've spent HOURS, DAYS, MONTHS, and YEARS researching this topic and seriously, it is my favorite way to parent.
Way better than what I grew up with – which was A LOT of yelling, spanking and frankly, neglect.
This little guidebook is a golden nugget that you can have for free – and print it out! Put it on the fridge, refer to it often. It's really a great tool for kids of all ages.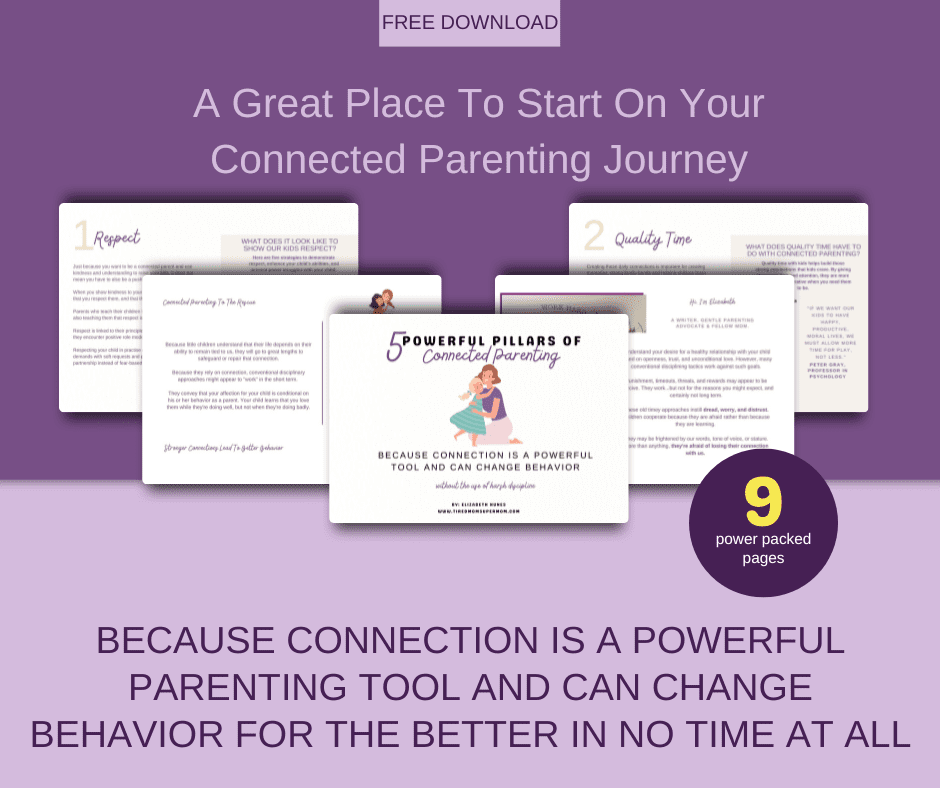 Download Your Free Printout
Download the guidebook. You'll get the printable, plus join hundreds parents who receive my weekly parenting tips and ideas! (Sometimes I'll promote a parenting program, but only the best ones that are in the positive parenting community, I promise.)
Print. Print out the guidebook!
Place it where you can see it. There is a lot of great information in this guidebook, even though it's small. It's power packed full of great stuff so put it where you can refer to it often.