This post may contain affiliate links. Full privacy policy and disclosure here.
If you know a child who is facing tough times, here are some inspirational words you can use to wish them a speedy recovery and offer comfort.
When a child is unwell or hurting, inspiring quotations can give them hope and help them get through this tough period.
No one really know what to say when it comes to such things but little things like good thoughts, kind words and wishes of good health are a great way to show someone you care.
Great inspiring quotations for sick kids to encourage them to confront their suffering and illness with courage because it's the little things that count.
You may have had some experience composing sympathy texts as an adult. You're probably familiar with how to express condolences to family members during funerals.
You've had enough experience with unpleasant situations to know what to say or write in response. What, on the other hand, do you say to a child who is not in good health? And what do you say to a sick child's parents? The great thing is we have the world wide web to help a lot of people learn coping skills and find kind words, even if it is words for their own child.
The issue is that there are no ideal words to express yourself when someone is going through a hard time, especially if you want to reach the hearts of small children. But, at the end of the day, the best thing you can do is be there for the child and their parents.
Here are some great motivational quotations for sick children as well as some words you can say to the parents of a sick child.
See also How To Spend Quality Time With Kids
great inspirational quotes For Sick Kids
Here are my favorite sick child quotes for the child who is longing for better days.
"Resting is not laziness, it's medicine!"– Glenn Schweitzer
"You either get bitter or you get better. It's that simple. You either take what has been dealt to you and allow it to make you a better person, or you allow it to tear you down. The choice does not belong to fate, it belongs to you."– Josh Shipp
"If you're going through hell, keep going."– Winston Churchill
"I keep my heart and my soul and my spirit open to miracles."– Patrick Swayze
"With the new day comes new strength and new thoughts."– Theodore Roosevelt
"Tough times never last but tough people do."– Robert H. Schuller
"The truth is we're all a little bit broken. We must learn to love the broken pieces of ourselves – be gentle and empathetic with ourselves, and others."– Karen Salmansohn
"Mr. T. been to chemo, Mr. T been to radiation, hair fall out … but he's back. Now I can give hope when I go to the hospital, see the sick kids with cancer, tell them, don't quit."– Mr. T
"I always had a special diet. I'm diabetic, so it's a lifestyle for me anyway just to stay healthy and not end up in the hospital."– Halle Berry
"If opening your eyes, or getting out of bed, or holding a spoon, or combing your hair is the daunting Mount Everest you climb today, that is okay."– Carmen Ambrosio
"Sometimes you will be in control of your illness and other times you'll sink into despair, and that's OK! Freak out, forgive yourself, and try again tomorrow."– Kelly Hemingway
"Healing takes courage, and we all have courage, even if we have to dig a little to find it."– Tori Amos
"When one door of happiness closes, another opens; but often we look so long at the closed door that we do not see the one which has been opened for us."

Hellen Keller
"We must embrace pain and burn it as fuel for our journey."– Kenji Miyazawa
"As I got older, my life became a whirlwind of homework and responsibilities. The hospital became my retreat, a place to gather my thoughts and focus on my health. The nurses are my friends as well as my caretakers. The doctors are my parents as well as my physicians."– Claire Wineland
"Your struggles develop your strengths. When you go through hardships and decide not to surrender, that is strength."– Arnold Schwarzenegger
"Optimism is the faith that leads to achievement; nothing can be done without hope." – Hellen Keller
To the world you may be one person; but to one person you may be the world. – Dr. Seuss
"Be silly. Be honest. Be kind." – ralph waldo emerson
"Where there's hope, there's life. It fills us with fresh courage and makes us strong again." ― Anne Frank
"The only way to do great work is to love what you do." – Steve Jobs
"Keep your face always toward the sunshine—and shadows will fall behind you." – Walt Whitman

"The best and most beautiful things in the world cannot be seen or even touched – they must be felt with the heart." – Helen Keller

"I believe in being strong when everything seems to be going wrong." – Audrey Hepburn

"Education is the most powerful weapon which you can use to change the world." – Nelson Mandela

"The difference between a successful person and others is not a lack of strength, not a lack of knowledge, but rather a lack of will." – Vince Lombardi

"Success is not final, failure is not fatal: it is the courage to continue that counts." – Winston Churchill

"Hardships often prepare ordinary people for an extraordinary destiny." – C.S. Lewis

"Even the darkest night will end and the sun will rise." – Victor Hugo

"Never give up, for that is just the place and time that the tide will turn." – Harriet Beecher Stowe "A champion is someone who gets up when they can't." – Jack Dempsey
See also: The Best Sympathy Gifts For Children
Best Words Of Encouragement For Parents Of Sick Child
Being a parent of a sick child takes a lot of courage, and many of these parents put on a strong face for the world. This doesn't mean that they don't need comforting words and a helping hand.
For the sake of their kid, they are capable of tolerating anything. There is nothing stronger than parents of sick children.
They do, however, require assistance and cannot accomplish everything on their own. Finding the proper words of encouragement for parents with sick children is challenging, but not impossible.
Instead of giving them random motivational quotes, provide them assistance, chat to them, be available to them at any time, and demonstrate that you care.
Yes, it's difficult to say anything at that time, especially if you haven't been through it yourself, but it doesn't mean you should keep quiet while they face their toughest challenges.
Here is a list of simple words you can use when you're trying to send a message of support and are trying to find the right words of encouragement.
"I am here for you."
"Let me help you with something."
"I'm so sorry. I don't know what else to say."
"I'll bring you dinner."
"I'll take the kids today."
"I love you!"
"I'll bring you some coffee. Anything else you need?"
"Stay strong"
"I am thinking of you."
"I know you are going through a lot, but your daughter/son is a brave girl/boy, and she/he will fight through this."
"How are you?"
She will recover and need healthy parents to come home to. You have to take care of yourself." (remind them to think of themselves as well, especially as their child will need them later)
"You are in my prayers."
"It breaks my heart to hear such news, but know that I am here for your family. What can I do to help?"
"I am sad you all have to go through this."
"Take a good cry and let it all out."
"Like every storm in life, this too shall pass."
"I'm listening."
See also: 49 Brilliant Gifts For Kids That Aren't Toys
Things NOT To Say To Parents Of Sick Child
"Everything will be just fine, don't worry."
"As long as the baby is in good health…"
"My aunt/niece/neighbor/coworker went through the same…"
"It's all God's will."
"Will it have any long-term effects?"
Talking To Children Who Are Going Through A Difficult Time
One of the most difficult aspects of speaking with a critically ill person is not knowing how they would react. In a crisis, a person's emotions may be so overwhelming that they don't react as they typically would.
Even if you approach a family with the greatest of intentions, you may not get the answer you expect. Don't take it personally and don't give up on the matter. Rather, continue to give them your time and support.
People may require many reminders before accepting your assistance. If you're seeking for alternative ways to show your support, have a look at these suggestions for what to say when someone is unwell.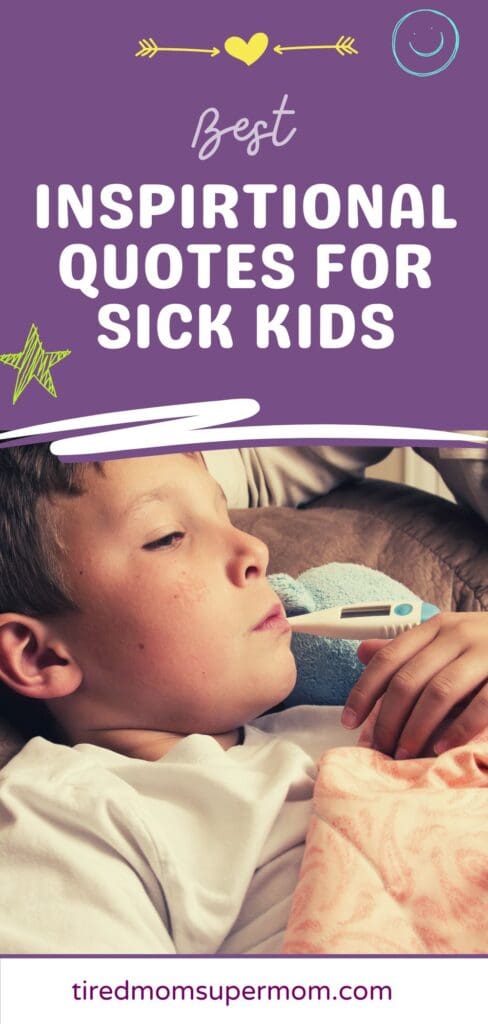 More Like This