Emotion
107 Words Of Affirmation For Kids
Inside this post: An ultimate list of positive words of affirmation for kids!
Affirmations are essential for everyone, especially children.
This kind of positive thoughts and affirmations can improve health, confidence, and can help manage stress.
More so, positive thoughts can help children make better choices.
Positive thinking starts with the inner voice. How children speak to themselves significantly impacts their way of life.
Positive affirmations can help create a positive inner voice, which leads them to believe in themselves and work towards their goals with a positive outlook.
As a parent, you probably need some guidance with what kind of positive affirmations you can arm your kids with.
Don't worry; I'm here to help.
*This post may contain affiliate links. Full disclosure here.
*This information is for educational purposes only, if you need medical attention, please consult a physician.
What Are Words Of Affirmation For Kids
If you've ever negatively talked to yourself, then positive affirmations a must-have in your life.
Here are some examples of negative thoughts:
"I'm not good enough; I'll never be able to do this"
"Bob is way smarter than me; I'm dumb"
"Ugh, I'm such a loser, why do I keep doing this?"
Many of us have negative thoughts like this. When we think like this, our confidence, outlook, and mood can be negative also.
Affirmations are positive statements that can help you overcome those negative thoughts.
The more you repeat your affirmations, the more you'll believe them.
The more you believe them, the more likely it is that they will come true.
This kind of positive thinking is such a powerful tool.
It really can improve your health and help you overcome challenges and even assist in the making of better choices.
Everyone can benefit from positive thinking skills, but children, especially.
The idea of changing your mindset/thinking skills is to start gaining more control over your thoughts and your actions.
Positive thinking starts with the inner voice, and using a positive tone with positive words inside your own head is the starting point of a successful pathway in life.
Affirmations for kids help with that kind of mindset.
Children could use a more positive mindset in their lives so that they can learn to believe in themselves and work towards their goals.
Related: 6 Simple Positive Parenting Techniques (That Will Make You A Better Parent)
How Positive Affirmations For Kids Work
Affirmations work because they can program your mind into believing the statement you are stating in your mind.
Research says the mind doesn't quite know what a reality is and what is fantasy, just like when you're watching a movie, and you emphasize with the situation on screen.
Hearing positive statements throughout childhood can help children become wholesome, caring adults with high self-esteem.
How Kids Can Use Positive Affirmations
You can help your child with positive affirmations in their daily lives by incorporating them into your routines.
Simply setting aside a moment to tell your child that they matter and they are enough, is a beautiful step towards creating those positive mindset changes.
Ways you can incorporate positive affirmations in your children's lives:
Believe in them yourself
Try to let go of any negative biases you may have in your life, especially any towards your children.
Really soak up the good in your children and create a buffer between negative thoughts and actions.
Stick a list of words of affirmation on the mirror
Help your child remember their affirmations by writing them on a sticky note and putting them in the mirror.
Your child will see beyond their appearance and read their affirmations on a daily basis. This method works well for those one-word affirmations.
Use reflective questions
You can use a story from a book to help your child emphasize with the characters and put them in the character's shoes.
Ask your child if the story could change if the character had a more positive mindset in the story. Then you can discuss the I am positive affirmations (how the affirmations can be applied to your little one.)
Print out affirmations for children and put them in a frame
A super simple way to incorporate positive thoughts and affirmations into your child's life is by printing out your favorite affirmations and framing them in your child's bedroom and throughout the house.
The sky really is the limit on how you can use these I am statements about yourself and your children in your home.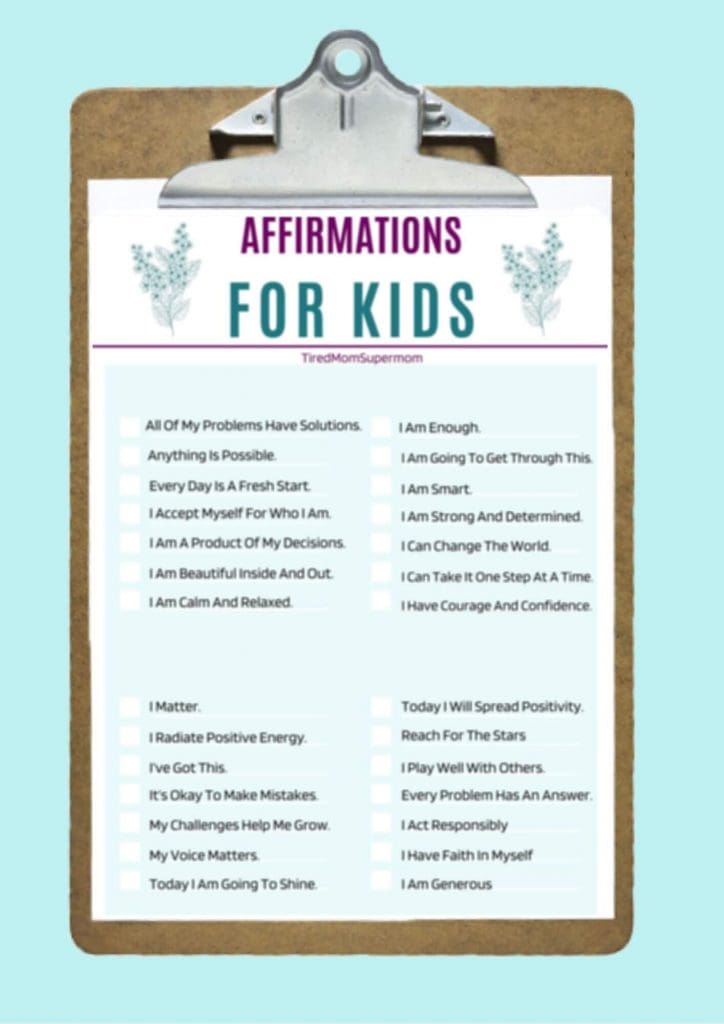 List Of Words Of Affirmation
All Of My Problems Have Solutions.
Anything Is Possible.
Every Day Is A Fresh Start.
Everything Is Fine.
Everything Will Be Okay.
Good Things Are Going To Come To Me.
I Accept Myself For Who I Am.
I Accept Who I Am.
I Am A Product Of My Decisions.
I Am An Amazing Person.
I Am An Original.
I Am Beautiful Inside And Out.
I Am Becoming The Best Version Of Myself.
I Am Building My Future.
I Am Calm And Relaxed.
I Am Capable Of So Much.
I Am Enough.
I Am Free To Make My Own Choices.
I Am Going To Get Through This.
I Am Important.
I Am In Charge Of My Life.
I Am In Control Of My Emotions.
I Am Making The Right Choices.
I Am Open And Ready To Learn.
I Am Perfect Just The Way I Am.
I Am Proud Of Myself.
I Am Smart.
I Am Strong And Determined.
I Am Thankful For Today.
I Am Whole.
I Am Working On Myself.
I Believe In My Goals And Dreams.
I Believe In Myself And My Abilities.
I Believe In Myself.
I Can Be Anything I Want To Be.
I Can Change The World.
I Can Control My Happiness.
I Can Do Anything I Put My Mind To.
I Can Do Anything.
I Can Do Better Next Time.
I Can Get Through Anything.
I Can Live In The Moment.
I Can Make A Difference.
I Can Take Deep Breaths.
I Can Take It One Step At A Time.
I Choose My Attitude.
I Choose To Think Positively.
I Deserve All Good Things.
I Deserve To Be Happy.
I Deserve To Be Loved.
I Forgive Myself For My Mistakes.
I Get Better Every Single Day.
I Give Myself Permission To Make Choices.
I Give Myself Permission To Make Mistakes.
I Have Courage And Confidence.
I Have Everything I Need Right Now.
I Have Inner Beauty.
I Have Inner Strength.
I Have People Who Love And Respect Me.
I Have The Power To Make My Dreams True.
I Matter.
I Only Compare Myself To Myself.
I Radiate Positive Energy.
I Stand Up For What I Believe In.
I Start With A Positive Mindset.
I Strive To Do My Best Every Day.
I Surround Myself With Positive People.
I Trust In My Decisions.
I'm Choosing To Have An Amazing Day.
I'm Going To Push Through.
I'm Going To Take A Chance.
I'm Prepared To Succeed.
I'm Starting A New Chapter Today.
I'm Working At My Own Pace.
I've Got This.
If I Fall, I Will Get Back Up Again.
It Is Enough To Do My Best.
It's Okay Not To Know Everything.
It's Okay To Make Mistakes.
My Challenges Help Me Grow.
My Confidence Grows When I Step Outside Of My Comfort Zone.
My Happiness Is Up To Me.
My Mistakes Help Me Learn And Grow.
My Positive Thoughts Create Positive Feelings.
My Possibilities Are Endless.
My Success Is Just Around The Corner.
My Voice Matters.
No Matter How Hard It Is, I Can Do It.
The More I Let It Go, The Better I Will Feel.
There Is No One Better To Be Than Me.
Today I Am A Leader.
Today I Am Going To Shine.
Today I Choose To Be Confident.
Today I Choose To Think Positive.
Today I Will Spread Positivity.
Today I Will Walk Through My Fears.
Today Is Going To Be A Great Day.
Today Is Going To Be An Awesome Day.
Today Is Going To Be My Day.
With Every Breath, I Feel Stronger.
Beautiful Things Are Going To Happen To Me.
Reach For The Stars.
I Play Well With Others.
Every Problem Has An Answer.
I Act Responsibly.
I Have Faith In Myself.
I Am Generous.