Today, let's explore the profound impact of words on our children. Affirmations, concise yet potent statements, hold the key to bolstering their self-esteem, nurturing confidence, and fostering positivity.
These empowering affirmations are like seeds we plant in young minds, cultivating strength and resilience. I used to think affirmations were wishy washy – complete nonsense…BUT I actually see now how important they are, not just for kids but for me too!
I mean…these are just the ones I use in my home, you can always come up with your own affirmations too!
This post may contain affiliate links. Full privacy policy and disclosure here.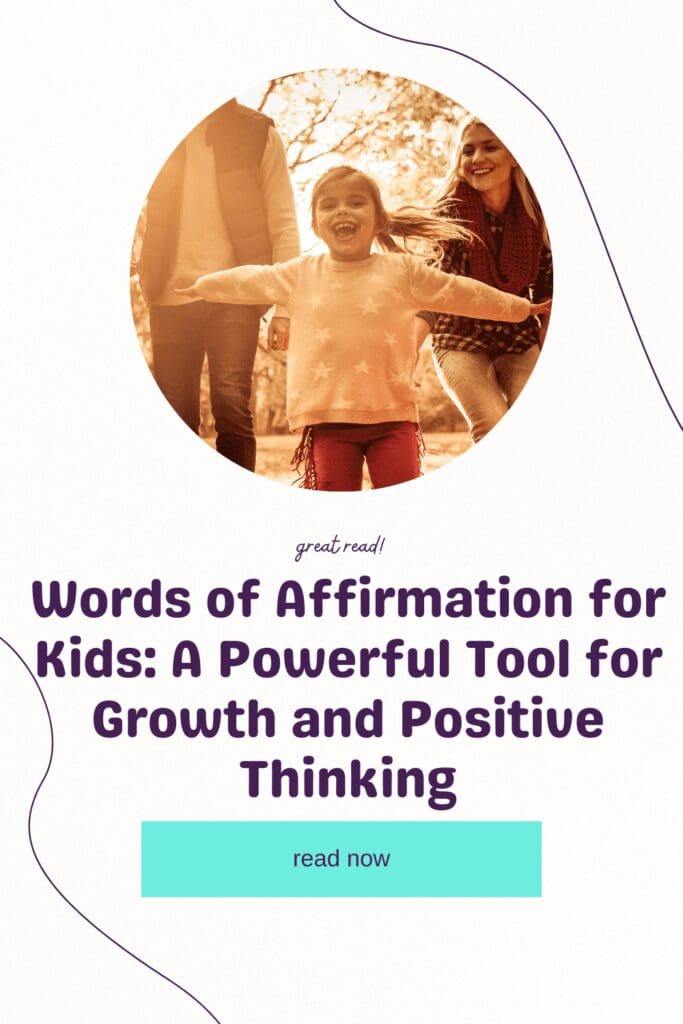 When To Use Affirmations With Your Kids
Using affirmations with your kids is a powerful way to foster positive development. Encouraging daily affirmations with positive statements can help them navigate new challenges and build a strong foundation for a positive attitude.
When they're going through a hard time, affirmations in the present tense, especially in front of a mirror, can boost their self-image and feelings.
Affirmations can teach them to be good listeners and use kind words, even on bad days.
Affirming their love languages and creating a positive affirmation list tailored to their primary love language is a great way to connect.
Each day is a fresh start, and specific morning affirmations infuse positive energy into their journey.
Affirmations are a valuable tool for positive change, a general rule for building resilience and self-belief. They help in replacing negative self-talk, making way for a brighter future filled with great, amazing things.
Affirmations foster a sense of humor and excitement for new experiences, boost self-esteem, and create happy, wonderful children who believe in themselves—a step in the long way toward a life free from negative beliefs.
Ideas for positive affirmations for kids
Positive affirmations are a powerful tool that parents can use to promote positive thinking and a growth mindset in their children. Here are my favorite positive affirmations that you can use with your kids:
I feel happy and positive.
I listen well to my family.
I use nice words every day.
I talk nicely to myself in the mirror.
I have a big heart full of love.
I can do good things and help others.
Every day is a new chance.
I have lots of energy and feel good.
I'm a good example for friends.
I like myself and believe in me.
I try my best even when it's hard.
I get great ideas in my head.
I am kind to people and animals.
I make people laugh with jokes.
New adventures are exciting.
I do good things every day.
I can change and learn.
I talk nicely to myself.
I love to learn and grow.
I'm a wonderful kid with lots to do.
I'm a good friend to others.
I show love in different ways.
I start my day with happy thoughts.
I can stop bad thoughts.
Good news makes me happy.
I say nice things at the right time.
I try my best and don't give up.
I teach others to be kind.
I have fun and do my best.
I trust myself and my choices.
I'm open to good things happening.
I'm a good person who helps.
I do good things for the world.
I make others happy too.
I make people laugh and smile.
I have lots of energy to share.
Every day brings new fun.
I care about others a lot.
I'm a good friend to others.
I try and try, even when it's hard.
I can change and grow.
I stay positive when things are tough.
I use nice words every day.
I have happy feelings.
I'm a good friend to others.
I'm kind and helpful to others.
I listen to people and care.
I'm a happy part of my family.
I get great ideas all the time.
I believe in myself and feel good.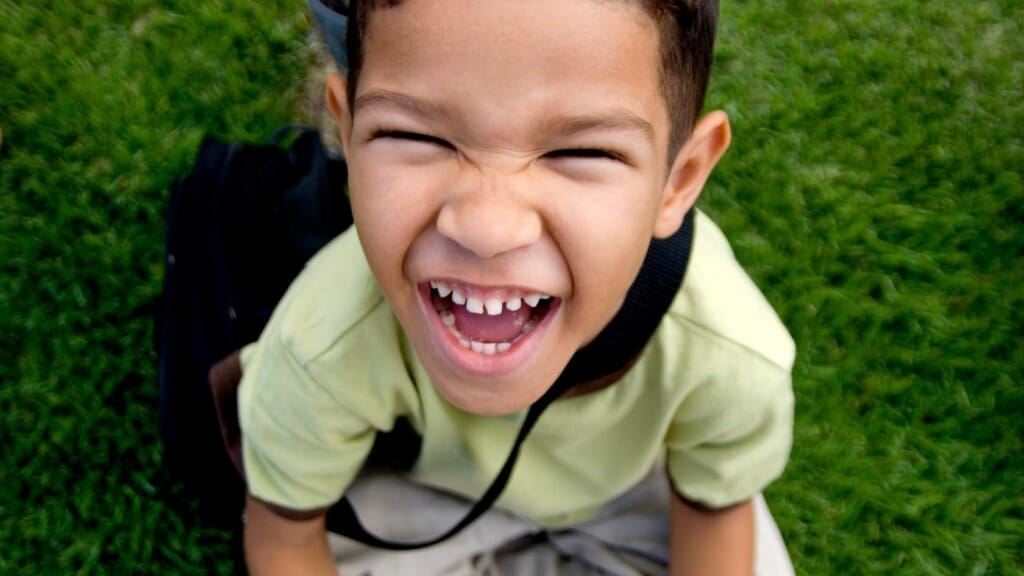 Why words of affirmation are a great way to promote a positive mindset
Words of affirmation are a powerful way to promote a positive mindset in young children.
By using positive thoughts, phrases, and words, parents and caregivers can act as a good friend and teach children how to use positive self-talk to combat negative thoughts.
Consistently using affirmations on a daily basis can help children develop thought patterns that support positive thinking, even in difficult situations.
Affirmations can be used in a variety of ways, such as when encountering new things or challenges, to combat negative thinking, to celebrate a job well done, or to offer support during hard times.
Starting positive affirmations at a young age can help children develop into hard workers with a positive outlook on life. They are great words of encouragement.
By listening to their voice and teaching them that their voice matters, they can develop a strong sense of self-image, making positive thinking the best thing for them.
Using different ways to incorporate positive phrases and words can help children focus on positive things and feelings, and develop a list of positive affirmations that they can draw upon when needed.
Affirmation cards, role models, and front of the mirror practices are all great ways to encourage positive self-talk and develop a strong inner voice.
By using affirmations for a special purpose, children can build a strong character and inner strength that will carry them through hard things.
New habits, such as taking deep breaths and doing small acts of kindness, can also have a big impact on children's mental health and well-being.
Ultimately, by teaching children to use words of affirmation on a daily basis, parents and caregivers can help them develop into happy, confident, and positive young adults.
Dive into "Parenting with Heart," your go-to guide for nurturing deep connections with your children, packed with practical tips for every stage of their growth. It's a lighthearted and insightful read that promises to enrich the parenting experience with joy and understanding.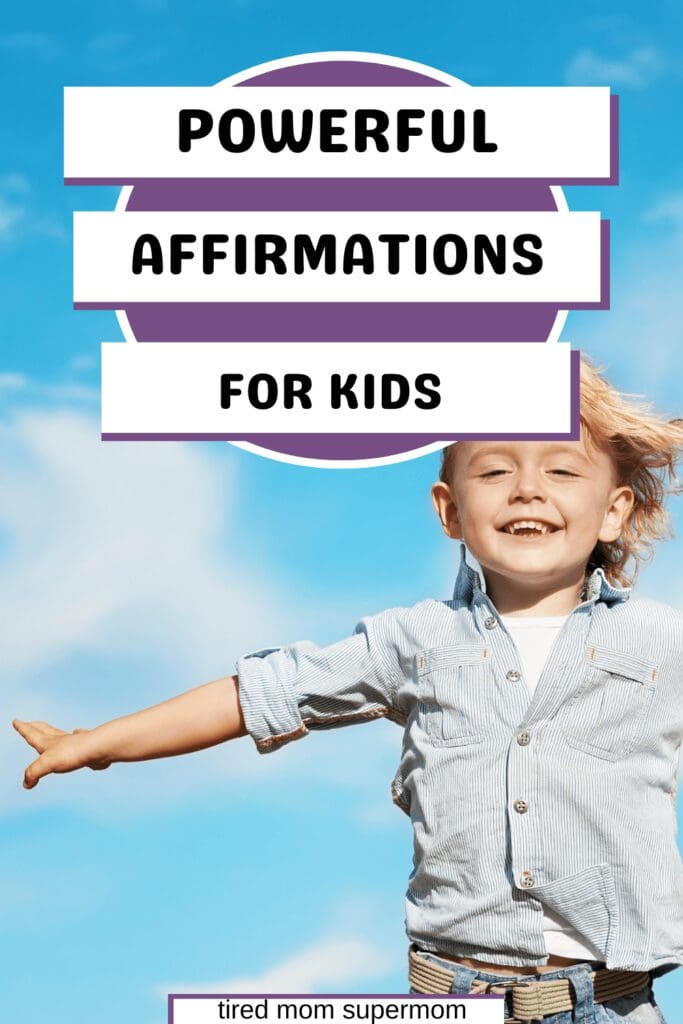 More On Growth Mindset For Kids
224 Getting To Know You Questions For Kids
15 Important Things You Can Do To Raise A Happy Child
37 Easy Board Games Families Can Play Together