How To Stop Yelling At Your Kids When You Get Upset
How you can handle a stressful situation when emotions run high and you feel like lashing out at your children. Be a calmer mom, check your own emotions and then you can attend to your child in a calm and effective way.
Children can really trigger our emotions sometimes, and anger is one that pops up easily when we are stressed out, low on sleep (especially new moms) , and feel touched out on a daily basis. Learning how to control your own negative emotions before attending to the problems at hand with your children will change the way you parent and help you be a more happy mom. I know you can do it! You can't control everything that happens, but you can control how you react and respond and that is the best thing.
Personally, I still struggle with it some days and I am not a perfect mom. Most of the time I can put these practices into place and take a deep breath in the present moment before dealing with whatever situation just made me feel angry, but there are days where I lose it and yell because I am a human being that reached my breaking point.
See also: Angry Mom? 6 Secrets To Get Your Anger Under Control
REMEMBER THAT BEING A CALM PARENT WILL TAKE PRACTICE, AND IT'S ALMOST IMPOSSIBLE TO MASTER CALM PARENTING IN ONE DAY. GIVE YOURSELF GRACE, LOVE AND TIME.
This post may contain affiliate links. Full privacy policy and disclosure here.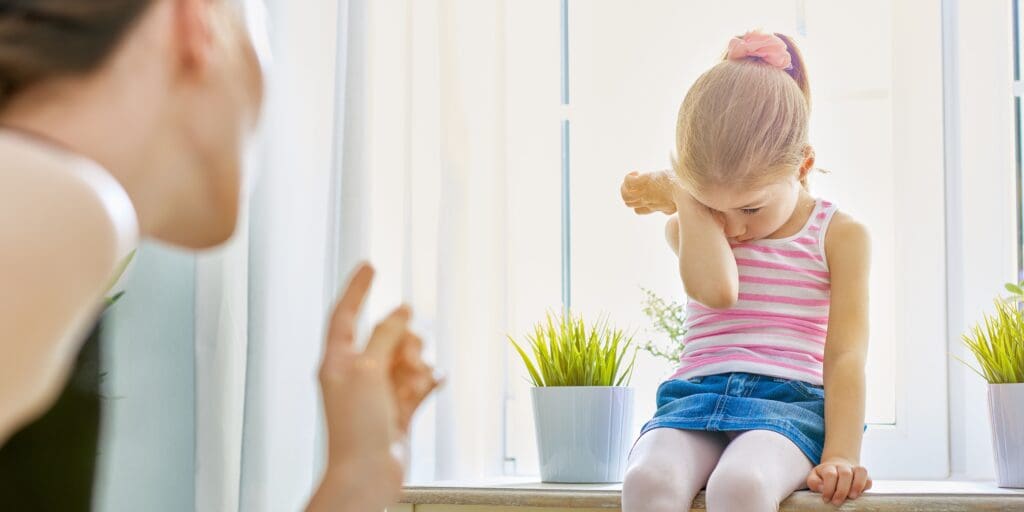 7 Calm Down Strategies For Moms
Stop What You're Doing and Focus
When you find yourself losing control, the best thing you can do is halt everything, it makes a huge difference in a bad day.
Take a few deep breaths after that and you'll be a better mom for it in a whole new mental state. This allows you to put some time between the stressor and your response, ensuring that you aren't reacting based on your emotions.
It also calms your nerves and relieves stress and anxiety by slowing your heart rate, allowing more air into your body, lowering your blood pressure, and reducing muscular tension and helps your overall mental health in the moment.
See also: 14 Crucial Positive Parenting Books You Need To Read
Take A Break
Don't give your kid a time out, give yourself a time out. Don't be afraid to tell your kids you're not feeling happy and need a minute to cool down when things get hot.
Remove yourself from the situation into a safe place until you are able to reply calmly and rationally. This will not only assist you in de-stressing, but it will also serve as an example of a good de-stressing method for your children. These proactive steps are a good teaching lesson for helping your kids manage anger, and help you raise confident kids as well.
See also: Real Life Examples Of How Positive Discipline Works
Remind Yourself Of Your Parenting Goals
When we feel compelled to respond angrily, we might ask ourselves, "Does what I want to do right now accord with my ideals as a mother?" Will this help me achieve my mothering goals?"
We may keep ourselves responsible to our overarching goal by taking a moment to consider how we want to mother our children. When we do, we'll be more concerned with correcting and educating our children and correcting a child's behavior than with expressing our own frustrations.
See also: How To Transition To Positive Parenting and How To Create A Parenting Mantra
Think 3 Minutes Ahead
It's all too simple to react in a way that makes you feel wonderful right now, but consider how you'll feel later. Concentrate on the larger picture of your mothering and your children's connections.
Consider the consequences of erupting in rage on their hearts and the mom guilt that follows the next moment or next day. Don't say anything permanently harmful simply because you're temporarily furious off.
See also: How To Find The Positive In Your Parenting
Flip Your Mindset
I've discovered that merely changing my thinking can shift the direction of my emotional spirals. When I find myself thinking "I can't stand this!" or "They're driving me insane!" I purposefully change my script to affirmations like "God provides me with the insight and strength I require" and "My children are a blessing and a delight." It may appear to be too easy to be true, yet it alters my attitude and makes me a happier mom.
See also: How To Stop A Screaming Match With Your Child Or Teen
Ask Yourself What The Trigger Was
Try to gain some clarity regarding your reaction once you've taken a minute to relax. Consider why the issue has affected you so much. Are you taking your children's actions too seriously? Do you have unrealistic expectations for their age and maturity?
Are you truly stressed about anything else and behaving as a result of it? Finding your triggers is one of the best helpful tips I was ever given and I've come a long way in learning the simple ways I can remember the good things and calm myself down in an escalated situation.
Remember that kids will act like kids
That's what they're supposed to do! They're immature beings still figuring out how the world works and how to acquire what they want. They must play with power in order to learn how to utilise it appropriately.
They must test the boundaries to determine what is solid. Because their prefrontal cortex isn't fully matured, their emotions often take over, causing them to lose their ability to think clearly when they're agitated.
They don't enjoy being governed, just like the rest of us. So, while showing them more empathy and respect will encourage them to cooperate, expect some childish conduct as long as you live with children, even if you stop yelling. Even if they don't, you should be able to self-regulate. You're the responsible adult.
Yelling When Kids Don't Listen
This is by far the most common reason that parents claim to yell.
I mean, it's enormous. What do you do if you're trying to get your kids to stop yelling but they're deafeningly deafeningly deafeningly deafeningly deafeningly deafening That alone is enough to make any parent enraged.
First and foremost, double-check that you have your child's attention when you think they aren't hearing you or doing what you want.
When you need their attention, it's tempting to yell "Hey LISTEN TO ME!!!," but there are alternative methods to ensure that your child hears you.
Get closer and touch them on the arm.
Ask for eye contact.
Turn off the TV, phone, or tablet so they aren't distracted.
Flicker the lights so they look at you.
Do something silly or unexpected to get attention.
There are several alternatives to yelling to grab your child's attention. It's all about imagination.
What if you know your child heard you, but they aren't following your instructions?
That's a whole different issue, and you can read about that here.
Staying Ahead Of Your Emotions Is Key
Calming down techniques for moms are beneficial and required. But it's also a good idea to avoid those mommy moments before they happen. Here are three techniques to take control of your emotions:
1. Find Your Triggers
Pay attention to any trends you discover using your responses from #7 above. Is there a certain time of day (or month) when you have the most trouble? Do you have a tendency to become agitated in specific settings or scenarios? Are you finding that the same external pressures are prompting you to lose your cool?
You may build a strategy to handle your triggers once you've recognized some of them. To make your days go more smoothly, you might require a better morning or evening routine.
Perhaps you'll need to put in place some domestic measures to alleviate some of your stress. Perhaps you require healing for deep-seated concerns and difficulties. Investing time now to manage your triggers and angry outburst will pay off in the long term with peace of mind.
See also: Living & Parenting Without Violence
2. Have A Parenting Plan
Because I have trouble thinking on my feet and I'm a very busy mom, dealing to behaviour problems and other stressful parenting circumstances in the moment is challenging for me. So, while I'm calm and level-headed, I've learned to make a conscious effort through potential behavioural difficulties and devise a strategy for dealing with them. This helps me respond calmly when problems arise by preventing reactions based entirely on emotions or sentiments in the heat of the moment which is a huge part of mindful parenting.
3. Practice your Parenting Plan
The more you use the aforementioned relaxation techniques, the more natural they will seem. First, try practising them in a low-stress environment. Stopping to assess your reactions is a good habit to get into.
Deep breathing should be practised. Practice consciously picking your ideas. Exercising long-term thinking is a good idea. Also, get in the habit of tracking your feelings back to their source. When the stakes are low, practising will help you be ready when the stakes are high.
4. Quit Yelling About Ordinary Stuff
I was absolutely unaware of how often I raise my voice about simple, non-frustrating, ordinary things until I carefully monitored myself: "Dinner's ready!" "Turn down the volume!" "Close the screen door!". This raises and normalises the loudness in our entire house.
Instead, approach your children and speak to them in a normal speaking voice.
5. Think Of a Safe Word
Make up a sentence to tell yourself when you feel you're about to lose it. Self-calming mantras will do more than keep you from flipping your lid. They're best at assisting us in hijacking each other's explosions. When I feel my husband's jaw tense, I think of his safe word: "snow." That's all it takes to make him forget about his annoyance.
6.  Find your own wisdom
Imagine an angel on your shoulder who observes things objectively and wants the best for everyone in the scenario from this calmer place. This is your very own parenting guru. What does she have to say? Can she give you a mantra to help you see things in a new light, such as:
"He's acting like a child because he IS a child."
"This behavior signals how upset she is inside; how much she needs my help."
7. Don't Teach A Lesson In This Moment
You'll find yourself humiliating if you try to instruct right now. It isn't a teachable moment until everyone has regained their composure and reconnected.
Your positive action at this time could be a re-statement of your correction in a more positive tone to bring everyone back on track. If you were raising your voice, it may suggest you apologised.
It could involve getting your irritable child to laugh, and if that doesn't work, encouraging her to cry so that you can all have a better day.
It could mean putting the dishes away and snuggling under the covers with your children and a stack of books till everyone is feeling better. Simply take one step toward making everyone feel and act better, including yourself.
What to Expect When You Stop Yelling
So, what does a quiet home with children entail? What will my house look like once I quit yelling?
I've noticed a few things in the years since I quit yelling. Most days are fine, and I don't even consider raising my voice, but the fury returns every now and then. Hey, I'm still a human being, and I still get irritated.
Seasons come and go in life, and right now I'm joyful, sunny, and sailing on calm waters. But there have been moments in my life when things got tough and I didn't take care of myself properly. I yelled as another bout of Mom Funk hit me.
Just because I've learnt to do things better doesn't imply I'm perfect all of the time.
And that's fine because now that I've lived through it, I'm better able to recognise when I'm getting irritated and cool down more quickly.
Calm Down Strategies For Moms Bottom Line
See also: How To Respond To Your Child's Angry Words
In moments of distress, your energy becomes their energy. Provide the environment that you wish to be in, instead of a reactive, explosive situation that could end up hurting feelings and big emotions.
You are not alone if you react to situations in an angry way. I struggle with this myself despite my best efforts, but the most important thing is that we try.
All of us, collectively, need to try to be calm around our little human beings who want so much to be like us and live in less chaos. We are their world, and scaring them with anger can be damaging to their soul and give them their own anger issues.
I like to repair my relationship with my young kids if I had a bad moment and let my anger get the best of me and then give them extra quality time to create reparations. This helps me achieve a higher inner peace and gives me more reason to reflect on personal growth from my moment of mom rage.
Free Resource For You
I've created a free pdf just for you! If you are struggling with gentle parenting with your kids this PDF will help you find one that will work for your family.
This free pdf can show you:
The pillars of gentle parenting
Example conversations you can have with kids
Example consequences you can use
Family activity ideas for connection